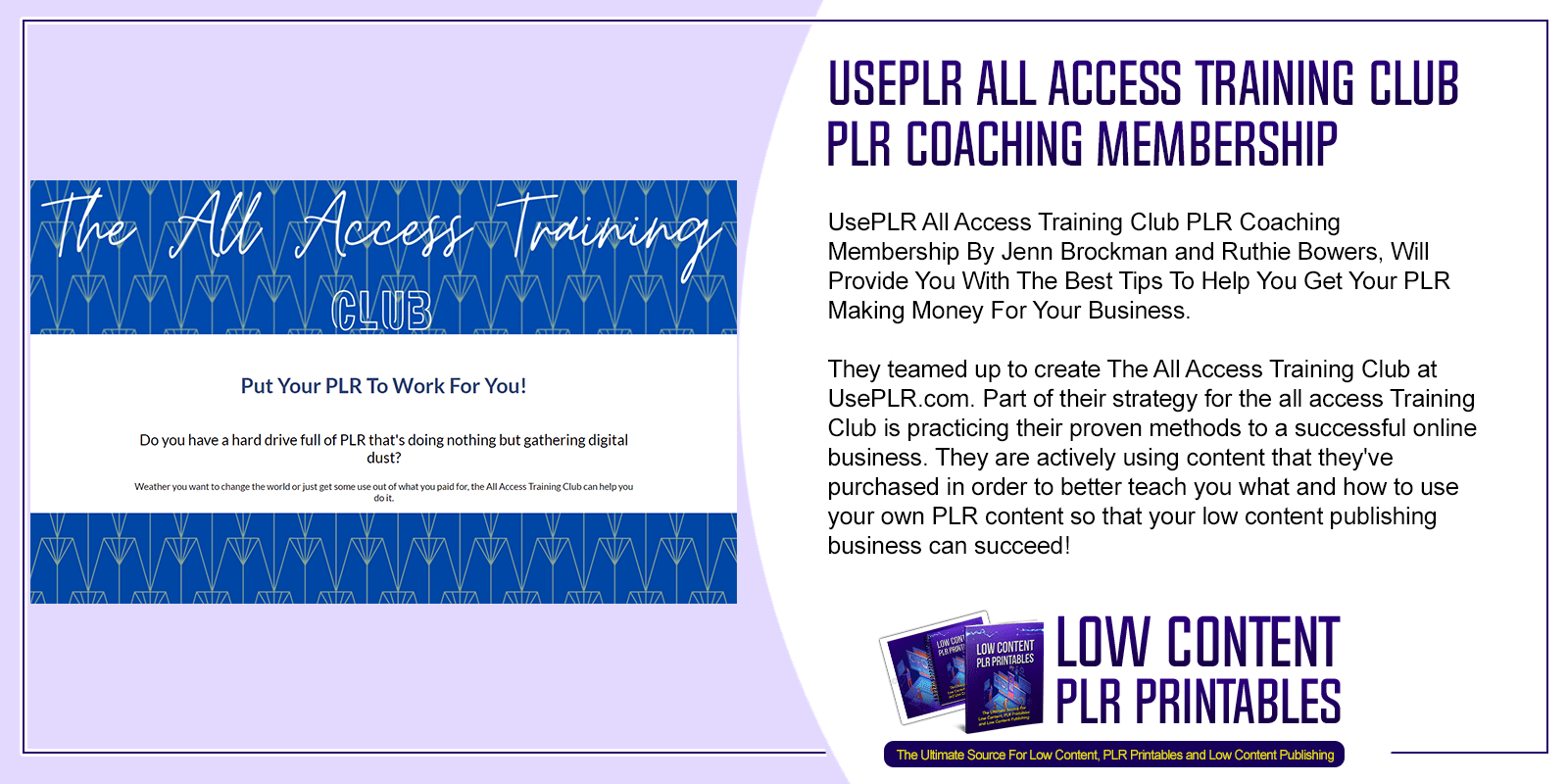 Choose Your Desired Option(s)
#useplrallaccesstrainingclub #plrcoachingmembership #jennbrockman #ruthiebowers #useplr #allaccesstrainingclub #coachingmembership #training #trainingmembership #Plrmembership #plrprintablemembership #makemoneyonline #makemoneyplr #plrmakemoney #onlinebusiness #usingplr #howto #trainingclub #plrcontent #plruses #whentouse #plrtraining #plrcoaching #printables #successfulonlinebusiness #plr #learnfromexperts
UsePLR All Access Training Club PLR Coaching Membership By Jenn Brockman and Ruthie Bowers, Will Provide You With The Best Tips To Help You Get Your PLR Making Money For Your Online Business.
They teamed up to create 

The All Access Training Club

at UsePLR.com. 
Part of their strategy for the all access Training Club is practicing their proven methods to a successful online business. They are actively using content that they've purchased in order to better teach you what and how to use your own PLR content so that your low content publishing business can succeed!
Introducing The…
UsePLR All Access Training Club PLR Coaching Membership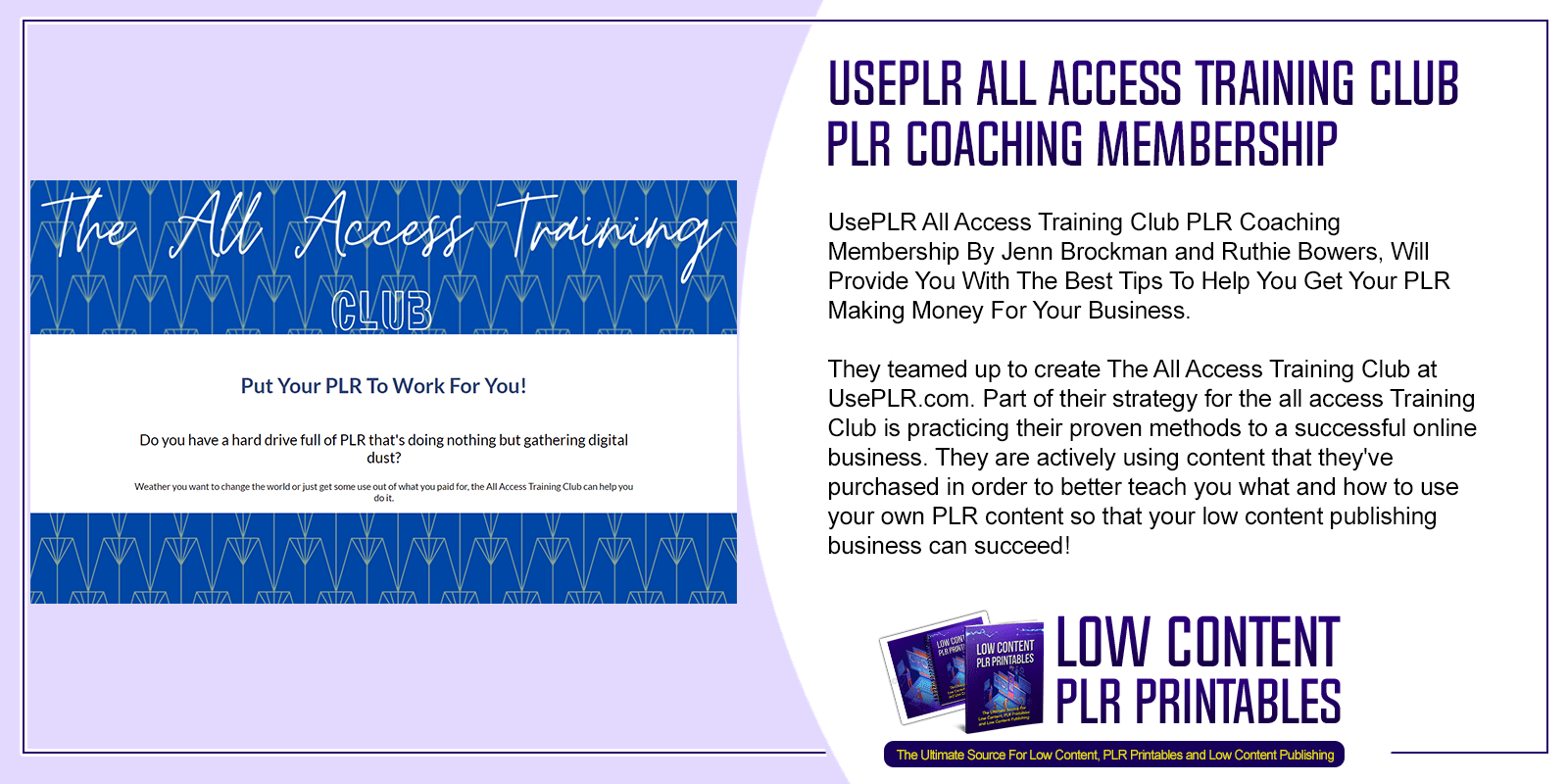 Here's what you'll learn with this amazing UsePLR All Access Training Club PLR Coaching Membership:

The 5-Day Email & Group Challenge
Your monthly membership starts off with a short 5-day challenge.
In this challenge you'll get 5 daily emails with information on the topic of the month. 
Use the hashtags included in your challenge emails to earn bonuses at the end of each month! Kick up your PLR a notch by actively participating. 
You'll have the entire month to complete your challenge and earn the bonus!
See The UsePLR All Access Training Club PLR Coaching Membership For Yourself – Click Here
The Training & Workbook
Every month a new Training and workbook package will arrive in your member's area that takes a deeper dive into one or more elements related to the theme for the month. 
For example, this month's topic is Attention-Getting Ways to Put Your PLR to Work. It covers:
Changing formats to create unique products

Using PLR as research material

Creating effective calls to action

Using PLR to Create Emails for Your List

Using PLR to help your customers consume your products
You'll also get action sheets for each section of the guide to make taking action easy!
Live Training & Mastermind 
You'll also get two live calls every month!
Next Level Expert Masterclasses
Each month, a new training by us or a guest-expert will be released – members get live access and early access to the recordings.
In March's Masterclass Jenn and Ruthie will share how they organize their PLR collections.
Peer-to-Peer Masterminds
A live video meeting to facilitate peer-to-peer accountability and support. Where you can ask questions and get feedback from Ruth, Jenn and other members of the All Access Community. This is not recorded in order to encourage sharing of ideas and information without fear.
Each month you'll get: 
a 5-day Challenge delivered by email
a more in-depth ebook and workbook to help you really use your PLR
a live training on topics related to your business like tools, techniques, and strategies
a live mastermind call to address questions, share experiences, and support each other
Just Some Of The Things That Happen When You Join The All Access Training Club
Other Products You Might Like