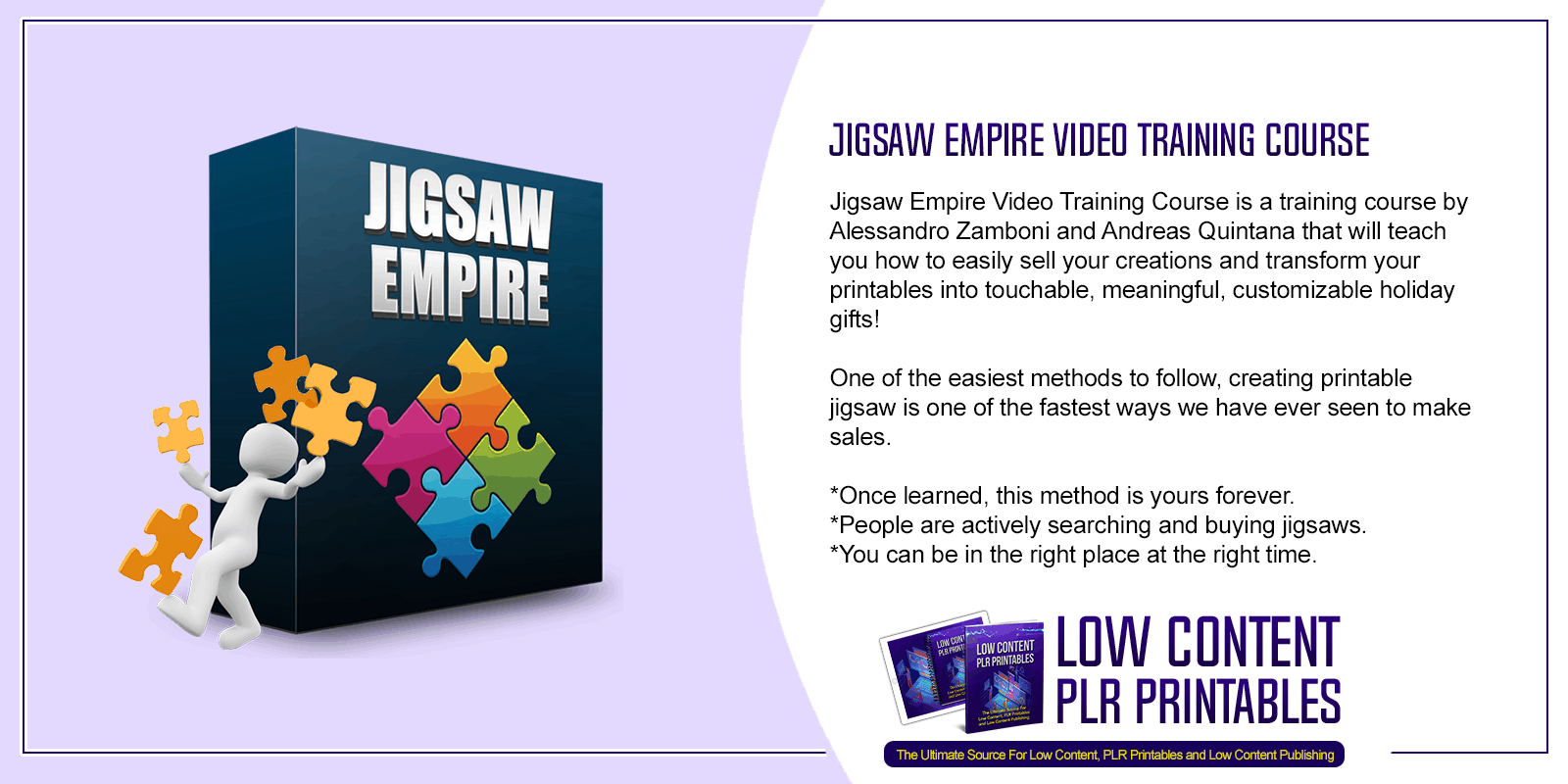 Choose Your Desired Option(s)
#jigsawpuzzles #jigsawempirevideotrainingcourse #jigsawempire #videotrainingcourse #jigsawempirevideotraining #jigsawempirecourse #jigsawpuzzleniche #jigsaw #jigsaws #printablejigsawpuzzles #printablejigsaws #printablejigsawcreation #digitaljigsaw #phsyicaljigsaws #holidaygifts #customizablejigsaws #customizableholidaygifts #activitybooks #puzzles #printablepuzzles #passiveincome #selfpublishing #selfpublishingbusiness
Jigsaw Empire Video Training Course by Alessandro Zamboni and Andreas Quintana that will teach you how to easily sell your creations and transform your printables into touchable, meaningful, customizable holiday gifts!
Use this Video Training Course to learn how to create jigsaw printable puzzles within minutes with free software. You'll also get tips like what are good niches to focus on when it comes to creating your own printable jigsaws. One of the best things about this market is that both adults and children love these activity books. We'll also show you how to sell your puzzles with ease and automate the file delivery process.
Introducing The…
Jigsaw Empire Video Training Course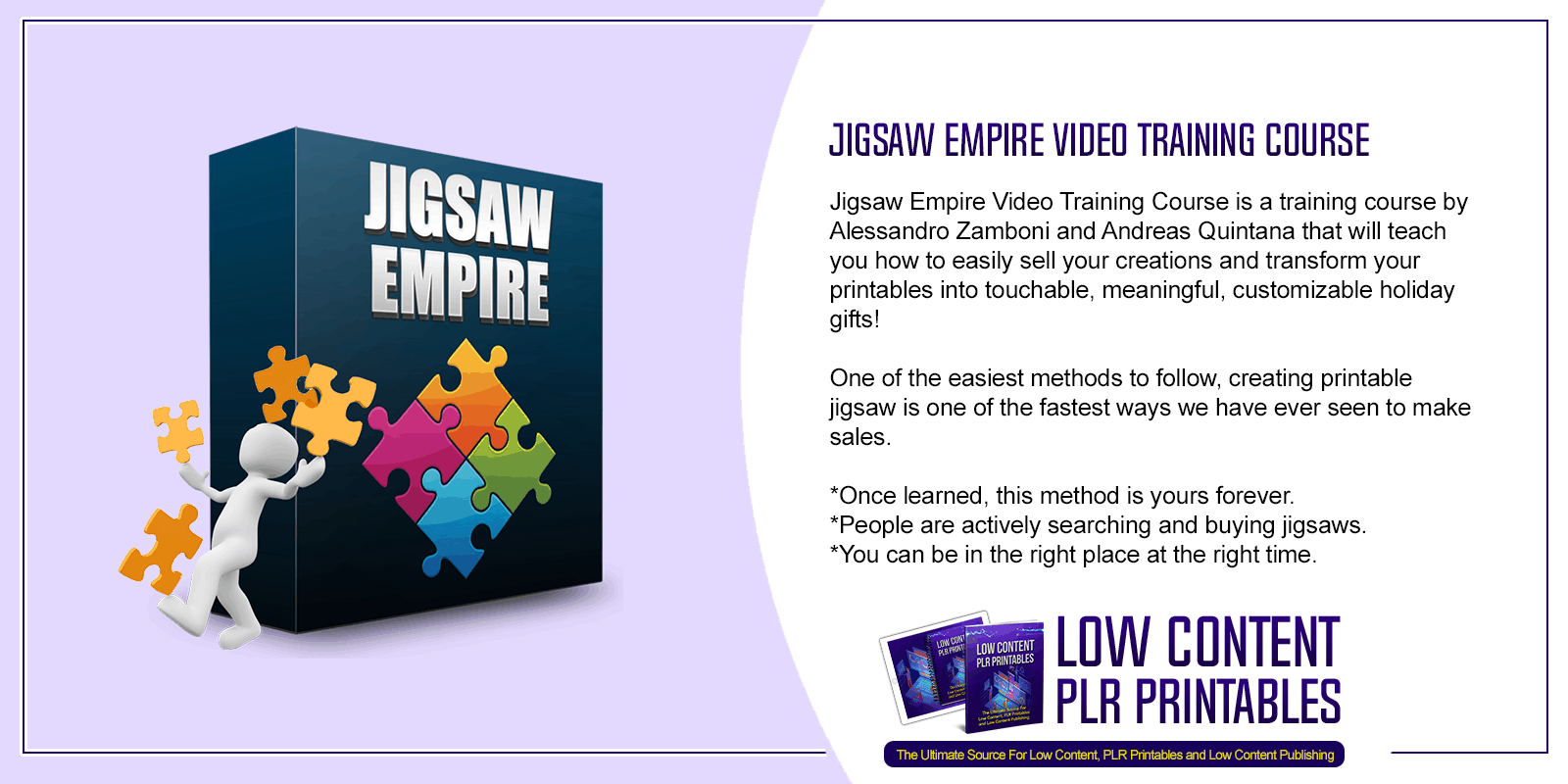 Here's what you'll learn with this amazing Jigsaw Empire Video Training Course:
This is a step-by-step video series made for beginners and experts alike.
The 9 perfect niches for a good jigsaw.
Learn how to build your business at your pace
Learn how to earn passive income
How to create new jigsaws in under two minutes, with free software.
​How to create jigsaws for experts.
Learn how to use our proven methods to creating printable jigsaws
​How to create a physical printed and shipped jigsaw
​Where to find a lot of beautiful and ready images to use.
How to make digital jigsaws for kids and for adults.
​How to sell your jigsaws like a pro, with automatic file delivery.
3 Important steps you will learn to follow:
Step 1 – Convert images into jigsaws.
Step 2 – Save them in PDF Format.
Step 3 – Sell Them on Etsy, And Make Sales!
Learn how to create printable jigsaws for kids, adults and experts, and how to package and sell them for huge profit. This course will show you a brand-new market where you can be among the firsts to get results. And you can learn how to create printed and shipped for you printable puzzles.
Get The Jigsaw Empire Video Training Course For Yourself – Click Here
Watch This Video To Learn More
Jigsaw Empire Video Training Course Bonus Offer:
Bonus – Dragons Coloring Jigsaws
This bonus comes straight from one of the coloring book packages sold on WarriorPlus, and it's made to show you how to sell coloring jigsaws to the masses!
Once you learn the process it becomes super easy to start profiting. The demand for printable jigsaws is evergreen because it was converted from physical to digital to make it more accessible to everyone online and allows people to have more choice when it comes to their favorite jigsaw puzzles. This is a business you can run with free software and the steps you will learn to accomplish this are fast and simple. The Jigsaw Empire Video training Course is your opportunity to profit in a growing market!
Get The Jigsaw Empire Video Training Course For Yourself – Click Here
Other Products You Might Like