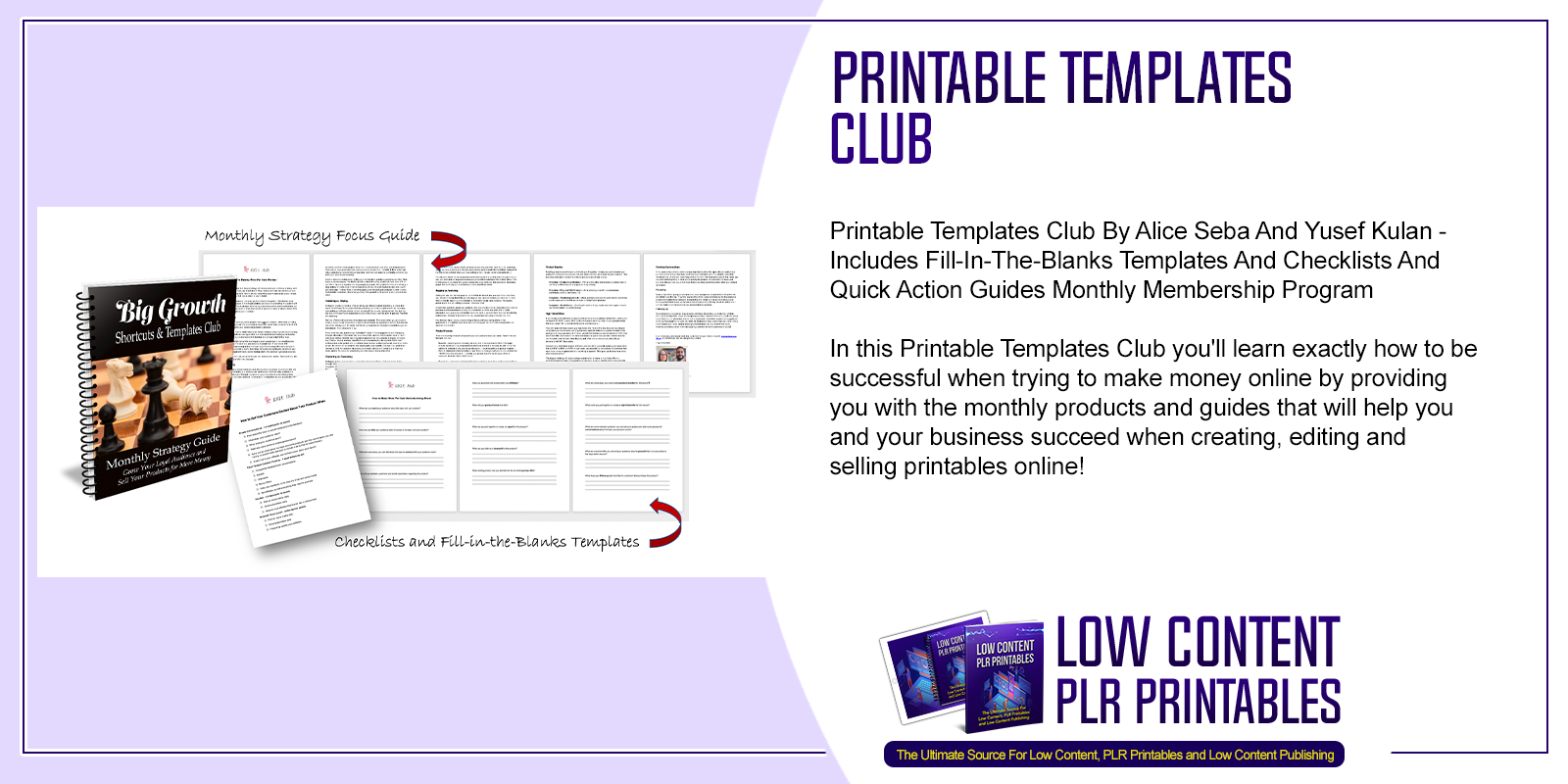 Printable Templates Club
in
Digital Marketing Training Courses , Journal and Planner Creation Courses , Low Content Publishing Courses , PLR Checklists , PLR Digital Pages , PLR Graphics and Clipart , PLR Printable Memberships , PLR Product Templates , PLR Workbooks , Print On Demand PLR , Printable Publishing Coaching Programs
Choose Your Desired Option(s)
#PrintableTemplatesClub #printabletemplates #plrprintabletemplates #aliceseba #yusefkulan #ekithub #fillintheblanks #templates #fillintheblanktemplates #quickactionguide #printableguide #monthlymembership #membershipprogram #plrprintablestraining #plrprintables #lowcontentplr #publishing #selfpublish #plrproducttemplates #templates #printablepages
Printable Templates Club By Alice Seba And Yusef Kulan – Includes Fill-In-The-Blanks Templates And Checklists And Quick Action Guides Monthly Membership Program
In this Printable Templates Club you'll learn exactly how to be successful when trying to make money online by providing you with the monthly products and guides that will help you and your business succeed when creating, editing and selling printables online!
Introducing The…
Printable Templates Club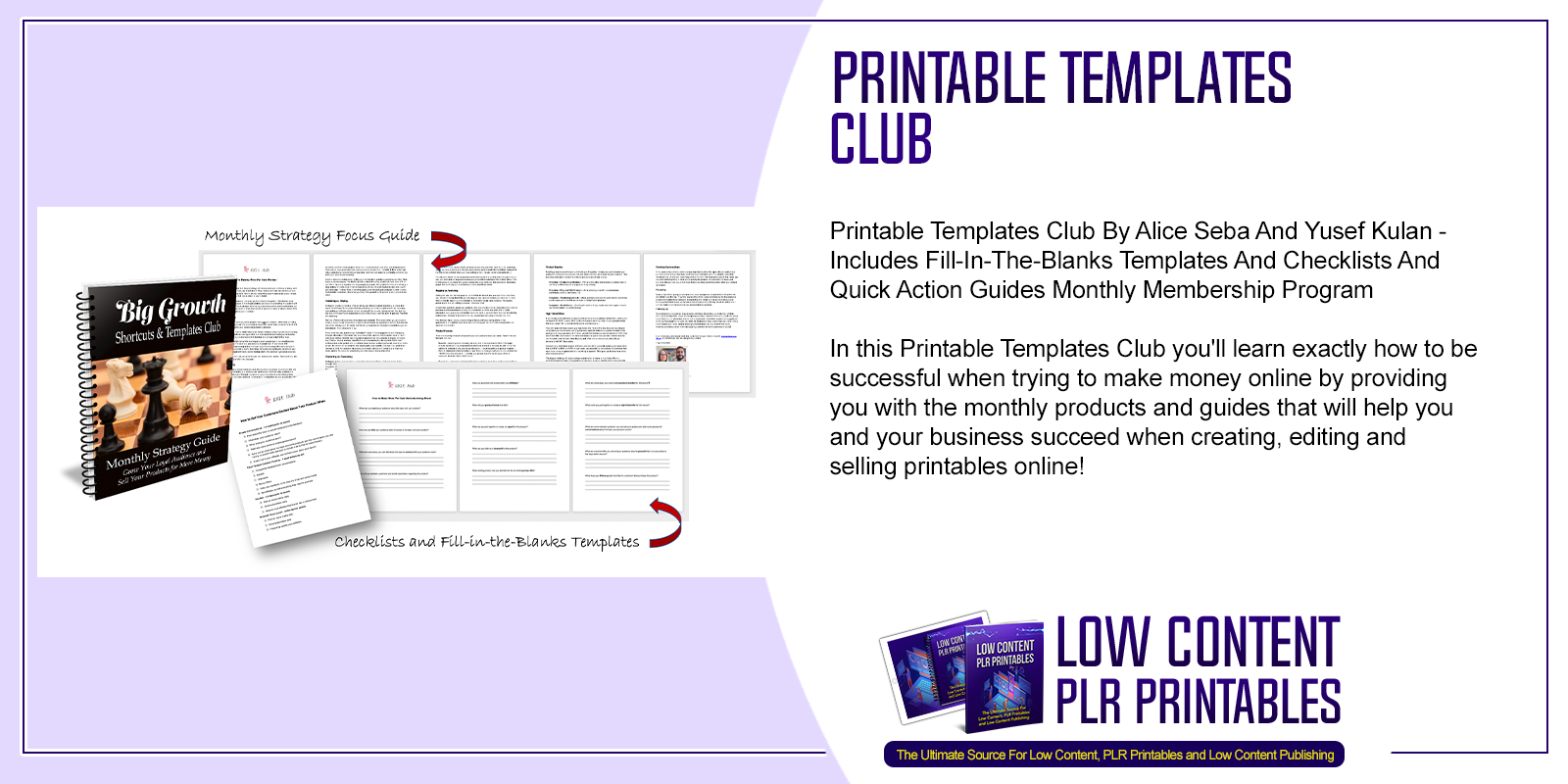 This is exactly what you could be getting in the Printable Templates Club:
In Short, They're Here to Help You…
Quickly learn the skills to grow a loyal and engaged audience who loves buying your products over and over again. The quick action guides get to the point quickly, so you can get to doing FAST.
Positioning yourself in your market, so you can earn more for each sale…even if you're selling low cost products like printables, print-on-demand products, ebooks and other digital products.
Giving you the fill-in-the-blanks templates and checklists to make it easy to implement what you learn and FAST.
The Big Growth Shortcuts and Templates Club and How it Makes It EASY for You to Get GROWING More Business
Monthly Strategy Focus with Easy-to-Follow Guide
Fill-in-the-Blanks Templates for Easy Implementation
Tons of Sign Up Bonus Gifts for a Strong Head Start
Monthly Strategy Focus with Easy-to-Follow Quick-Action Guide, Always with a Focus on Growing Your Loyal Audience of Happily Paying Customers
Each month, we'll focus on a specific marketing strategy. Always with the goal of helping you grow your loyal audience of customers who want to spend more money with you. On the 1st Monday of each month, you'll receive a strategy guide and help with using the fill-in-the-blanks templates. Here's a peek at the topics we'll be covering:
May: Creating Better Informational Content That Drives Sales (DOWNLOAD NOW!)
June: Getting Started with Your Own Affiliate Program to Increase Sales
July: How to Motivated Your Affiliates and Keep Them Promoting
August: Creating Synergy Between All Your Marketing Efforts
September: Keyword Mastery: Understanding Keyword for More Organic Traffic and More
October: How to Build Your Business with Special Events
November: Collecting Testimonials and Case Studies for Bigger Clout and More Sales
December: Writing Effective Product Descriptions for More Engagement and Sales
January 2023 and Beyond: To be Announced!
Fill-in-the-Blanks Templates for Easy Implementation for Each Strategy
Strategy is all well and good, but implementation is another thing. Let us make it easy for you with our fill-in-the-blanks templates to make it easy for you to brainstorm and put the strategies into practice.
Each monthly strategy includes its own template set that you can use for your own business. And if you need these templates to use with your clients and customers, you'll see an upgrade option to secure a resell license to all these templates and the strategy guides too.
Each month covers a new strategy, but if you want to get fully immersed and have the tools for a super strong head start, you'll love our special Charter Members Bonus Line Up. We've included:
Sales Page Funnels Templates: To give you the starter nuts and bolts of creating a product offer including Insider's Funnel Strategy Guide, sales page template, thank you page template, one-time-offer template, copywriting swipe files and sales page graphics collection.
Copywriting Templates: The ability to leverage words to sell is critical for any online business owner. This template package includes an Insider's Copywriting Strategy Guide and swipe files for pre-headlines, headlines, power words and phrases, calls to action, closings and sign off, postscripts, transitions, bullet point benefits, motivating phrases and price justifications.
Outsourcing and Building Your Team Templates: It's really tough to scale your business if you're doing all the work yourself. It's important to build a team, so you can focus on the planning the growth and direction of your business. This template package includes an Insider's Guide to Outsourcing, 4 project listing templates, evaluating applications checklist, suggested interview questions, 4 project specification templates, quality check checklist, constructive feedback template and a big list of outsourcing sites.
See The Printable Templates Club For Yourself – Click Here
And for your content and product creation, we've got the following easy-to-use templates for you:
Journal Templates: Journals make great stand-alone products and are perfect additions to courses and coaching programs, products bundles and more. This template package includes an Insider's Guide to Profiting from Journals, 10 beautiful journal templates, journal creation checklist, 100 inspirational success quotes to use in your journals, 10 fully editable journal cover templates including 3D versions of covers if you want to use them as is.
Planner Templates: Planners are another type of "low content" products it's easy to profit from, whether you sell them on their own or in combination with other products or programs. This template package includes an Insider's Guide to Profiting from Planners, 10 planner templates, planner creation templates, 100 time management and organization quotes you can use in your planners and 10 fully editable planner cover templates including 3D versions of covers if you want to use them as is.
Worksheets, Checklist and To Do List Templates: Bulk up those printable or course offerings with even more printables. This templates package includes An Insider's Guide to Profiting from Printables and 10 complete design sets…each one with a worksheet, checklist and to do list, for a total of 30 templates.
365 Days of Inspiration Templates: Inspiring your audience is a big part of connecting with them. This template package includes enough content for inspiration each day of the year. You get the Insider's Strategy Guide, 122 inspirational quotes, 122 inspiration tips, 122 inspirational questions and 10 graphic templates for your inspirational text.
As you can see, right out of the gate, you'll be ready to start growing your loyal audience and selling your products more effectively. Then they'll be sharing more and more in-depth strategies with templates each month, so you can continue to build on your marketing skills and grow your business effectively.
When You Sign Up Right Now, You Get:
May's Focus: Creating Better Informational Content
Creating Better Informational Content Guide
Checklist, Worksheet & Report Templates
9 fill-in-the blank Templates
Informational and Informative Content Checklist & Worksheet
2 Infographics Ready to use and fill-in-the blank
Webinar Presentation Template (63 pages)
The Printable Templates Club is just for you if you're looking for a monthly PLR printable membership that can be used to create your own unique printables when purchased and rebranded! You can also buy this templates bundle to edit and sell on your store or use it for yourself. Perfect for you if you have a publishing business and are looking for new products or printables. Click the link below to learn more!
Get a special discount if you purchase products on the Ekit Hub Shop, use the coupon code below to save 40% off your first order at ekithub.com.
FRIENDSOFMOZIE
See The Printable Templates Club For Yourself – Click Here
Other Products You Might Like