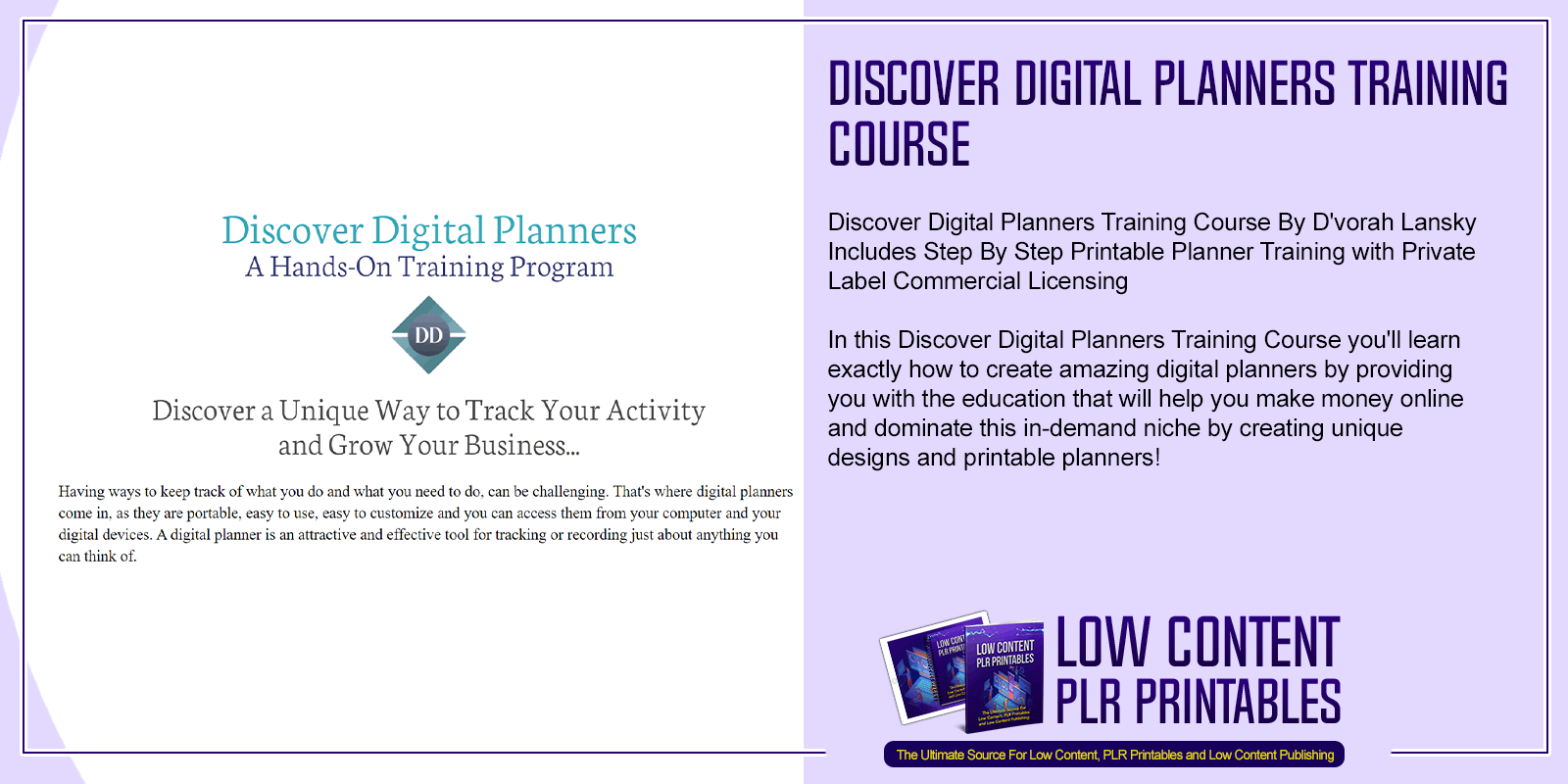 Choose Your Desired Option(s)
#Discover #Digital #Planners #Training #Course #dvorahlansky #digitalplanners #plrplanners #learn #education #educational #printables #printableplanners #takeaction #lowcontent #publishing #selfpublishing #business #onlinebusiness #etsy #makemoney #makemoneyonline #lowcontentpublishing #guide #productcreation #graphicdesign #bonuses #createprintables #printableproducts
Discover Digital Planners Training Course By D'vorah Lansky Includes Step By Step Printable Planner Training And Templates with Private Label Commercial Licensing
In this Discover Digital Planners Training Course you'll learn exactly how to create amazing digital planners by providing you with the education that will help you make money online and dominate this in-demand niche by creating unique designs and printable planners!
Introducing The…
Discover Digital Planners Training Course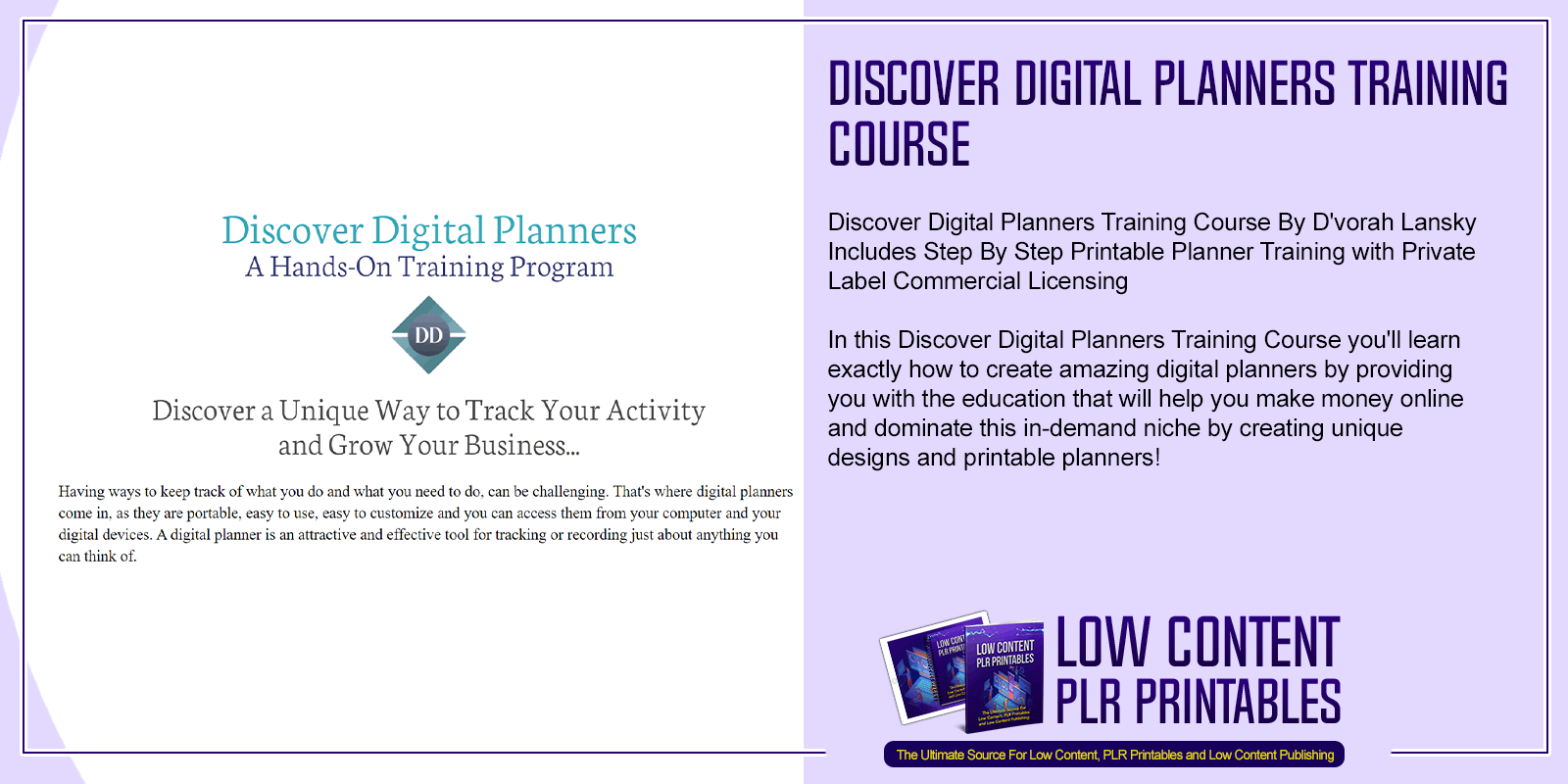 Here's what you'll learn with this amazing Discover Digital Planners Training Course:
In Discover Digital Planners, we'll dive into the world of digital planning, explore a wide variety of types of digital planners and discuss how this timely tool can help you to grow your business and your brand.
Here's what they'll cover:
Introduction to digital planners.
Exploration of a wide variety of digital planners
How to use digital planners personally and professionally
A collection of special bonuses
Tools and resources to support you on your digital planning journey
And more based on the needs and questions of program participants.
This course is available on-demand so you can go through the training and apply what you learn, at times that are best for you.
Digital planners come in a wide variety of topics and can open up a world of opportunities!
Here are just some examples:
Digital Academic Planner
Digital Bullet Journal
Digital Diary
Digital Goals Planner
Digital Journal
Digital Memory Keeper
Digital Notebook
Digital Notepad
Digital Planner
Digital Reading Journal
Digital Recipe Book
Digital Scrapbook
Digital Sticker Book
Digital Study Guide
Digital Teacher's Planner
Digital Travel Journal
Digital Wedding Planner
Digital Workbook
Possibilities:
The focus of this program is on exploring the opportunities available with digital planners.
As special bonuses for this program, you'll receive a collection of ready-to-use digital planners for your personal use.
While this course dives into the world of digital planners, it is not a course on creating digital planners.
You will have access to a variety of DIY as well as Done-for-You recommended resources that you can use to customize or create your own digital planners.
See The Discover Digital Planners Training Course For Yourself – Click Here
Discover Digital Planners Training Course Bonuses:
Bonus A: Interactive Discussion Forum: Get ongoing training and support to help you on your digital planning journey. Our forum is a great place to come to get ideas, ask questions and share your work.
Bonus B: Bonus Webinars, for additional training and discussion. These will of course be recorded too. As we go along, you'll be invited to bonus sessions, based on the needs and questions expressed by course members.
Bonus C: Addition Tools and Resources will be added over time and you'll get access to this new content as well!\
AND:
Bonus #1 Digital Notebook
Bonus #2 Digital Gratitude Journal
Bonus #3 Digital Workbook Journal
The Discover Digital Planners Training Course is perfect for those of you who want to generate new streams of income online and on your website by creating your own printables. When you purchase this training get access to amazing step by step training and more to educate yourself on how to create amazing printables and ensure your business succeeds in this high-demand market! Click the link below to check out this amazing training.
Get a special discount if you purchase products on the Share Your Brilliance PLR Planners and Journals Store, use the coupon code below to save 20% off ANY products at ShareYourBrilliance.com.
MOZIE20
See The Discover Digital Planners Training Course For Yourself – Click Here
Other Products You Might Like