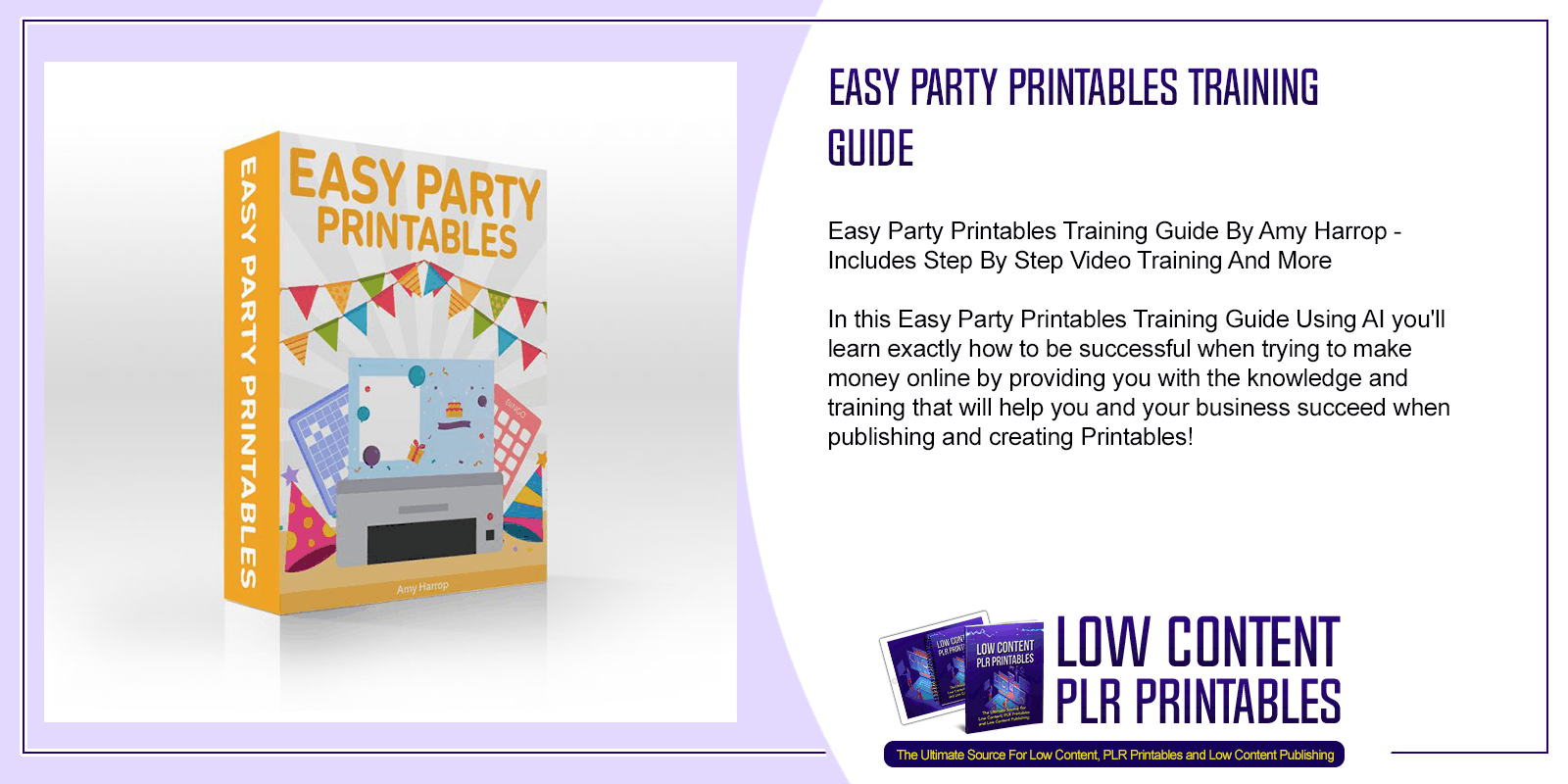 Choose Your Desired Option(s)
#EasyPartyPrintables #Training #Guide #videotraining #amyharrop #stepbystep #PDF #education #learn #course #videotrainingguide #videotrainingcourse #lowcontent #lowcontentplr #plrprintables #printable #printables #publish #selfpublish #publishing #makemoneyonline #creatingprintables #printablecourse #lowcontentpublishing
Easy Party Printables Training Guide By Amy Harrop – Includes Step By Step Video Training And More
In this Easy Party Printables Training Guide Using AI you'll learn exactly how to be successful when trying to make money online by providing you with the knowledge and training that will help you and your business succeed when publishing and creating Printables!
Introducing The…
Easy Party Printables Training Guide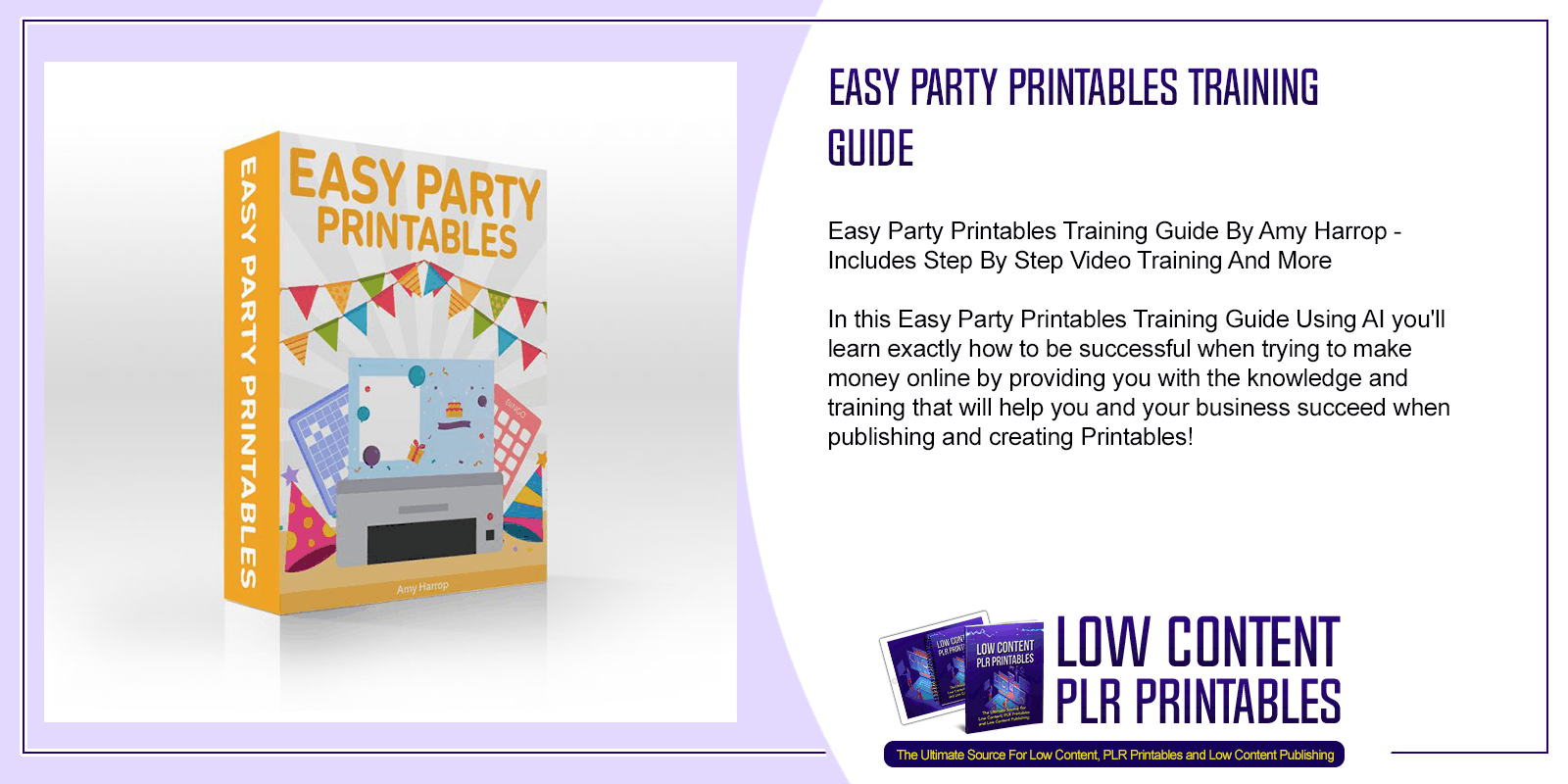 Here's what you'll learn with this amazing Easy Party Printables Training Guide:
The In-Depth Easy Party Printables PDF Guide
Inside, they share all the details on the hottest party printable niches, the best places to profit from these products, and the quickest ways to get yourself up and running with hardly any effort!
They'll take you by the hand and personally show you how to create products for these niches as well as the easiest ways to sell them. This isn't the same old stuff.
Nothing is left out! Everything you need to succeed is all included from A to Z.
The Easy Quick-Start Checklist
That's why they've created checklists that gives you all the details you need to create your own party printable products in just a few clicks!
Just pop open this checklist, follow the steps, and you'll be creating and listing products in no time. Whether you're making a wedding invitation or a birthday party hat, you'll know exactly what to do for each step along the way. These checklists are perfect for removing any guesswork!
Over The Shoulder Video Training
Besides the guide and checklists, they've also created a set of easy to follow videos that shows on screen the exact steps you need to take.
Because some people are visual learners, they wanted to make sure to cover all the bases and give you every advantage for getting off to a great start right out the gate!
These videos will help you create visually stunning products in Canva, modify existing ideas to put your own unique spin on them, and more!
Mini-Guide to Help You Find Great Niches and Hot Products
On top of all these resources, they've also included a mini-guide to help you go even further.
When you feel ready to find some of your own hot products or want to branch out to discover new trends, these online tools will make it a piece of cake!
Complete with detailed instructions, over-the-shoulder screenshots, and examples, this mini-guide explains everything you'll need to know to succeed.
Tons of Done-For-You Templates To Help You Profit Fast!
Finally, they've created 31 DFY product templates that you can use to publish and profit quickly from the most popular party printable niches.
With these templates you can make the quantum leap and have your very own products up and running and ready for sale within the same day.
Oh, and there's no special editing skills necessary. You can load these up in PowerPoint or any slide program like Google or OpenOffice, click a few buttons to make your's unique, and you're good to go. It's a true done for you setup!
They've also included all 31 templates in their new favorite, easy-to-edit template option, Canva. With a FREE Canva account, you can quickly alter the colors, add extra images, and even switch up the background using their free-for-commercial-use elements.
You'll get:
31 beautifully designed templates all in easy-to-edit PowerPoint and Canva formats with full commercial-use rights
Custom-tailored for hot-selling party printable markets.
Tutorial videos revealing how to quickly change or tweak the designs. Nothing is left out!
Here's just a sample of what you'll discover:
Get the inside track on why party printable products are one of the best passive income strategies you can pursue. (p. 6-8)
Discover why these special types of printables fulfill a massive need…and there is more demand than supply. (p.12)
What are the top topics to focus on, and why you'll never run out of in-demand ideas, (p.22)
The simple way to modify premade designs and templates… use these tools to make them your own in seconds. (p. 46-58)
Want to sell on Etsy? You'll want this must-have shortcut tool to understand your competition and optimize your listings the easy way! (p. 43)
Discover little known niches poised to become incredibly popular. I guarantee people are going to be looking for these… (p. 39-40)
The best way to double the asking price for your products without any extra work! (p. 65-68)
True insider secrets to promote your products and drive traffic to your site using tools you probably already have… (p. 80-85)
See The Easy Party Printables Training Guide For Yourself – Click Here
Plus, When You Get Started Today. You'll Also Receive These AMAZING Fast Action Bonuses!
The Ultimate Resource for Free Graphics Online
With this list, you'll discover thousands of FREE designs and images you can use on your products. No more hunting high and low for content or paying for it. With these resources, you'll be swimming in great designs without paying a penny!
The included resources cover these types of images:
Illustrations
Vintage designs
Landscapes
Plants and flowers
Borders
And more!
Etsy Selling Secrets
This Etsy guide is brimming with insider secrets to help you create best-selling products and a profitable shop. Whether you're new to Etsy or an established seller, there is tons of great information in this guide that you can start implementing today!
The Easy Party Printables Training Guide is perfect for those of you who want to generate new streams of income online and learn how to create printable products that you can sell for profit. When you purchase this course get access to amazing training and more to educate yourself and ensure your business succeeds!
See The Easy Party Printables Training Guide For Yourself – Click Here
Other Products You Might Like