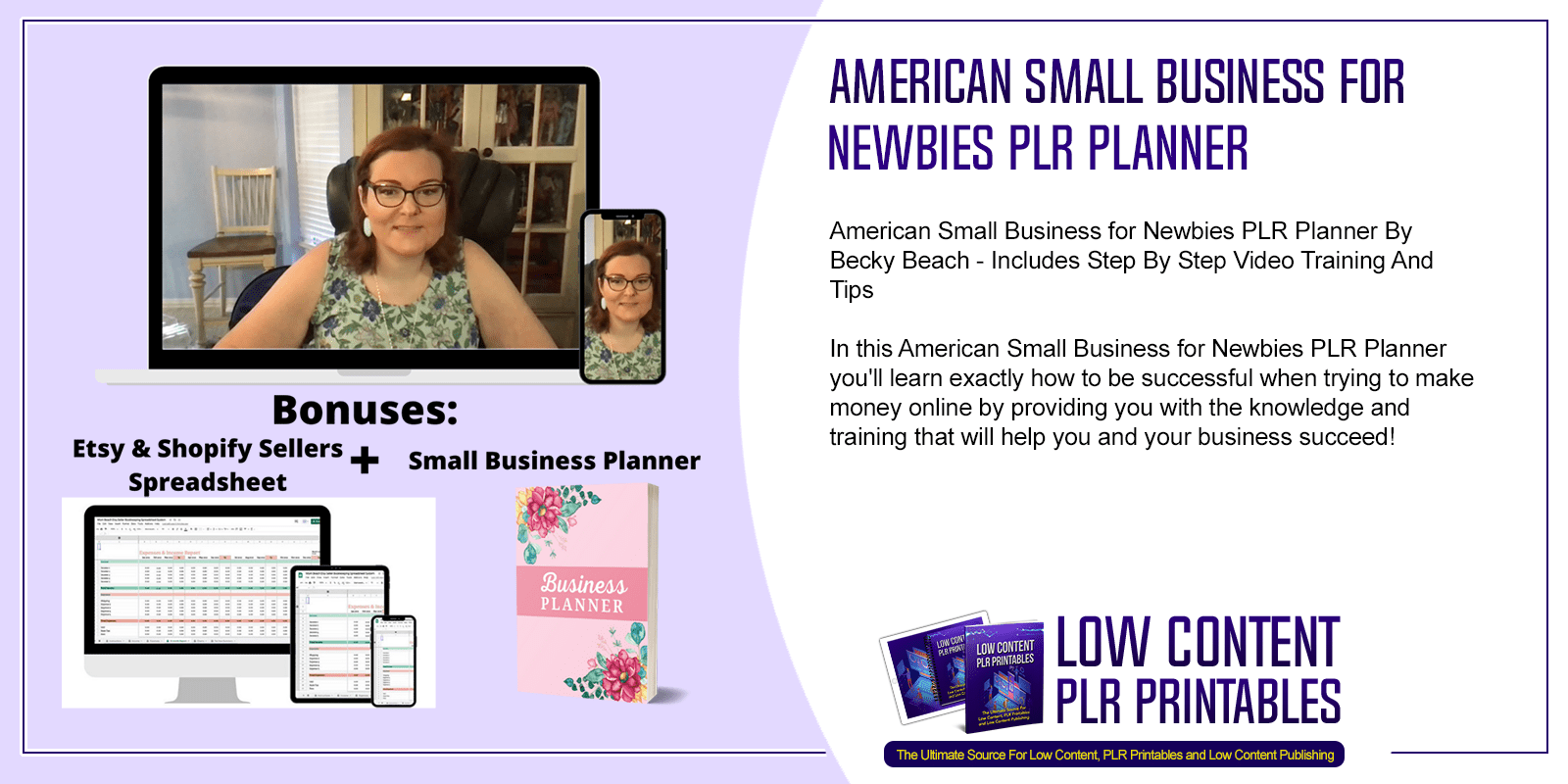 Choose Your Desired Option(s)
#AmericanSmallBusiness #Newbies #PLRPlanner #smallbusiness #business #businessfornewbies #beckybeach #plrbeach #videotraining #training #tips #makemoneyonline #entrepreneur #training #course #smallbusinesscourse #smallbusinesstraining #stepbystep #typesofbusiness #printables #planner #publish
American Small Business for Newbies PLR Planner By Becky Beach – Includes Step By Step Video Training And Tips 
In this American Small Business for Newbies PLR Planner you'll learn exactly how to be successful when trying to make money online by providing you with the knowledge and training that will help you and your business succeed!
Introducing The…
American Small Business for Newbies PLR Planner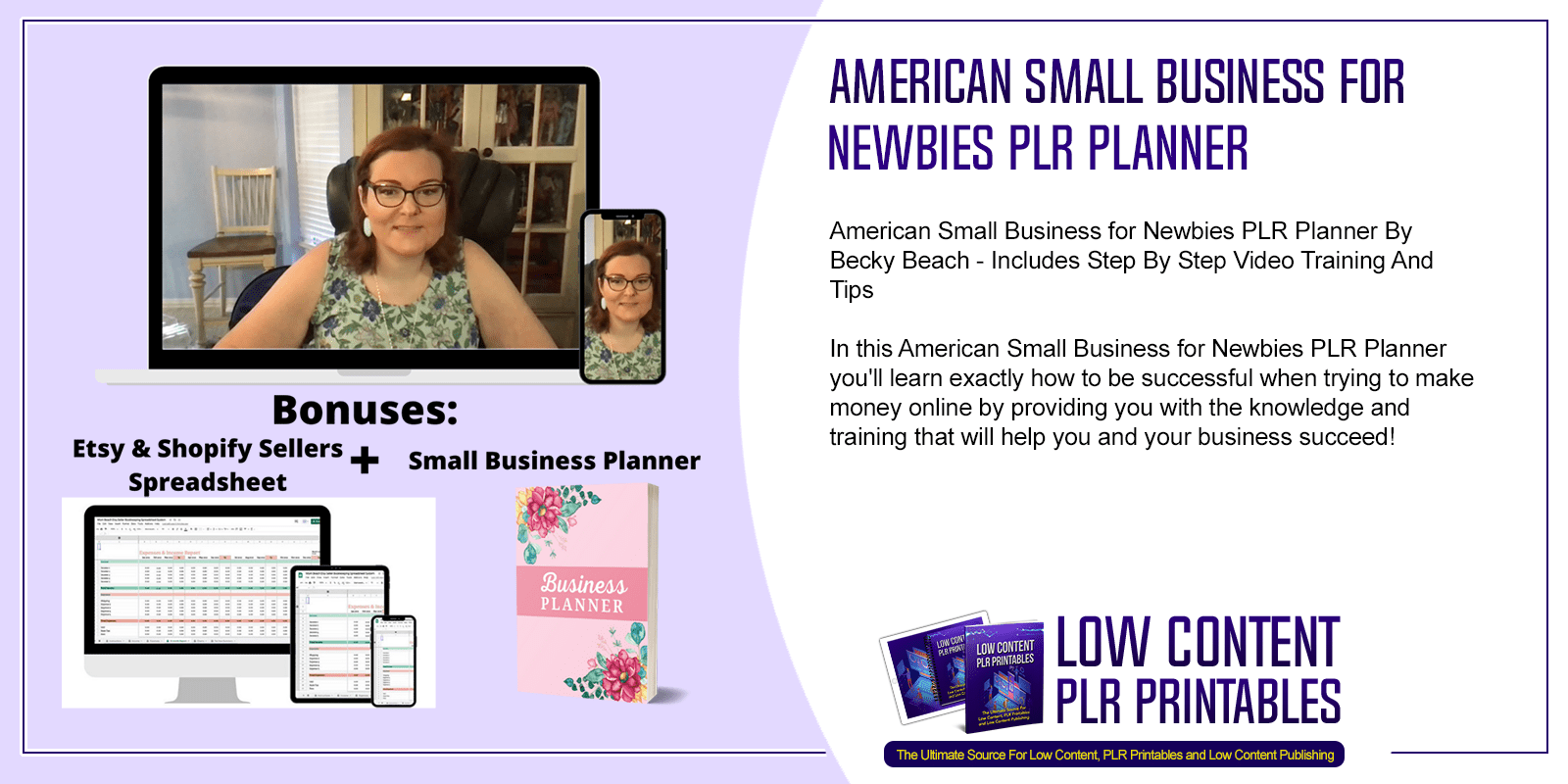 Here's what you'll learn with this amazing American Small Business for Newbies PLR Planner:
What you will learn in this course:
How to register your business
Types of businesses
Business taxes information
Healthcare information
MORE!
BONUS: Small Business Planner – $37 value
BONUS: Etsy & Shopify Sellers Spreadsheet – $57 value
BONUS: Canva Slides of the Course
See The American Small Business for Newbies PLR Planner For Yourself – Click Here
Let's take a peek inside the course:
Module 1: Why Start a Business?
Learn why you should start a business in the first place.
Module 2: Structuring and Registering Your Business
I go through the types of businesses so you can see which one is right for you.
Module 3: Debt or No Debt?
You can either choose to bootstrap your business or have debt. I outline the pros and cons of both.
Module 4: Business Credit
If you want to have debt, then I show how to apply for business credit.
Module 5: Business Taxes
I explain how to provide your accountant with the information they need to do your taxes.
Module 6: Understanding ROI
Return on investment or ROI can be confusing. I explain about it in detail.
Module 7: Paying Yourself
It's important to pay yourself to be legal in your business. I explain how much you should be paying yourself.
Module 8: Making Major Purchases
You may want to buy a house, car, or other expensive purchase. It can be tricky to do this when you are self-employed.
Module 9: Protecting Yourself Legally
You could run into legal trouble. I explain how you can protect yourself legally.
Module 10: Health Insurance
Now that you are self-employed, you need your own health insurance. I show how to get it!
Module 11: Retirement
You don't have a 401k with your 9-5 job anymore. What should you do now for retirement?
Module 12: Hiring
Hire people so that you can scale your business. I show what to do.
Module 13: Suggested Software
What software should you to get to streamline your business?
Module 14: Time Management
How can you make the best use of your time?
Module 15: Create Your Revenue Plan
How much do you want to make an hour in your business? Year? Month?
Module 16: My Small Business
I talk about my own small business.
Module 17: Final Wishes
What happens to your business if you were to pass?
Module 18: Goodbye and Next Steps
It's the end of the course. What are the next steps?
Module 19: Bonuses
You get my Etsy and Shopify Seller Spreadsheet (personal use – even if you get the PLR version of the course it is still personal use only!), my Small Business Planner (PLR), and Canva slides of the course to follow along better
The American Small Business for Newbies PLR Planner is perfect for those of you who want to generate new streams of income online and learn how to create your own business and make money online. When you purchase this course get access to amazing training and more to educate yourself and ensure your business succeeds!
Get 20% off any PLR printable products at PLRBeach.com by using this coupon:
MOZIE20
See The American Small Business for Newbies PLR Planner For Yourself – Click Here
Other Products You Might Like