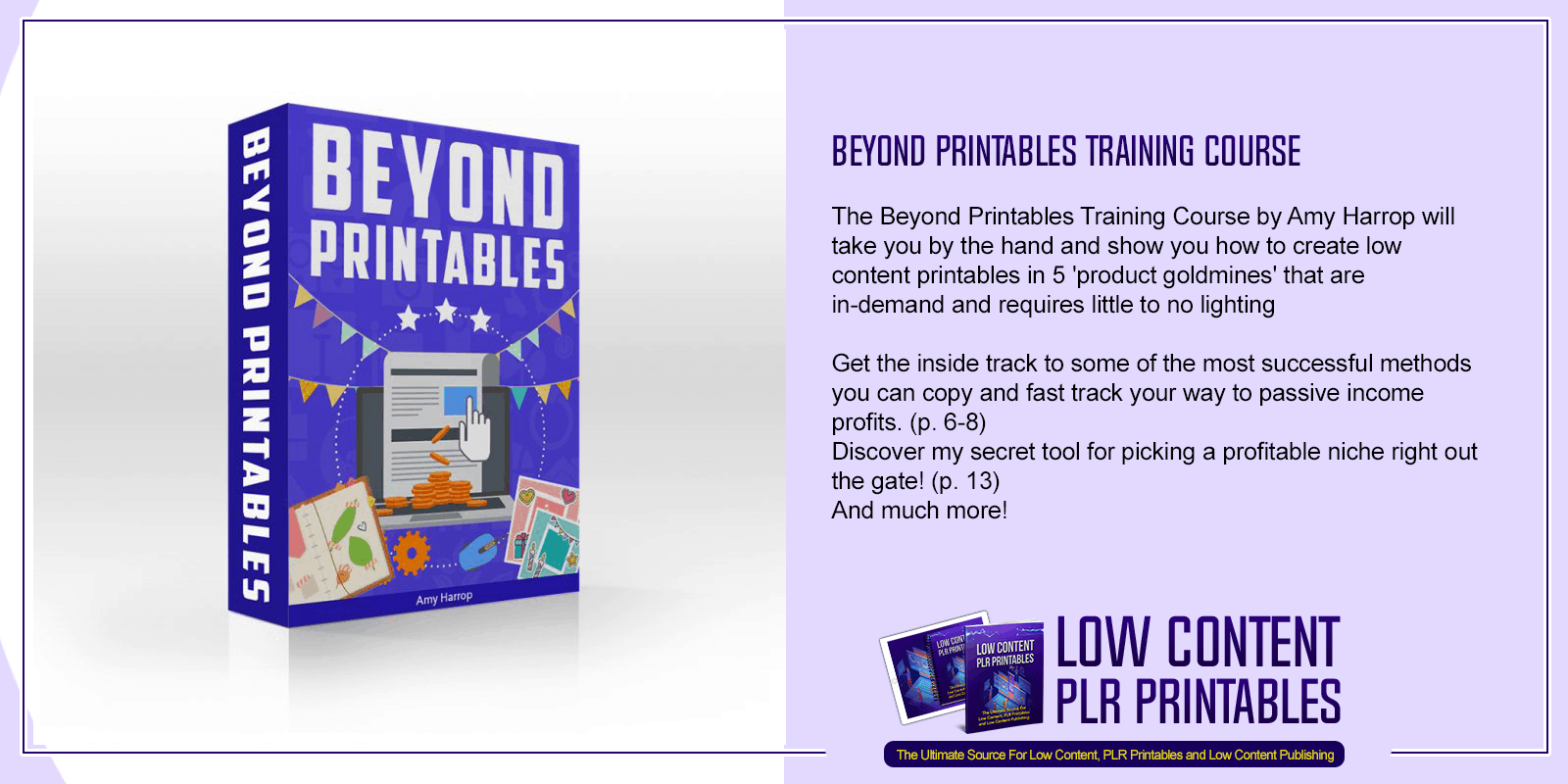 Choose Your Desired Option(s)
#beyondprintablestrainingcourse #beyondprintables #trainingcourse #beyondprintablestraining #beyondprintablescourse #printables #course #training #printablescreation #printablestraining #printablescourse #lowcontent #publishing #publishingguide #selfpublishing #selfpublishingtraining #videotraining #overtheshoulder #doneforyou #templates #printablesgoldmine
The Beyond Printables Training Course by Amy Harrop will take you by the hand and show you how to create low content printables in 5 'product goldmines' that are in-demand and requires little to no writing
By getting the Beyond Printables Training Course you will receive a PDF guide, a checklist and over the shoulder video training because some people are visual learners. You will learn some of the most successful methods you can copy for profitable passive income.
Introducing The…
Beyond Printables Training Course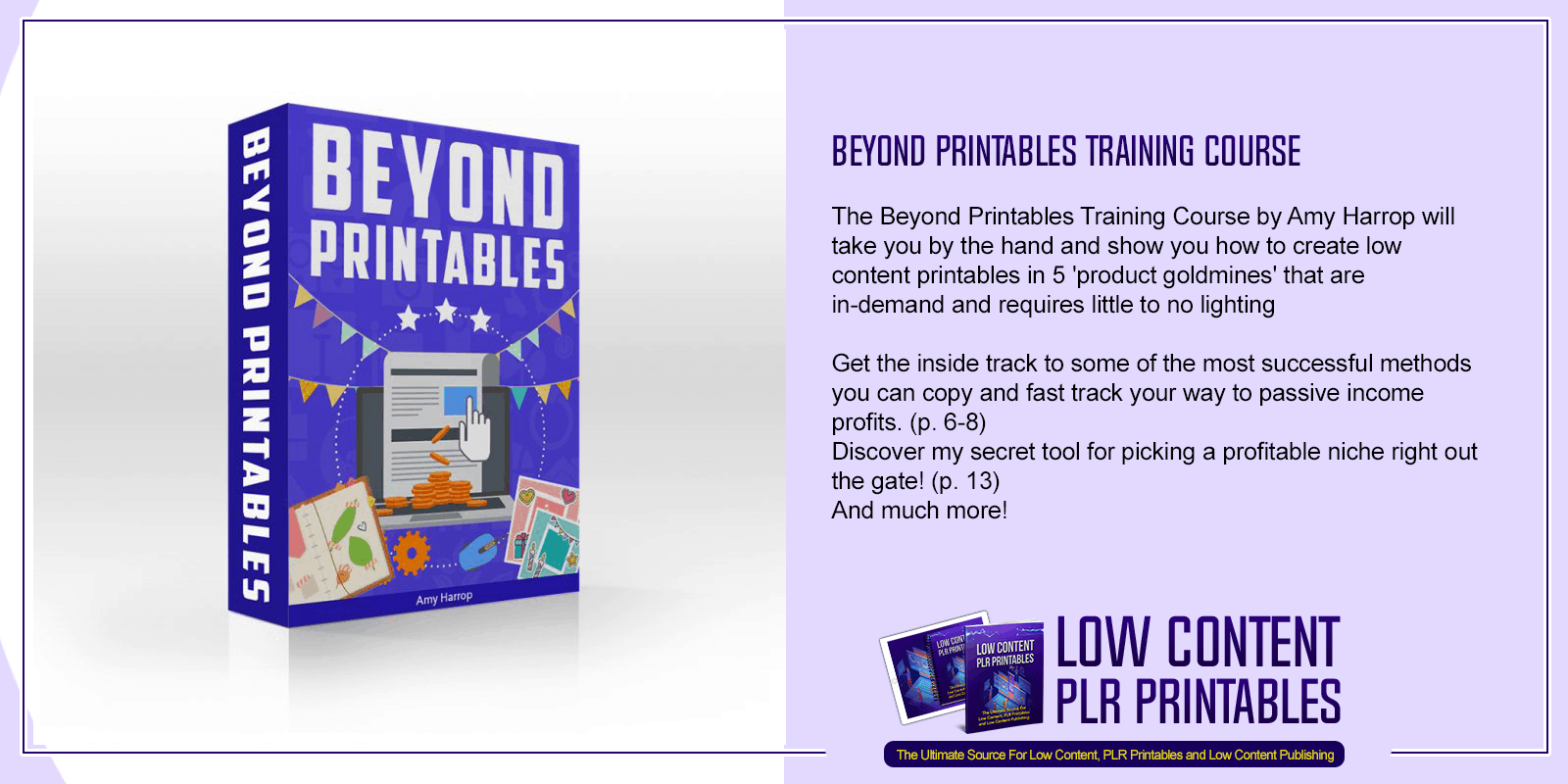 Here's what you'll learn with this awesome Beyond Printables Training Course:
The In-Depth Beyond Printables PDF Guide
Inside, you'll learn about these 5 very special 'product goldmines' that are highly in-demand. Little to no writing needed!
Takes you by the hand and personally show you how to create products for these categories as well as how to sell them.
The Easy Quick-Start Checklists
3 separate checklists that lay out all the steps you need to take to get up and running quickly.
Just pop open these checklists, follow the steps and you'll be good to go. Perfect for removing any guesswork.
Over The Shoulder Video Training
a set of easy to follow videos that shows on screen the exact steps you need to take.
Because some people are visual learners, I wanted to make sure to cover all the bases and give you every advantage for getting off to a great start right out the gate! These videos will help accomplish that.
Tons of Done-For-You Templates To Help You Profit Fast!
DFY product templates that you can use to publish and profit quickly from these goldmines. With these templates you can make the quantum leap and have your very own products up and running and ready for sale within the same day.
There's no special editing skills necessary. You can load these up in PowerPoint or any slide program like Google or OpenOffice, click a few buttons to make your's unique, and you're good to go. It's a true done for you setup!
And if you get stuck, there's notes included and how-to videos to show you how to edit these templates quickly!
A Quick 'Peek' Inside The Guide:
No Photoshop necessary when you use this FREE tool for all your graphic design needs. (pssst…you won't need to download any software) (p. 59)
Done-For-You Product Templates For All Five Goldmines With Full Commercial Use Rights:
52 beautifully designed templates all in easy-to-edit PowerPoint format.
Custom-tailored for hot-selling beyond printables markets.
Tutorial Videos revealing how to quickly change or tweak the designs. Nothing is left out!
Get The Beyond Printables Training Course For Yourself – Click Here
Beyond Printables Training Course Bonus Offer:
150 Quote and Text Ideas
You can copy this text and paste it into your designs so you have ready-to-sell digital products in no time!
The included quotes cover these topics:
Productivity & Scheduling
Inspirational & Self-Help
Healthy Living & Wellness
Digital Paper Bundle From PLR Planners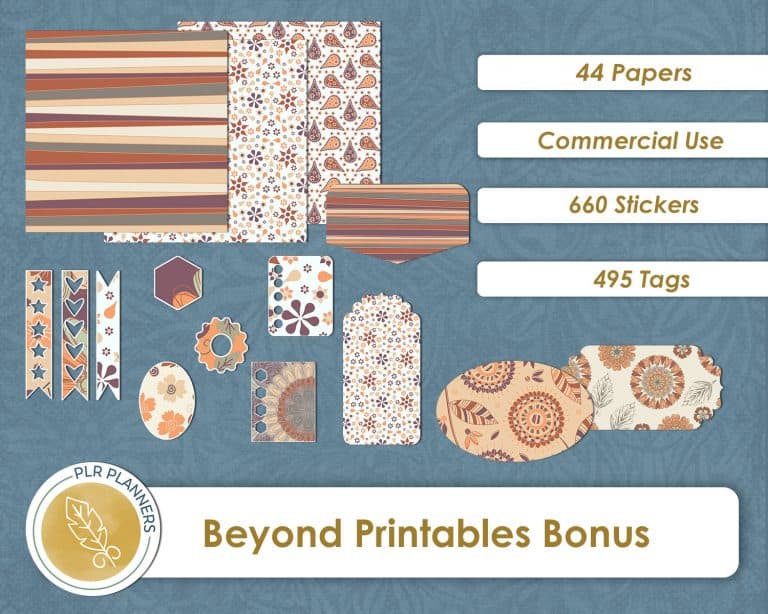 This commercial use digital paper, stickers and book tabs pack was created exclusively for Amy Harrop's Beyond Printables training course by Di Heuser from PLR Planners.
You can use them to create:
Printables
Journals
Book Covers
Digital Planners
Wedding invites
Birthday cards
Wall Art etc.
Terms of use:
You cannot resell the items as is for commercial use. You may provide flattened jpg or png files to your customers. The stickers may be sold as is only as a value add for a digital or printable planner or journal.
One thing that stops people from making money online is the amount of time it takes to see results. This is why the Beyond Printables Training Course is made just for you. You get everything you need to start learning and implementing these proven strategies that will help you and your publishing business succeed without it consuming all your time. You just need to follow the video guide and use the templates provided and you could be profiting in no time.
Get The Beyond Printables Training Course For Yourself – Click Here
Other Products You Might Like