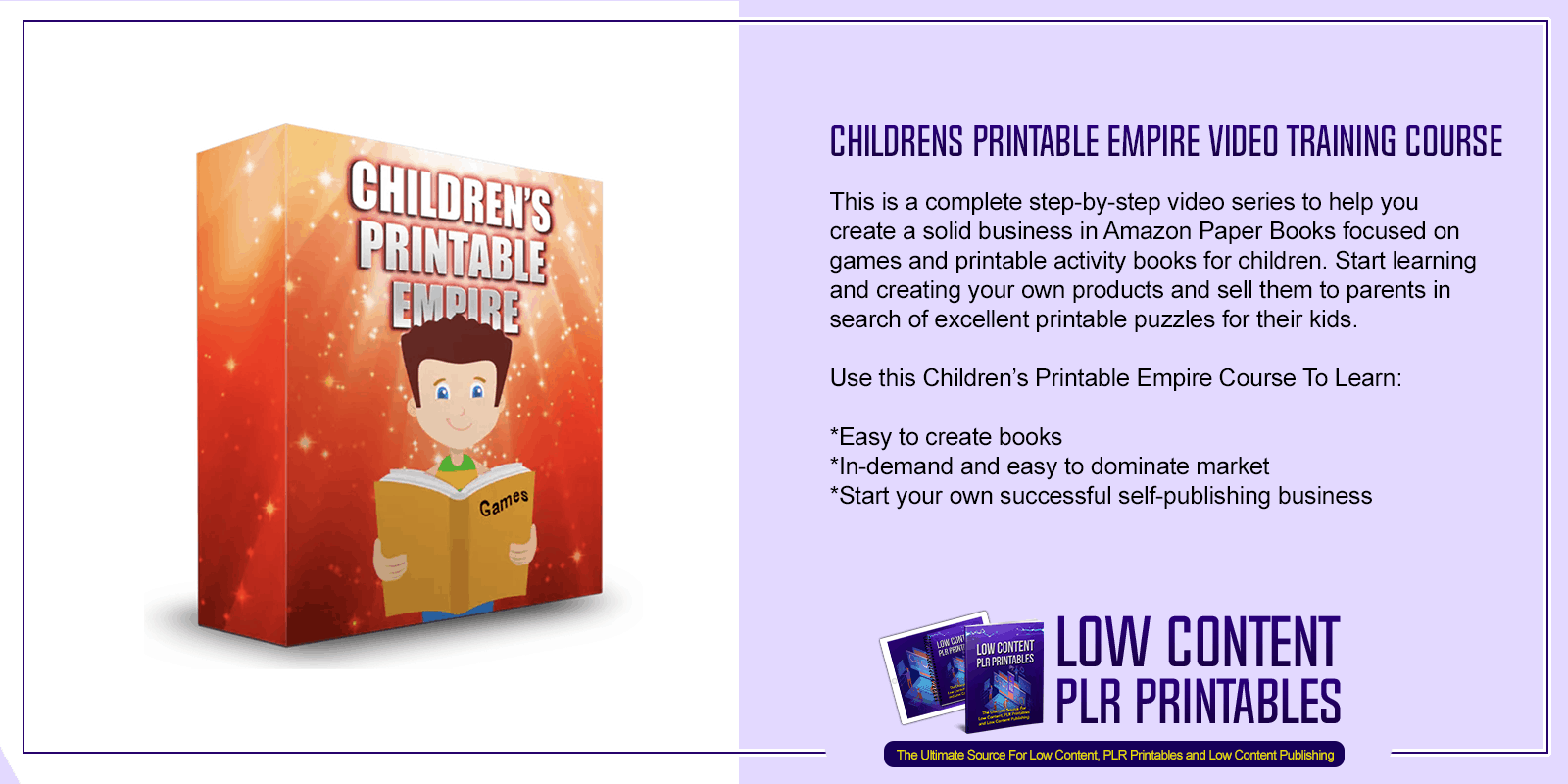 Choose Your Desired Option(s)
#childrensprintableempire #videotrainingcourse #childrensprintableempirevideotraining #childrensprintableempirecourse #printables #childrensprintables #activitybooks #printableactivitybooks #videotraining #childrensprintablesniche #printablepuzzles #puzzles #childrensgames #createchildrensprintables #childrensprintablescreation #lowcontent #publishing #publishingbusiness #selfpublishing #lowcontentpublishingbusiness
Childrens Printable Empire Video Training Course by Alessandro Zamboni and Andreas Quintana that will teach you how to create children's printable puzzles and games very quickly without costing you a cent.
This is a complete step-by-step video series to help you create a solid business in Amazon Paper Books focused on games and printable activity books for children. Start learning and creating your own products and sell them to parents in search of excellent printable puzzles for their kids.
Introducing The…
Childrens Printable Empire Video Training Course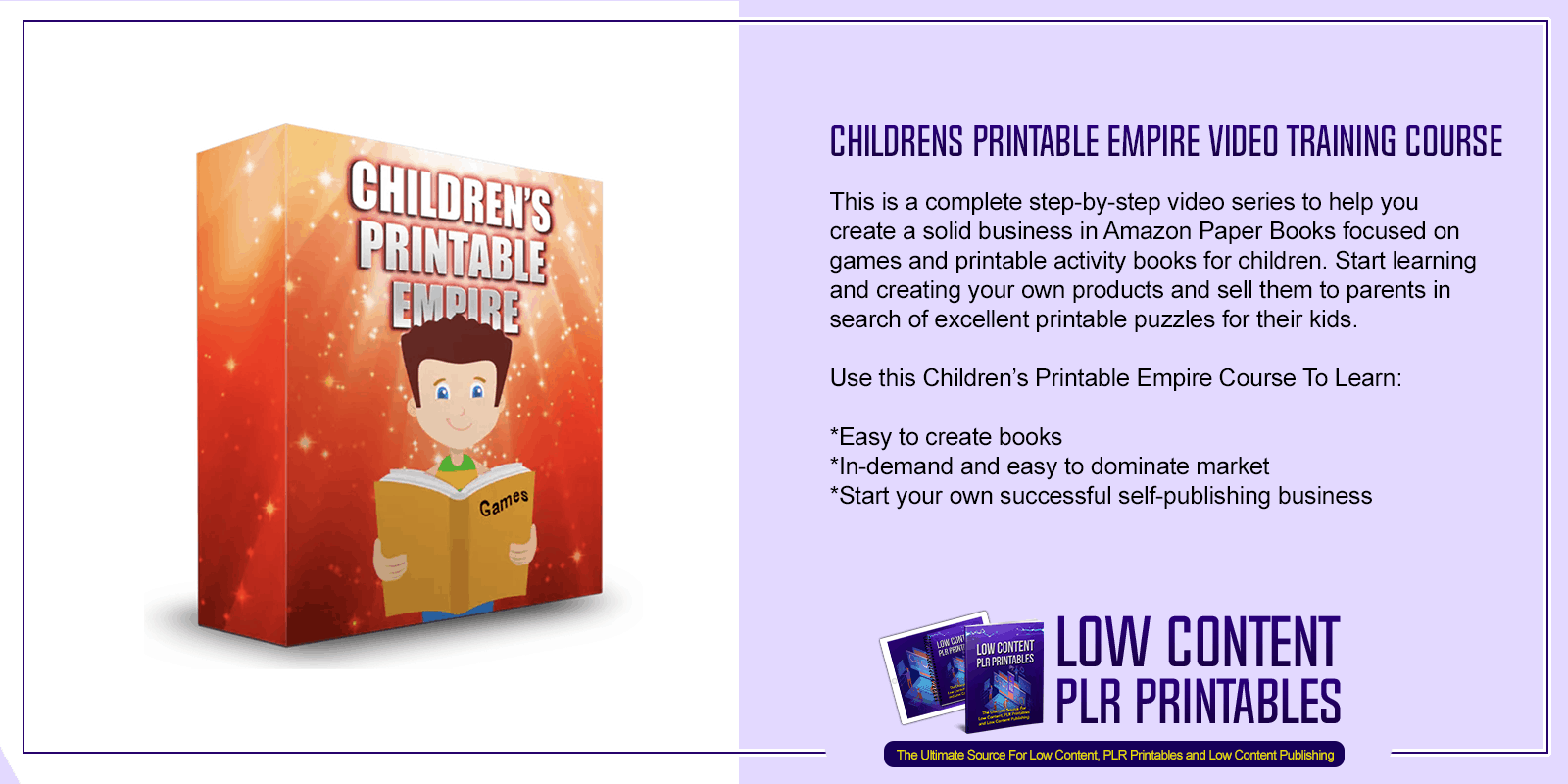 Here's what you'll learn with this amazing Childrens Printable Empire Video Training Course:
​How to Create 10 Easy Games From Zero.
​How to Create Complete or Mixed Paper Games Books.
​How to Find Unlimited Games For Your Books.
Where To Find What You Need to Copy and Paste.
The Best Font To Use.
How to Get a Great Cover.
How to Publish Your Books to Amazon.
And Much More, in Video Format.
3 Important steps you will learn to follow:
STEP 1 – You choose the games you want to insert in your book.
STEP 2 – You create the book with copy and paste.
STEP 3 – Upload it on Amazon and start selling!
The step-by-step method to create up to ten different games for kids, to create wonderful paper books to resell on Amazon, or as digital PDF files on Etsy!
Why children will love the Children's Printable Activity Books you create:
They love to spend time with parents, brothers and sisters and friends to play together.
They learn while playing, memorizing rules and methods to play and win.
They avoid disturbing their parents, and the games are great for travels and the days they are closed inside their houses.
Games help them to develop their brain functions, and they are trained to find solutions.
Get The Childrens Printable Empire Video Training Course For Yourself – Click Here
Watch This Video To Learn More
Childrens Printable Empire Video Training Course Bonus Offer:
Exclusive Bonus – Sudoku Puzzles For Kids
On the download page you will find a bonus ebook including 12 sudoku puzzles especially thought for kids, with solutions and an exclusive cover. You get master resell rights on this, so you can resell it, or distribute it for free to build a list.
By buying this Childrens Printable Empire Video Training Course you will find a proven solution to starting your own self-publishing business from zero. Dominate the Children's activity book market by selling the books you will learn how to create to parents who are looking for gifts for their kids. It only takes a few hours to get started on creating children's games. It's easy to create Children's printables, earns you passive income and requires no extra written content. Get this course today and start profiting!
Get The Childrens Printable Empire Video Training Course For Yourself – Click Here
Other Products You Might Like