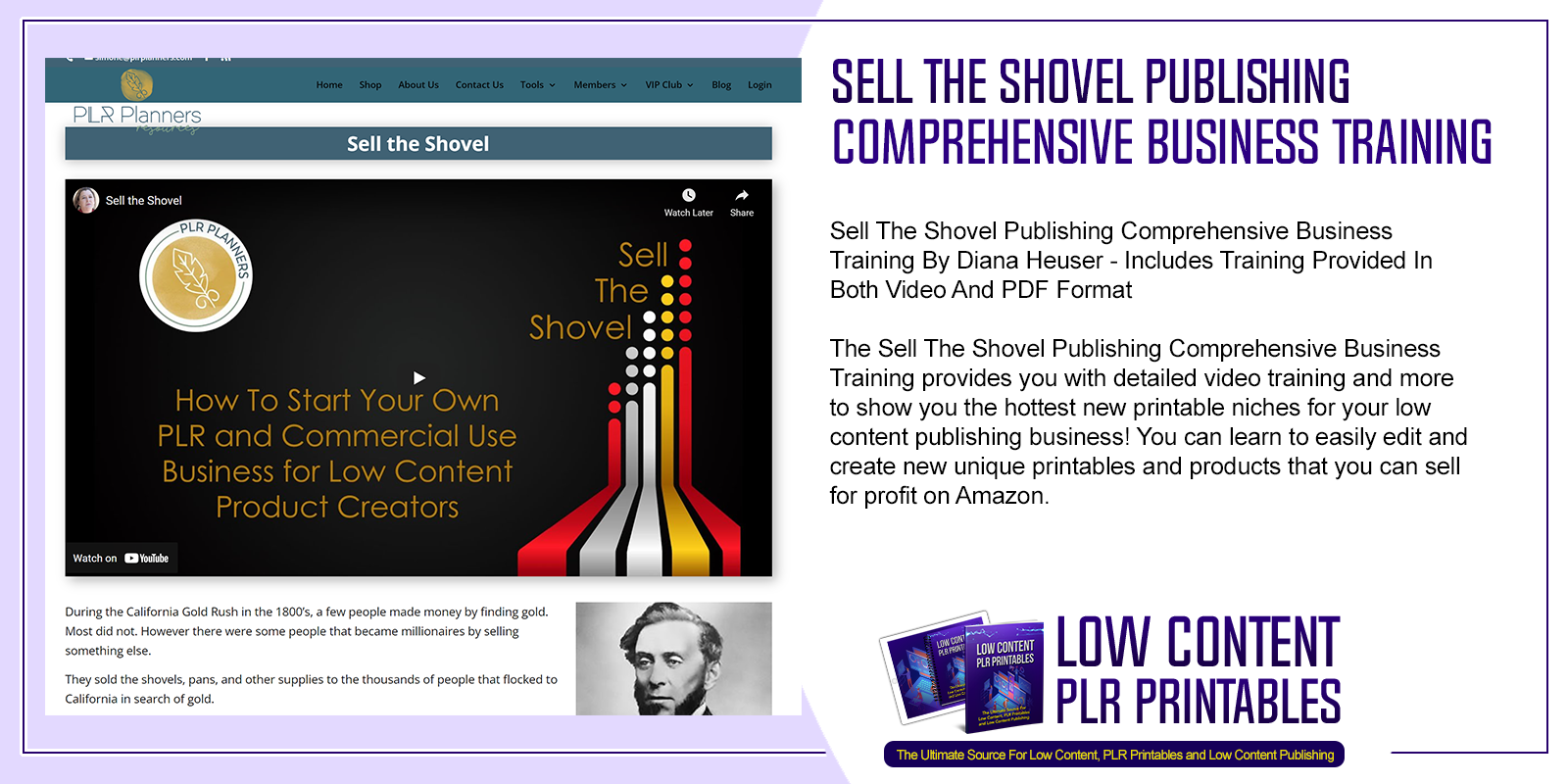 Choose Your Desired Option(s)
#SellTheShovel #Publishing #ComprehensiveBusinessTraining #dianaheuser #videotraining #plrplanners #plrprintablecourse #plrprintables #Lowcontentplr #publishing #mmr #PDF #PDFTraining #lowcontentpublishing #printablescreation #onlinebusiness #videcourse #publishingbusiness #doneforyouplr #printondemandplr #printables #training #course
Sell The Shovel Publishing Comprehensive Business Training By Diana Heuser – Includes Training Provided In Both Video And PDF Format
The Sell The Shovel Publishing Comprehensive Business Training provides you with detailed video training and more to show you the hottest new printable niches for your low content publishing business! You can learn to easily edit and create new unique printables and products that you can sell for profit on Amazon.
Introducing The…
Sell The Shovel Publishing Comprehensive Business Training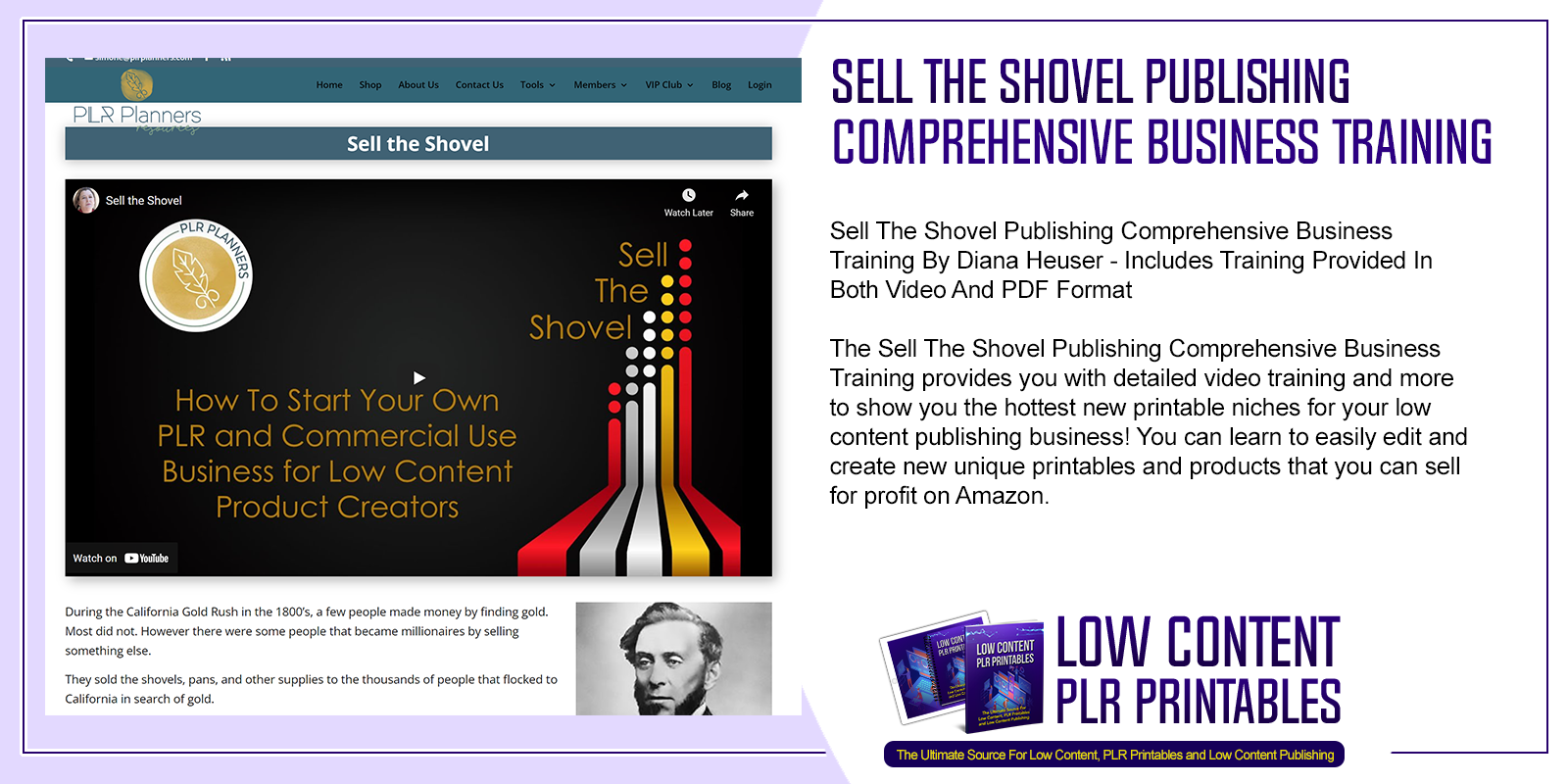 Here's what you'll learn with this The Sell The Shovel Publishing Comprehensive Business Training:
Here is just a sample of the training I will be providing:
How to do it all on your own when starting
Business Management
Business Branding
Setting up a website with WordPress
Accounting
Legal Requirements
Business Roles
Search Engine Optimisation
Ecommerce
Product Creation – It's not just about planners and journals
Using Master Resale Rights Products to maximise your profits
Automation
Outsourcing and Bartering
Marketing
Building an email list
Creating a community
Traffic generation ideas
Creating membership sites for recurring revenue
How to systemise your business
Succession Planning
They will be adding more modules as the training progresses. The training is provided in both video and/or PDF format.
They will also be having a monthly Q&A session on Zoom.
Is this training right for you?
Building a serious business takes a lot of time, money and working smart. It is not a hobby.
However you can do this, if you commit to a dedicated daily schedule of getting the work done.
Even if you have a day job which takes up most of your day, you can allocate a number of hours EACH day to getting this done.
It all depends on how determined you are to change your life, even if you are just starting out on your own.
Is it worth it?
Absolutely without a doubt. All the hard work I have put into this business has paid off in a big way.
I am financially stable.
I can afford to employ people to do the bulk of the work
I am helping my staff (family members and others) to earn money during these difficult times
I get to focus on my strengths which is strategy and creating training materials
And then I get to play in the vegetable garden, create junk journals and other fun stuff
I am not a designer. How will I come up with products?
There are so many ways to create different products even if you are not a designer as such.
I will show you how to create a ton of products by:
Outsourcing cost effectively
Using templates and ready made patterns
Create a library of layouts you can re-use over and over again
Using automation tools
Bartering your skills
Using bought commercial use products and modifying them enough to sell as PLR
Scanning old books for images (think thrift shops)
Using public domain images
Repurposing your content into multiple different products
Thinking outside the box
See Sell The Shovel Publishing Comprehensive Business Training For Yourself – Click Here
Bonus Resources with MRR Rights
These are just a few of the Master Resale Rights Products that I will be adding as a bonus for you. I will be adding more as we go along.
These MRR products will give you a head start for your business. You can resell them as PLR products to your customers by breaking them up into smaller packs, combine them with a planner or journal as a bonus, create print books covers, decorate journals and planners and more.
Watch This Video To Learn More:
The Sell The Shovel Publishing Comprehensive Business Training is just for you if you're looking for a printable video training course that can be used to learn and create your own unique printables when purchased! It also includes bonuses just for you. Perfect for you if you have a publishing business and are looking for new products or ideas. Click the link below to learn more!
See Sell The Shovel Publishing Comprehensive Business Training For Yourself – Click Here
Other Products You Might Like