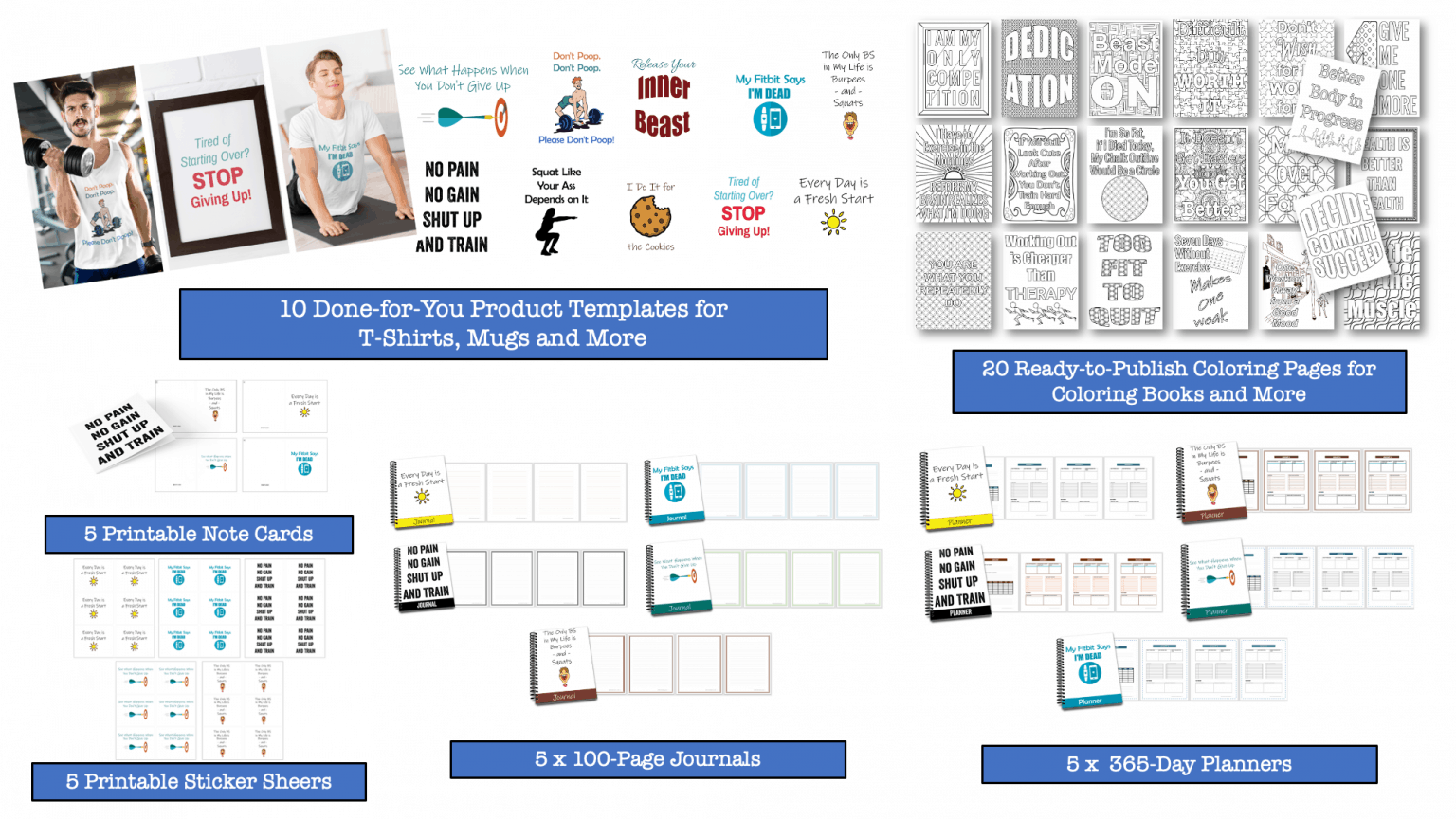 Choose Your Desired Option(s)
#doneforyou #fitnessandhealth #fitnessandhealthplr #healthplr #fitnessplr #plrprintables #plrcoloringpages #plrproducttemplates #plrplanners #plrcards #plrstickersheets #printables #plrsheets #plrworksheets #commercialprintables #lowcontentplr
Done-for-You and Ready to Publish 

Fitness and Health Niche Printable Product Templates, Coloring Pages, Journals, Planners, Note Cards and Sticker Sheets With Complete Private Label Commercial License
The Fitness and Health niche is ALWAYS in-demand and will forever be evergreen as it is an important part of all of our lives!
There's huge demand for printables and planners in the niche and this is where this high quality PLR printables package can help you dominate the Health and Fitness market.
Introducing The…
Fitness and Health PLR Printable Low Content Bundle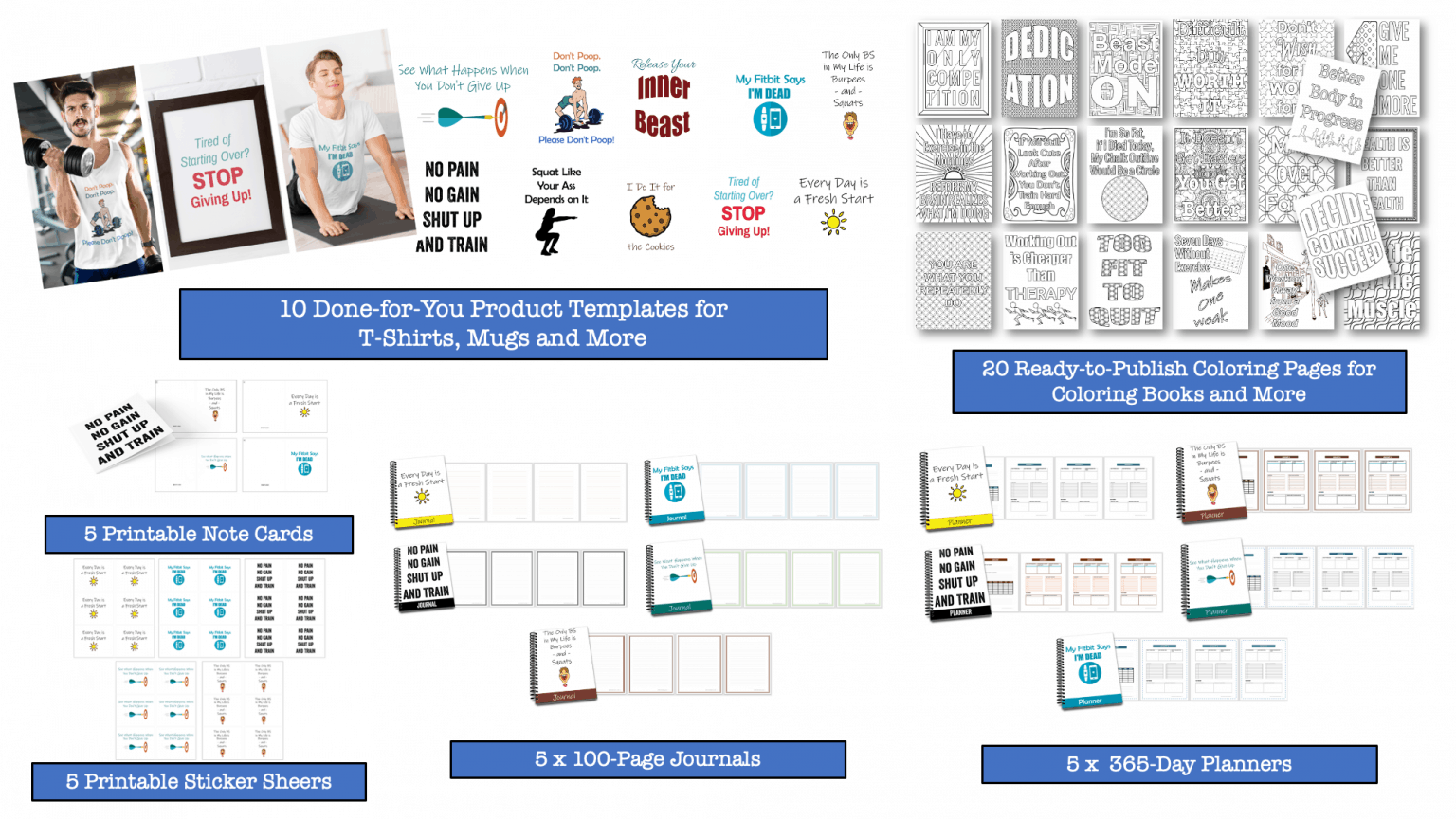 Here's exactly what you'll be getting in this PLR Printable Health and Fitness Pack:
10 Product Templates
We've made it easy for you to quickly create t-shirts, mugs, notebooks, stickers, towels, phone cases and more. You can use these templates as is or we've included the PSD for editing, so you can customize and change them as much as you'd like.
20 Coloring Pages
As a business owner, coloring pages are a great way to generate traffic by offering free coloring pages and you can also boost your revenue by creating coloring books for sale. We get you started with 10 fun coloring pages.
They come in .png and .PSD format (2500 x 3300 pixels), so you can publish as is or edit as much as you'd like.
5  x 100-Page Journals
These 100-page journals include coloring pages quotes and writing prompts.  Add more quotes, prompts and pages to your heart's content. Change the journal covers and theme as much as you'd like. They come in .docx format.
5 x 365-Day Planners
Use these planners to help your customers, clients, or yourself to stay on top of things year after year. They are simple to use planners to assist individuals with organizing their health objectives and aspirations to help them crush their goals.
5 Note Cards
These print, cut and fold cards can be given away as printables or make perfect note cards to send thanks to your favorite clients, affiliates and more. They come in .doc format and you can insert your logo and replace the design as you wish.
5 Sticker Sheets
These super cute stickers will brighten up anyone's day. You can give them to your clients to print or print them out yourself. Swap the images for others too.  These come in .doc format.
List of 10 Quotes and 10 Prompt Ideas
People love quotes and receiving prompts for their writing. These 10 quotes and 10 prompts could be added to either the journals and planners to create an inspirational place to write and plan for your clients, customers, or even yourself. We've also included resources to get more quotes and prompt ideas, so you can make your journals and planners unique.
Health and Fitness PLR Bonus Offer: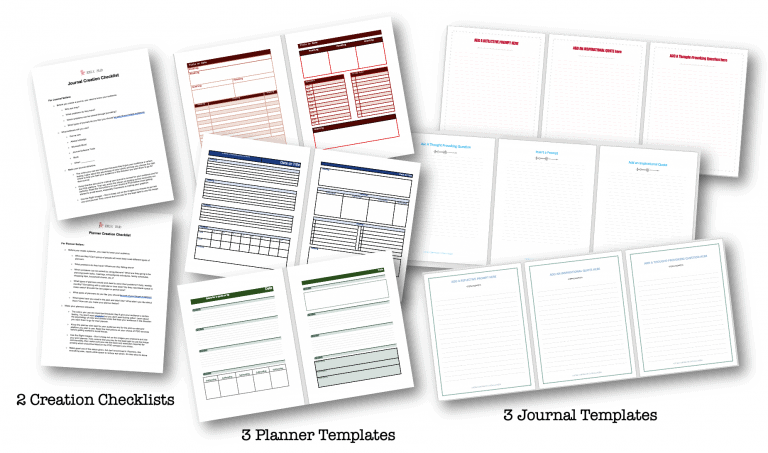 Bonus #1: The Top Product Dropshippers & Quick Tips for Creating Your Own Products To Inspire People
Bonus #2: Print on Demand (POD) Profits Guide
Bonus #3: 6 Fully Editable Journal and Planner Templates (Plus Checklists, so You Create the Best Journals and Planners Possible)
Overall, we have tons of content to make it easy for you to create products, giveaways to grow your list, membership site content, gifts for your favorite clients and more. With this done-for-you PLR Health and Fitness pack, you can easily create your own products, give them away to grow your list, add them as membership site content, give them as gifts for your clients and publish them as printable content with your branding. and remember, since it's digital products, you get to keep all the profits and you can sell unlimited copies!
See The Health and Fitness PLR Printable Kit For Yourself – Click Here
Private Label Commercial Rights License Info (applies to the graphics, journal templates and planner templates included in this package…no PLR rights are provided to the Insider's Guides or Courses included in this product):
1. You can add the content to a product that you plan to sell or give away for individual use.
2. You can modify the content (by removing, adding or otherwise editing any elements) to suit your needs.
3. You can use the content in your websites, blogs, newsletters, social media or anywhere you publish content.
4. You can distribute the content as a viral report.
5. You can add your name, URL or logo as the author/creator of this PLR content
6. You cannot list EkitHub.com, Happy Dog Island Store Inc. or anyone connected with our company as the author of this content. Why? This is private label rights content and we are offering the content without labels or branding.
7. You cannot sell or give away the original resell rights or offer any commercial rights to this content in any form. The exception being if you purchase the full resell rights license.
8. You cannot allow your customers to edit the documents or files. Please provide them with a PFD or other non-editable files. You CAN do customizations on behalf of your customers, but they cannot make edits of the original files.
Get a special discount if you grab this Health and Fitness PLR printables package today, use the coupon code below to save 40% off your first order at ekithub.com.
FRIENDSOFMOZIE
See The Health and Fitness PLR Printable Kit For Yourself – Click Here
Other Products You Might Like