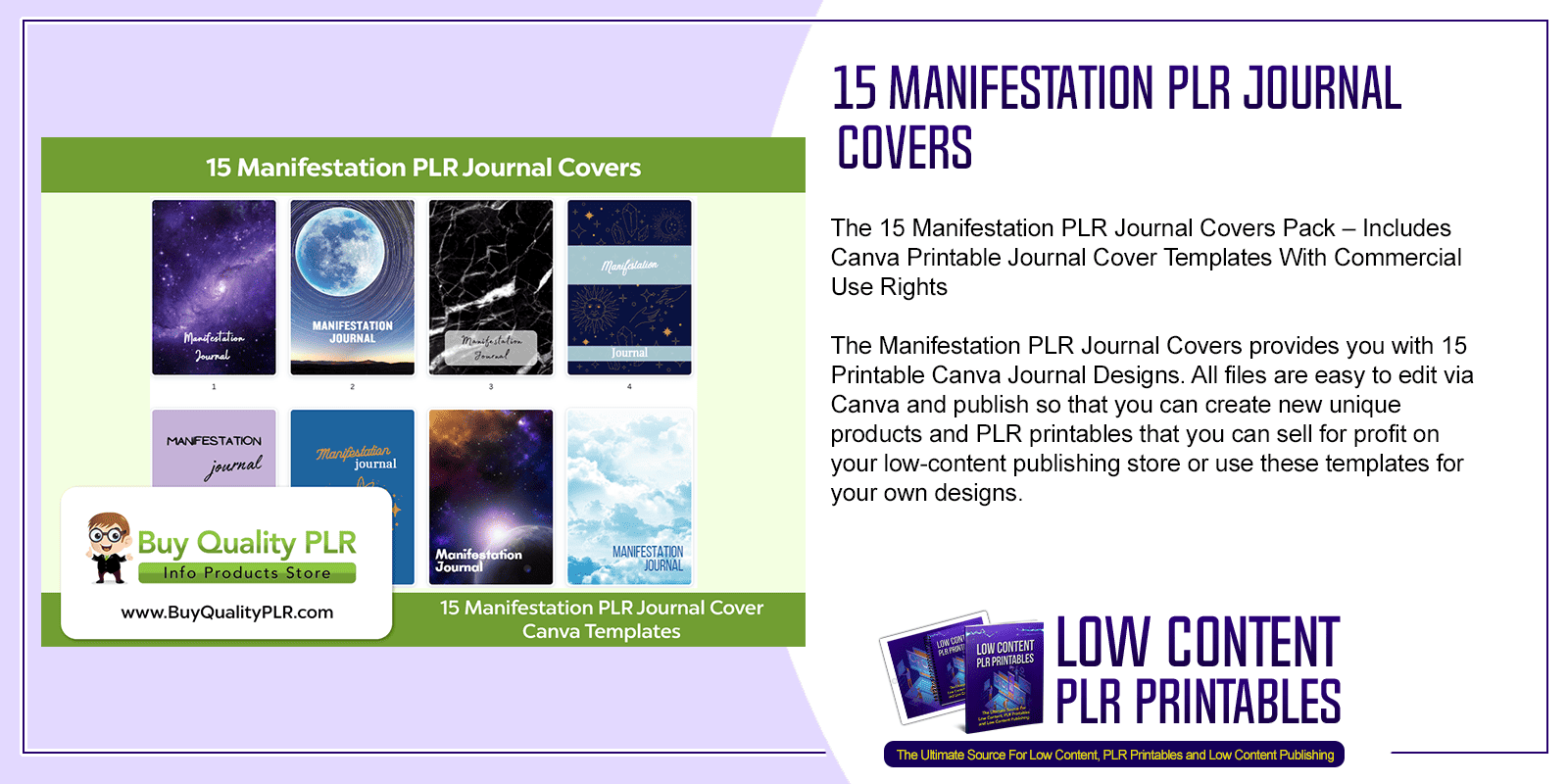 Choose Your Desired Option(s)
#ManifestationPLR #POD #PrintableGraphics #printondemand #doneforyou #prompts #graphics #commercialuse #commercialuserights #canvatemplates #printablegraphics #plrprintables #lowcontentplr #publish #selfpublish #publishing #canvaprintables #buyqualityplr #journalcovers #journalprintables #journalassets #plrjournalcovers #covers #printablecovers #covers #canvagraphics #plrgraphics #plrcovers #covergraphics #manifestation #manifestationprintables #manifestationcovers
The 15 Manifestation PLR Journal Covers Pack – Includes Canva Printable Journal Cover Templates With Commercial Use Rights
The Manifestation PLR Journal Covers provides you with 15 Printable Canva Journal Designs. All files are easy to edit via Canva and publish so that you can create new unique products and PLR printables that you can sell for profit on your low-content publishing store or use these templates for your own designs.
Introducing The…
15 Manifestation PLR Journal Covers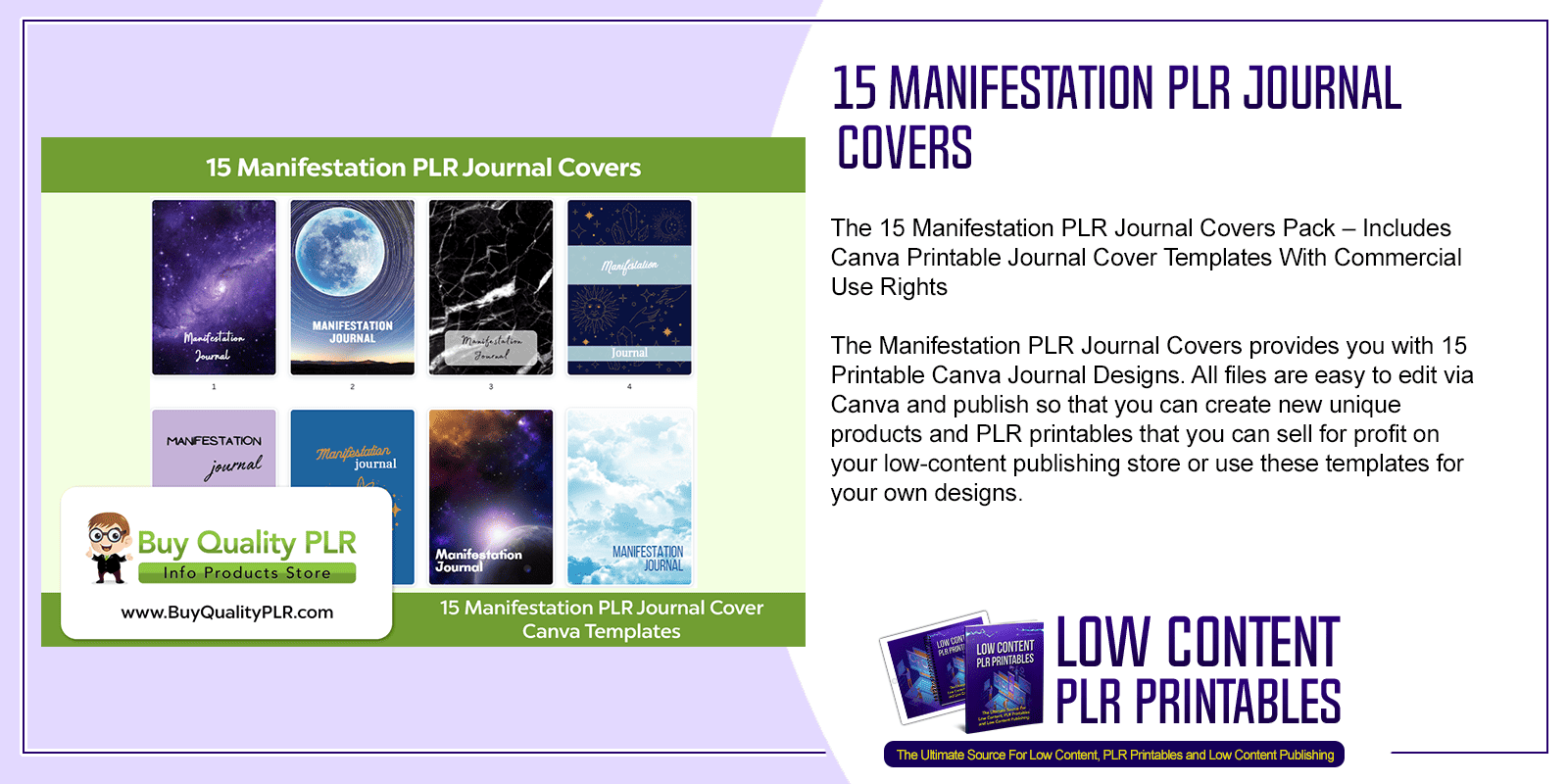 Here's exactly what you're getting in this Manifestation PLR Cover Graphics Pack:
Introducing our Manifestation PLR Journal Covers – Unlock Your Power to Manifest!
Are you ready to harness the incredible power of manifestation and bring your dreams to life? Look no further!
Our Manifestation PLR Journal Covers offer a collection of stunning designs that will inspire and motivate you on your manifestation journey.
With these beautifully crafted journal covers, you have the opportunity to create a manifestation journal that aligns with your desires and empowers your manifestation practice.
Whether you're new to the world of manifestation or a seasoned practitioner, our covers will be the perfect complement to your journey.
What makes our Manifestation PLR Journal Covers extraordinary?
Inspiring and Uplifting Designs: Each journal cover is thoughtfully designed to inspire and uplift you on your manifestation journey. Featuring motivational quotes, powerful symbols, and eye-catching artwork, these covers will fuel your belief in the power of manifestation.
Customizable and Personalized: With our PLR license, you can easily customize the journal covers to suit your individual style or branding. Add your own text, modify colors, and make the covers uniquely yours.
Versatility for Various Journals: Our covers are designed to fit different journal sizes and formats, allowing you to choose the perfect fit for your manifestation journal. Whether you prefer a standard A5 journal, a spiral-bound notebook, or a digital journal, our covers adapt seamlessly.
Embrace the Law of Attraction: Each journal cover is a visual reminder of the Law of Attraction and the power of positive manifestation. Use them as a tool to align your thoughts and intentions with your desires, paving the way for the manifestation of your dreams.
Empowering Manifestation Practice: By infusing your journal with these manifestation covers, you'll create a dedicated space to focus on your goals and visualize your desires. Embrace the process of manifestation and cultivate a mindset of abundance and gratitude.
Unlock your power to manifest and embark on a transformative journey of creation and abundance. Invest in our Manifestation PLR Journal Covers today and witness the magic of manifestation unfold. Don't miss out on this opportunity to elevate your manifestation practice and bring your dreams to reality. 
You Get:
15 Manifestation Journal Cover Graphics PLR Printable Templates
Editable Canva Templates Link
Commercial Use License
Here Are All of The Journal Cover Designs You'll Be Getting:
The 15 Manifestation PLR Journal Covers is just for you if you're looking for printable designs that can be used to create your own unique printables and profit! Perfect for you if you have a publishing business and are looking for new products or printables.
Click the button below to purchase this product!
Your Package Details:
15 Individual Printable Journal Covers In Canva, PNG, PDF, And PowerPoint Format
Total File Download Size – 63.7 MB
Here are the License Terms:
What You Can Do:
You can sell this product in a non-editable format like PDF to sell to your customer for personal use.
You can sell this product as a physical product.
You can use this product to build an email list.
You can edit the product and brand it with your name and company branding.
You can resell the product as your own.
You can include the product in a bundle or package.
What You Cannot Do:
You cannot sell this product with PLR or resell rights. This license is for you only.
You cannot sell this product with its editable source files.
Please set a fair price when you sell and do not give the product away for free unless you're using it to build an email list
Get up to 30% off from our trusted partner BuyQualityPLR with this coupon code:
LCPP
See 15 Manifestation PLR Journal Covers For Yourself – Click Here
Other Products You Might Like