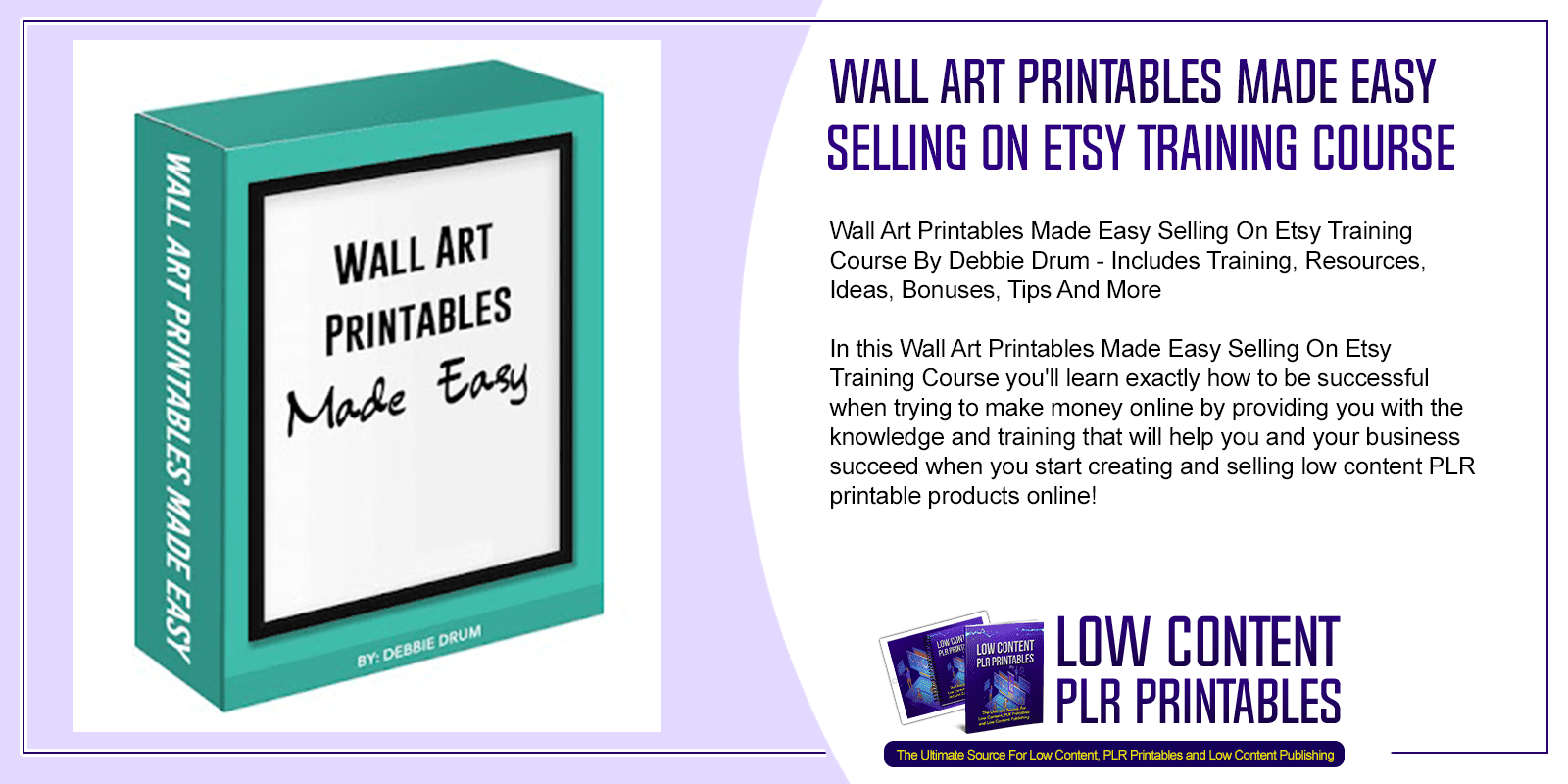 Choose Your Desired Option(s)
#WallArtPrintablesMadeEasy #SellingOnEtsy #TrainingCourse #wallart #wallartprintables #printables #debbiedrum #etsy #printablestraining #printablesmadeeasy #printablescourse #videotraining #resources #training #course #ideas #tips #strategies #bonuses #commercialuse #videotrainingcourse #lowcontentplr #plrprintables #publishing
Wall Art Printables Made Easy Selling On Etsy Training Course By Debbie Drum – Includes Training, Resources, Ideas, Bonuses, Tips And More
In this Wall Art Printables Made Easy Selling On Etsy Training Course you'll learn exactly how to be successful when trying to make money online by providing you with the knowledge and training that will help you and your business succeed when you start creating and selling low content PLR printable products online!
Introducing The…
Wall Art Printables Made Easy Selling On Etsy Training Course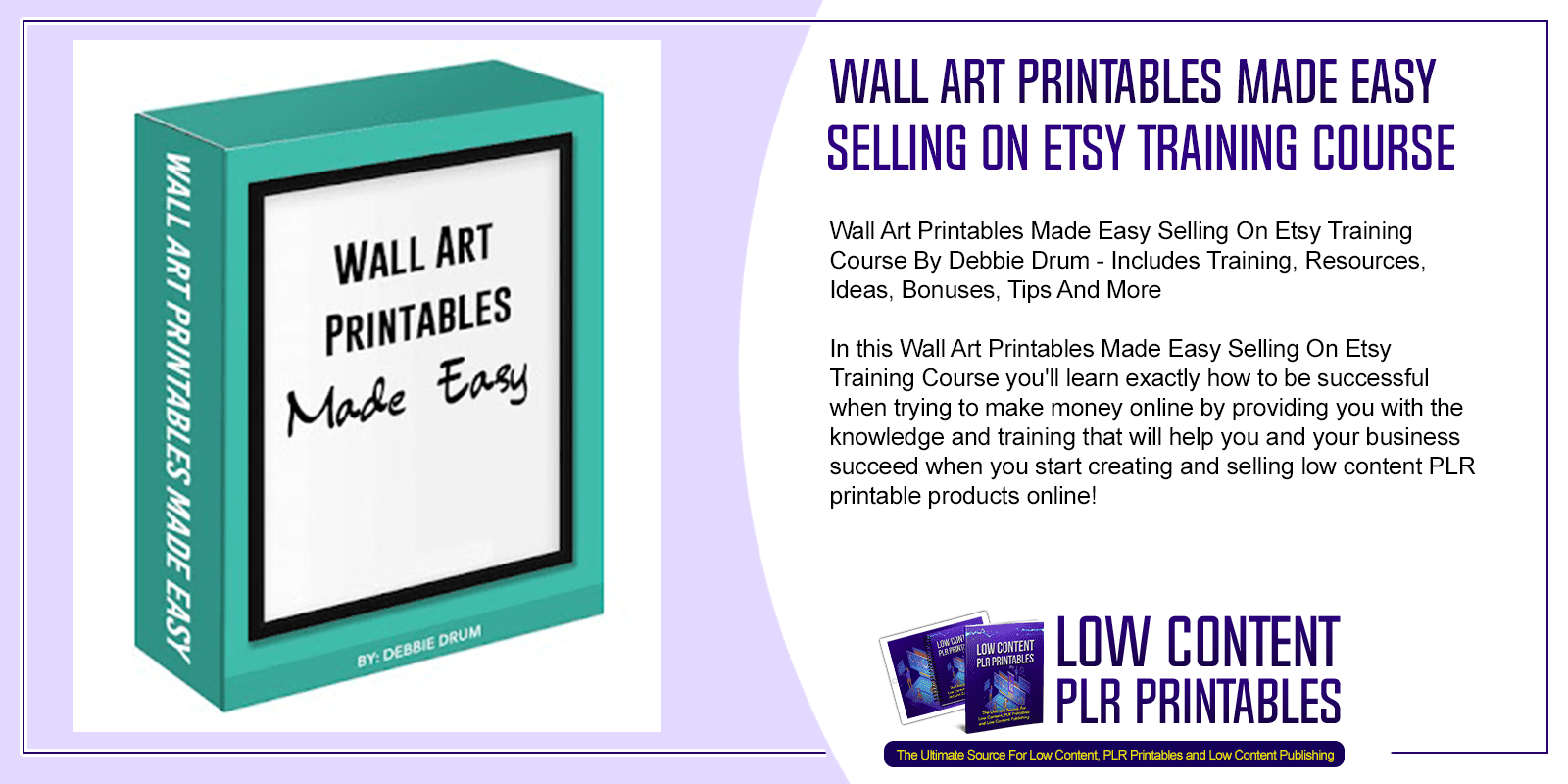 Here's what you'll learn with this amazing Wall Art Printables Made Easy Selling On Etsy Training Course:
Recap of Wall Art Printables Made Easy
Get instant access to PLR PRINTABLES today for a very low price. Once your payment is complete, you'll get instant access to all of this below:
The Wall Art Printable Opportunity Even if you've never made money before online you will see how you can do this, too! Don't worry you don't need special skills and you don't have to be a graphic designer!
Ideas For Wall Art Printables and Ongoing Sales Learn what to look for to see what to sell and how to get ideas on what wall art printables to create
Little Known Free Image Resources Save a whole bunch of time with our free little known image resources that will help you get the best ideas on what images to use that will sell well and how to find what people LOVE and NEED.
Image Editing Tips To Make You Into An Instant Graphic Designer And Do Stuff You've Never Thought You'd Know How
To Do After you see this you will be a graphic design wiz! Use what you learn in this course to edit graphics for your entire marketing career.
Passive Income and Sales Without Any Paid Traffic – The Ultimate Proven Organic Traffic Strategies Strategies you need to know BEFORE you even think about your creation process in 4 easy steps. Discover how to find the right keywords and titles to get the most out of the smallest amount of work.
Over The Shoulder Case Study We show how to build a wall printable (fast and easy) that uses all free tools!
BONUS 1: 800+ Keywords To Use For Your Printables RIGHT NOW! – Your titles, tags and keywords for your listing is SUPER IMPORTANT and should be paid strict attention to.
BONUS 2 – The Secret Way To Create Wall Art Without Any Work and Without Paying Someone To Do It For You It's all doing less work and getting things up for sale very quickly.
The Wall Art Printables Made Easy Selling On Etsy Training Course is perfect for those of you who want to generate new streams of income online and learn how to create your own designs and sell printables online for profit. When you purchase this course get access to amazing training and more to educate yourself and ensure your business succeeds!
See The Wall Art Printables Made Easy Selling On Etsy Training Course For Yourself – Click Here
Other Products You Might Like