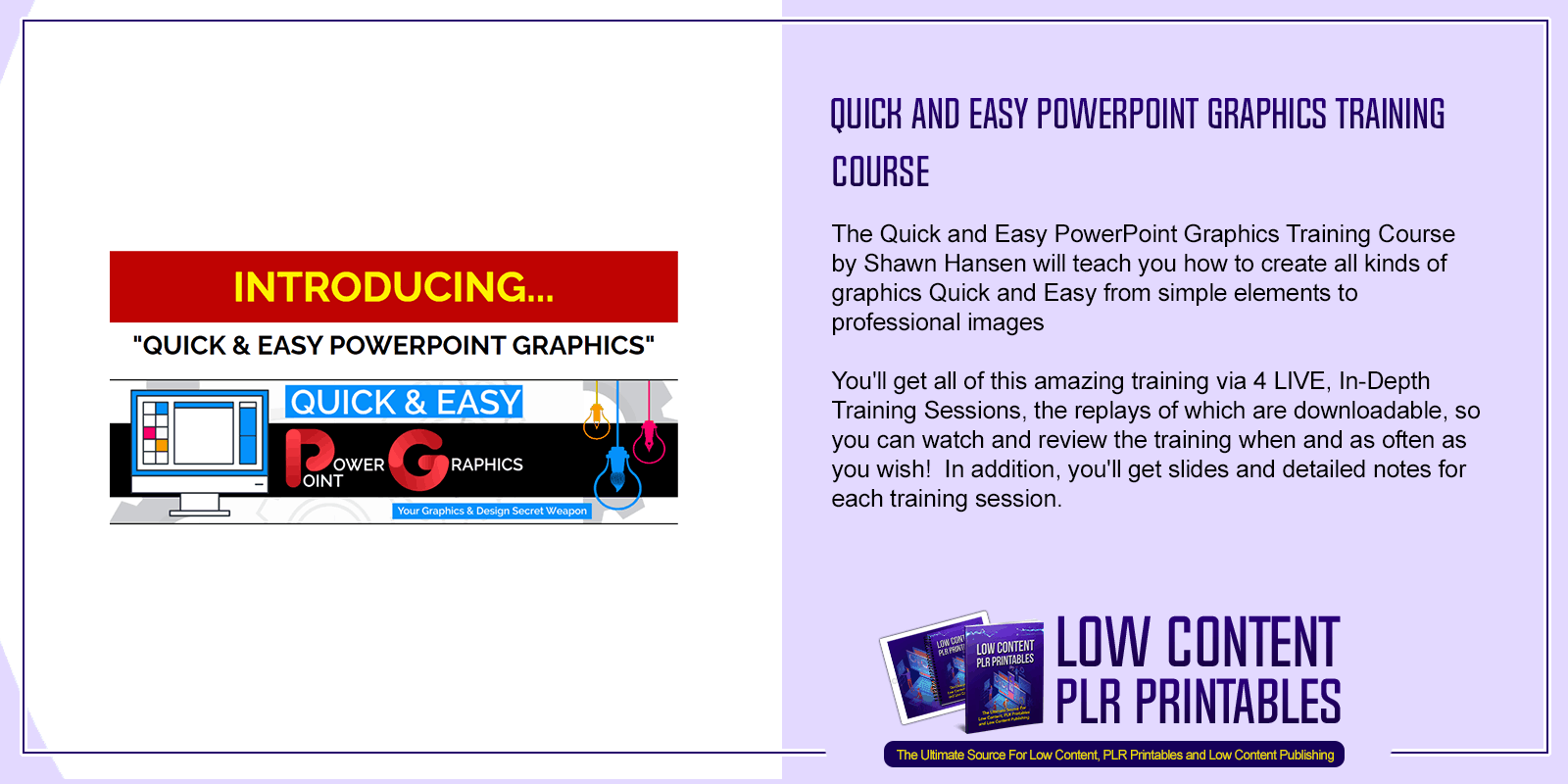 Choose Your Desired Option(s)
#powerpoint #graphics #quickandeasypowerpointgraphics #trainingcourse #powerpointgraphicstraining powerpointgraphicscourse #powerpointgraphics #powerpointtraining #powerpointvideotraining #powerpointprintables #quickandeasy #easypowerpointcourse #graphicscreation #graphicstools #graphiccreationtools #printablescourse #lowcontenttraining
The Quick and Easy PowerPoint Graphics Training Course by Shawn Hansen will teach you how to create all kinds of graphics Quick and Easy from simple elements to professional images with PowerPoint
Along with all of the cool tips, tricks, and start-to-finish design lessons you'll be learning from, you will also learn how to ensure that everything you create is High-Resolution print-ready-graphics that you can use or sell!
Introducing The…
Quick and Easy PowerPoint Graphics Training Course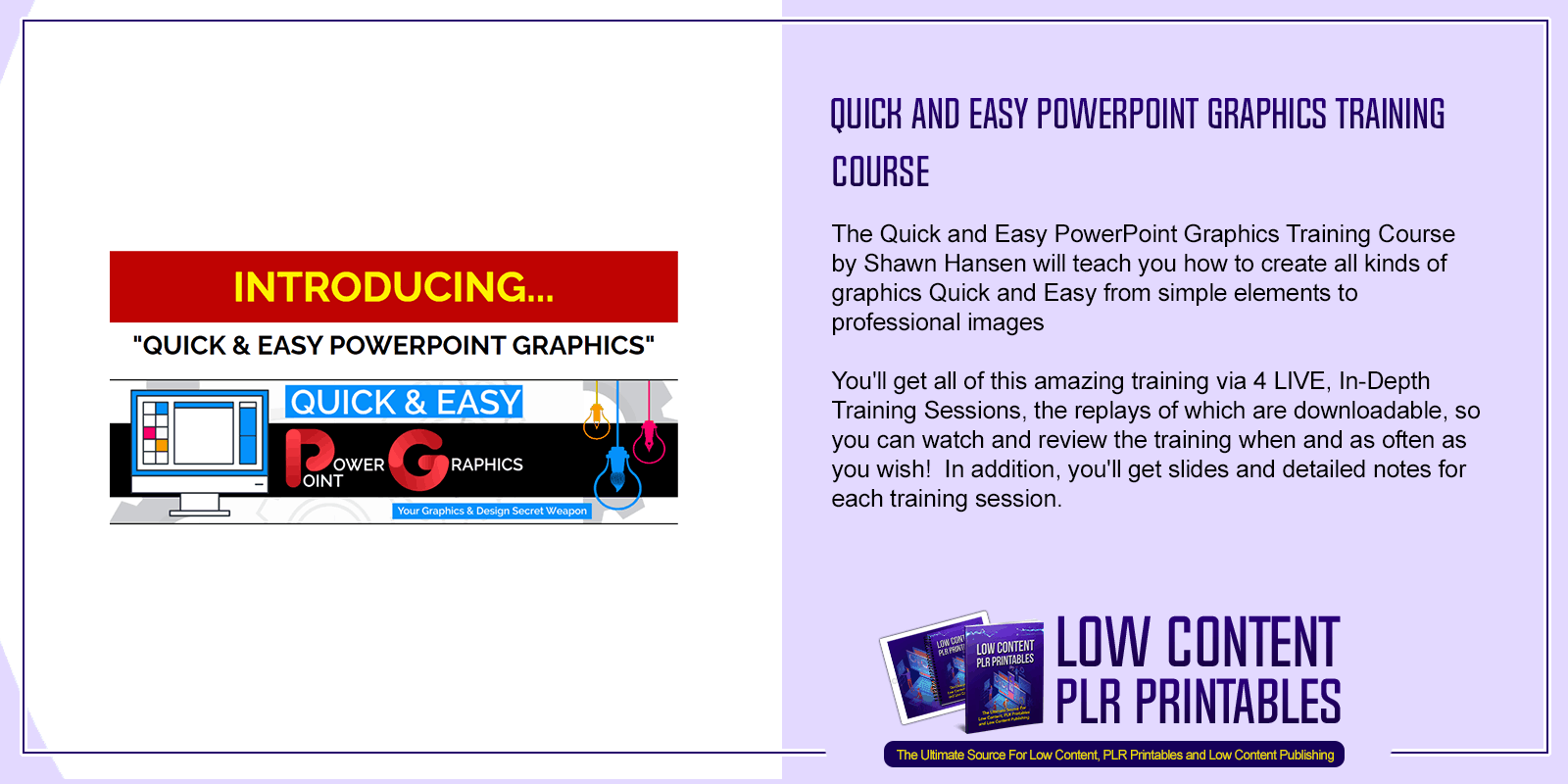 Here's what you'll learn with this awesome Quick and Easy PowerPoint Graphics Training Course:
This course will cover the elements required to LEARN and to EARN in a clear, step-by-step manner, and while you watch over the shoulder training as demonstrated every step of the way.
Learn how you can use the tools in PowerPoint to create everything from simple graphic elements, to more complex designs; how to put them all together to create finished products; and how you can take what you create and sell it yourself and to others, to grow those profit opportunities beyond what you might currently imagine.
Learn about the "hidden" tools that most PowerPoint users don't know about and others don't understand; how to create simple designs like overlays and objects; how to design flowers, animals, teaching tools, flourishes, and other elements you can use yourself AND sell; how to put the things you create together to design amazing products; and more!
You'll get all of this amazing training via 4 LIVE, In-Depth Training Sessions, the replays of which are downloadable, so you can watch and review the training when and as often as you wish!  In addition, you'll get slides and detailed notes for each training session.
See The Quick and Easy PowerPoint Graphics Training Course For Yourself – Click Here
SESSION #1: POWERPOINT OVERVIEW + BASIC TIPS & TRICKS
Setting Up Your Workspace for Optimum Use
The Power of the Crop Tool
Adding & Using Layers
Adding and Using Overlays
Turning Basic Tables into Cute & Clever Designs
Where to Find Thousands of Free-for-Commercial-Use Images Within PowerPoint
How to Create High-Resolution, Print-Ready Designs with Just a Few Clicks
How to Create Print-Ready KDP Covers (eBook & Print)
SESSION #2: POWERPOINT DESIGN, PART 1 – CREATING GRAPHIC ELEMENTS LIKE A PRO
Shapes with a Twist
Letters / Fonts with a Twist
Flowers
Animals
Flourishes
Embellished Alphabets
SESSION #3: POWERPOINT DESIGN, PART 2 – CREATING & EDITING USING VECTOR GRAPHICS
Working with Vector Graphics
How to Convert EPS to SVG (for FREE)
Grouping & Ungrouping
Recoloring Your Design Elements
Combining Design Elements from Multiple Files to Create NEW Images
SESSION #4: AN OPEN Q & A + A FEW MORE TIPS & TRICKS
Get your questions answered LIVE as well as those submitted via email (for those of you can't make the live training), so EVERYONE BENEFITS.
If you've never used PowerPoint before this training course is perfect for you. Get the Quick and Easy PowerPoint Graphics Training Course because it will show you how to create professional graphics with PowerPoint and give you specialized design tips. It won't require expensive software or a huge time investment to get started and this course is easy-to-follow and has over-the-shoulder training making it very "NEWBIE" friendly!
See The Quick and Easy PowerPoint Graphics Training Course For Yourself – Click Here
Other Products You Might Like