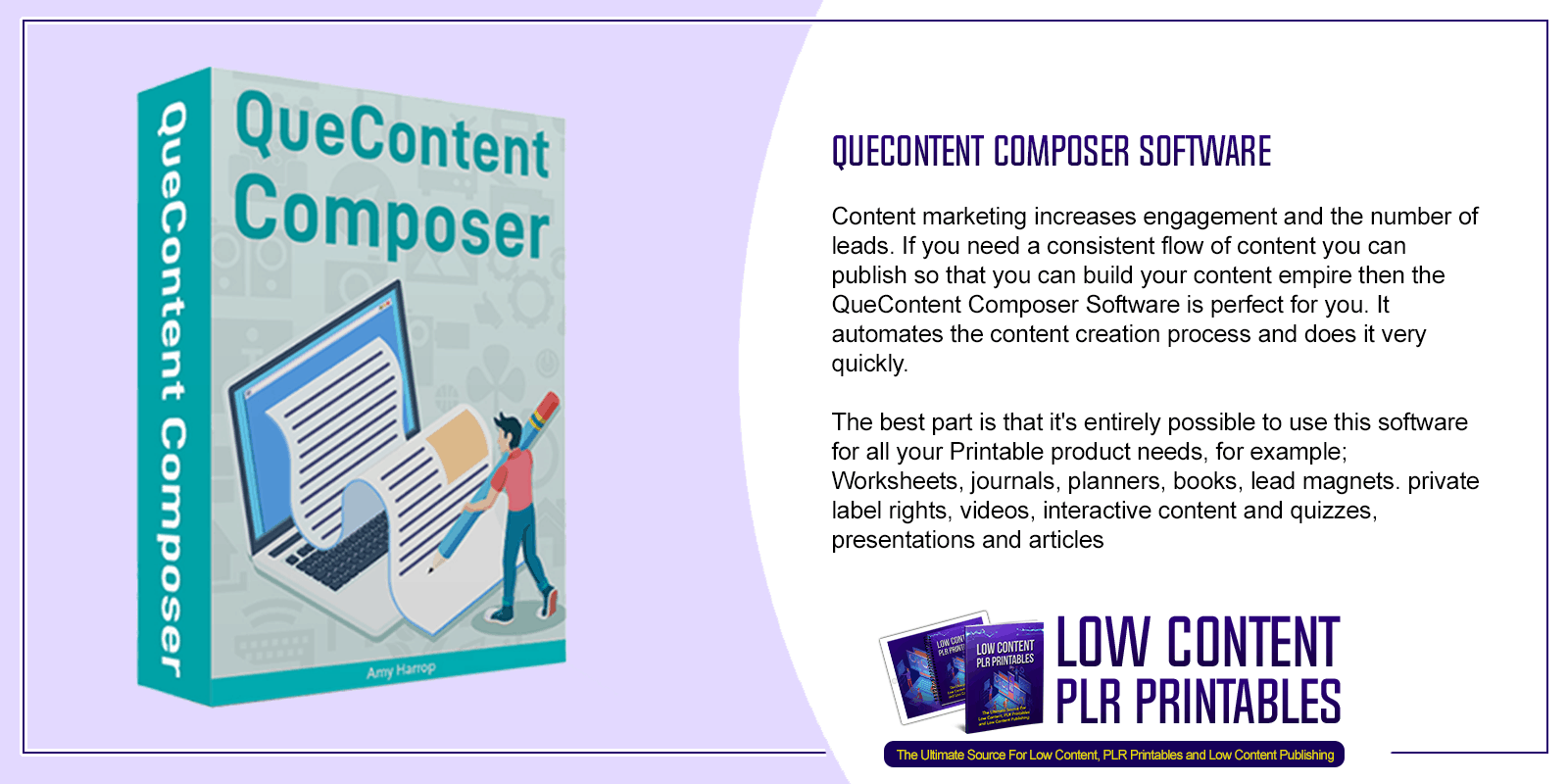 Choose Your Desired Option(s)
#instantcontentcreation #contentcreation #contentmarketing #printablescontent #contentcreationsoftware #passiveincome #contentgeneration #contentgenerationtool #publishingbusiness #contentcreationtool #worksheets #planners #journals #books #leadmagnets #videos #articles #presentations #printablescontentsoftware #quecontent #quecontentcomposer #quecontentcomposersoftware #quecontentcomposertool #amyharrop
QueContent Composer Software by Amy Harrop that will help you create high-quality content way faster than ever before and will create new streams of passive income for your publishing business.
Content marketing increases engagement and leads. If you need a consistent flow of content you can publish so that you can build your content empire then the QueContent Composer Software is perfect for you. It automates the content creation process and does it very quickly. The best part is that it's entirely possible to use this software for all your Printable product needs, for example; Worksheets, journals, planners, books, lead magnets. private label rights, videos, interactive content and quizzes, presentations and articles
Introducing The…
QueContent Composer Software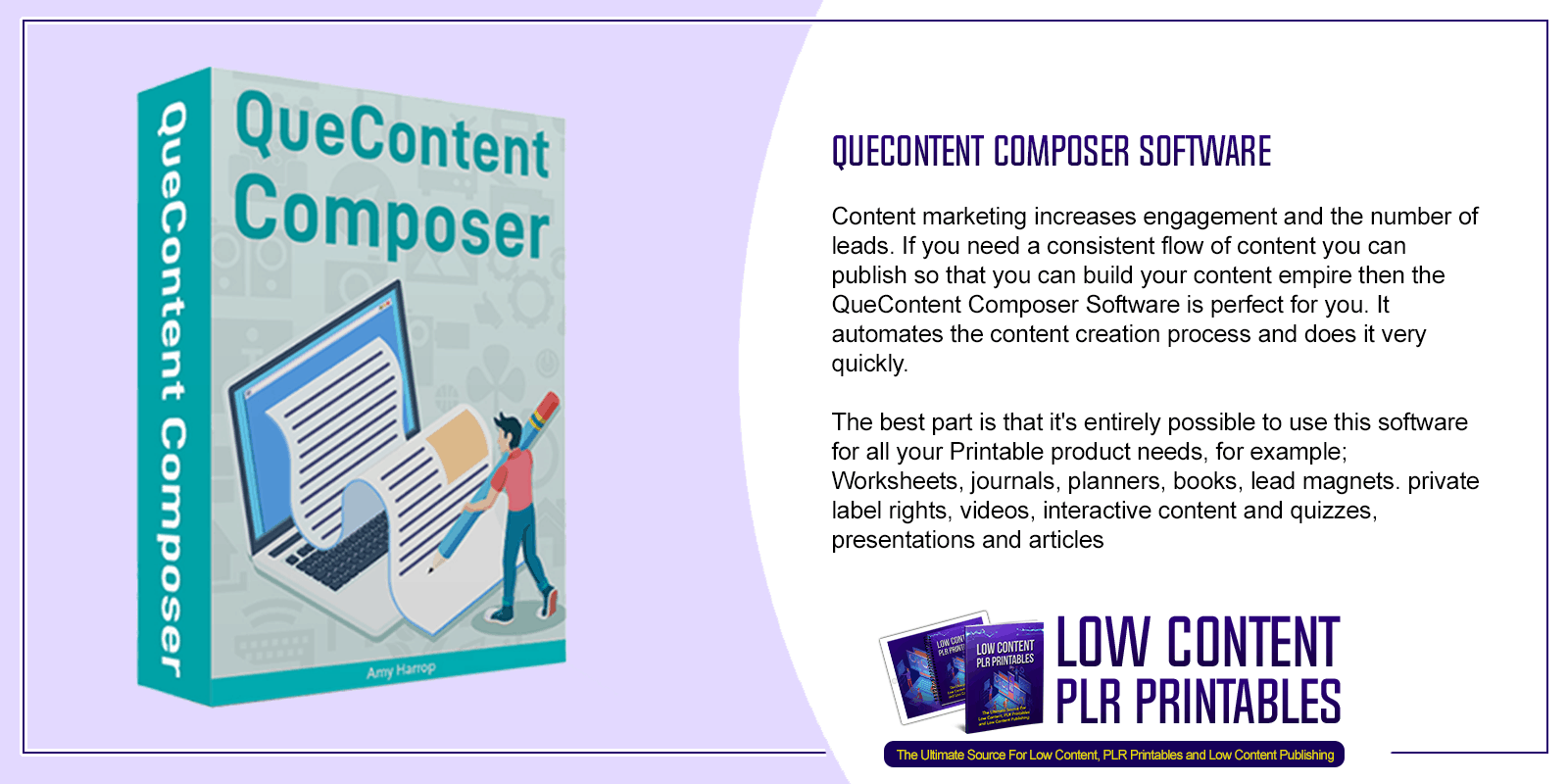 Here's what you'll be able to do with this awesome QueContent Composer Software:
Preloaded With Over 1500+ Questions And Prompts For Instant Content Creation
QueContent Composer comes preloaded with over 1500+ questions and prompts in a variety of categories that you can access immediately! Including such popular categories such as:
Relationships
Writing and creativity
Travel
Life events
Financial
Health
Self reflection
Spirituality
The Ability To Add Your Own Categories
You'll also be able to add your own categories and subcategories that you want. This way if you are focused on a specific niche, you'll be able to organize all of your topics with only a click of a button!
Customizable Text Options
Before you export your content, you'll also be able to choose from a number of fonts as well as font size, margins, blank spaces, and lines per question. With this option, you'll be able to make your content even more unique.
Customize Page Layouts
The ability to customize how your content will appear on the exported document. This way you can add your own designs or custom formatting easily. With this option you'll be able to:
Choose how many questions there should be per page
Choose how many writing lines there should be per question
Choose how many blank spaces per question
Create custom margins for true formatting flexibility
Import Your Own Bulk Content Via A .Csv File
If you want to add more content in bulk to any category, QueContent Composer makes this a snap. Simply format all the content into a .csv file and then click the import option and voila! All your questions are added in a snap!
Create Unique Content Fast
You can quickly duplicate and modify any of the 1500+ included questions and prompts. This allows you to create unique content fast – training provided!
QueContent Composer also allows you to add content to any category individually as well. Just type in your content, hit submit and your question will be added instantly. This is great for when you have one of those 'a-ha' moments and want to capture it easily. It also allows you to add niche specific content in seconds.
Multiple Content Exporting Options
QueContent Composer also gives you multiple options to export your content. You'll be able to choose from:
PDF
Word format- which you can also open and edit in any program that supports .docx files such as Open Office.
PowerPoint- which you can also open and edit in any program that supports .ppt files such as Open Office.
Quickstart Video Tutorials And Content Creation Training
Quickstart videos to help you learn how to use QueContent Composer immediately. Just watch the training and you'll be ready to create tons of awesome low content items in absolutely no time!
Also includes an in-depth tutorial video that reveals how to create all kinds of content with QueContent Composer fast!
See The QueContent Composer Software For Yourself – Click Here
13 Reasons Why You Need To Invest In QueContent Composer Today:
Automate The Heavy Lifting
Low Content Publishing Profits Made Easy
Create High-Quality Giveaway Content Fast
Tap Into The Massive Publishing Marketplace
Create Passive Income
Dominate The Etsy Marketplace
Generate Traffic With Social Media
Create Interactive Quizzes Online
Create Better Interactive And Companion Content
Create Videos Easily
Great For Coaching Businesses
Make Your PLR More Unique
Great For Coming Up With Articles And Article Outlines
Create Engaging Podcasts
QueContent Composer Software Bonus Offer:
122 Bonus Contents For QueContent Composer
Includes 122 MORE questions based on Inspiration, Motivation, and Determination.
Just load these up into QueContent Composer and you've got another set of content publishing items you can unlock!
The KDP Print Publishing Guide
Inside you get step by step instructions on how to navigate the KDP Print Publishing field with total ease.
From migrating your books, choosing an ISBN, various print options, to creating covers and more, you'll know exactly what it takes to publish your books from A to Z.
The Guide To Creating Amazing Journals
Learn how journaling has become a very popular topic in various niches and also 3 ways you can use journals in your marketing for great results.
You also get a journal checklist to minimize your chances of failure and maximize your chances of success.
The Ultimate Guide To Content Upgrades
The how and why you should be creating super targeted lead magnets for effective list building. Learn about the 2 parts of a content upgrade, how to deliver content upgrades, as well as some amazing tools to help you create them.
The QueContent Composer Software is an easy to use content tool. It comes preloaded with over 1500+ questions and prompts in a variety of in-demand categories. You can also add your own categories and content. It is a web-based tool and you can use it anywhere you can do web browsing. This course is perfect for anyone who wants to create income streams with content. It is perfect if you need to start creating content much faster so that you can sell your printables for passive income profit! Start your publishing business with this amazing tool.
See The QueContent Composer Software For Yourself – Click Here
Other Products You Might Like