Choose Your Desired Option(s)
#tippub #creator #tipbased #content #software #tippubcreator #contentsoftware #printables #printable #printablesoftware #content #contentcreation #creationtool #Cloudbased #passiveincome #makemoneyonline #onlinebusiness #lowcontent #lowcontentsoftware #publishing #selfpublishing #publishingsoftware #profit #productcreation #tool #earn #learn #publish
TipPub Creator Tip Based Content Software by Amy Harrop, You Will Get The Incredible Tool That Lets You Create Amazing Printable Content With Ease And Show You How Much You Can Earn And Profit.
The Printable Publishing market is evergreen, in high demand, and buyers make multiple purchases. Some of the top selling products on Amazon are printables. Which is why we highly recommend this product if you want to make money online and receive the tool to do so!
Introducing The…
TipPub Creator Tip Based Content Software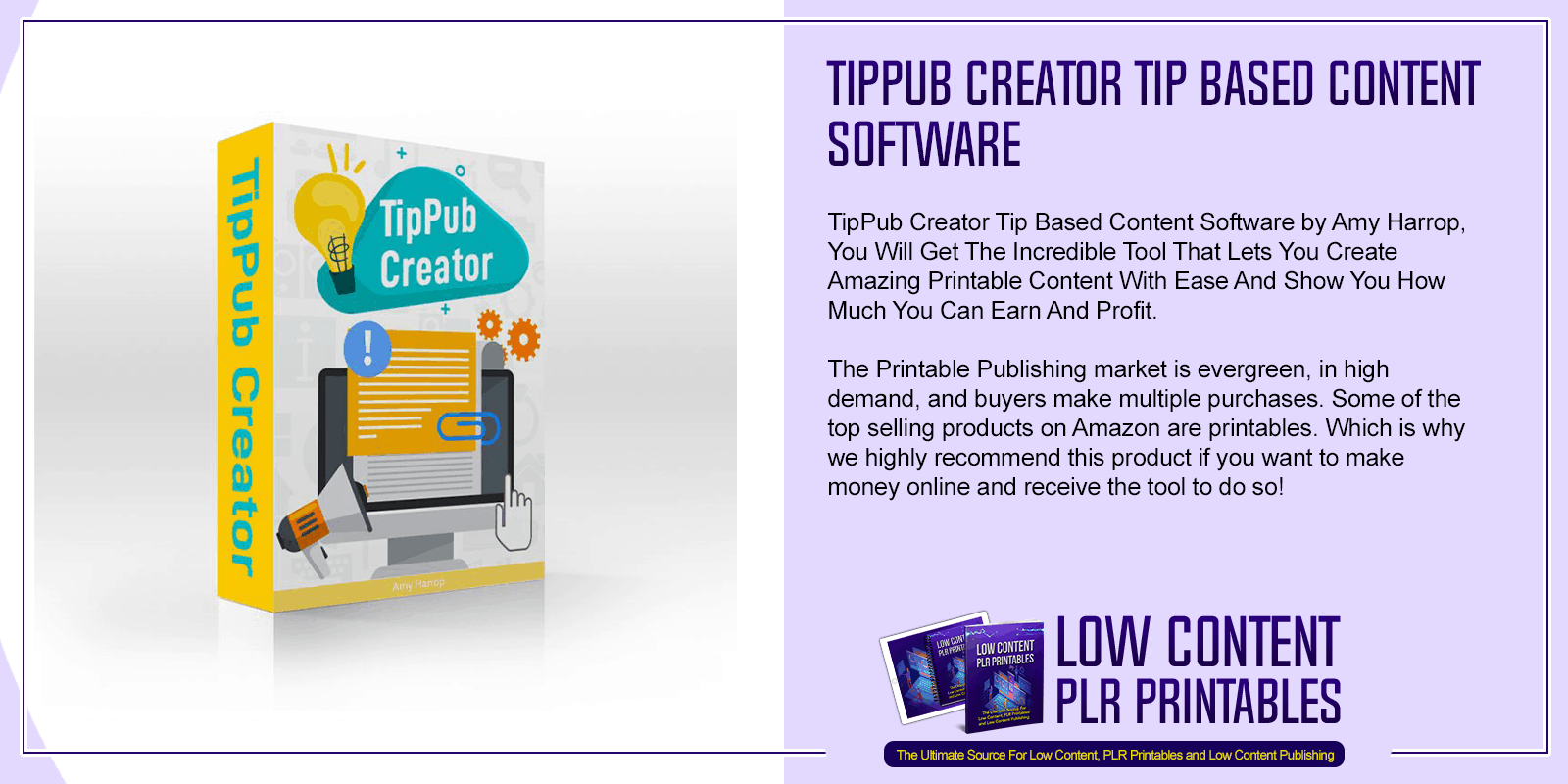 Here's what you'll be able to do with this awesome TipPub Creator Tip Based Content Software:
Introducing: TipPub Creator
Web-based: Nothing to download and works for both Mac and PC
Intuitive: You barely need directions but they do include complete training
Automated: The fast and easy way to create and publish content
With TipPub Creator You Can
Crank Out Content FAST – You can put quality content together in about 5 minutes or less.
Publish and start making royalties and sales – The more you have, the more money you are likely to make!.
Tap Into The Growing demand for printables and short content – The majority of readers want short, easy to read and digest content, you can easily give them what they want.
Get More For Your Time – When you take a manual process and automate it, you are essentially getting way more out of your time and your earning potential goes UP!
Leverage A Proven Popular Niche – I have taken out all of the guesswork and am giving you an easy way to publish in-demand like printables, checklists, tip sheets, and more!
TipPub Creator Comes Loaded With Features That Make Creating Content Fast and Easy!
One-click tip sheet and checklist content options, simply select and export.
Preloaded with over 2,000 tips so you can click and create hundreds of different content pieces without any outside research or writing!
Quickly add categories and subcategories on any topics you want to customize your content.
Add and upload your own content! A great way to reuse your old content, PLR content, and more!
Adjust font, margins, writing lines, and blank space all from one intuitive menu.
Easily organize all of your topics with just the click of a button.
Add borders, adjust fonts and more to make your content match your brand!
Create checklists, outlines, tipsheets, cheat sheets and more with bullet, box, and number selection.
Export in three different file formats for quick printing, uploading, or distribution. Word, PDF, and PPT!
Preloaded with Over 2,000+ Tips on Tons of Popular Topics
TipPub Creator comes with 2,000+ tips in a variety of categories and subcategories:
Nutrition
Personal Finance
Self-Improvement
Home and Garden
Fitness
Health
Relationships
Pets
Recreation
And More!
Here's a sample of the types of high quality tips that are included:
Eat More Protein
Protein and fiber make you feel fuller longer, helping you avoid cravings. As you age, protein also plays a big role in preserving your muscle mass because it does not get stored in the body. So, make sure you have between 20 and 25 grams of this essential micronutrient in every meal.
Dog Diet Tips
The proper way to switch your dog's diet takes several days. Over the course of two weeks, gradually reduce the amount of the original diet and slowly increase the food for the new diet. For example, if you typically feed your pet a diet of 3 and 1/2 cups of kibble per day, you will only want to change the diet at the rate of 1/4 cup each day. Keep in mind if you feed your dog's diet twice daily, divide the amount in half at each feeding.
Add Your Own Categories and Subcategories
Add your own categories and subcategories on any topic you want! If your business is focused on a specific niche, you'll be able to organize all of your content and topics with just the click of a button.
Customize Page Layouts With Just a Few Clicks
You also have the ability to easily customize how your content will appear on the exported document.
You can:
Choose how many tips will be displayed per page
Determine how much blank space will be left between tips
Add lines for your users to write on
Create custom margins for formatting flexibility
Select a variety of paper sizes
Add borders, bullet points, and more!
Import Your Own Bulk Content
Add your own bulk content in a snap using a .csv file. Simply save your content as a .csv file and click the import option. Your content is uploaded and ready to go.
You can also easily add individual tips or tweak the pre-loaded content directly in the software. This is a great way to use all of that PLR sitting on your hard drive.
Customize and Create Unique Content FAST
Duplicate and modify any of the 2,000+ included tips to create unique content fast. Over-the-shoulder training provided!
Easily add bullet points, checkboxes, or numbered outlines to create tons of content types instantly—to-do lists, checklists, outlines, and more!
TipPub Creator also allows you to add content to any category. Simply type the tip or content you want to add to a section, hit submit, and your new tip will be added instantly.
Multiple Content Exporting Options to Meet All Your Needs
TipPub Creator gives you multiple options to export your content. You can choose from:
PDF
PPT – which you can open and edit in any program that supports .pptx files.
Word – which you can open and edit in any program that supports .docx files.
Quick Start Video Tutorials
Just watch the videos and you'll know everything you need to create tons of awesome content in absolutely no time.
See The TipPub Creator Tip Based Content Software For Yourself – Click Here
Bonuses:
Insider's Guide to Using Worksheets, Checklists, and To-Do Lists
Use one-page pieces of content to grow your business, increase your profits, and meet your customer's needs!
This guide gives you actionable ways you can use printables in your business and includes the most important tips you need to know to make effective printables.
30 Professionally Designed Templates for Worksheets, Checklists Plus
20 Tip Content Templates in Easy to Edit PowerPoint Format, and More
6 Reasons Why You Need To Invest In TipPub Creator Today
Automate The Heavy Lifting
Printable and Low Content Publishing Made Easy
Dominate the Etsy Marketplace
Make Your PLR More Unique
Create Passive Income
Grow Your Audience With High-Quality Giveaway Content.
The TipPub Creator Tip Based Content Software is an easy to use Printables Creation Tool. The best part is the fact that you need no experience or knowledge about printables to profit and learn from this product. By getting this software you will save time and money by creating amazing low content printables and pages with ease! Click the link below to learn more.
See The TipPub Creator Tip Based Content Software For Yourself – Click Here
Other Products You Might Like