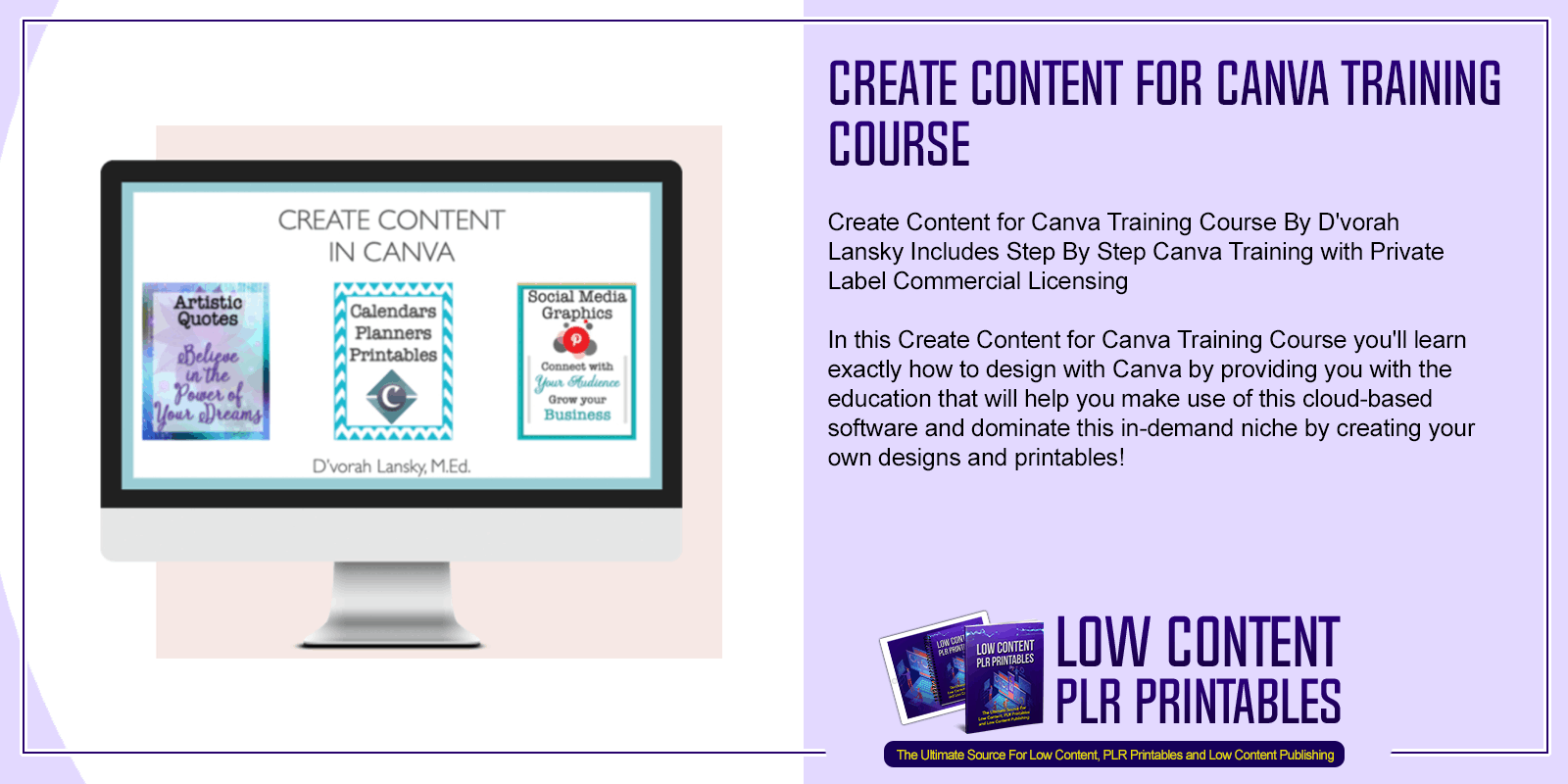 Choose Your Desired Option(s)
#Create #Content #Canva #Training #Course #createcontent #canvatraining #canvaguide #canvacourse #canvapublishing #canvadesign #createproducts #productcreation #dvorahlansky #design #cloudbased #printable #printables #lowcontent #graphics #graphicdesign #videotutorial #tutorial #publishing #selfpublishing #canvapro #tools #canvaprotoools #printablessoftware
Create Content for Canva Training Course By D'vorah Lansky Includes Step By Step Canva Training
In this Create Content for Canva Training Course you'll learn exactly how to design with Canva by providing you with the education that will help you make use of this cloud-based software and dominate this in-demand niche by creating your own designs and printables!
Introducing The…
Create Content for Canva Training Course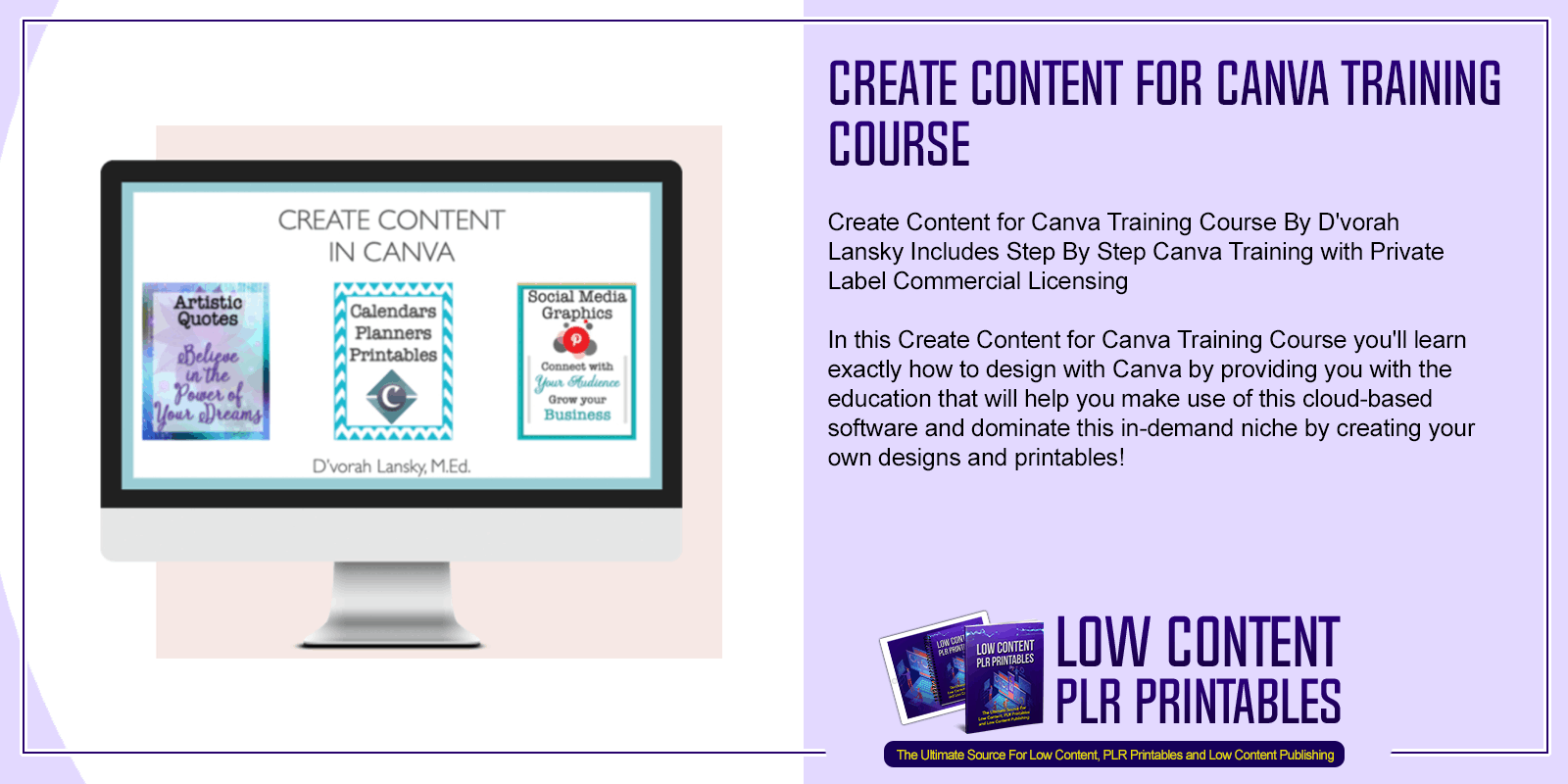 Here's what you'll learn with this amazing Create Content for Canva Training Course:
Step-By-Step Video Tutorials 
The video tutorials and bonus demonstrations, walk you through the activities one step at a time. By following the training and applying what you learn, you'll become a pro!
Content You Create In Canva Can Be Sold On Etsy, Amazon, Etc.
Once you design your graphics or worksheets, planners, journals, books, etc., you'll be able to download a high-quality, publication ready copy!
In This Take-Action Program You Will:
Discover a wide variety of products you can create in Canva.
Access built in "secret" tools to help yield gorgeous creations.
Explore the tools and resources available on the Canva site.
Learn how to use the shapes, elements and templates in the Canva toolbox.
Multiply your results by creating templates you can use over and over again!
You'll Also Learn About the Canva Pro Tools
Canva offers a free, basic level and a paid Pro level. The first half of this course AND all 17 bonus demonstrations apply to both levels. The following tools are available to Canva Pro members (and they over a 30-day trial).
In this section of the course we'll explore the following Canva Pro Tools
Streamline your design process with your Canva Brand Kit.
Keep organized by using Folders and sub-folders.
Expand graphics capabilities with the Background Remove tool.
Create images in a variety of sizes with the magical Resize tool.
Maximize your time as you automate the posting of your images to the social networks, with the Canva Schedule tool.
17 Journal Design Demos
This series of demonstrations will expand your publishing capabilities as you discover 17 different types of journals you can create.
Palette Generator Guide
The Palette Generator Guide walks you through the process of creating color palettes for your projects, using Canva's Palette Generator.
Canva Keyboard Shortcuts
Canva is a powerful program that also response to common keyboard shortcuts. Discover to how easily format your creations.
By going through this training, you'll equip yourself to be able to create content in Canva that you can use in a wide variety of ways. Save lots of money that you'd have to pay a designer, to be able to create what you'll learn how to easily create in this course. Everything you create can be turned into templates, so you can rinse and repeat for future products in different color combinations.
See The Create Content for Canva Training Course For Yourself – Click Here
Create Content for Canva Training Course Bonuses:
Special Bonus Training Series – How to Design Journals in Canva
Enjoy this fabulous bonus which demonstrates 17 ways to create journals and planners in Canva! Each of these tutorials is around 30-minutes long and they demonstrate how to create niche journals using Canva. Follow along and you'll have journals in PDF format that you can print out, publish to Amazon or sell from your shop or website.
How to Design Journals with Canva
Demo #1: My Genealogy Journal
Demo #2: The Coffee Journal
Demo #3: My Gluten Free Journey
Demo #4: My Holiday Journal
Demo #5: The Tracking Journal for Flower Gardening
Demo #6: Stay-at-Home Mom's Grateful Kid Journal
Demo #7: My Organic Market Journal
Demo #8: My Favorite Music Journal
Demo #9: My Magical Unicorn Sightings Journal
Demo #10: The 30-Day Abundance Journal for Women
Demo #11: My Parents Rock! A Gratitude Journal for the Ones You Love
Demo #12: A Journal to Keep Track of My Dreams & Accomplishments
Demo #13: Rebounds, A Healing Journey
Demo #14: The Bride's Recipe Gift Book
Demo #15: I Love Books!
Demo #16: Strong Inspirations for the Strong Woman
Demo #17: Cat's Are Awesome
The Create Content for Canva Training Course is perfect for those of you who want to generate new streams of income online and on your website by starting your own store and creating your own designs via canva. When you purchase this training get access to amazing step by step training and more to educate yourself on how to use Canva and ensure your business succeeds in this high-demand market! Click the link below to check out this amazing training.
Get a special discount if you purchase products on the Share Your Brilliance PLR Planners and Journals Store, use the coupon code below to save 20% off ANY products at ShareYourBrilliance.com.
MOZIE20
See The Create Content for Canva Training Course For Yourself – Click Here
Other Products You Might Like