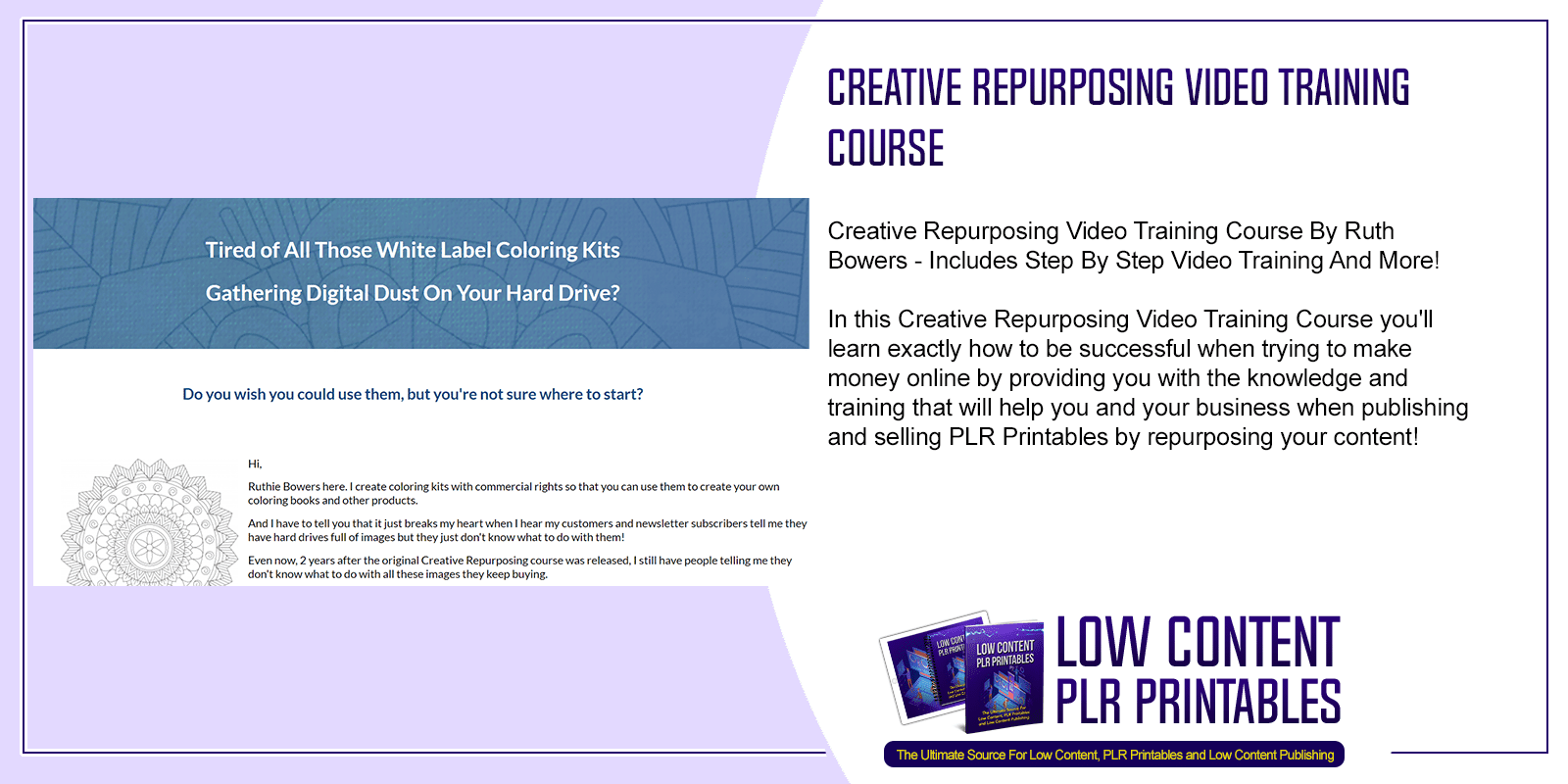 Choose Your Desired Option(s)
#Creative #Repurposing #Video #Training #Course #CreativeRepurposing #VideoTraining #learn #educational #education #stepbystep #training #ruthbowers #business #onlinebusiness #plrprintables #printable #Printables #plrcontent #content #printablestraining #lowcontent #lowcontentplr #ritchiemedia
Creative Repurposing Video Training Course By Ruth Bowers – Includes Step By Step Video Training And More To Help You!
In this Creative Repurposing Video Training Course you'll learn exactly how to be successful when trying to make money online by providing you with the knowledge and training that will help you and your business when publishing and selling PLR Printables by repurposing your content!
Introducing The…
Creative Repurposing Video Training Course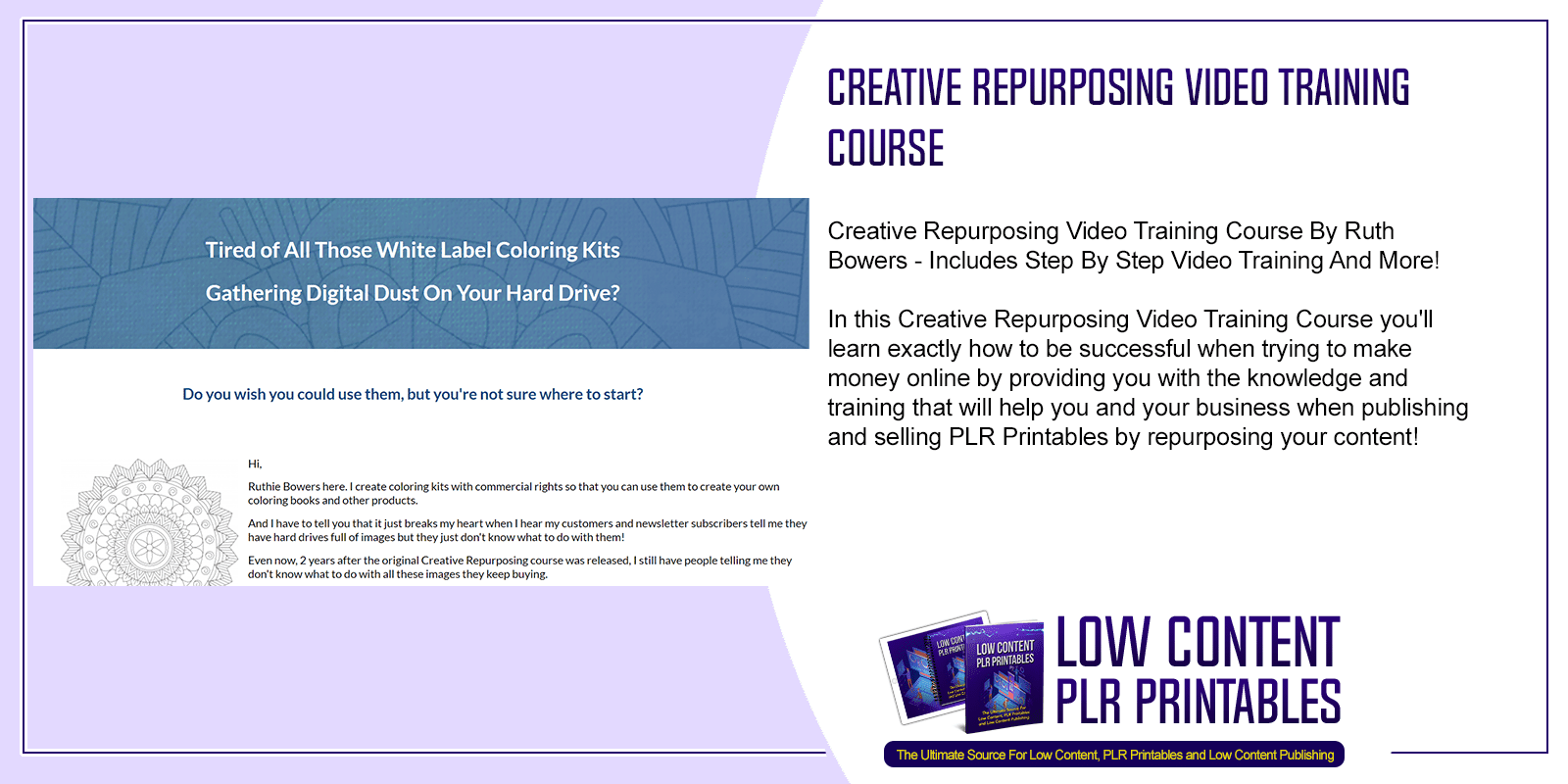 Here's what you'll learn with this amazing Creative Repurposing Video Training Course:
In this new and improved version, not only will you get the original set of step-by-step videos that cover:
Where to find images you can legally use
How to create new images from existing ones
How to work with lineart and patterns
How to create journal templates from coloring pages
How to make book covers from coloring images
You'll also get 5 brand new live webinars where we'll talk about even more ways to repurpose your coloring content including:
How to repurpose your coloring images onto POD products
How to repurpose clipart into black and white line art
How to use mandala maker software to create images you can repurpose
How to repurpose kid's coloring packs into unique images for an adult market
How to create digital papers out of black and white patterns.
And they'll look at some new software options for creating your own patterns and mandalas that weren't available with the original version of the course.
Inside the members area you will find the 5 original video modules to get you started.
These include:
Welcome and an Overview of What You Can Expect from This Course
Module 1 – Where to Find Images You Can Legally Use – 3 videos
Module 2 – How to Create New Images from Existing Ones – 4 videos
Module 3 – How to Work With Line Art and Patterns – 7 videos
Module 4 – How To Create Journal Templates from Coloring Images – 9 videos
Module 5 – How to Create Book Covers from Coloring Images – 1 video
That's a total of 25 videos with over 6.5 hours of training waiting for you inside!
Plus you'll also get details on how to register for the live webinars that will take place in January 2021.
Throughout it all, you'll be able to watch over their shoulder as they repurpose a package of images and create new images for you.
And as a bonus, I'll even give you the new images created throughout the course!
See The Creative Repurposing Video Training Course For Yourself – Click Here
Watch This Video To Learn More:
To Recap, you are receiving:
5 Training Modules with 24 videos
5 Live Webinars with All New Material
1 Package of Starter Images
Extra Images Created in Each Training
Resource Page
Facebook Group for asking questions and additional support
The Creative Repurposing Video Training Course is perfect for those of you who want to generate new streams of income online and learn how to work with PLR And Printables. When you purchase this course get access to amazing training and more to educate yourself and ensure your business succeeds!
See The Creative Repurposing Video Training Course For Yourself – Click Here
Other Products You Might Like