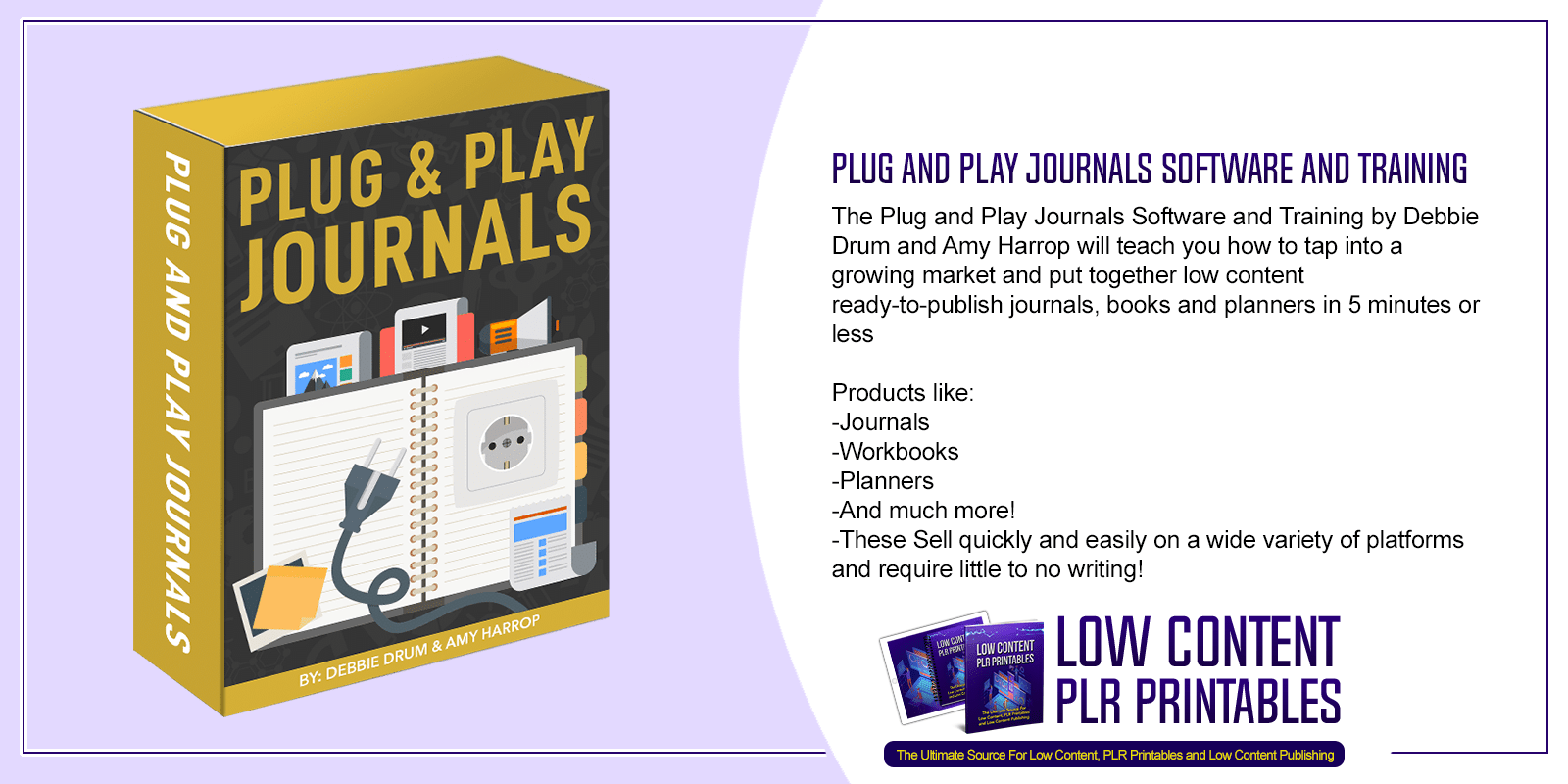 Choose Your Desired Option(s)
#printablejournals #plugandplay #plugandplayjournal #software #training #plugandplayjournaltraining #plugandplayjournalsoftware #journals #printables #printablesoftware #printablestraining #printablejournaltraining #readytopublish #planners #printablebooks #printableplanners #cloudbasedsoftware #printablescreation #printablescreationtraining #creatingprintables #lowcontent #lowcontentcourse #lowcontentsoftware
The Plug and Play Journals Software and Training by Debbie Drum and Amy Harrop will teach you how to tap into a growing market and put together low content ready-to-publish journals, books and planners in 5 minutes or less
If you want your fair share of success and profit, from people raking in massive royalties each month with self-publishing journals, low content books, printables, and more this Plug and Play Journals Software and Training is made for you! You will also get cloud-based software that gives your buyers the power to design low content journals, planners, workbooks and more quickly and easily.
Introducing The…
Plug and Play Journals Software and Training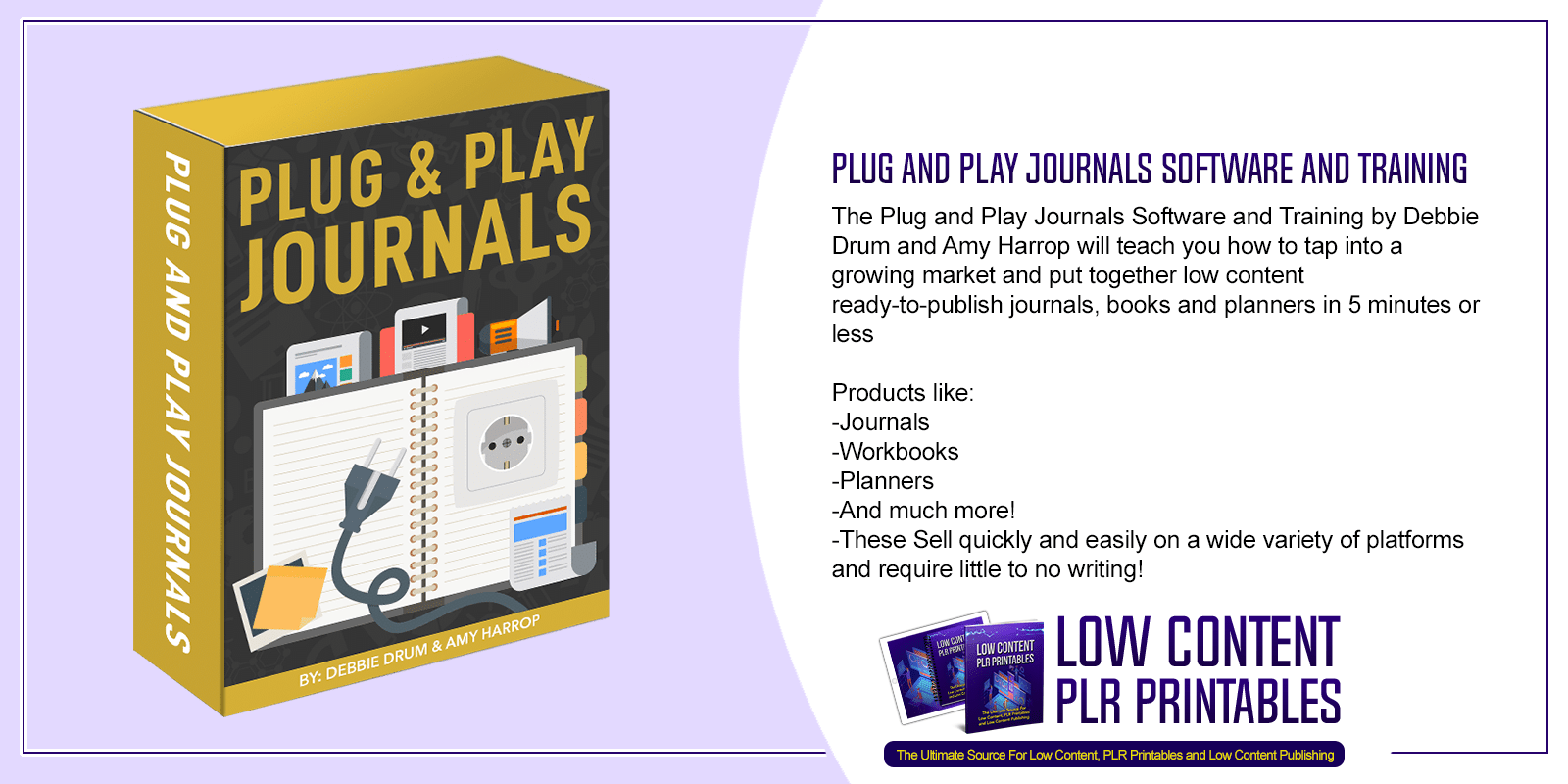 Here's what you'll learn with this amazing Plug and Play Journals Software and Training:
Web-based: Nothing to download and works for both Mac and PC
Intuitive: You barely need directions but we do include complete training
Automated: The fast and easy way to create and publish content
Crank Out Content Fast – You Can Put Each One Of These Together In About 5 Minutes Or Less.
Start Making Royalties – The More You Have, The More Money You Are Likely To Make!
Tap Into The Growing Demand For Print – The Majority Of Readers Want Print, And With Plug And Play Journals, You Can Easily Give Them What They Want.
Get More For Your Time – When You Take A Manual Process And Automate It, You Are Essentially Getting Way More Out Of Your Time And Your Earning Potential Goes Up!
Profit From A Proven Popular Niche – We Have Taken Out All Of The Guesswork And Are Giving You An Easy Way To Publish In An In-demand And Hot Niche!
Multiple Content Exporting Options
Plug And Play Journals Gives You Several Options To Export Your Content. You'll Be Able To Choose From:
Word Format—Which You Can Also Open And Edit In Any Program That Supports .Docx Files Such As Open Office.
Powerpoint—Which You Can Also Open And Edit In Any Program That Supports .Ppt Files Such As Open Office.
Bulk Upload Your Content
Create Even Faster By Bulk Uploading Your Page Content. Simply Upload A List Of Prompts And Create Your Book.
Save Your Projects
Even Though It Only Takes A Few Minutes To Create A Complete Journal, You Can Save Your Work And Come Back And Finish It Whenever You Want To.
Auto-insert Borders
Huge Time Saver! Simply Click And Insert!
Quickly Create A Title And Introduction
You Can Create An Introduction And Instructions Right Inside The Tool!
Quickstart Video Tutorials
You Didn't Think We'd Leave It Up To You To Figure Out How Plug And Play Journals Works Did You?
Just Watch The Training And You'll Be Ready To Create Tons Of Awesome Low Content Items In Absolutely No Time!
Cloud-based
No Download Needed. Works With Mac's And PC's
See The Plug and Play Journals Software and Training For Yourself – Click Here
Plug and Play Journals Software and Training Bonus Offer:
3 Session Journal Masterclass
Session #1- Less Work, More Journal Sales
We reveal the fastest and easiest ways to get more milage out of your Journals and in the hands of more buyers.
Session #2- The Fine Print, Getting Professional Results
We share how to quickly and easily create professional looking journals and how to get your print settings right each and every time.
Session #3- Exponentially Increase Your Journal Sales, No Publishing Needed
In this session we share one of the best strategies for getting 2-3x or more sales for each journal you publish.
Easy Artwork: 100 DFY Journal Borders
100 Borders!!
We are including 100+ additional borders not included in the software, for publishing and commercial use, our massive spreadsheet of free and low-cost artwork resources, PLUS complete training on how to insert and resize these borders into your journal.
Done For your Journal Research
Top Journal Niches and Journal Keywords people are searching for right now – this is waiting for you inside.
Done for Your Journal Prompts and Quote Resources
Hundreds of quotes and proverbs you can use for your journal content – You can have journals created super fast with this DFY content! Don't miss this opportunity to easily multiply your publishing income with our 3 session training and done-for-you content
Get this Plug and Play Journals Software and Training today and it will help you automate repetitive tasks and learn how to create low content printables within minutes so that you can focus on promoting your low content publishing business instead of just creating low content printable products. This course and software will help you dominate a multiple publishing marketplaces that are booming every year. Nearly all the work is done for you! All you have to do is upload your content, click a few buttons, download, and publish.
See The Plug and Play Journals Software and Training For Yourself – Click Here
Other Products You Might Like