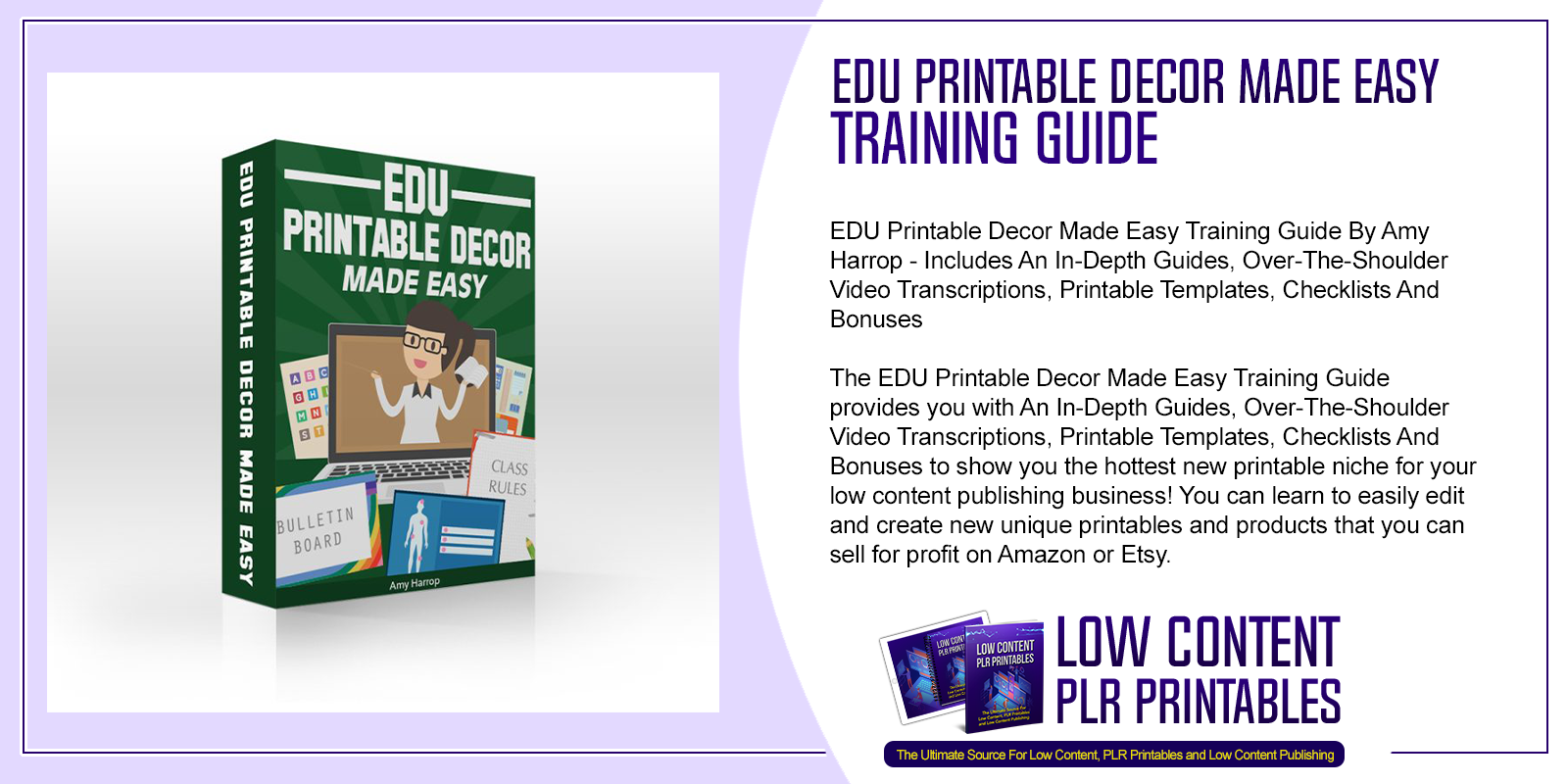 Choose Your Desired Option(s)
#EDU #PrintableDecorMadeEasy #Training #Guide #printabledecor #decorprintables #amyharrop #indepthguide #printables #printablecourse #trainingguide #videotraining #amazonprintables #etsyprintables #printabletemplates #checklists #printablechecklists #bonuses #publish #selfpublish #videotranscriptions #publish #selfpublish #lowcontentplr #doneforyouplr #printondemandplr
EDU Printable Decor Made Easy Training Guide By Amy Harrop – Includes An In-Depth Guides, Over-The-Shoulder Video Transcriptions, Printable Templates, Checklists And Bonuses
The EDU Printable Decor Made Easy Training Guide provides you with An In-Depth Guides, Over-The-Shoulder Video Transcriptions, Printable Templates, Checklists And Bonuses to show you the hottest new printable niche for your low content publishing business! You can learn to easily edit and create new unique printables and products that you can sell for profit on Amazon or Etsy.
Introducing The…
EDU Printable Decor Made Easy Training Guide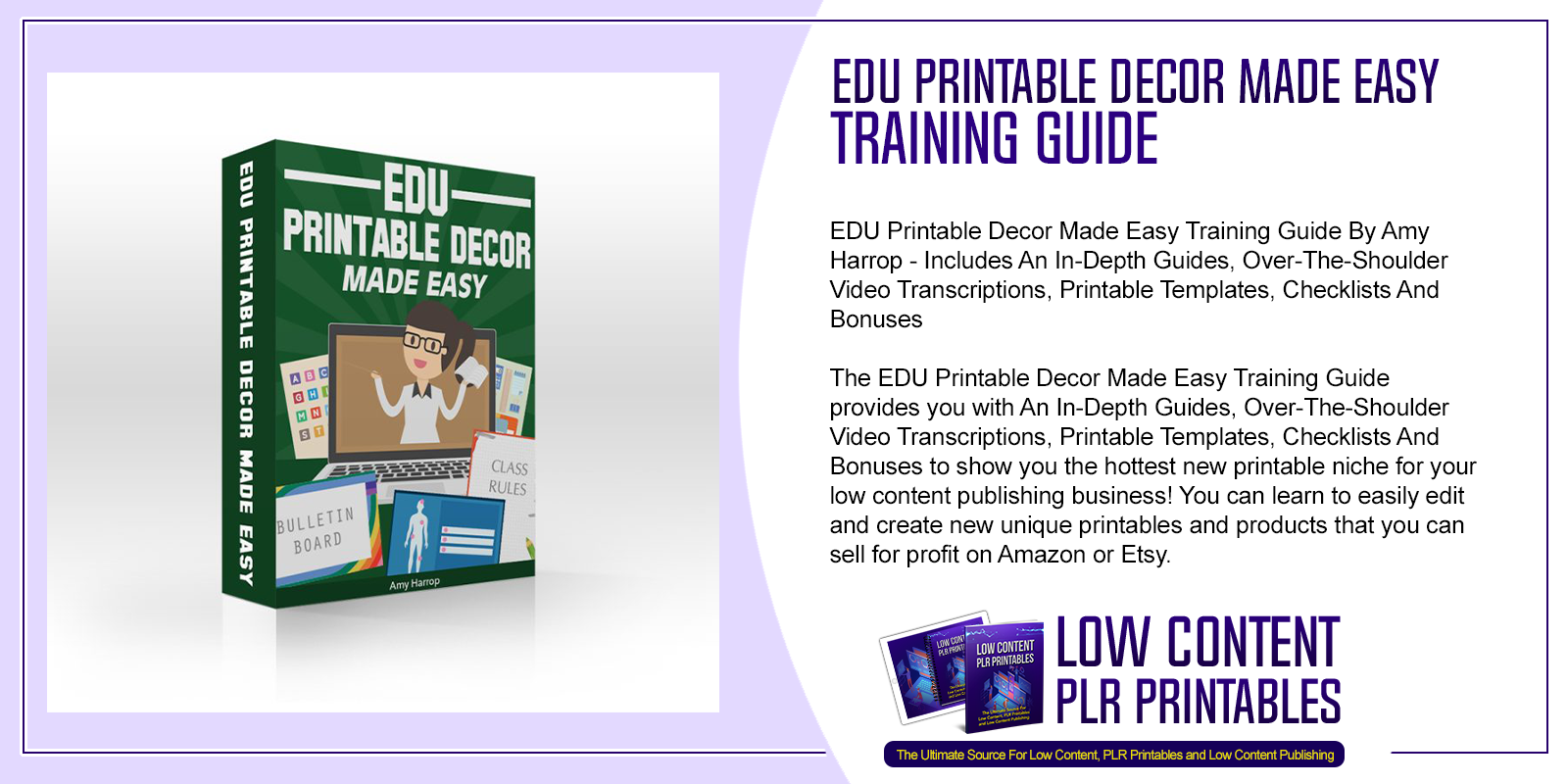 Here's what you'll learn with this EDU Printable Decor Made Easy Training Guide:
Here's Everything That's Included Today
An in-depth 90+ page guide that reveals all the secrets you need to know to cash in on the in-demand classroom decor printables market! ($297 VALUE)
Easy to follow, over-the-shoulder videos transcriptions with step-by-step screenshots that show you exactly what to do every step of the way to create four super hot products in this niche. ($97 VALUE)
24 Done-For-You templates in the most popular classroom categories. These templates will give you a huge boost over the competition and allow you to start creating AND SELLING printable classroom decor today. ($297 VALUE)
3 checklists that walk you through everything you need to know to locate resources, publish, and promote quickly and easily. ($39 VALUE)
Step-by-Step Guide to Setting up Your Own Teachers Pay Teachers Store ($67 VALUE)
BONUS: Pinterest Templates & Tools ($47)
BONUS: 100 Success Quotes ($37)
See The EDU Printable Decor Made Easy Training Guide For Yourself – Click Here
The Easy In-Depth PDF Guide
This 90+page guide spells out EVERY DETAIL you will need to easily publish printable classroom decor across multiple marketplaces. Absolutely everything is included!
Discover why printable and downloadable decor options are the BEST choice for you.
Learn why EDU printable décor is a powerful business model, and why now is a great time to jump in this high-demand niche.
Get insider strategies: including tips on product bundling, identifying and appealing to your target audience, the best places to sell EDU printable décor, and easy ways to increase your sales.
The best ways to grab free, targeted traffic to your printables!
And Much, Much More!
3 Handy Checklists For Publishing and Selling Fast
These checklists are included to provide you with quick reference sheets for all aspects of product creation from beginning to end.
You'll receive checklists for:
1. Locating Resources for Your Educational Printables
2. Publishing Your Educational Printables
3. Promoting Your Educational Printables
Over-The-Shoulder Video Training
Besides the guide and checklists, they've also created a set of easy to follow videos that show the exact steps you need to take to create products in top-selling niches.
Each of the videos also comes with a mini-guide transcription including step-by-step screenshots.
Because some people are visual learners, theyo cover all the bases and give you every advantage for getting off to a great start right out of the gate.
Step-By-Step Guide — Teachers Pay Teachers
They've also included a comprehensive guide to setting up your own store on the educational mega-marketplace Teachers Pay Teachers. Remember, you don't have to be a teacher to sell to teachers….
This guide walks you through the entire set-up process as well as how to list your items. Nothing is left out!
24 DFY Classroom Decor Templates
24 Done-For-You classroom decor templates provides you a huge shortcut to multiple streams of income.
They've included these professionally-created, easy-to-edit templates that can be used to create tons of different products.
All templates come with full commercial use rights; you can modify and publish the end result as your own.
They've also provided these beautiful templates in both PowerPoint and Canva so you can use them in whichever program you're most comfortable with.
And the most popular classroom decor niches are represented…you'll receive templates for classroom posters, bulletin board kits and borders, classroom welcome signs and more!
Beautifully designed printable templates all in easy-to-edit PowerPoint format.
The exact same printable templates in my favorite new online tool Canva.
Custom-tailored for hot-selling educational decor printables niches.
Tutorial Videos revealing how to quickly change or tweak the designs.
So How About A Quick Peek Inside The Guide?
There are 90+ pages of non-fluff content that are focused on strategies for dominating the printable classroom decor market.
Here's just a sample of what you'll discover:
Why this is an excellent product for anyone to sell, and why now is the best time to jump in.(p.13)
Six key points on why this niche is so powerful to create and publish. (p.21-23)
Stellar examples from five incredibly successful sellers of edu printable decor to give you inspiration. (p.29-32)
No fail-strategies for best-selling printables. (p.32-38)
In-Depth guidance through the most popular sub-niches in the category. (p.43-69)
The art to timing your release of new products for MAXIMUM SALES (p.41)
HOT KEYWORDS that will help you edge out your competition (p.34)
Insider Tricks to knock it out of the park (p.72)
Step-by-step help with quick set-up of a store and listings on MULTIPLE educational marketplaces (p.77-79)
You'll also Receive These Tailored, High-Quality Bonuses!
EDU Printable Decor Made Easy is worth its weight in gold and then some.
Pinterest Templates & Tools
Leverage the power of Pinterest to market and sell your products. This bonus includes in-depth guidance on easily growing your Pinterest audience, leveraging hashtags, Pinterest ads and analytics and lots more!
100 Success Quotes
This bonus includes 100 quotes from famous people on the topic of success. These can be utilized in all kinds of digital classroom decor designs and products.
The EDU Printable Decor Made Easy Training Guide is just for you if you're looking for a printable training course and templates that can be used to learn and create your own unique printables when purchased! Perfect for you if you have a publishing business and are looking for new products or ideas. Click the link below to learn more!
See The EDU Printable Decor Made Easy Training Guide For Yourself – Click Here
Other Products You Might Like