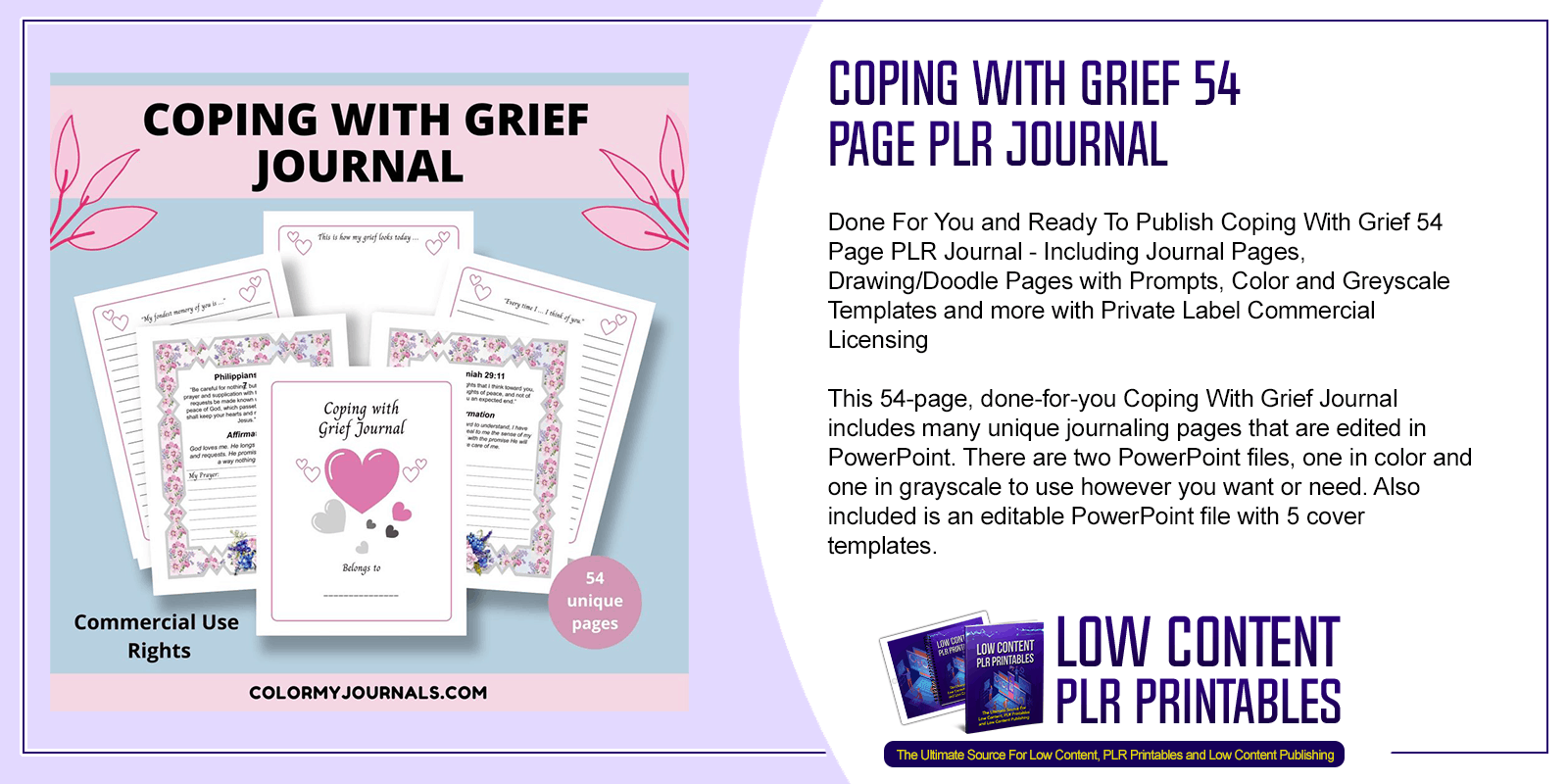 Choose Your Desired Option(s)
#plrprintablejournal #copingwithgrief #colormyjournals #grief #coping #griefplr #life #lifeplr #plrjournal #journalplr #griefplrjournal #plrprintables #printables #publishing #drawingpages #doodlepages #colortemplates #greyscaletemplates #journalprompts #journalpages #journaling #copingwithgriefplr #covertemplates #journaltemplates #griefplrprintables #publishing #selfpublishing #makemoneyonline #commercialuse #plrcommercialjournal #commercialjournal
Done For You and Ready To Publish Coping With Grief 54 Page PLR Journal By ColorMyJournals – Including Journal Pages, Drawing/Doodle Pages with Prompts, Color and Greyscale Templates and more with Private Label Commercial Licensing
This 54-page, done-for-you Coping With Grief Journal includes many unique journaling pages that are edited in PowerPoint. There are two PowerPoint files, one in color and one in grayscale to use however you want or need. Also included is an editable PowerPoint file with 5 cover templates.
Introducing The…
Coping With Grief 54 Page PLR Journal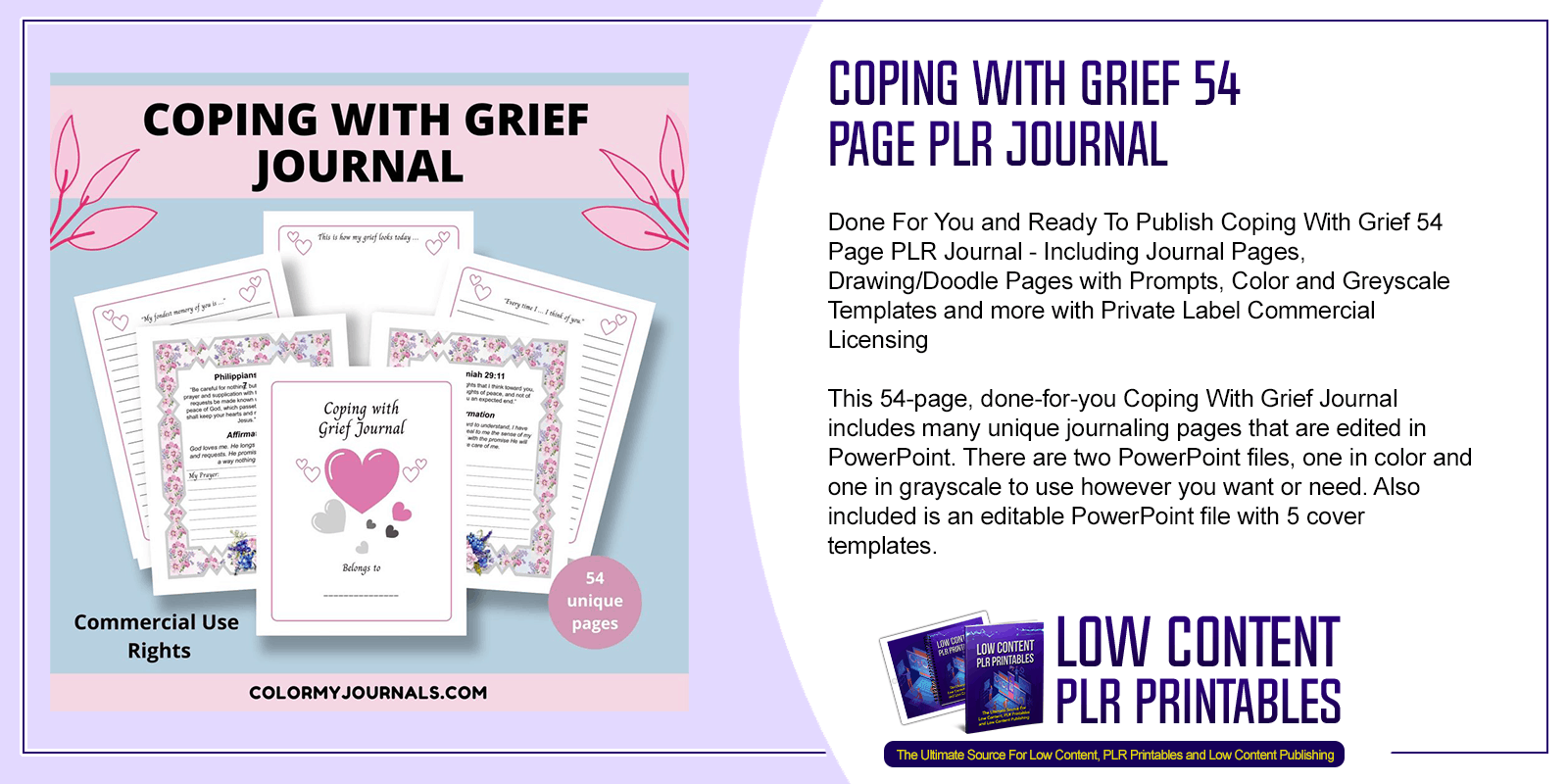 This is exactly what you will be getting in this Coping With Grief 54 Page PLR Journal:

The Journal PowerPoint file includes:
a Title Page
21 lined Journal Pages each with heart icons and a heart illustration watermark
21 Conversation Starters on the journal pages
20 Grief Prayer Journal Pages with beautiful floral frames and floral images
20 Bible Verses (King James Version) addressing grief and the brokenhearted
20 Bible Verse Affirmations
11 Drawing/Doodle Pages with Prompts
54 Color & Grayscale Templates
Size 8 x 10 inches

Commercial Use/PLR License
Get The Coping With Grief 54 Page PLR Journal For Yourself – Click Here
5 Cover Templates
How to Use These Templates
You can edit and brand these templates to suit your niche by changing the colors, fonts, and graphics.
You can:
Add extra pages, images, quotes, Bible verses.
Rearrange the pages however you wish.
Create two types of journals, one using the grief bible verses, and one using the grief journal prompts.
Add related coloring pages, trackers, quote pages, and other journal pages.
Suitable for creating grief memory books for the loss of a beloved pet.
Sell as printable packages on Etsy or Shopify, and your website.
Your Coping With Grief 54 Page PLR Journal Extended PLR Commercial License Terms:
PLR Rights:
You CAN create UNLIMITED products for your own personal use.
You CAN create UNLIMITED products to sell as printable PDF files in your Etsy store, on your own website or sell the COMPLETED journals/planners as hard copies on Amazon or anywhere else you like.
You CAN give your COMPLETED products away (as gifts, as lead magnets, as a bonus, etc.)
The only restrictions are that you CANNOT:
Give away or sell the PLR to this package
Give away or sell the source files (templates or graphics). They must be incorporated into a new product you create.
Refund Policy:
Due to the nature of PLR content, no refunds are offered. The product is clearly represented on the sales page so buyers are aware of exactly what they will be receiving before purchasing.
With the Coping With Grief 54 Page PLR Journal you will be encourage to use these pages to express your grief and it is a therapeutic method to dealing with grief.  According to grief experts and researchers, the reconstructing of your personal self-narrative is critical in the healing process, and your grief journal will provide you with a place for expression without fear of being judged by others. You could also buy and sell this journal in your own printable publishing low content store for profit! Find out more by clicking the link below.
Get The Coping With Grief 54 Page PLR Journal For Yourself – Click Here
Other Products You Might Like