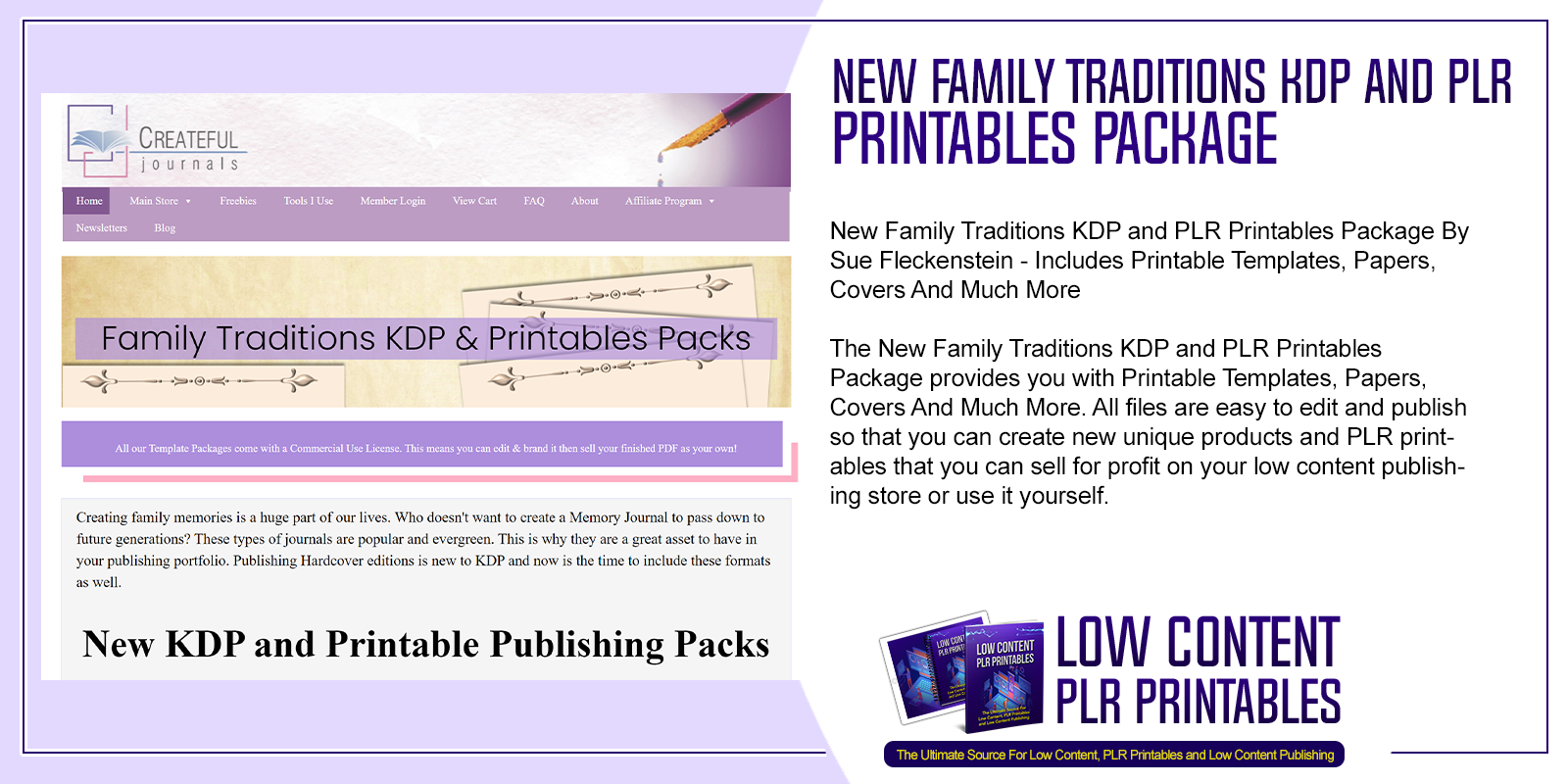 New Family Traditions KDP and PLR Printables Package
in
Digital Planner PLR Papers , Family PLR Planners , PLR Background Pages , PLR Digital Pages , PLR Graphics and Clipart , PLR Journals , PLR Planner Templates , PLR Planners , PLR Printable Covers , PLR Product Templates , Print On Demand PLR
Choose Your Desired Option(s)
#NewFamilyTraditions #KDP #PLRPrintablesPackage #kindledirectpublishing #Publishing #suefleckenstein #printabletemplates #printablepapers #plrproducttemplates #covers #printablecovers #plrprintables #lowcontentplr #printondemandplr #templates #doneforyouplr #lowcontentpublishing #digitalpapers #digitalpages #createfuljournals #journaltemplates #plannertemplates
New Family Traditions KDP and PLR Printables Package By Sue Fleckenstein – Includes Printable Templates, Papers, Covers And Much More 
The New Family Traditions KDP and PLR Printables Package provides you with Printable Templates, Papers, Covers And Much More. All files are easy to edit and publish so that you can create new unique products and PLR printables that you can sell for profit on your low content publishing store or use it yourself.
Introducing The…
New Family Traditions KDP and PLR Printables Package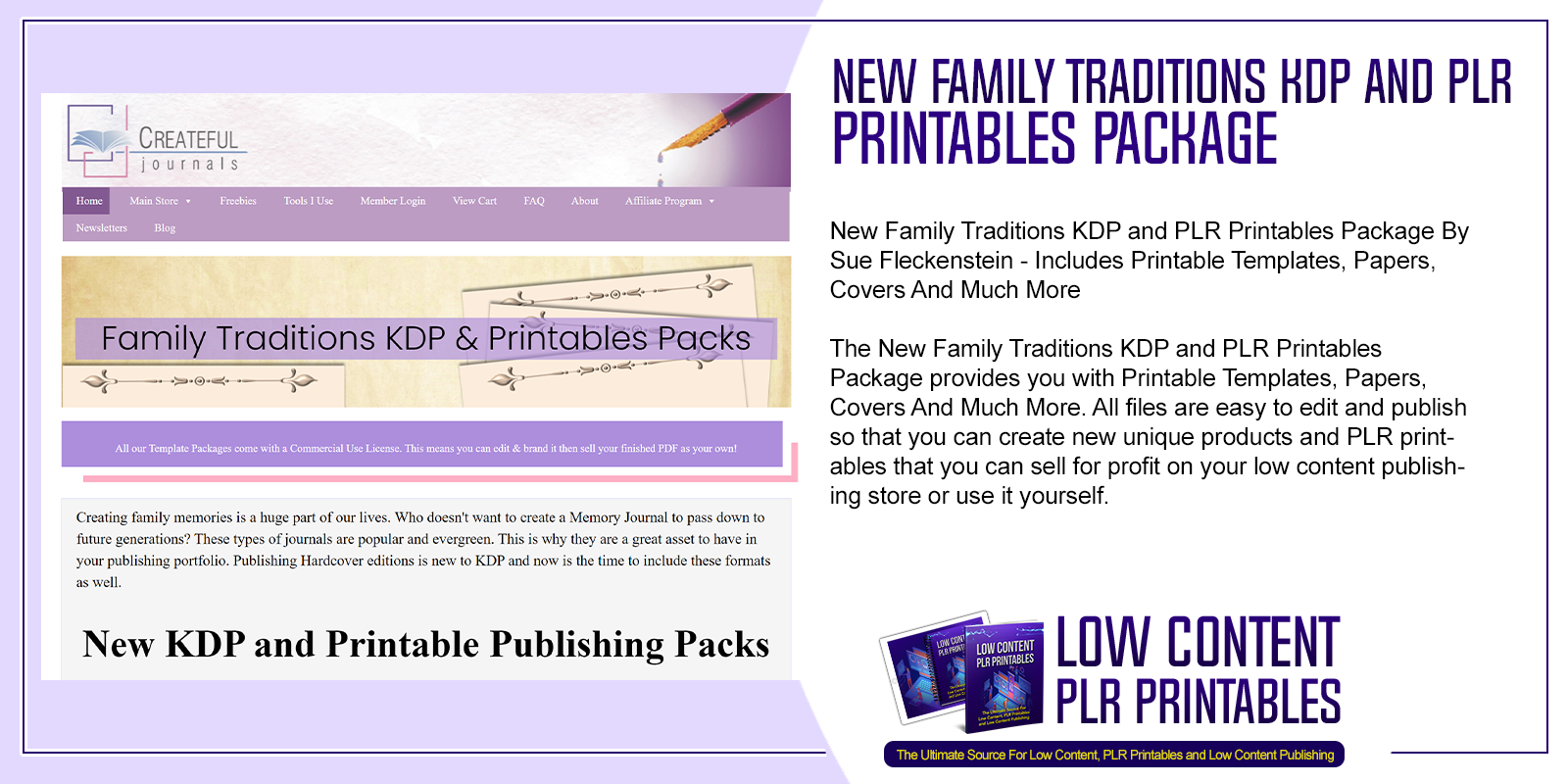 Here's what you'll learn with this The New Family Traditions KDP and PLR Printables Package:
What's Included:
KDP Pack
150 Easy to edit PowerPoint Pages formatted for Hardcovers and Paperback in Color + Black and White
3 Hardcover Sizes: 6 x 9, 7 x 10 and 8.25 x 11 Inches
4 Paperback Sizes: 6 x 9, 7 x 10, 8. x 10 and 8.5 x 11 Inches
Interior Layouts are sized for Non Bleed
12 JPG Cover Templates in all 7 Sizes
12 PSD Cover Templates in all 7 Sizes
Covers Accommodate 150 Pages
36 Additional Papers to use for your covers
12 Additional Themed Papers Matching the Main Templates
Printables Pack
16 Easy to edit PowerPoint Templates in Color for a Printable Version
Printables come in Letter Size 8.5 x 11 inches and in A4
36 Colored Textured Papers to use for your covers or divider pages if you wish
Textured Pages come in both Letter and A4 sizes
Best Value:
Get Both Options at a Huge Discount
Commercial Use License for the Templates allows you to sell the journals you create. They need to be sold as PDF files and may not include any of the source files.
Hardcover Sizes:
Printable Sizes:
Paperback Sizes:
6 x 9
7 x 10
8. x 10
8.5 x 11
150 Template Layouts/Pages include:
Please note these layouts are designed for use as Non Bleed
Use these layouts to mix and match and quickly create new books to publish as hardcover versions.
Our Family Pages
Core Family Members Pages
Extended Family Members Pages
Friends as Family Pages
New Family Members Pages
Family Portraits Pages
Family Stories Layouts
Age Old Traditions Layouts
New Traditions Layouts
Family Crafts Layouts
Family Outings Layouts
Family Journal and Photos
See The New Family Traditions KDP and PLR Printables Package For Yourself – Click Here
What are my license rights?
This Etsy Mockup Toolkit comes with Personal Use Rights only. Use the templates to create an unlimited number of images to use for your own products. You may use them on Etsy, Shopify, your own Website and Social Media.
You may re-brand the PowerPoint templates to generate your final product, but may not give the original source files or your modified PowerPoint file to your customers and clients. If they wish to edit the templates then they will need to purchase their own copy.
Please note there are NO refunds as this is a Digital Download that comes with a Commercial/ PLR license. The package is clearly outlined on the sales page.
You may use this product for commercial use – to create new journals and planners to sell on e-commerce platforms, self publish or for clients.
You MAY NOT sell this to other authors with PLR or MLR rights.
You MAY NOT sell these templates on sites such as Creative Fabrica and you MAY NOT sell them as Ready to Upload KDP Templates and sell to others.
Once you purchase, you will receive a link to download your files. Your files are kept inside your members area, for as long as you remain a member.
The New Family Traditions KDP and PLR Printables Package if you're looking for amazing printable product templates and papers. You can buy it for your own use or simply edit and sell it on your own publishing store with your branding to profit! Click the link below to learn more.
Get a special discount on the Createful Journals Beautiful PLR Journals and Printables Shop, use the coupon code below to save 20% off any products at CreatefulJournals.com.
MOZIESAVES20
See The New Family Traditions KDP and PLR Printables Package For Yourself – Click Here
Other Products You Might Like