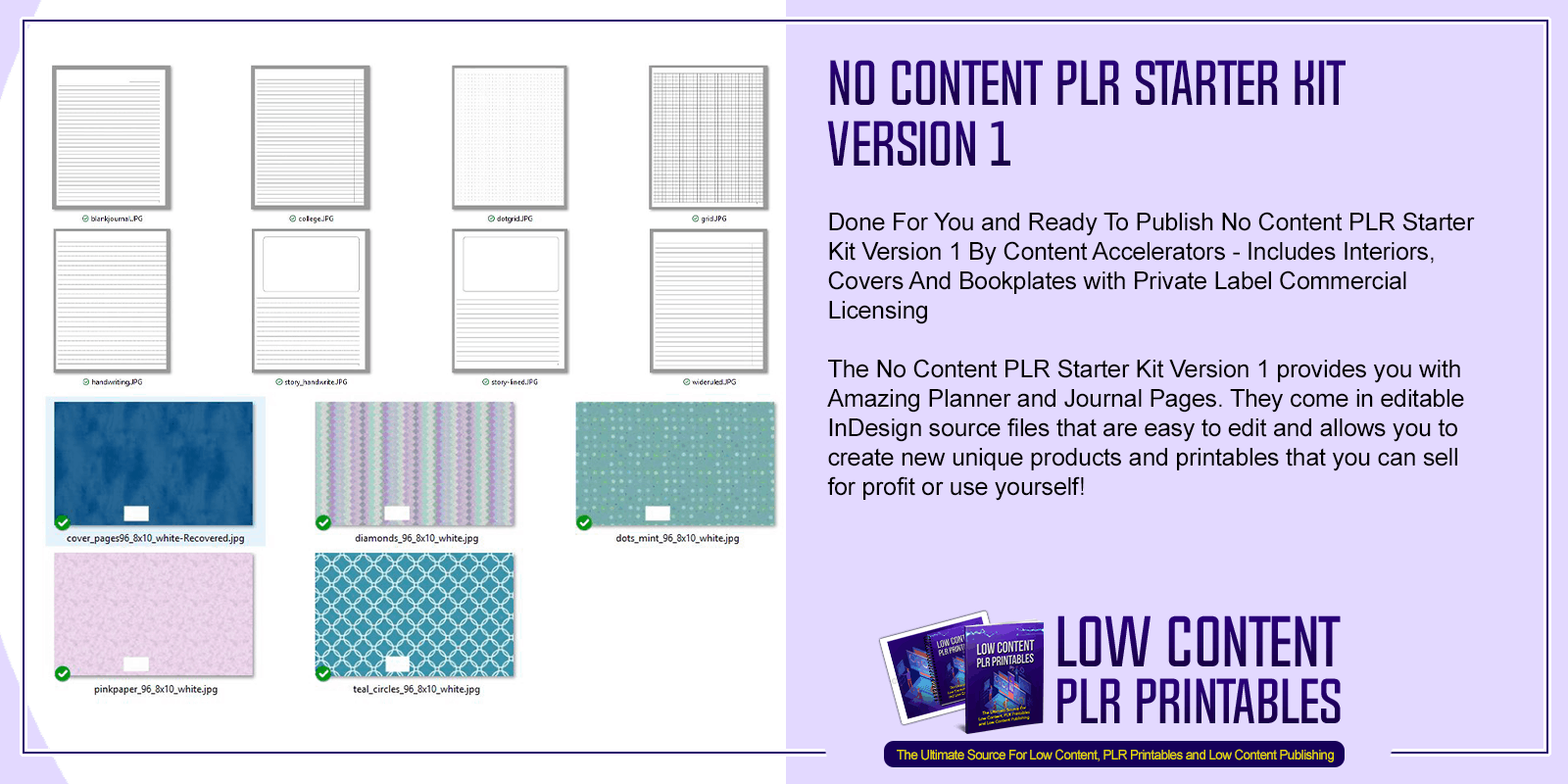 Choose Your Desired Option(s)
#Nocontent #plr  #starter #starterkit #version1 #versionone #doneforyou #nocontentplr #interriors #covers #bookplates #pages #digitalpages #printables #lowcontent #publishing #selfpublishing #lowcontentplr #plrprintables #lowcontentprintables #planner #journal #plrplanner #plrjournal #plannerpages #Journalpages #producttemplates #commercialuse #commerciallicense #lowcontentpublishing
Done For You and Ready To Publish No Content PLR Starter Kit Version 1 By Content Accelerators – Includes Interiors, Covers And Bookplates with Private Label Commercial Licensing
The No Content PLR Starter Kit Version 1 provides you with Amazing Planner and Journal Pages. They come in editable InDesign source files that are easy to edit and allows you to create new unique products and printables that you can sell for profit or use yourself!
Introducing The…
No Content PLR Starter Kit Version 1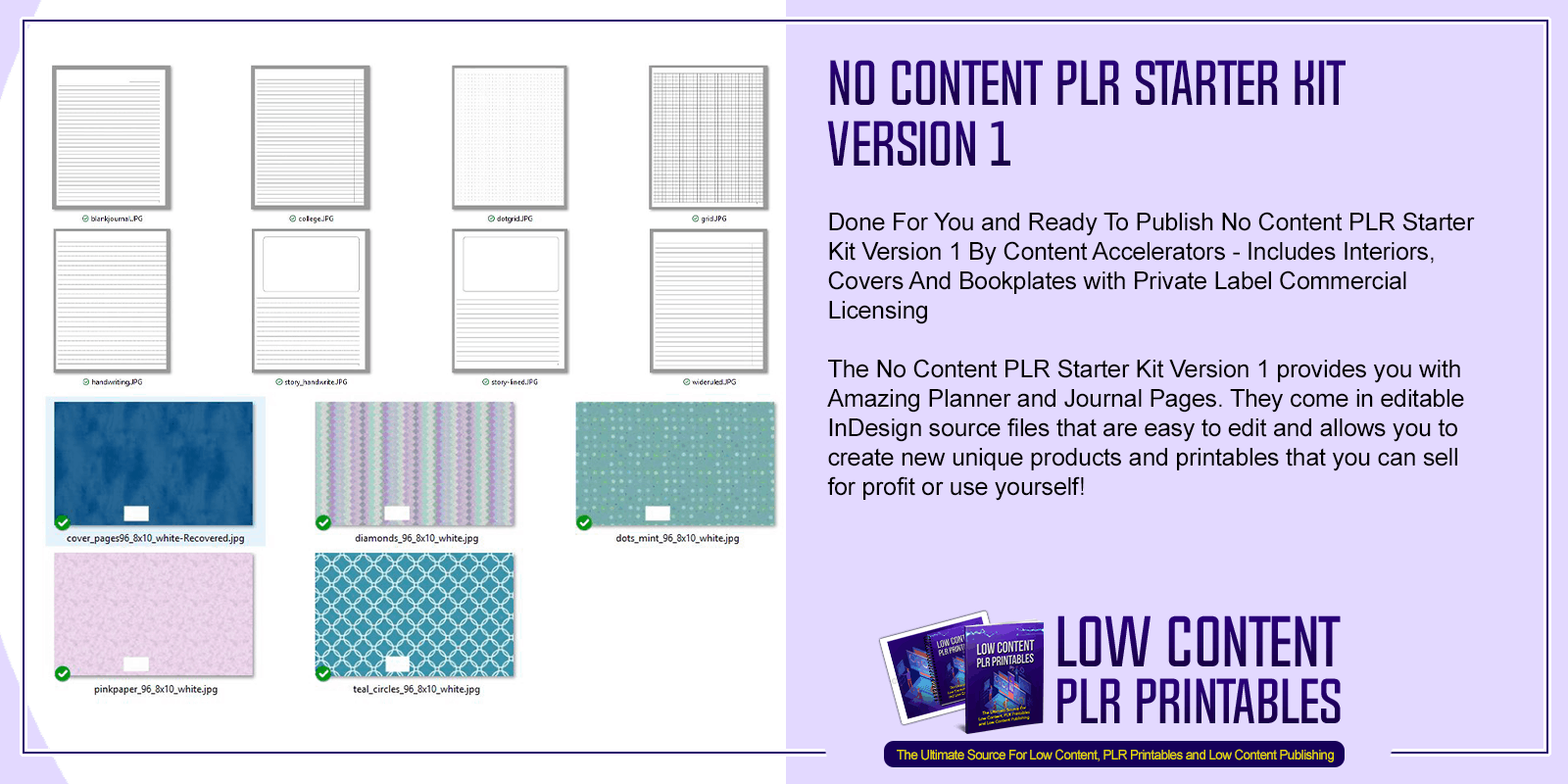 This is exactly what you will be getting in this No Content PLR Starter Kit Version 1:
Includes:
9 DFY interiors in pdf format (96 pages)
InDesign source files so you can make edits and create notebooks of any length
5 DFY covers in high quality .jpg and .pdf formats
Photoshop source files for covers
7 bookplates to use on the cover or the first page of your interior in transparent .png and with a white background (.png)
Illustrator source file for bookplates
8″x 10″ size (standard composition books are 7.5″ x 9.5″)
Notebook Types:
College ruled notebook
Wide ruled notebook
Blank journal
Journal pages with space to add prompts
Dot grid
Grid (.25 inch graph paper)
Story paper with wide ruled lines
Story paper with handwriting lines
Handwriting notebook
Get The No Content PLR Starter Kit Version 1 For Yourself – Click Here
Watch This Video To Learn More
The No Content PLR Starter Kit Version 1 Licensing Terms:
You may use any of the files (interiors, bookplates, and covers) in any project where your customer is the end user.
You may not use any of these files to create products that you will sell or giveaway with commercial rights of any kind.
You may not sell or giveaway any of the source files for any reason.
The No Content PLR Starter Kit Version 1 is just for you if you're looking for amazing new PLR Planner and Journal Interiors that can be used to create your own unique printables or they can be edited and included with your own planners and journals when you purchase this product! You can also buy this printable product to sell on your store or use it for yourself. Just for you if you have a publishing business and are looking for new products or printables to add to your shop. Click the link below to learn more!
Get The No Content PLR Starter Kit Version 1 For Yourself – Click Here
Other Products You Might Like