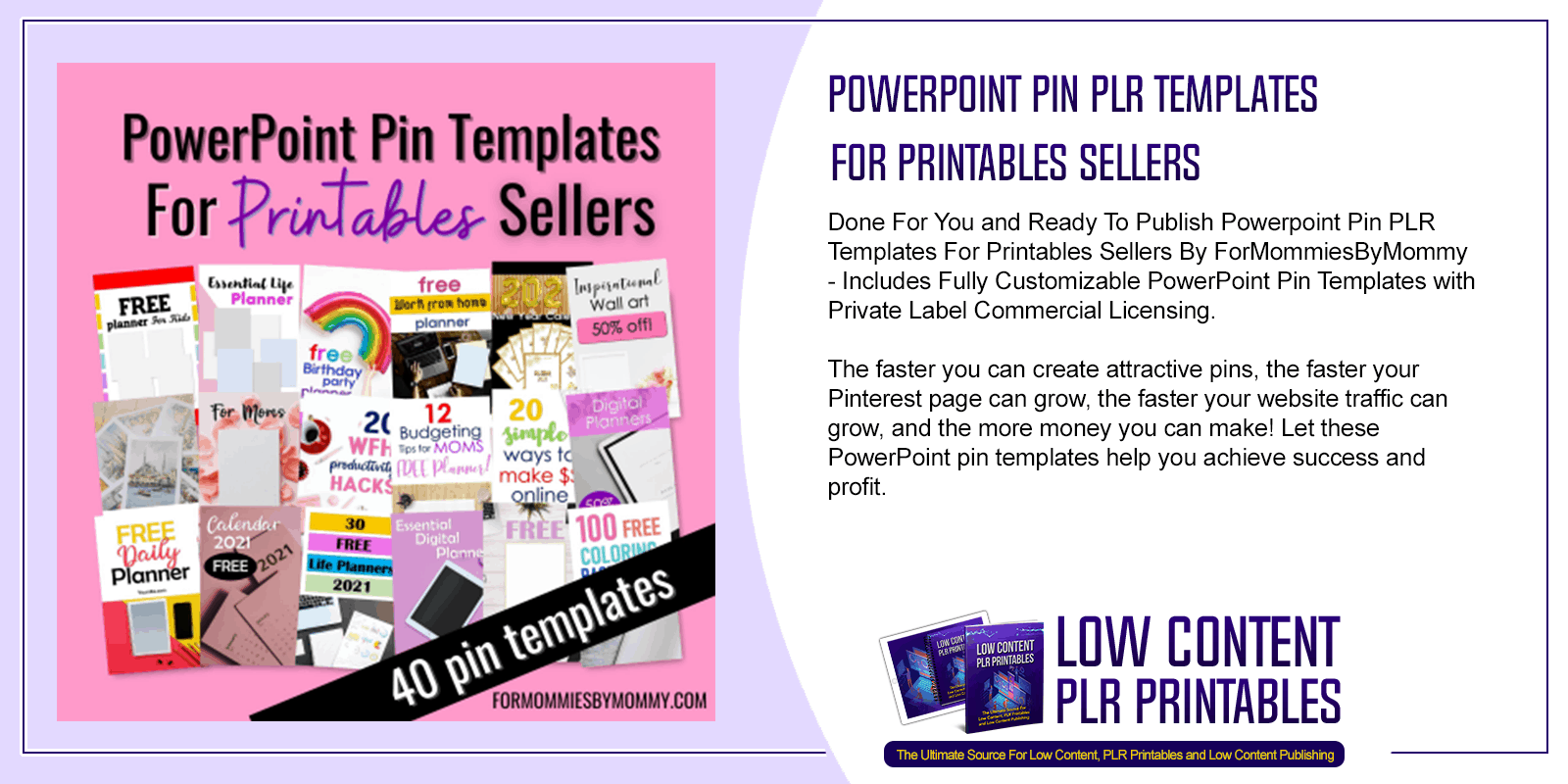 Choose Your Desired Option(s)
#powerpointpin #plrtemplates #printablessellers #powerpointpinplr #pinteresttemplates #printables #plrprintables #pinterest #pinterestpins #pinterestplr #pinterestplrpins #pinteresttemplates #pinterestplrtemplates #pinterestgraphics #pinteresttrafficgeneration #customizablepintemplates #pinterestgraphicscreation #lowcontent #lowcontentplr #lowcontentpins #plrtemplates #plrproducttemplates #powerpointgraphics #digitalpinterestpins
Done For You and Ready To Publish Powerpoint Pin PLR Templates For Printables Sellers By ForMommiesByMommy – Includes Fully Customizable PowerPoint Pin Templates and Video Training with Private Label Commercial Licensing
The faster you can create attractive pins, the faster your Pinterest page can grow, the faster your website traffic can grow, and the more money you can make! Let these PowerPoint pin templates help you achieve success and profit.
Introducing The…
Powerpoint Pin PLR Templates For Printables Sellers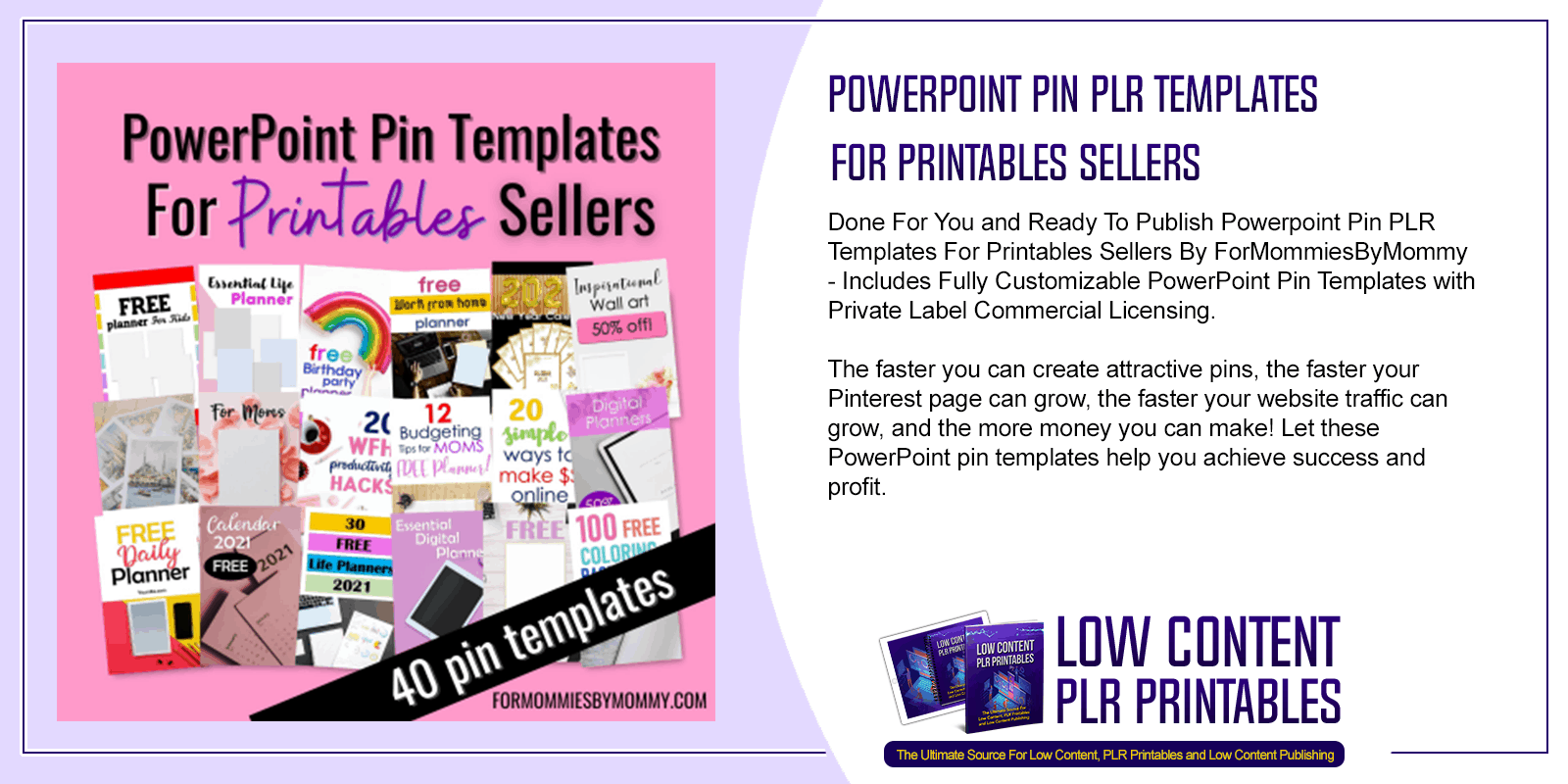 This is exactly what you will be getting in this Powerpoint Pin PLR Templates Pack:
40 professionally designed, fully customizable, PowerPoint pin templates to help you create pins that increase engagement on your pinterest page!
With Powerpoint Pin Templates For Printables Sellers You Can:
Save time creating beautiful pins that Pinterest users will click on.
Skyrocket your blog traffic and make money as more people go to your sales and products pages.
Save money by not hiring a graphic designer to create pins for you.
Create attractive pins that will go viral.
See The Powerpoint Pin PLR Templates For Printables Sellers For Yourself – Click Here
With more people clicking on your pins and being directed to your blog posts, sign up pages, or sales pages, website, you will find yourself making more money in no time. They also included a detailed video tutorial to show you step-by-step how to use these pin templates!
The Powerpoint Pin PLR Templates Pack Licensing Terms:
Please note that the pin templates DO NOT come with private label rights. You can use these templates (including the stock images) to create pins and other social media images. But you CANNOT distribute the editable PowerPoint source file.
The Powerpoint Pin PLR Templates For Printables Sellers will help you generating traffic on Pinterest to grow your websites traffic and sales. It not only provides you with amazing pinterest pin templates but also includes video training to help you get started! It is perfect for those of you that really want to boost your engagement and interest on your pinterest account so that your business can succeed and make more money!
Get a special discount if you purchase products on the For Mommies By Mommy PLR Printables Supplier, use the coupon code below to save 20% off ANY products at ForMommiesByMommy.com.
QUALITY20
See The Powerpoint Pin PLR Templates For Printables Sellers For Yourself – Click Here
Other Products You Might Like