Choose Your Desired Option(s)
#acupofzen #lowcontentplr #PLRproducts #plrprintables #printables #lowcontent #lowcontentproviders #lowcontentplr #printablesstore #plrprintablestore #plrplanners #plrjournals #lowcontentprintables #publishing #publishingbusiness #gabbyconde #selfpublishing #doneforyou #spiritual #spiritualplr #passiveincome #printablebooks #worksheets #classes #training #plrprintablebooks
A Cup of Zen Low Content PLR Products Shop is a online store that Provides Low Content PLR Printables by Gabby Conde, the creator of a Cup Of Zen Store. This store has templates to help you with branding your site, publishing your books, and market yourself or your publishing business across the web.
This is a shop of high-quality content and low content products that are made for personal development coaches, yoga teachers, therapists, mental health, wellness advocates, and business coaches who help others learn more about themselves or turn around their habits and life conditions. You can also buy their low content printables for your own publishing business and profit!
Introducing The…
A Cup of Zen Low Content PLR Products Shop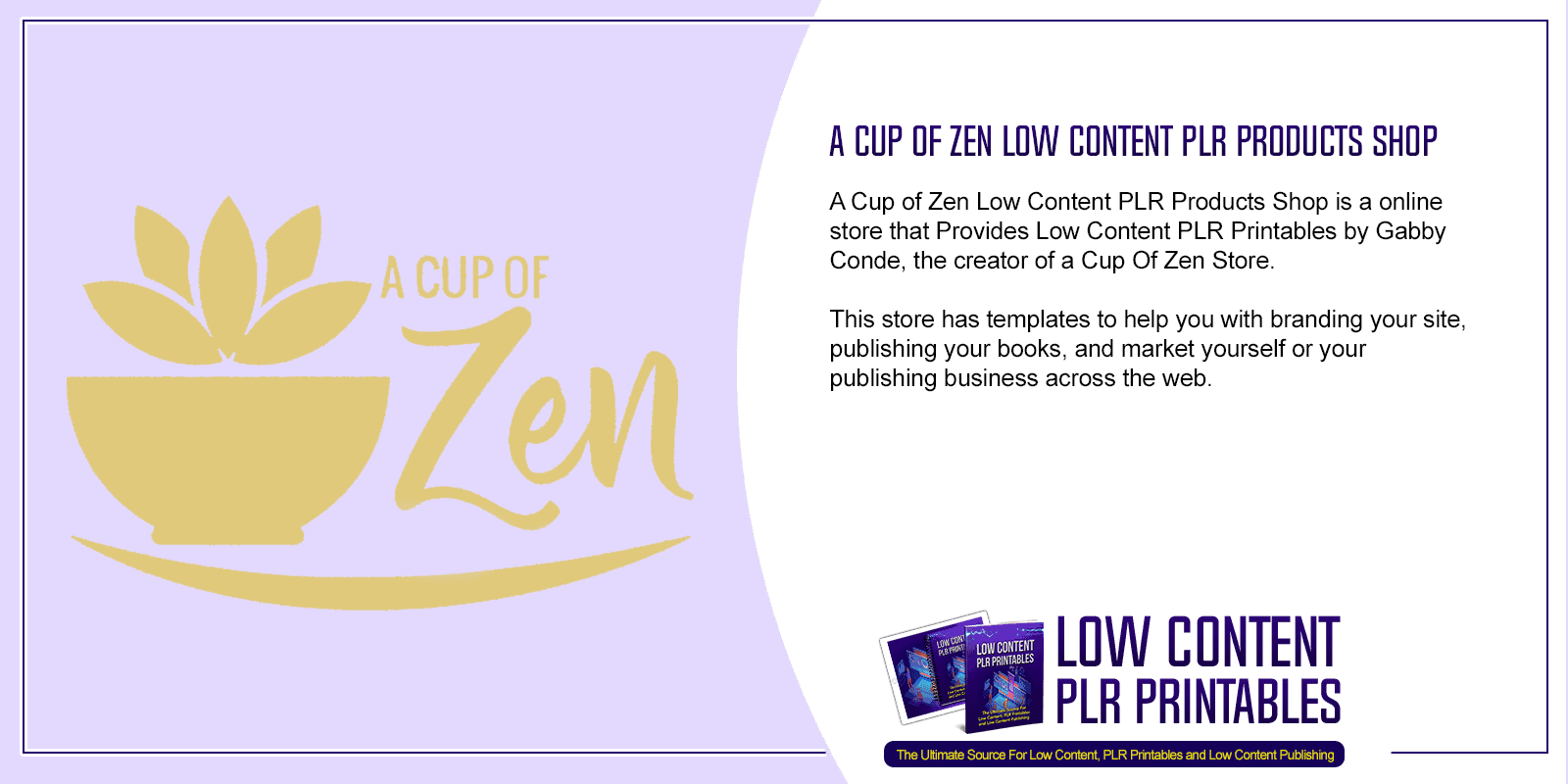 The A Cup of Zen Low Content PLR Products Shop Features:
The folks at A Cup Of Zen are able to take one less thing off of your plate that can also help you with attracting your ideal clients. With done-for-you content that is spiritually based, it is their goal to give you back more time and create a system for your content with ease. They exist to make business easier for you. And they have simplified what so many others have done and done it well in one place.
If you're considering starting a self publishing business online or offline but want specific content that will address these needs, A Cup of Zen may be exactly what you're looking for.
Get access to Low Content PLR Printables Like:
Blog Posts
Webinars
Ebooks
Website Content
Marketing Materials
Books
Journals
Planners
Opt-In Reports
Guest Blogs
Classes
Workshops
Social Media
And More!
How To Get Started:
Choose Your Content
Choose which content you need for your publishing business.
Check It Out
As soon as you get the content, go through it and start building your idea for what to do with it. Make a list of ideas and think of ways to repurpose the content for a variety of uses for your self publishing business.
Make It Yours
To make the content unique to you, add stories that go with the writing to add more depth and personality to the content. Use the stock photos with photo filters to match your Instagram or Pinterest style and advertise your business in style.
Launch
Launch your self-publishing business, blog post, opt-in, Facebook Live, or another way you want to use the content and celebrate. Get ready to repeat the process.
Get a Free Done-For-You Content Sample Pack When You Sign Up For FREE
Get a free done-for-you content pack on the topic, "Which Crystals Are Good for Meditation." This pack comes with an article, stock photos, and social media posts you can use for commercial use to grow your business. Register now to also learn about new done-for-you content pack releases, news, and tips to help you grow your spiritual business using content.
500+ Word Article
Original Stock Photos (Won't Find These Anywhere Else)
Done-For-You Social Media Posts (including Pinterest)
See The A Cup of Zen Low Content PLR Products Shop For Yourself – Click Here
Here's Some Of Their Latest Product Releases:
Done For You Spirit Animals Done-For-You Monthly Package
Done-For-You Content Which Crystals Increase Energy Package
Done-For-You Coaching Discovery Calls PLR Pack
Done-For-You Tap Into Your Business Intuition Package
Top 10 Home Business Productivity Tips Package
Done-For-You Getting Started With Crystals to Set Healing Intentions Pack
Done-For-You Daily Spiritual Connection Content & Planner Package
Done-For-You Intention Setting with Crystals 5-Day Challenge Package
Done-For-You Change Your Energy to Manifest What You Want Package
Done-For-You Self Love and Care with Mindfulness and Compassion Pack
Why Choose The A Cup of Zen Low Content PLR Products Shop?
Done-For-You Content – Blog posts, reports, opt-in content, social media, and classes from a spiritual Zen approach. Including all of your favorite types of PLR Printables
Stock Photography – COMING SOON – a collection of spiritual and esoteric images made just for you to use in your publishing business.
Classes – Ready to learn fun techniques and how to use your content? This is perfect for you.
Professional Designer PLR Products
Sell their products on the Etsy store, Teachers Pay Teachers store, and self-publish on Amazon KDP. Or any marketplace you like.
If you are looking for products in the spiritual niche and are an entrepreneur trying to earn passive income or ensure that your publishing business succeeds.  The A Cup of Zen Low Content PLR Products Shop is just for you.
Here's a coupon to get 50% off any products from Acupofzen.com
mozie
See The A Cup of Zen Low Content PLR Products Shop For Yourself – Click Here
Other Products You Might Like