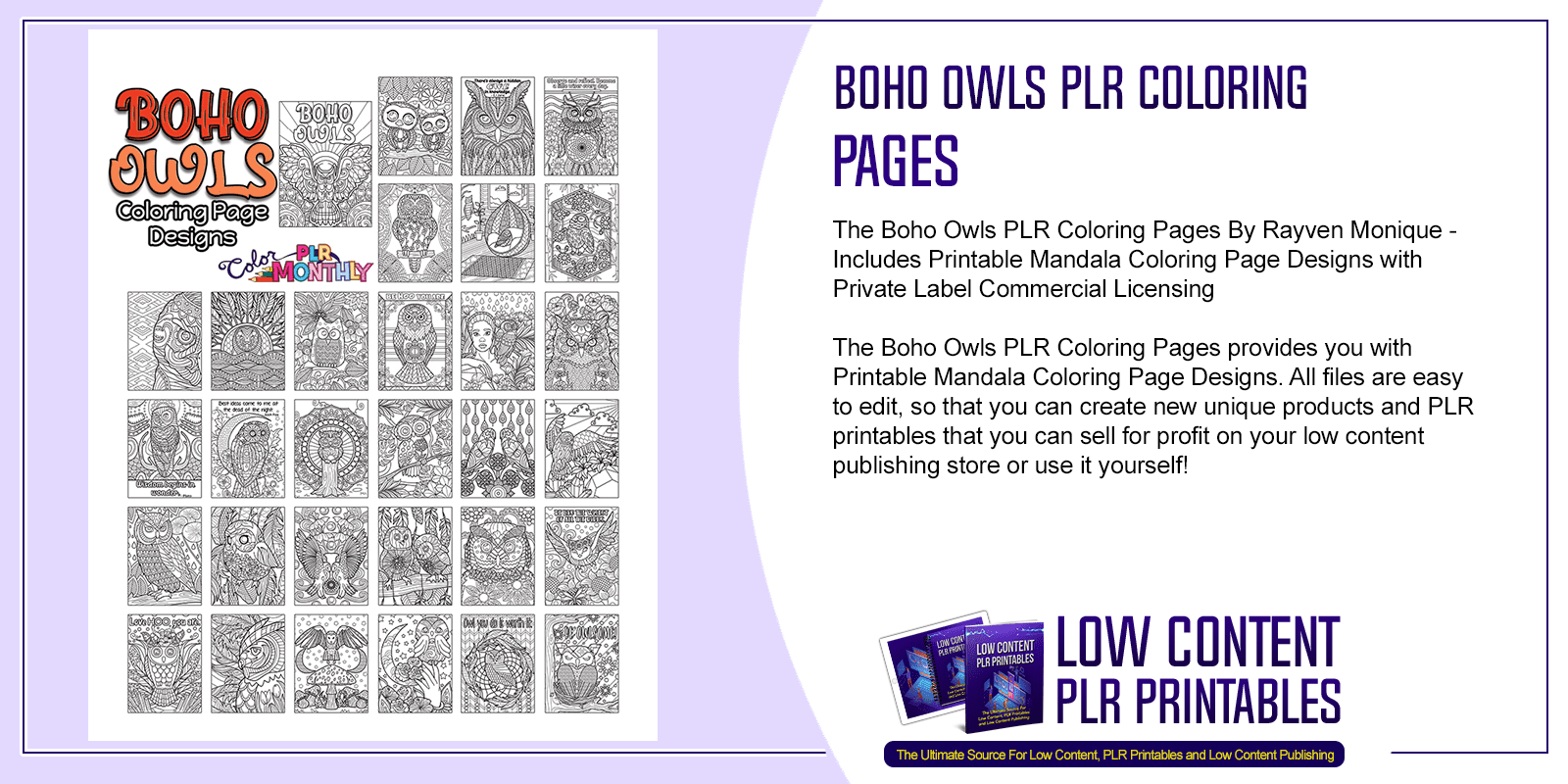 Choose Your Desired Option(s)
#BohoOwls #PLRColoringPages #bohoprintables #owlprintables #printables #plrprintables #lowcontentplr #printondemandplr #doneforyouplr #rayvenmonique #colormonthly #coloring #plrcoloringpages #plrcoloringprintables #coloringpages #plrcoloringdesigns #coloringdesigns #plractivitypages #printable #publishing #commercialuse #commercialuserights
The Boho Owls PLR Coloring Pages By Rayven Monique – Includes Printable Mandala Coloring Page Designs with Private Label Commercial Licensing
The Boho Owls PLR Coloring Pages provides you with Printable Mandala Coloring Page Designs. All files are easy to edit, so that you can create new unique products and PLR printables that you can sell for profit on your low content publishing store or use it yourself!
Introducing The…
Boho Owls PLR Coloring Pages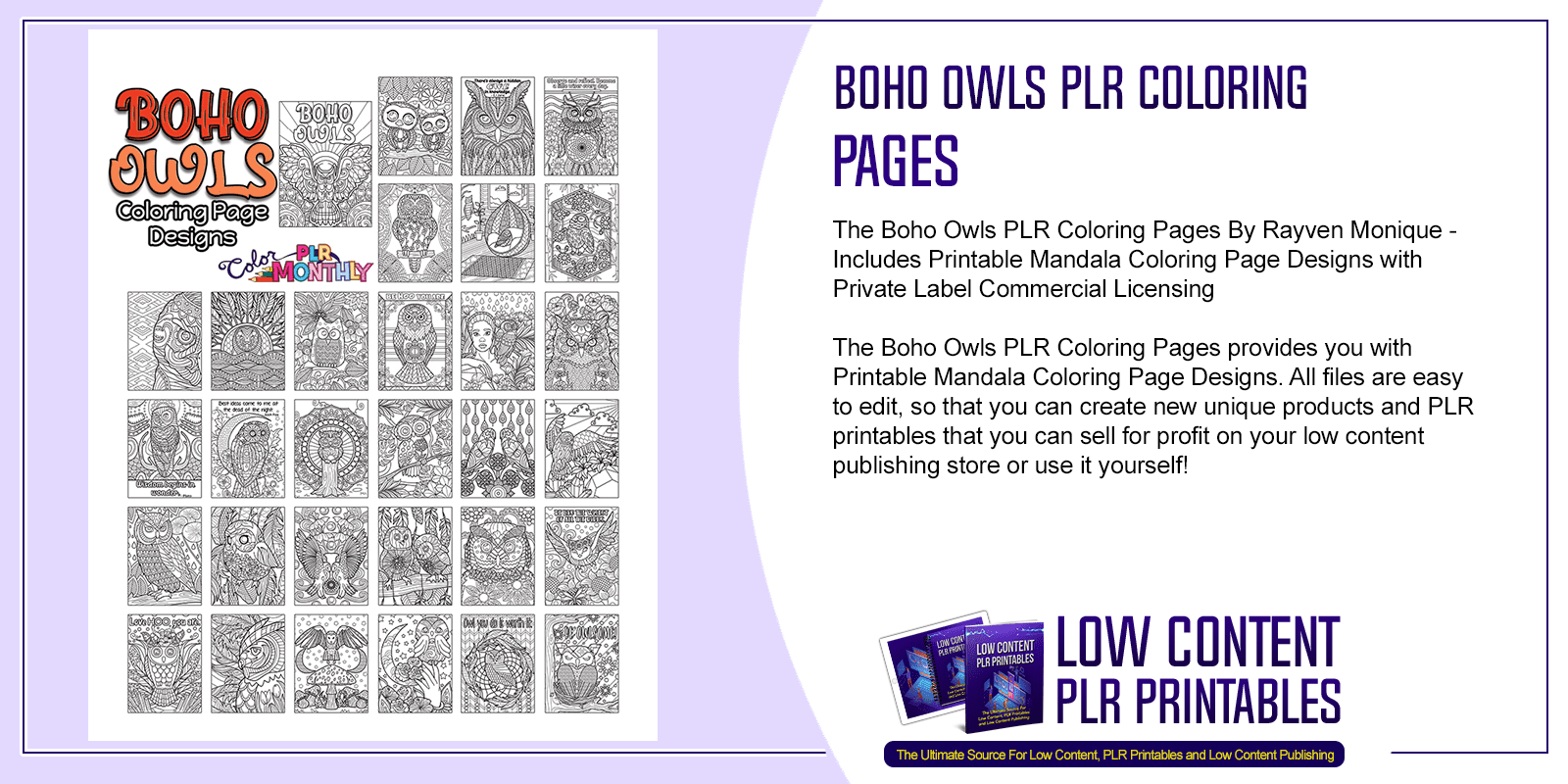 Here's what you'll get with this Boho Owls PLR Coloring Pages:
This Package Includes The Following Relaxing Zen Images Featuring Birds:
There's Always A Hidden Owl In Knowledge. – E.I Jane
Observe And Reflect. Become A Little Wiser Every Day.
Two Owls, Mother And Child, On Tree Branch
Large Stately Owl Centered On Branch
Owl In Zen Swing
Owl Stained Glass
Owl With Intense Gaze
Woman And Owl In Rain
Bee Hoo You Are
Feminine Owl And Flowers
Owl And Feathers As Sun Over Ocean
Half-Face Owl
Wisdom Begins In Wonder – Plato
Best Ideas Come To Me At The Dead Of The Night – Josh Fox
Owl On Tree Stump In Mandala
Feminine Owl In Tree Surrounded By Leaves
Two Owls In Love In Rain
Majestic Owl And Crystals
Be Like The Wisest Of All The Birds
Owl Centered With Berries
Two Owls In Jungle
Two Majestic Owls In Flower Paradise
Flirty Owl With Feathers
Wise Owl With Lily Pads
Love HOO You Are
Wise Owl In Profile With Feathers
Majestic Owl With Toadstools And Moons
Hand With Miniature Owl And Moon
Owl You Do Is Worth It
Be Owlsome!
See The Boho Owls PLR Coloring Pages For Yourself – Click Here
Private Label Rights License
You have full permission to resell this content to a retail end-user as you see fit. Your PLR license will allow you to keep 100% of the profits! Your license covers everything EXCEPT: you may not use our name on your product, and you may not sell the resell rights to someone else.
The Boho Owls PLR Coloring Pages is just for you if you're looking for printable coloring pages and more that can be used to create your own unique printables when purchased and rebranded! You can also buy these templates to edit and sell on your store or use it for yourself. Perfect for you if you have a publishing business and are looking for new products or printables. Click the link below to learn more!
See The Boho Owls PLR Coloring Pages For Yourself – Click Here
Other Products You Might Like