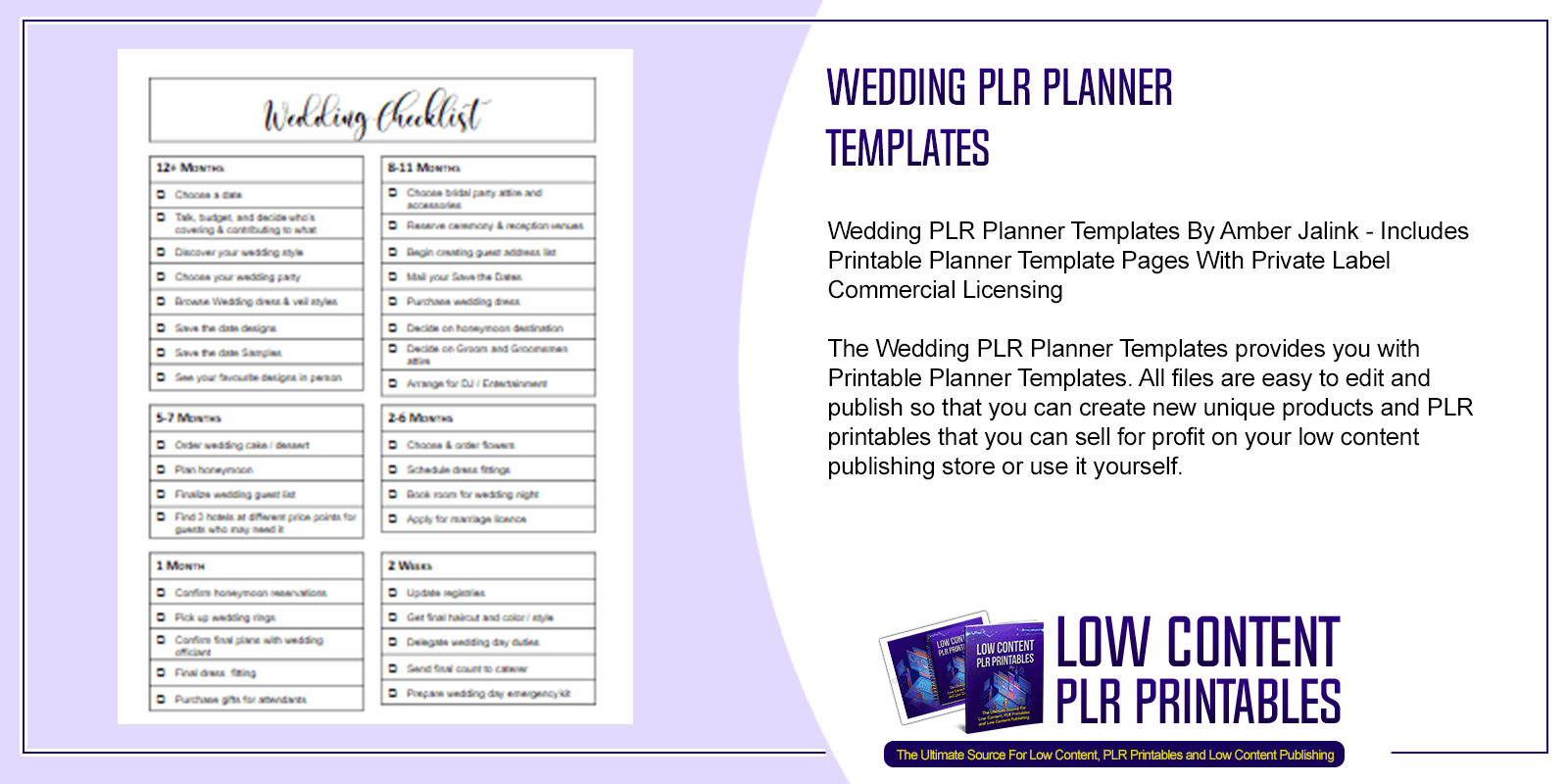 Choose Your Desired Option(s)
#WeddingPLR #Planner #Templates #wedding #weddingplanner #plannertemplates #plrpages #pages #digitalpages #printableplanner #plannerpages #planning #weddingplrplanner #commercialuse #Commercialuserights #privatelabelrights #plr #publishing #Publish #selfpublish #amberjalink #gettingmarried #marriage
Wedding PLR Planner Templates By Amber Jalink – Includes Printable Planner Template Pages With Private Label Commercial Licensing
The Wedding PLR Planner Templates provides you with Printable Planner Templates. All files are easy to edit and publish so that you can create new unique products and PLR printables that you can sell for profit on your low content publishing store or use it yourself.
Introducing The…
Wedding PLR Planner Templates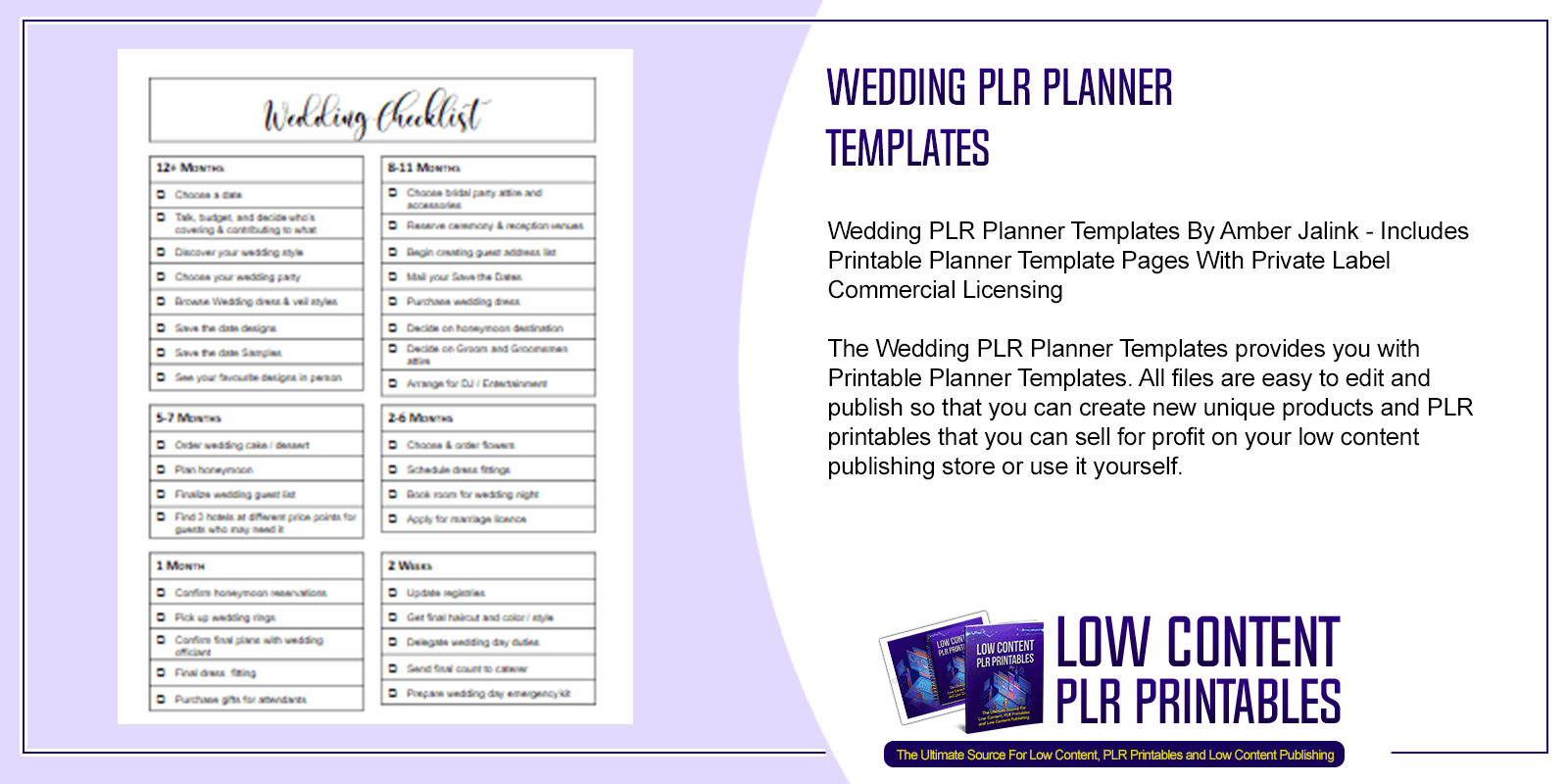 This is exactly what  you could be getting in the Wedding PLR Planner Templates:
What You Get:
You can now get access to 5 BRAND NEW Royalty Free Templates for Journals AND Planners, so you can create as many as you want and sell them on Etsy, Amazon or wherever!
These templates were created to help you:
Simply and easily create your journals without the fight of figuring out a design
Spur ideas with the layout styles (Hint: easily create bullet journals, daily logs, etc)
Cut your design time to a minimum so you can publish your books at an almost break-neck speed
The templates included are the Wedding Budget, Checklist, Guest lists (12!), Wedding Registry checklist, and a Vendor list.
Each template is set to the standard 8.5″x11″ paper, however it can be easily adjusted to whatever size you prefer. (And yes, even without adjustments it will fit fine on a regular piece of paper).
Get The Wedding PLR Planner Templates For Yourself – Click Here
The Wedding PLR Planner Templates Licensing Terms:
You can create endless journals/books for yourself! (I do this all the time!)
Create the journals / books and sell them on CreateSpace/Amazon, Etsy, or any other marketplace you wish. There are NO limits to how many you can create and sell!
Yes you can give the completed journals/books away as you please (i.e., gifts, bonuses etc).
YES You can sell the *Completed* journal/book that you have designed even as a digital PDF (but NOT the Powerpoint or Publisher file).
You must NOT post them on blackhat sites or ANY file sharing sites
You MUST NOT give the templates away as bonuses or 'freebies'
You must NOT sell these base templates in any way.
You MUST NOT create "fiverr gigs" or any similar service to create and sell these for others.
The Wedding PLR Planner Templates is just for you if you're looking for new PLR printable planner pages that can be used to create your own unique printables when purchased and rebranded! You can also buy these printable templates to sell on your store or use it for yourself. Perfect for you if you have a publishing business and are looking for new products or printable pack. Click the link below to learn more!
Get The Wedding PLR Planner Templates For Yourself – Click Here
Other Products You Might Like