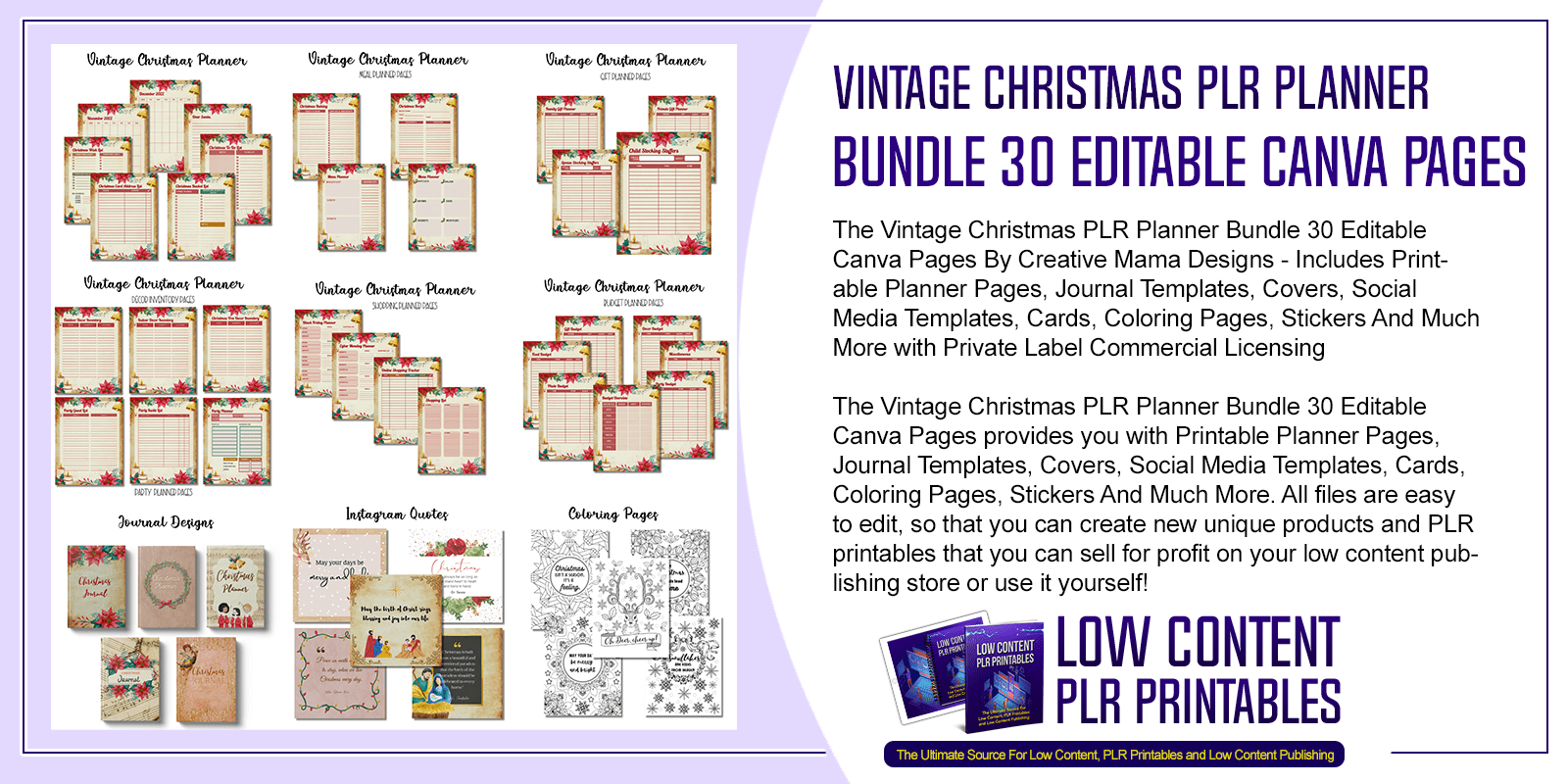 Vintage Christmas PLR Planner Bundle 30 Editable Canva Pages
in
Christmas PLR Planners , Dated PLR Planners , Digital Planner PLR Cover Kits , Digital Planner PLR Papers , Memory PLR Planners , Organization PLR Journals , PLR Background Pages , PLR Calendar Templates , PLR Calendars , PLR Card Decks , PLR Coloring Pages , PLR Digital Pages , PLR Digital Planner Assets , PLR Digital Planner Stickers , PLR Frames , PLR Graphics and Clipart , PLR Journal Prompts , PLR Journals , PLR Planner Bundles , PLR Planner Templates , PLR Planners , PLR Poster Graphics , PLR Printable Covers , PLR Printable Trackers , PLR Product Templates , PLR Workbooks , Print On Demand PLR , Spiritual PLR Journals , Undated PLR Planners
Choose Your Desired Option(s)
#Vintage #Christmas #PLRPlannerBundle #EditableCanvaPages #canvaprintables #canvaplanner #vintageprintables #vintageplanner #christmasplanner #christmasprintables #printable #plrprintablebundle #printablebundle #bundle #creativemamadesigns #socialmedia #covers #journal #planner #journaling #planning #cards #coloringpages #stickers #bookmarks #designs #printondemand #doneforyou #plrplanner #plrplannerbundle #plrplannertemplates #printabletemplates #plrproducttemplates #Printablepages #plrdigitalpages #Print
The Vintage Christmas PLR Planner Bundle 30 Editable Canva Pages By Creative Mama Designs – Includes Printable Planner Pages, Journal Templates, Covers, Social Media Templates, Cards, Coloring Pages, Stickers And Much More with Private Label Commercial Licensing
The Vintage Christmas PLR Planner Bundle 30 Editable Canva Pages provides you with Printable Planner Pages, Journal Templates, Covers, Social Media Templates, Cards, Coloring Pages, Stickers And Much More. All files are easy to edit, so that you can create new unique products and PLR printables that you can sell for profit on your low content publishing store or use it yourself!
Introducing The…
Vintage Christmas PLR Planner Bundle 30 Editable Canva Pages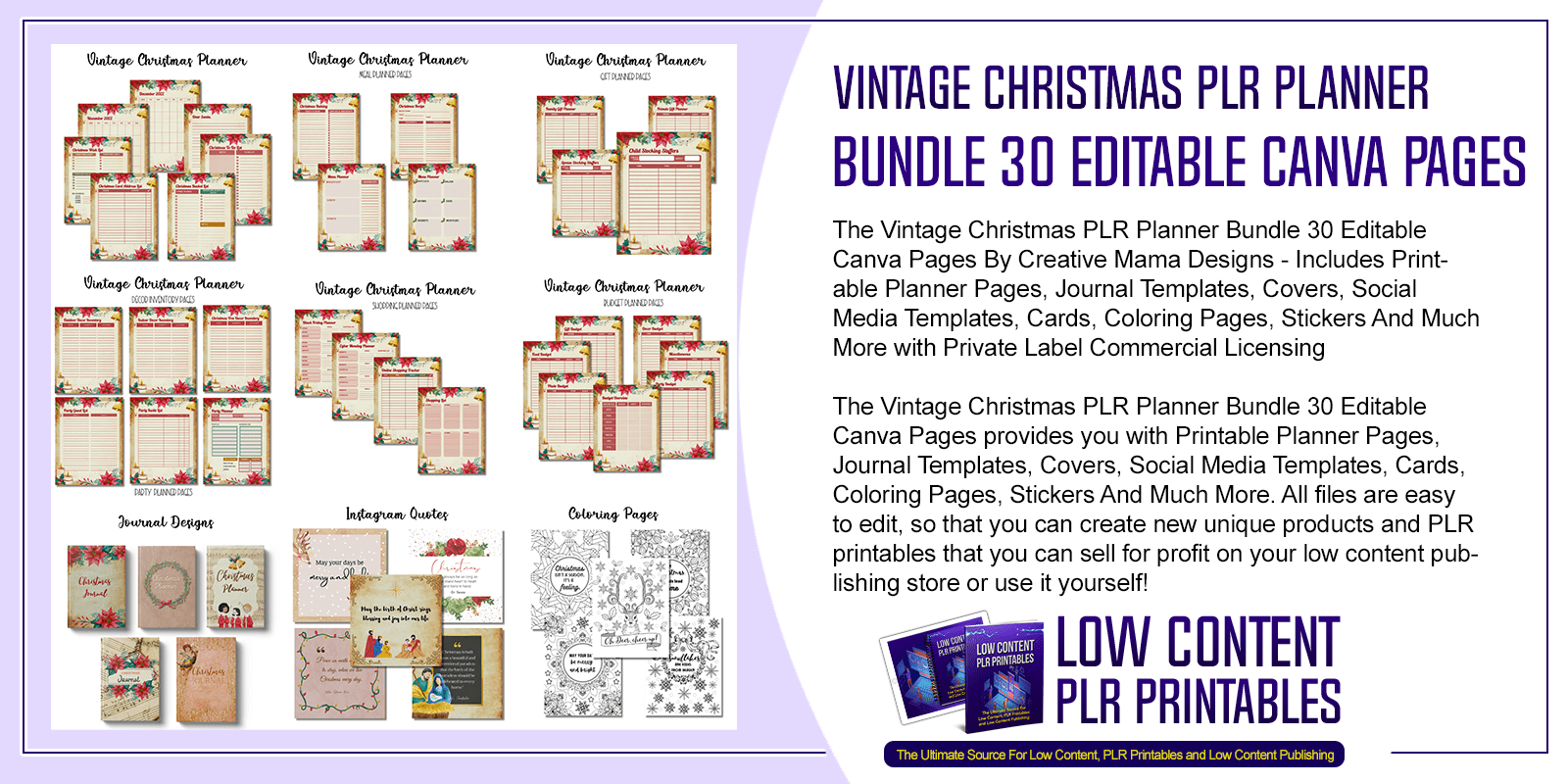 This is exactly what you will be getting in the Vintage Christmas PLR Planner Bundle 30 Editable Canva Pages:
COMPLETE 30-PAGE CHRISTMAS PARTY PLANNER
Your customers will be able to work through this printable Christmas Holiday AND party planner to help them get organized for the festive season.
You will enable them to stay focused, positive and productive and they will thank you for it!
5 X JOURNAL COVERS AND 1 X 100 PAGE LINED JOURNAL INTERIORS
This is a fantastic selection of stylish and well designed journal covers and interior pages. Feel free to amend and edit the covers and pages in CANVA as much as you like. You can also use the journal covers for any other notebook or journal ideas that you may have.
5 X EDITABLE SOCIAL MEDIA POSTS
The use of Social media is the QUICKEST way to drive traffic to any website! Whether it be a blog post, sales page, or even an Etsy shop.
If you aren't being seen on social media sites such as Pinterest, Facebook and Instagram, then you are definitely leaving money on the table.
These engagement boosting, share-worthy template designs will help you grow your audience, nurture and entertain your followers, and market your digital offers.
These Canva templates are SUPER EASY to edit and customize in order to match your brand perfectly!!
SET OF 5 QUOTE CARD DECK
This Christmas quote card deck will provide your customers with a daily Thanksgiving reminder to help them take control and achieve their goals.
Each card is beautifully designed with eye catching colors and quotes which will certainly help boost confidence and self esteem
These card deck designs are fully editable in the free version of Canva.
5 X CHRISTMAS QUOTE COLORING PAGES
These Christmas quote coloring pages are ready to download, print and color as many times as you like.
Coloring has always been a popular pastime for adults and kids alike but more recently the popularity of coloring has reached an all time high as people are looking for more effective ways to help relieve stress and anxiety whilst being a form of entertainment.
These pages will provide you with a perfect offering for your audience in order to grow your following and build your mailing list.
5 X CHRISTMAS STICKER DESIGNS
Brighten up your stationery with these encouraging super cute and motivating stickers! These stickers are the perfect way to put a smile and some self motivating thoughts into your day.
They are perfect for using in planners, sealing a card or accessorising gift wrap. These will make a great addition to your customers desk stationery.
Again, these sticker designs CAN be fully edited in Canva.
5 X SEAMLESS PATTERN PAPERS
These Christmas seamless pattern papers are created and editable in Canva and are perfect to use as backgrounds for other journals, workbooks and planners.
5 X BOOKMARK DESIGNS
These bookmarks are perfect to giveaway to your customers or as a way to grow your following and build your mailing list.
See The Vintage Christmas PLR Planner Bundle 30 Editable Canva Pages For Yourself – Click Here
RECAP CHRISTMAS HOLIDAY PRINTABLE BUNDLE CONTENTS
Complete 30-Page Christmas Party Planner
5 x Stylish Designed Journal Covers
1 x 100 Page Lined Journal Interiors
5 x Social Media Quote Designs
5 x Card Deck
5 Sticker Sheet Bundle
5 x Seamless Pattern Papers
5 x Bookmark Designs
5 x Coloring Page Designs
Commercial Use License Info (applies to the graphics, journal templates and planner templates included in this package…no Commercial rights are provided to the Guides included in this product)
1. You CAN add to and modify and edit the content/templates in order to produce a final, flattened end product in pdf or physical format that you can then sell to your customer for personal use.
2. You CANNOT sell ANY of the templates (Canva source files) to others.
3. You CAN use the content in your websites, blogs, newsletters, social media or anywhere you publish content.
4. You CANNOT giveaway any of the templates for free.
5. You CAN offer the end flattened products (pdf or physical format) as a bonus with a paid product (personal rights only).
6. You CANNOT sell the planner created using this template for commercial or resell rights.
7. You CANNOT list Creative Mama Designs or anyone connected with our company as the author of this content. This offer is for the content without our labels or branding.
The Vintage Christmas PLR Planner Bundle 30 Editable Canva Pages is just for you if you're looking for amazing new PLR printable template pages that can be used to create your own unique printables when purchased and rebranded! You can also buy these printable pages to sell on your store or use it for yourself. Perfect for you if you have a publishing business and are looking for new products or a printables journal bundle. Click the link below to learn more!
See The Vintage Christmas PLR Planner Bundle 30 Editable Canva Pages For Yourself – Click Here
Other Products You Might Like