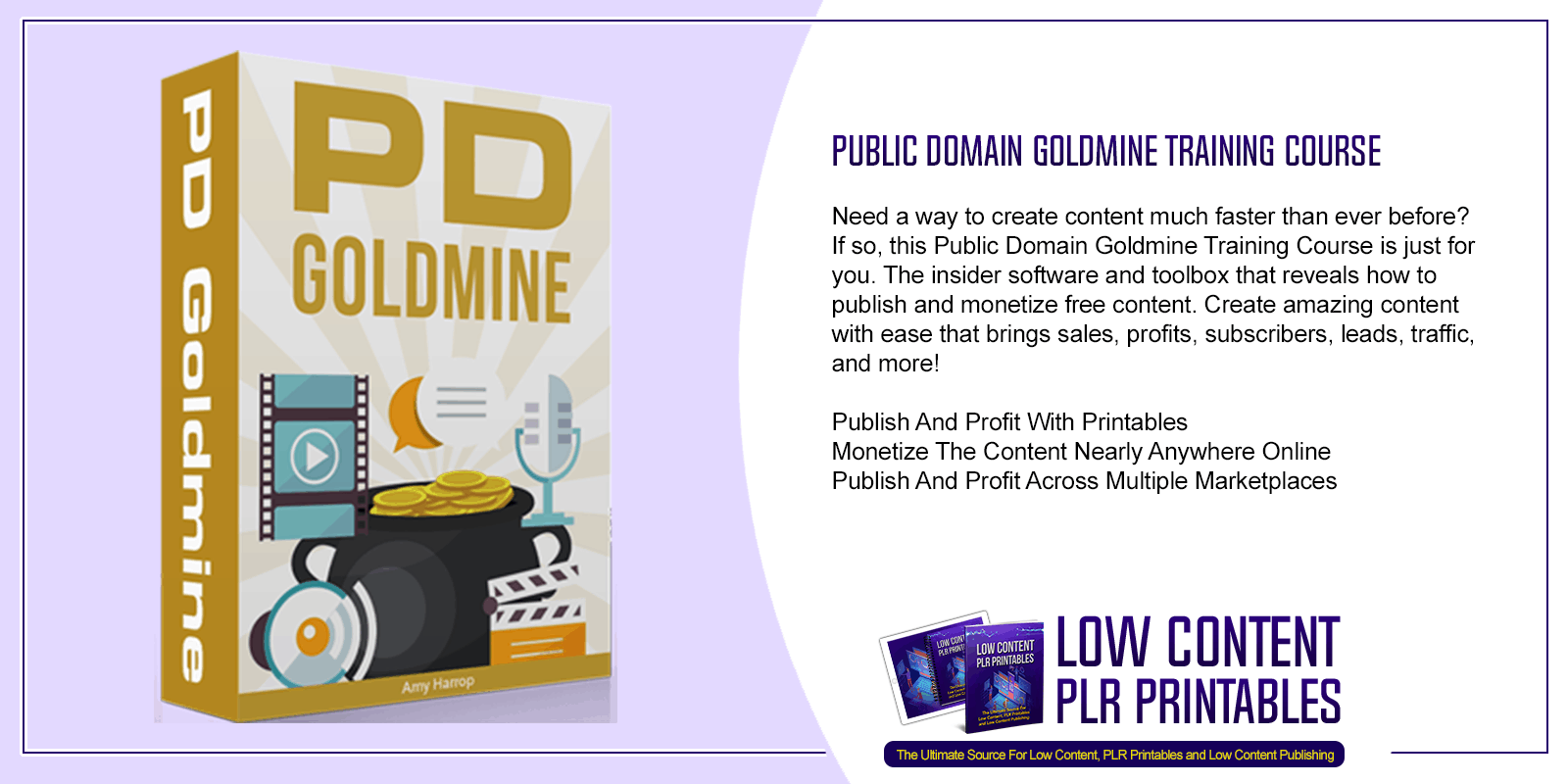 Choose Your Desired Option(s)
#publicdomaingoldminetrainingcourse #publicdomaingoldminetraining #publicdomaingoldminecourse #publicdomaingoldmine #training #course #publishing #selfpublishing #publicdomain #freecontent #passiveincome #printablechecklists #printableworksheets #checklists #worksheets #videotraining #printables #cloudbasedsoftware #printablessoftware #templatepack
The Public Domain Goldmine Training Course by Amy Harrop will show you how you could profit from printable content quick and easy. Leverage free content to build multiple streams of content income with little to no writing needed
Need a way to create content much faster than ever before? If so, this Public Domain Goldmine Training Course is just for you. The insider software and toolbox that reveals how to publish and monetize free content. Create amazing content with ease that brings sales, profits, subscribers, leads, traffic, and more!
Introducing The…
Public Domain Goldmine Training Course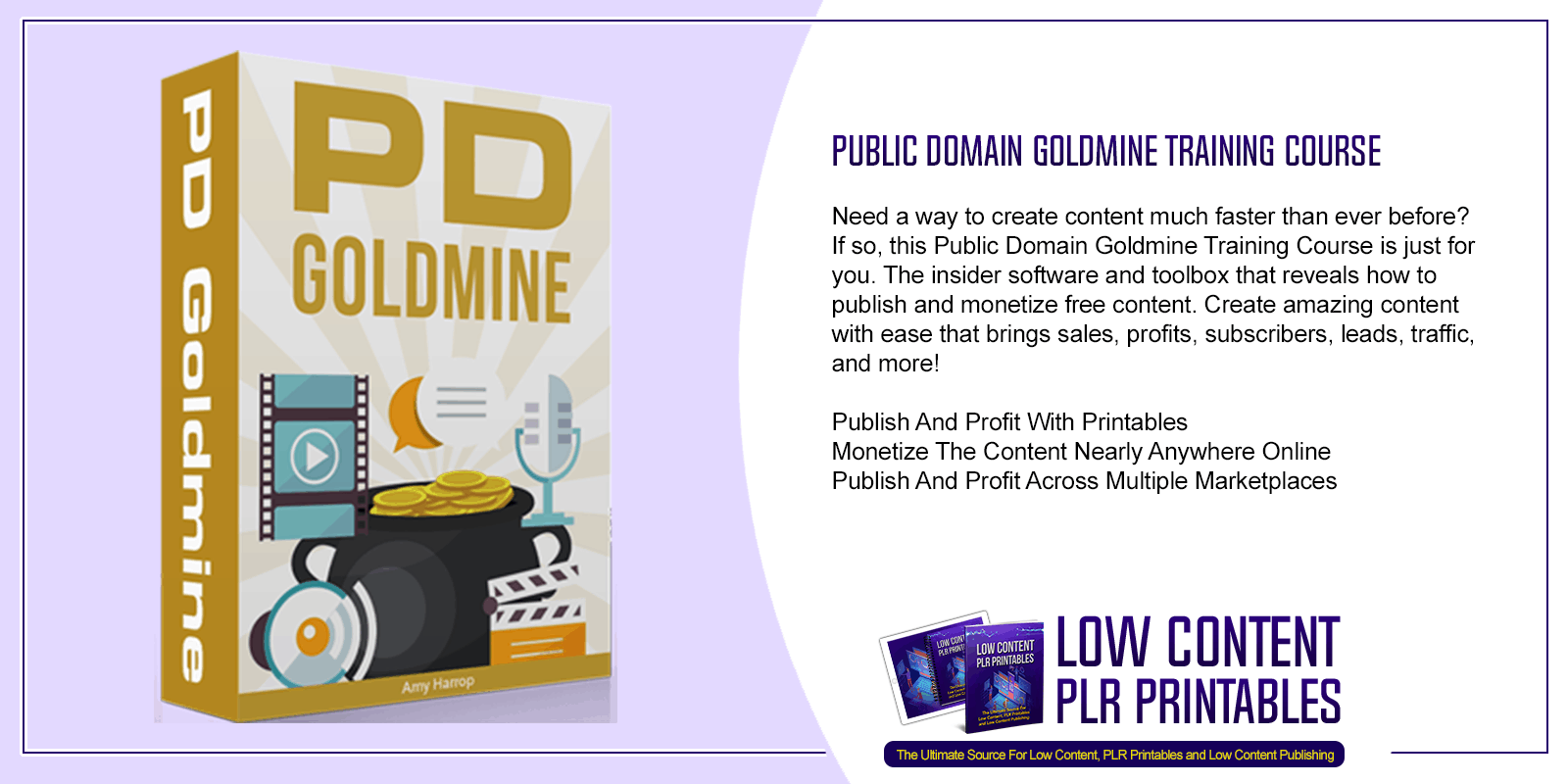 Here's what you'll learn with this awesome Public Domain Goldmine Training Course:
The PD Goldmine Software
The software is easy to use and gives you access to a ton of categories and content types in only minutes.
Here are just a few of the types of content you can access quickly inside the dashboard:
Images & Artwork
Various Types of Written Content in A Number of Categories
Access To Different Types of Media Such As Audio, Video, Film, Music, and Audio Books
Creative Commons Content
Copyright Resources
The PD Goldmine PDF Guide
Inside these pages you'll find amazing strategies for gathering all the public domain content you can get your hands on.
There's nearly 70 pages of cutting edge strategies that can help you take your business to the next level. Once you go through this guide you'll not only know how to get your hands on tons of valuable free content, but also how to monetize that same content as well.
The PD Goldmine Tutorial Demo Videos
Videos to help walk you through the process of generating some of the different types of content discussed inside of PD Goldmine.
Watch over the shoulder as you learn how to get up and running quickly with various types of content using the public domain. From social media, to videos, to visual content.
The PD Goldmine Brainstorming Worksheet
Personal brainstorming sheet to help you get unstuck and get to creating amazing profitable content quickly with Public Domain works.
Just walk through the questions included. This worksheet will help you get unstuck and get moving quickly to creating amazing profitable content with very little effort.
The PD Goldmine Quick Start Checklists
That's why I'm including these checklists. This way you can pull one up anytime you want and know the exact steps necessary to get the results you desire.
Every type of content option is included such as:
Creating books with public domain works
Creating tutorials with public domain works
Creating educational content with public domain works
Creating presentations with public domain works
Creating visual content with public domain works
Creating social media content with public domain works
Creating videos with public domain works
Get The Public Domain Goldmine Training Course For Yourself – Click Here
A Quick 'Peek' Inside The Guide:
Discover my 'crystal ball' method for finding content guaranteed to be popular. (p.25)
Don't think you can make a successful book from Public Domain works? Think again. You'll be amazed to learn that these very famous books were based on public domain. (Oh, and all of them have been successful movies that's generated hundreds of millions of dollars!) (p. 31)
How one husband made $110,000 in royalties from public domain works on Amazon. The concept was so simple, but came about by watching his wife have story time with his daughter…(p.33)
This sneaky little tactic (albeit totally legal) lets you leverage a very popular event for public domain book sales without having to spend millions on advertising or PR work! (p. 36)
Want to know how to monetize your public domain books? I'll tell you how here…(p.38)
Think tutorials created from public domain works aren't worth it? You'll think differently once you see these numbers. On average these videos get 500,000 to 1 million views. Plus you can use it for your own brand content too! (p.45)
Printables are extremely popular, and you could make an incredible sustainable income with them. There's no upfront cost mainly and by using
Public Domain you won't have content cost either. I'll lay out the master plan on how to do that here…(p. 49)
Discover how to drive massive amounts of free traffic with these amazing examples of the types of visual content you can create from public domain works – this isn't your normal ugly image stuff! (p. 69)
Publish And Profit With Printables
One of the best ways to utilize this is by creating printables and low content publishing income streams, which requires little writing, but can make you an incredibly healthy sustainable income. Just imagine having 20 or 30 journals all earning you $5 to $10 a day each or more. Then imagine adding more items every single month that bring more revenue. Before long, you could be looking at revenue that snowballs into true passive income!
Monetize The Content Nearly Anywhere Online
This content is applicable to nearly any type of format. Use it on your blogs, print-on-demand products, books, printables, anywhere you need content.
Every single month you could collect royalties from all of your content items you have available. All it takes is just for you to follow a proven workflow.
Publish And Profit Across Multiple Marketplaces
You could also choose to publish books, templates, presentations, and more to sell on and drive traffic from various marketplaces.
Just dive into the resources and methods and you can load all your brand new creations on a sites like Amazon, Envato, Etsy, and others. Not to mention sites like Pinterest, YouTube, Instagram, Facebook and more.
The Public Domain Goldmine Outsource Template Pack
You can get your public domain content up and running even faster by outsourcing. I've included a complete template pack here for finding outsourcers for any projects, simply fill-in-the-blanks.
The Repurposing Images Training Package
You'll receive a special PDF guide, a checklist to walk you through the steps quickly, as well as a worksheet to help you stay on track with your repurposing efforts.
When you add this training to your investment in Public Domain Goldmine today, it's like adding nitro to a formula one race car for all your content creation efforts and goals!
PD Goldmine is a complete toolbox for profiting from public domain. By getting this course you will receive an easy to use software, extensive training on creating and monetizing content, tutorial videos, checklists, worksheets and more. It is a web based software that requires no installation and you can use it anytime, anywhere. The Public Domain Goldmine Training Course is perfect for Publishers and Low Content Creators, Authors, Bloggers, Online Marketers and Service Providers who want to create passive income streams with printable content.
Get The Public Domain Goldmine Training Course For Yourself – Click Here
Other Products You Might Like