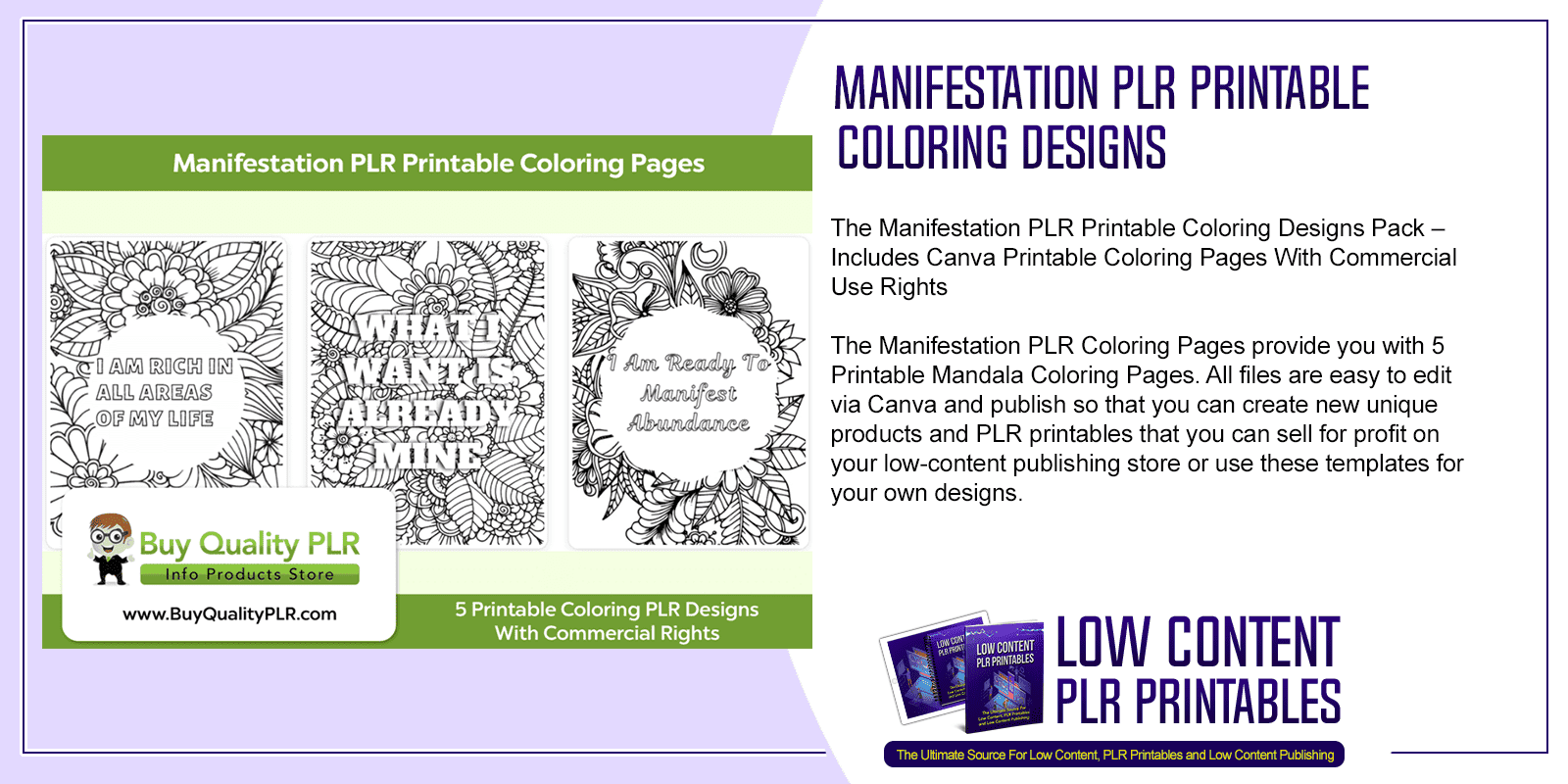 Choose Your Desired Option(s)
#ManifestationPLRPrintableColoringPages #ManifestationPLRPrintable #ColoringPages #ManifestationPLR #PrintableColoringPages #manifestation #manifestationplr #manifestationcoloringpages #plrcoloringpages #coloringprintables #coloringpages #coloringdesigns #printondemandplr #doneforyou #mandalas #mandalaprintables #coloringmandalas #publishing #commercialuse #buyqualityplr #plractivitypages #activityprintables #manifest
The Manifestation PLR Printable Coloring Designs Pack – Includes Canva Printable Coloring Pages With Commercial Use Rights
The Manifestation PLR Coloring Pages provide you with 5 Printable Mandala Coloring Pages. All files are easy to edit via Canva and publish so that you can create new unique products and PLR printables that you can sell for profit on your low-content publishing store or use these templates for your own designs.
Introducing The…
Manifestation PLR Printable Coloring Designs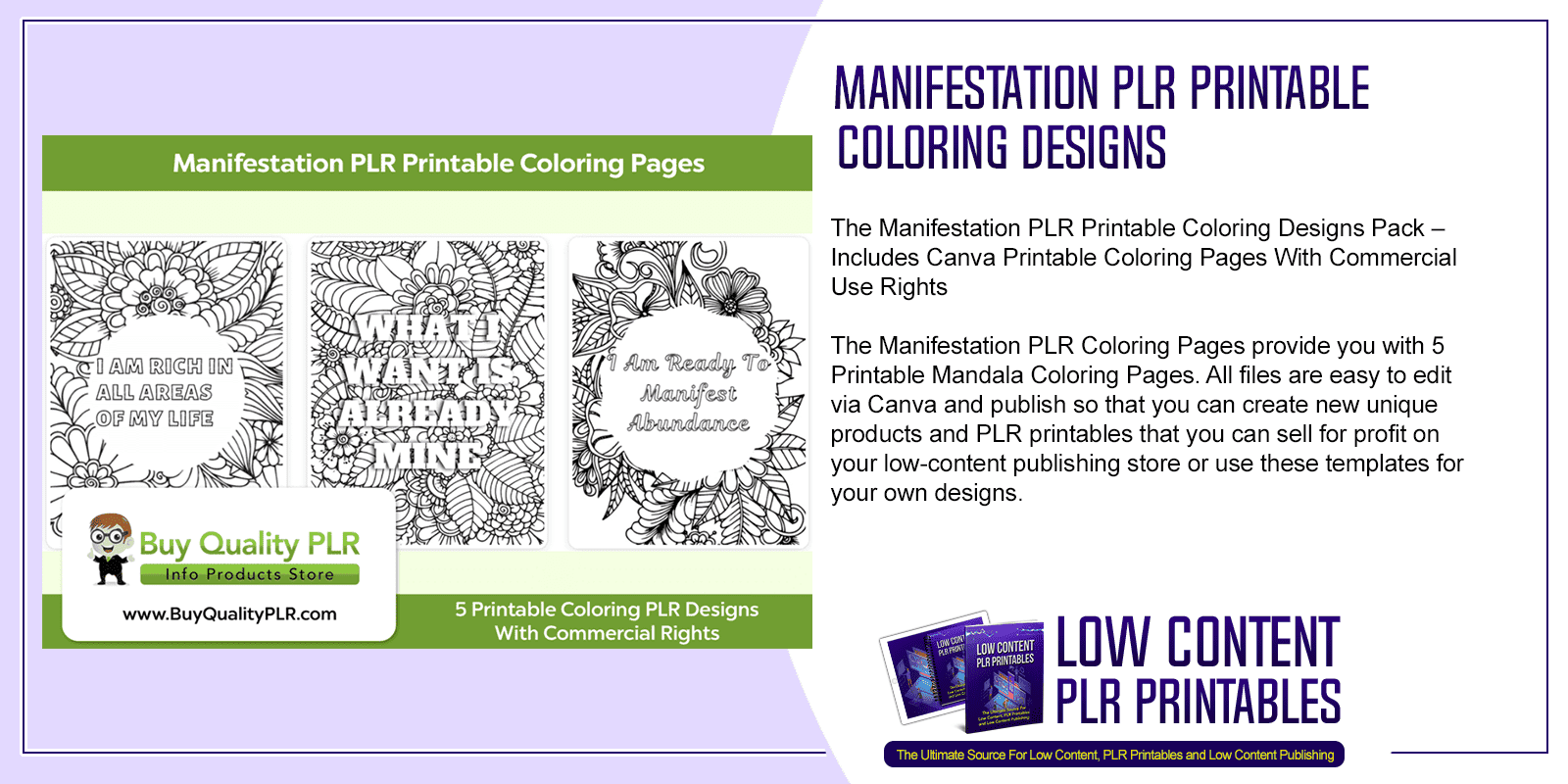 Here's exactly what you're getting in this Manifestation PLR Printable Coloring Pack:
Looking for a creative and engaging way to explore the power of manifestation? This unique collection combines the therapeutic benefits of coloring with the transformative concepts of manifestation, making it an ideal resource for personal growth, self-reflection, and mindfulness practices. Here's what you'll find in this manifestation-themed coloring page package:
Beautifully Designed Coloring Pages:
This collection includes a variety of intricately designed coloring pages with manifestation-inspired themes. From empowering affirmations and vision boards to manifestation symbols and elements, each page is thoughtfully created to ignite your imagination and stimulate your creativity.
Promote Relaxation and Mindfulness:
Coloring has been proven to be a calming and meditative activity that promotes relaxation and mindfulness. By immersing yourself in the process of coloring these manifestation-themed pages, you can experience a sense of calmness and focus while also exploring the principles of manifestation.
Reflect on Manifestation Concepts:
As you color each page, you'll have an opportunity to reflect on key manifestation concepts and ideas. From setting intentions and cultivating positive beliefs to visualizing your goals and embracing gratitude, these coloring pages provide a visually engaging way to dive deeper into the world of manifestation.
Personalize and Make It Your Own:
These printable coloring pages offer flexibility for personalization. You can choose your own color palettes, experiment with different shading techniques, and add your unique touch to each page. This creative process allows you to connect with the manifestation themes on a deeper level and make the experience truly your own.
Multiple Printing Options:
Whether you prefer printing the coloring pages on your home printer or using professional printing services, these pages are designed to accommodate various printing preferences. You can print them on standard letter-sized paper or adjust the print settings to fit your desired format.
Commercial Use Rights:
With the included commercial use rights, you have the freedom to use these coloring pages in your own projects and even resell them as part of your products or services. This allows you to tap into the growing market of mindfulness, personal development, and manifestation-related content. Embrace the power of manifestation and unlock your creativity with the Manifestation PLR Printable Coloring Pages. Whether you're a self-help enthusiast, a wellness blogger, or a creative entrepreneur, these coloring pages offer a unique and engaging way to explore manifestation concepts and inspire personal transformation. Get your copy today and embark on a colorful journey of manifestation and self-discovery.
5 Coloring Page PLR Printable Designs
Editable Canva Templates Link
Commercial Use License
Here Are All of The Coloring Graphics You'll Be Getting:
The Manifestation PLR Printable Coloring Pages is just for you if you're looking for printable coloring graphics that can be used to create your own unique printables and profit! Perfect for you if you have a publishing business and are looking for new products or printables.
Click the button below to purchase this product!
Your Package Details:
5 Individual Printable Coloring Graphics In Canva, PNG, PDF, And PowerPoint Format
Total File Download Size – 3.2 MB
Here are the License Terms:
What You Can Do:
You can sell this product in a non-editable format like PDF to sell to your customer for personal use.
You can sell this product as a physical product.
You can use this product to build an email list.
You can edit the product and brand it with your name and company branding.
You can resell the product as your own.
You can include the product in a bundle or package.
What You Cannot Do:
You cannot sell this product with PLR or resell rights. This license is for you only.
You cannot sell this product with its editable source files.
Set a fair price when you sell and do not give the product away for free unless you're using it to build an email list
Get up to 30% off from our trusted partner BuyQualityPLR with this coupon code:
LCPP
See The Manifestation PLR Printable Coloring Designs For Yourself – Click Here
Other Products You Might Like