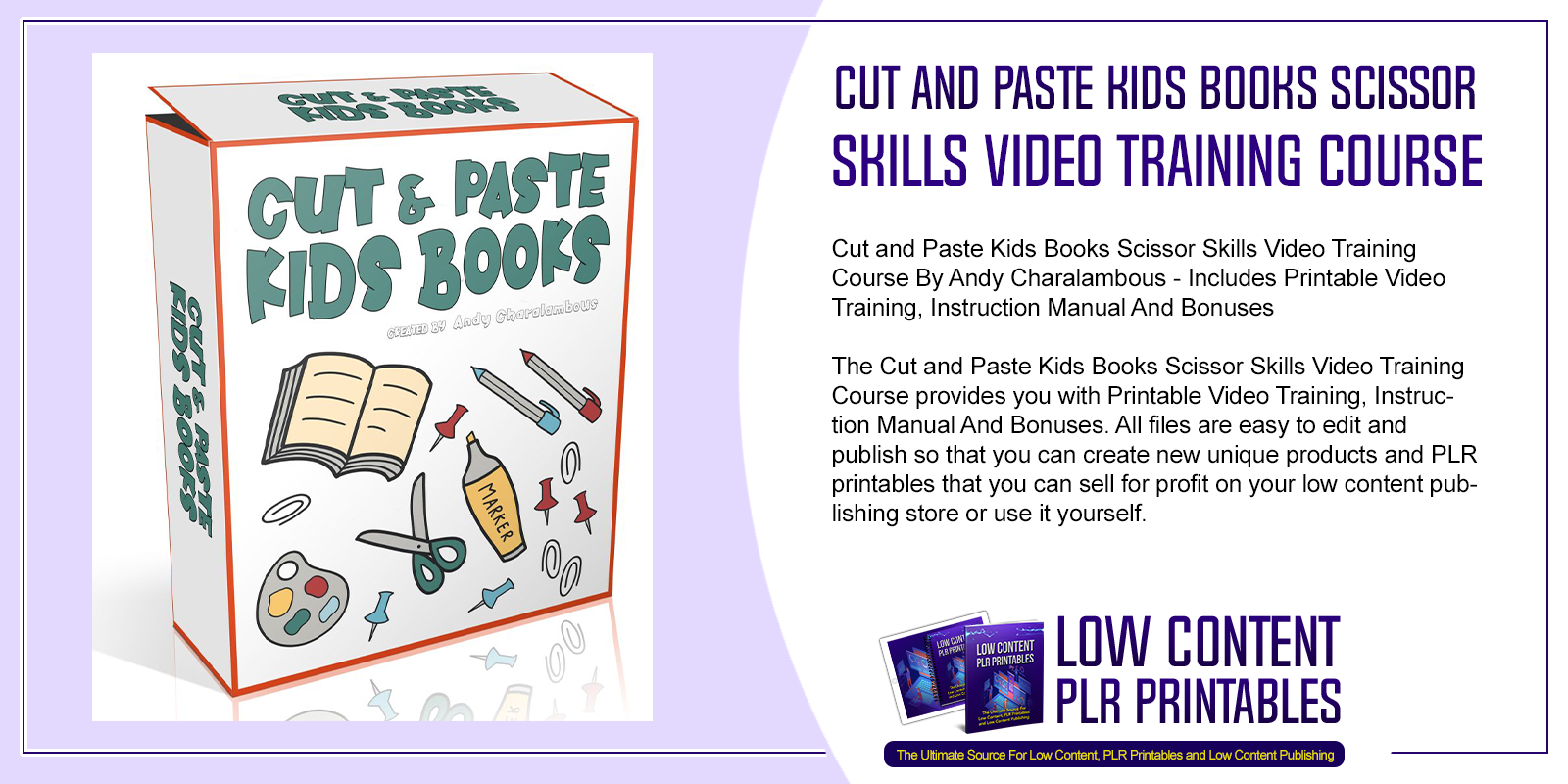 Choose Your Desired Option(s)
#CutandPaste #KidsBooks #ScissorSkills #VideoTrainingCourse #cutandpastekidsbooks #booksforkids #videotraining #course #printablecourse #printablescreation #printablescourse #videocourse #andycharalambous #instructionmanual #PDF #bonuses #printables #templates #publishing #selfpublish #publish #marketersnest
Cut and Paste Kids Books Scissor Skills Video Training Course By Andy Charalambous – Includes Printable Video Training, Instruction Manual And Bonuses
The Cut and Paste Kids Books Scissor Skills Video Training Course provides you with Printable Video Training, Instruction Manual And Bonuses. All files are easy to edit and publish so that you can create new unique products and PLR printables that you can sell for profit on your low content publishing store or use it yourself.
Introducing The…
Cut and Paste Kids Books Scissor Skills Video Training Course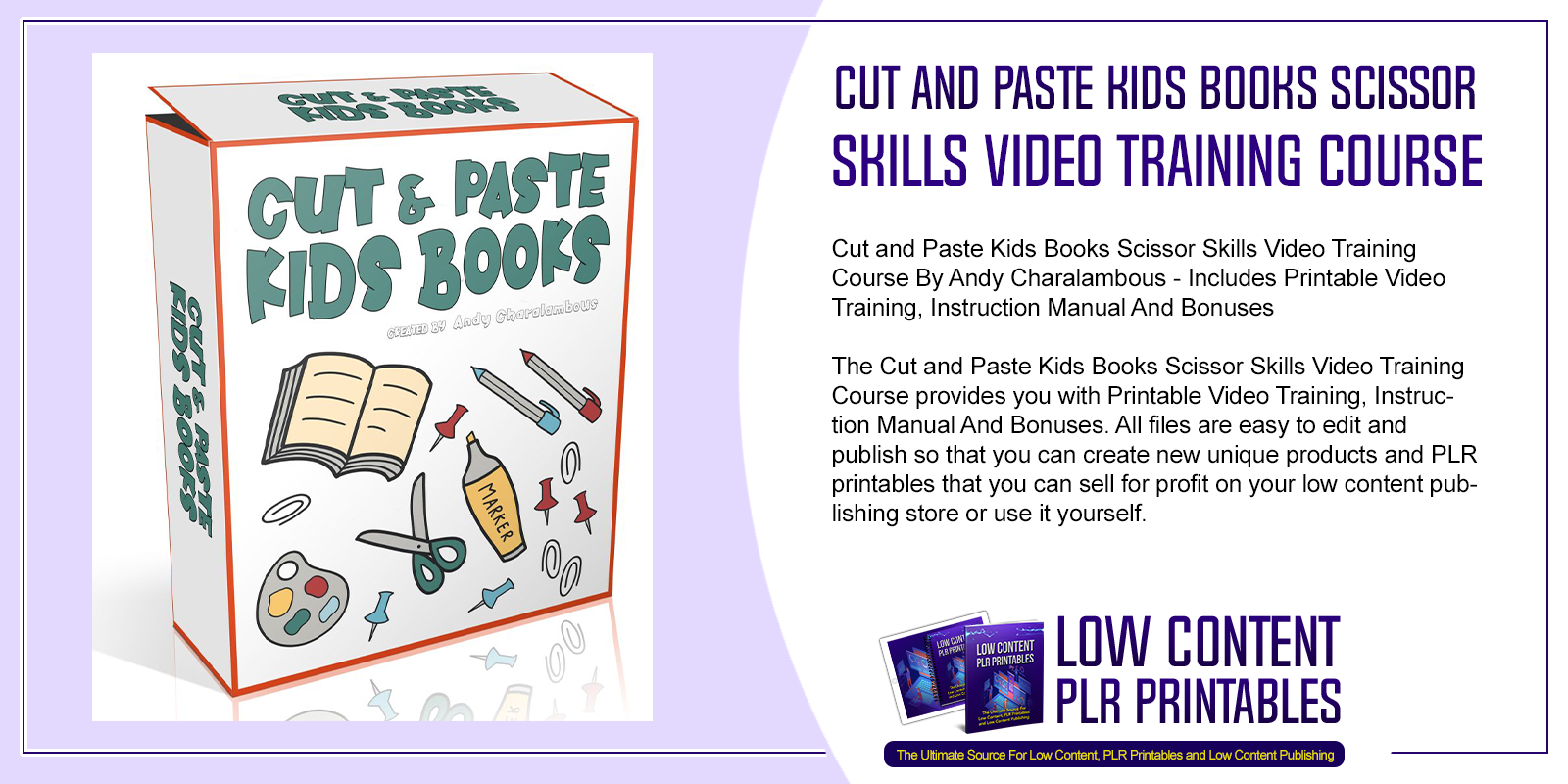 This is exactly what you could be getting in the Cut and Paste Kids Books Scissor Skills Video Training Course:
Here's What You'll Get With This Course:
You will have access to 4 brand new TUTORIAL VIDEOS totaling around 53 minutes. These videos are direct and to the point and will show you exactly what you need to do to succeed in this children's book niche.
You will receive their concise 33 page, PDF instruction manual that compliments the videos and delves deeper into the creation process and profitability of the cut & paste book market.
Also included are a number of very useful EXTRAS and BONUS materials to help speed up the whole creation process – from start to finish. (SEE BELOW).
BONUS 1
35+ Ready To Use Scissor Skills Images:
These images are specially created for the cut & paste children's book niche.They are cropped to size in order to fit into your templates with ease. This pack will help you get started faster!
BONUS 2
10 Ready To Use Image Borders:
These ten ready to use mixed borders can be used to make your cut & paste pages more unique and interesting.
BONUS 3
10 PDF Children's Scissor Skills Book Keywords Reports:
In these 10 PDF reports I have painstakingly gathered hundreds of profitable keywords that you can use within this scissor skills book market. These can be used for titles, sub-titles, book descriptions, social media and more.
See The Cut and Paste Kids Books Scissor Skills Video Training Course For Yourself – Click Here
EXTRAS
MULTIPLE READY TO USE BOOK CREATION TEMPLATES
20 PAGE GUIDE WITH METHODS OF HOW TO FIND KEYWORDS
TOTAL PUBLISHING STARTER PACK BUNDLE – INCLUDES 4 PDF TUTORIALS
PDF LIST OF ALL THE CHILDREN'S BOOK CATEGORIES TO SIMPLIFY YOUR AMAZON PUBLISHING
OFFICIAL KDP ROYALTY CALCULATOR TO EASILY ESTIMATE YOUR BOOK ROYALTIES
PDF LIST OF WHERE TO FIND THE BEST IMAGES FOR YOUR BOOKS
Here's What You'll Learn In This Course:
Why this is an amazing children's book niche, and how it's not as competitive a market as some people may think. Sales have been consistent for many years which makes it an evergreen niche that can hold its popularity no matter what.
How to use all the tools provided in the course to find profitable keywords that will help skyrocket sales. The tools and methods applied are FREE…no paid software used.
Where and how to find the best FREE or paid images for your books. Having reliable sources for getting images cannot only speed up your book creations, but can also give you peace of mind knowing that you are using quality sources.
You will learn, by watching my videos, how to edit images using a FREE image editing tool as well as how to use the "Ready To Go" templates I provide. Having a tool that can do much of the heavy lifting can make the difference between getting a book published in a day or getting it published in a week.
You will learn, by watching my over the shoulder videos, how to put these books together in the simplest and fastest way possible. The creation process is actually a lot easier than some people think and also a lot of fun too.
By following the special 7 Step system near the end of the course, you will have a book created and published in no time at all. Having guided video and PDF instructions can help you move towards your publishing goals faster and easier.
…..And much more!
The Cut and Paste Kids Books Scissor Skills Video Training Course on Etsy Video Training is just for you if you're looking for a printable video training course and printable products that can be used to learn and create your own unique printables when purchased! Perfect for you if you have a publishing business and are looking for new product ideas. Click the link below to learn more!
See The Cut and Paste Kids Books Scissor Skills Video Training Course For Yourself – Click Here
Other Products You Might Like