Choose Your Desired Option(s)
#Create #Course #Weekend #Video #Tutorials #DvorahLansky #shareyourbrilliance #videos #videotraining #overtheshoulder #success #onlinebusiness #teaching #learning #creating #creation #coursecreation #howto #makemoneyonline #publishing #selfpublishing #videotutorials #tutorial #bonuses #makemoney #videocourse #createacourse #inaweekend
Create a Course in a Weekend Video Tutorials By D'vorah Lansky – Includes Video Training And More
In this Create a Course in a Weekend Video Tutorials you'll learn exactly how to be successful when creating your own training programs and courses by providing you with the knowledge and training that will help you make more money online and succeed at teaching others online!
Introducing The…
Create a Course in a Weekend Video Tutorials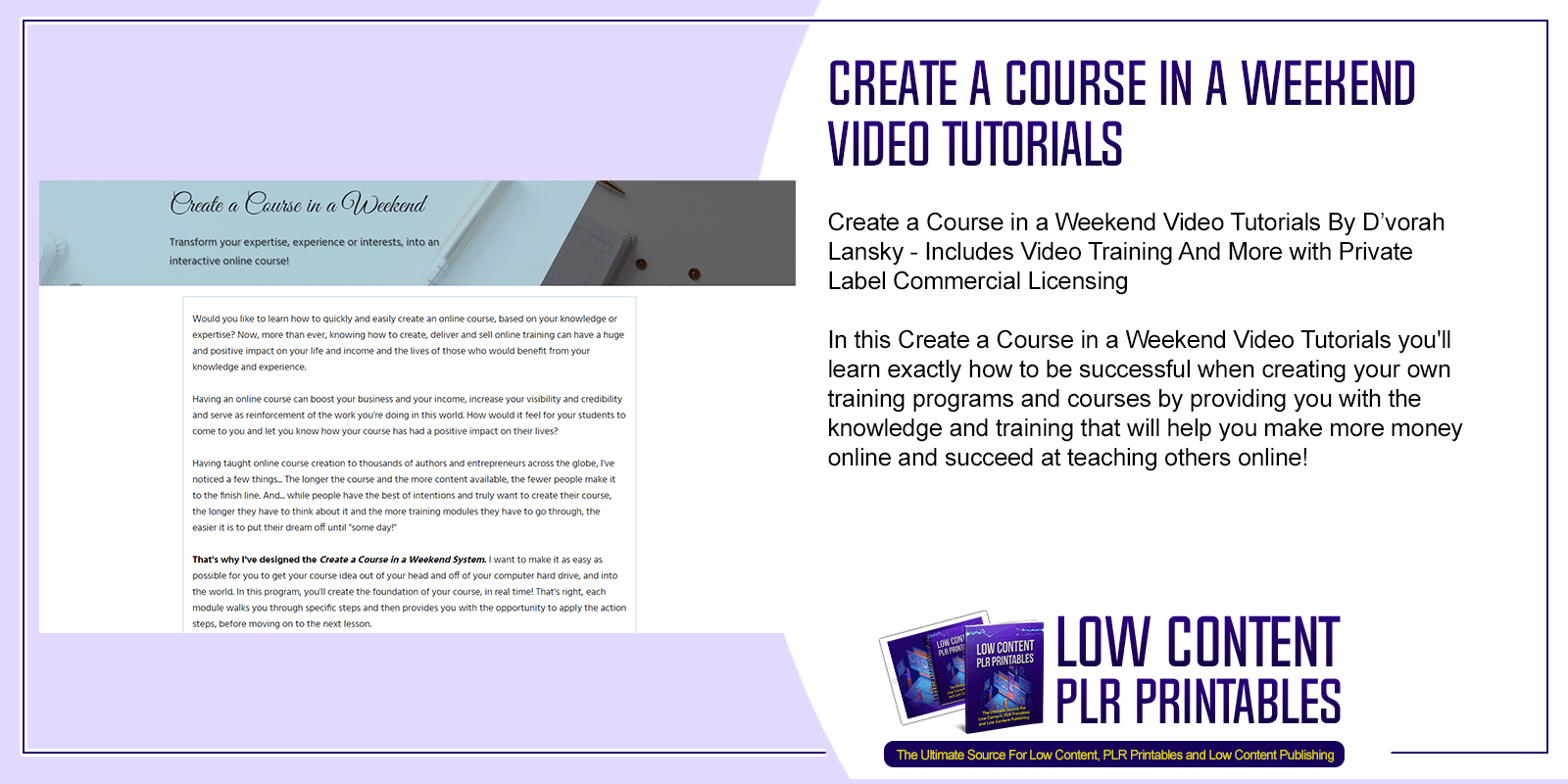 Here's what you'll learn with this amazing Create a Course in a Weekend Video Tutorials:
The Benefits of Offering Online Courses
Offering online courses will connect you with your audience and position you as a leader in your field by providing them with the needed information. In this hands-on program you'll learn how to design and create an online training program for your audience, based on your book, passion, or area of expertise.
You can offer this opportunity to your students:
By sharing your knowledge and expertise, you can help a lot of people while growing your income and your visibility.
Imagine what it would be like to share your expertise with the exact people who are eager to hear what you have to say.
Harness The Power Of Your Knowledge And Expertise!
In this program, you'll learn new ways to create written and video course content. Once you understand and apply the process, you'll be able to "rinse and repeat", as you create content and training, based on your knowledge and expertise.
Step-By-Step Video Tutorials
The video tutorials and handouts, walks you through the activities one step at a time. By following the training and applying what you learn, you'll be celebrating the launch of your course, before you know it!
See The Create a Course in a Weekend Video Tutorials For Yourself – Click Here
Enjoy This Collection of Special Bonuses:
Bonus Training – Transform Your PowerPoint Slides into Videos
Action Guides: Course Creation Digital & Printable Workbooks
Course Creation Journal to help you track your activity and results.
Fast Action Bonus
Live Webinar and the Replay: Meet with D'vorah and fellow course creators to discuss online course trends and strategies. Discover ways to create a challenge experience for your audience and get the answers to your questions.
Creating an online course does not have to be so difficult. The Create a Course in a Weekend training can equip you with the know-how to share what comes naturally to you, with people who are eager to learn what you have to share. D'vorah Lansky has created over 40 online courses since 2007 and has taught many others to do the same.
The Create a Course in a Weekend Video Tutorials is perfect for those of you who want to generate new streams of income online and on your website by creating amazing new courses that are in-demand. When you purchase this course get access to amazing over-the-shoulder video training and more to educate yourself and ensure your business succeeds! Click the link below to check out this amazing training.
Get a special discount if you purchase products on the Share Your Brilliance PLR Planners and Journals Store, use the coupon code below to save 20% off ANY products at ShareYourBrilliance.com.
MOZIE20
See The Create a Course in a Weekend Video Tutorials For Yourself – Click Here
Other Products You Might Like