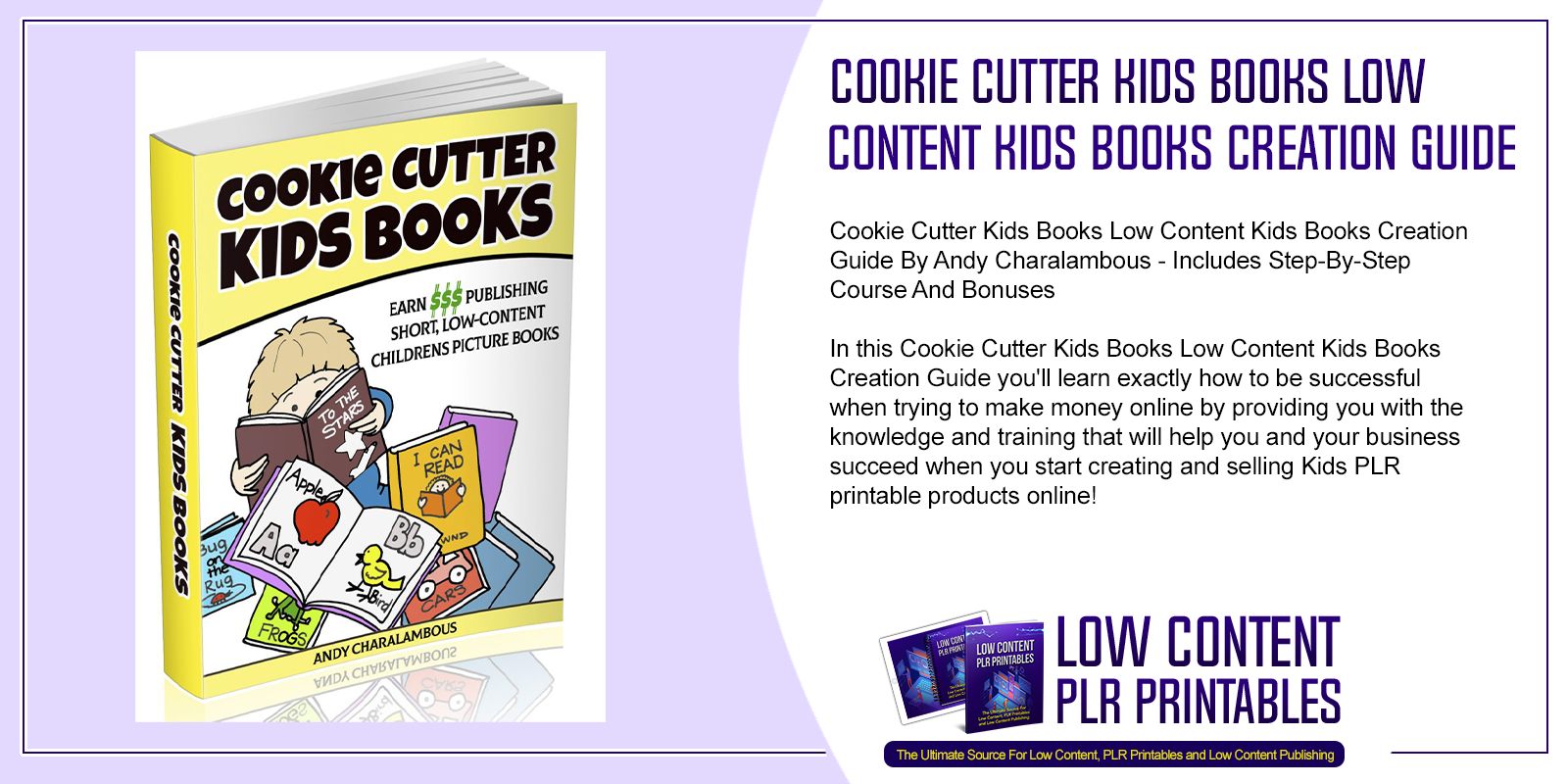 Choose Your Desired Option(s)
#CookieCutterKidsBooks #LowContent #KidsBooksCreationGuide #videotraining #training #course #plrprintables #stepbystep #printables #printable #lowcontentplr #lowcontent #bookcreation #printablescreation #bonuses #creationguide #plrprintableproducts #andycharalambous #publishing #selfpublish #videocourse #printablescourse #kidsprintables #kidsprintablescourse
Cookie Cutter Kids Books Low Content Kids Books Creation Guide By Andy Charalambous – Includes Step-By-Step Video Course And Bonuses
In this Cookie Cutter Kids Books Low Content Kids Books Creation Guide you'll learn exactly how to be successful when trying to make money online by providing you with the knowledge and training that will help you and your business succeed when you start creating and selling Kids PLR printable products online!
Introducing The…
Cookie Cutter Kids Books Low Content Kids Books Creation Guide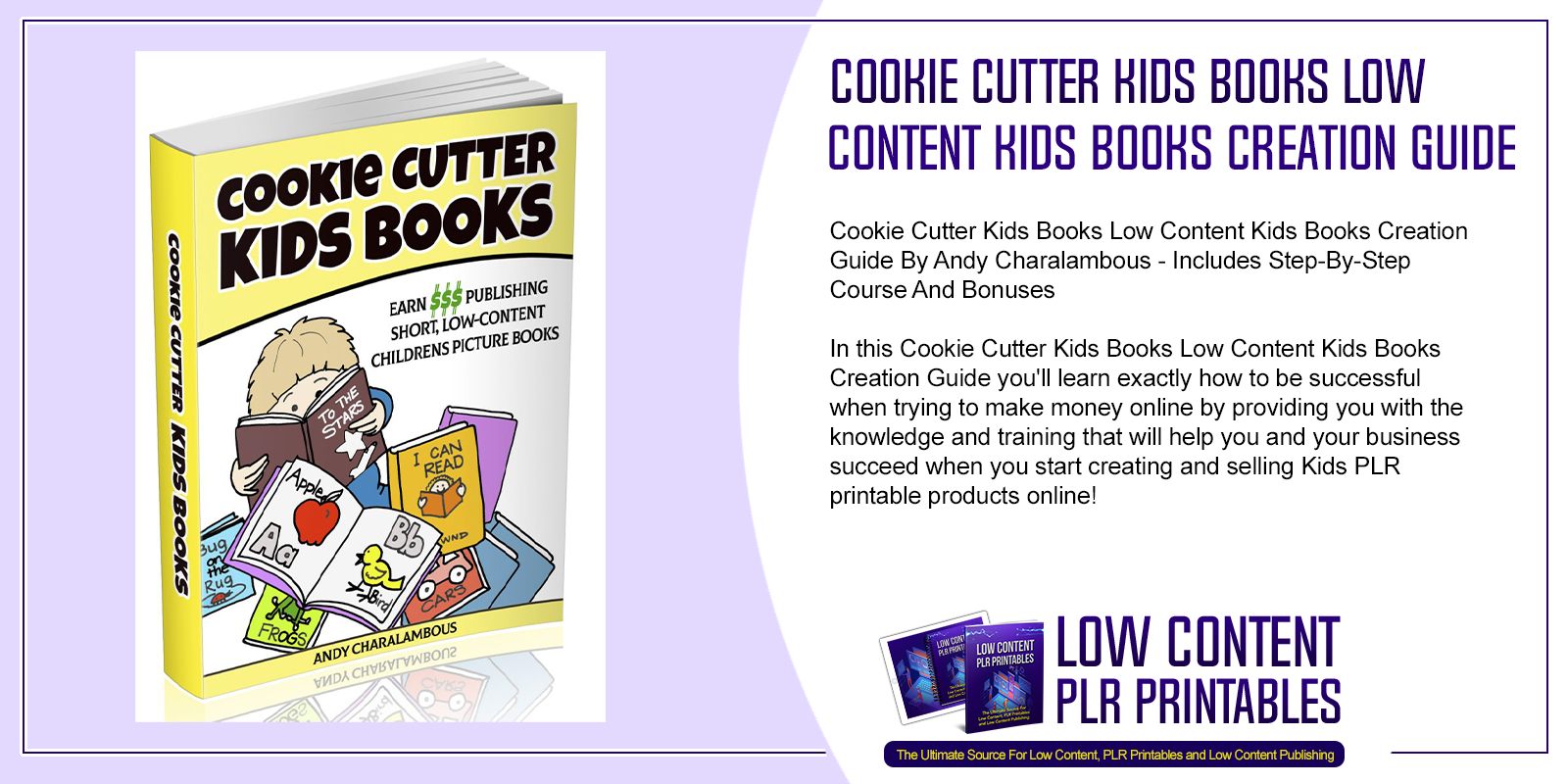 Here's what you'll learn with this amazing Cookie Cutter Kids Books Low Content Kids Books Creation Guide:
Here Is What You Get In This Comprehensive Course:
You will receive their 91 page, step by step instruction manual that takes you by the hand and walks you through this amazing children's picture book creation process in 8 easy to understand steps! This also includes VIDEO TRAINING. The instructions are direct and laid out in such a way to make the whole process as easy as possible to follow and understand. Very newbie friendly!
The first part introduces you to the world of children's picture books. It briefly runs through how others are finding success in the niche and directs you to how, YOU TOO, can find success when you follow the instructions in this course.
Step One guides you through the process of finding not only the right niche for you but also a niche that will be PROFITABLE now and in the future. You also get a very useful first assignment to complete in order to point you in the right direction and keep you motivated.
Step Two is a very important section and focuses on keyword research. I have simplified this process by providing 4 POWERFUL methods you can use to find your keywords. I also provide resources and free tools you can use to make this go as smooth as possible. Your second helpful assignment will be at the end of this step.
Step Three will guide you through the competition research of your sub-level niche. You will be provided with more resources and helpful tools to speed up the process and gather all the information your require to move forward. You will also find the third and final assignment at the end of this step.
In Step Four they delve into the choices you have for creating your books…Fiction and/or Nonfiction. Both are showcased here and whichever you choose, this Cookie Cutter Method will help you get to that next level.
Step Five runs you through some of the preparation basics regarding images and using templates to make the book creation process so much easier and faster.
Step Six focuses on where and how to get the quality free images you will use for your books. Also, the best place to look if you decide you want an illustrator for your images and book cover.
Step Seven is the actual book creation process. I detail how to put your book together using the free Google Slides – (You can use PowerPoint too if you prefer). You are provided with all the "ready to go" templates you need AND there are 3 very valuable & detailed VIDEO TUTORIALS you can follow to help you get your first book created without a hitch.
Finally, Step Eight prepares you for formatting and saving the book ready for publishing. You would now have created a paperback book and a digital Kindle book….two for one! This section will show you how you can easily publish both versions EFFORTLESSLY.
This Simple Picture Book Business Is PERFECT If:
You want to build an income "safety net" while you continue with your day job. Lots of people enjoy their day job but love the idea of earning via other income sources. This is the perfect model.
You like the sound of getting a steady flow of cash each and every month. Publishing is one of the top passive income models online.
You are sick and tired of struggling financially even after all the hours you put into your work. That can be solved because this method DOES produce PROFITS!
You are looking for an online business WITHOUT a steep learning curve. This course is set out in such an easy to follow manner that you could begin creating a book immediately after reading!
You are thinking "I can't do this" "I can't write" "I'm not an author" "I hated English". Then you and my course will get on famously because none of those things matter in this course.
You do not have any upfront money to invest in a startup online business. Not a problem here because you don't have to invest a dime!
You are someone who already has self-published books and wants to try something a little different and much less taxing on the mind! You should find this method super easy and a fantastic addition to your online book business.
You Also Get 4 Additional EXTRAS:
8 READY TO USE BOOK CREATION TEMPLATES
CCKB CHECKLIST
CCKB KEYWORD SHEET
KDP FULL TUTORIAL
See The Cookie Cutter Kids Books Low Content Kids Books Creation Guide For Yourself – Click Here
AND Bonuses:
BONUS 1
2200 Children's Book Keywords:
In this 102 page PDF I have painstakingly gathered 2200 general keywords within the children's book market. So even if you get stuck finding your own keywords you can always fall back on these! These are perfect to use as seed keywords when doing your own research.
BONUS 2
519 Potential Keywords:
These keywords are much more targeted. Each of the enclosed spreadsheets will have the main keyword, examples of its competition and also category examples that you can use during the publishing process.
BONUS 3
Scaling Up-Author Email List Essentials:
This is an invaluable guide that will help take you to the next level when it comes to increasing profits. Social media is not the only way to pick up well needed reviews for your books and boost long term sales.
BONUS 4
28 Free & Paid Vector Image Websites:
There is nothing worse than spending ages browsing the internet to find reputable FREE image stock sites for your books. It can be very time consuming. Fear not, because I did all that for you and put together 28 of the best sites you can use to get your free or paid images.
The Cookie Cutter Kids Books Low Content Kids Books Creation Guide is perfect for those of you who want to generate new streams of income online and learn how to create your own designs and sell printables online for profit. When you purchase this course get access to amazing training and more to educate yourself and ensure your business succeeds!
See The Cookie Cutter Kids Books Low Content Kids Books Creation Guide For Yourself – Click Here
Other Products You Might Like