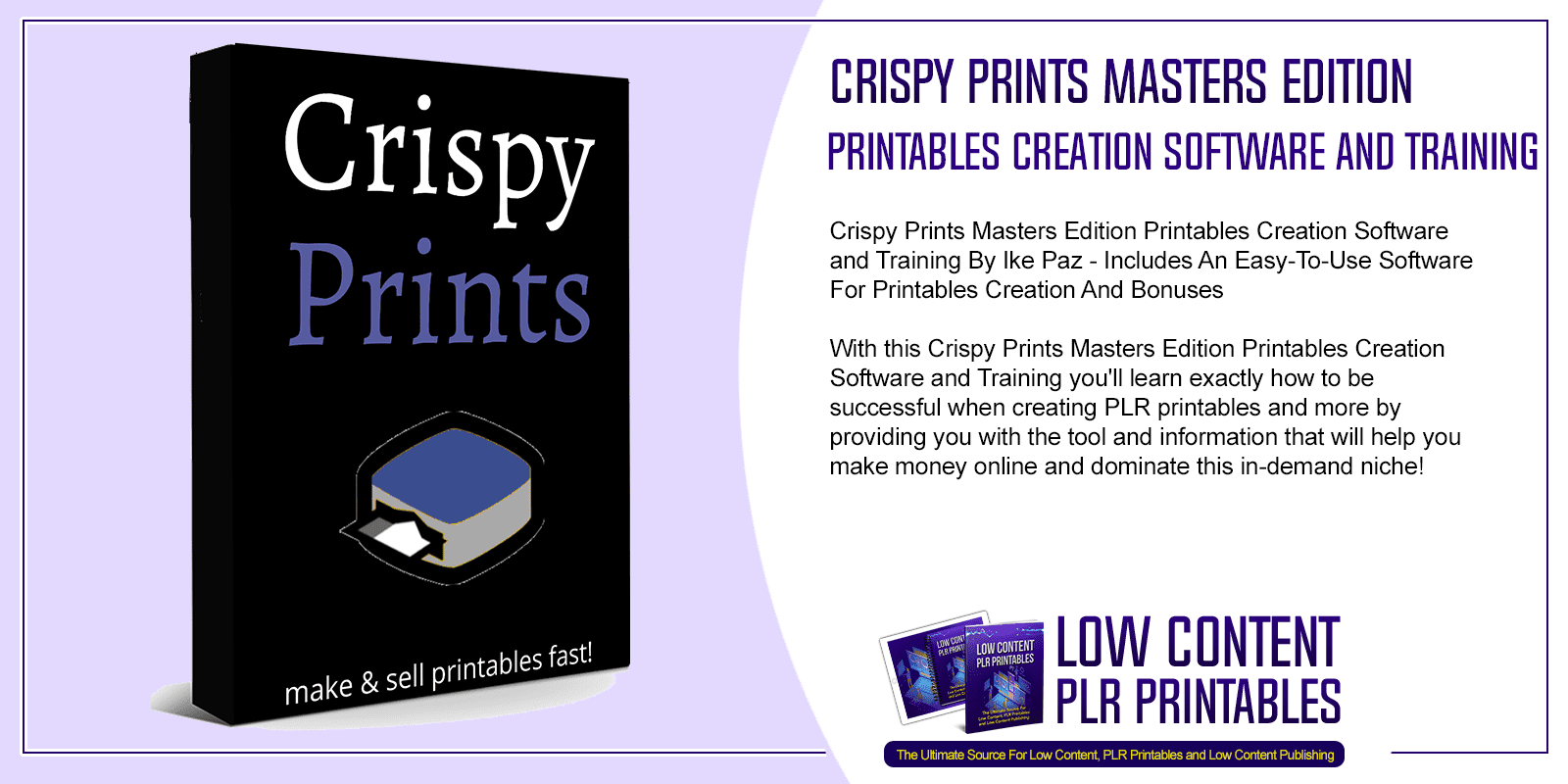 Choose Your Desired Option(s)
#CrispyPrints #MastersEdition #PrintablesCreationSoftware #Training #printablescreationtraining #videotraining #ikepaz #crispyprintssoftware #software #printablesoftware #bonuses #lowcontent #lowcontentplr #publish #selfpublish #commercialuse #plrprintables #printables #lowcontentpublishing
Crispy Prints Masters Edition Printables Creation Software and Training By Ike Paz – Includes An Easy-To-Use Software For Printables Creation, Video Training And Bonuses
With this Crispy Prints Masters Edition Printables Creation Software and Training you'll learn exactly how to be successful when creating PLR printables and more by providing you with the tool and information that will help you make money online and dominate this in-demand niche!
Introducing The…
Crispy Prints Masters Edition Printables Creation Software and Training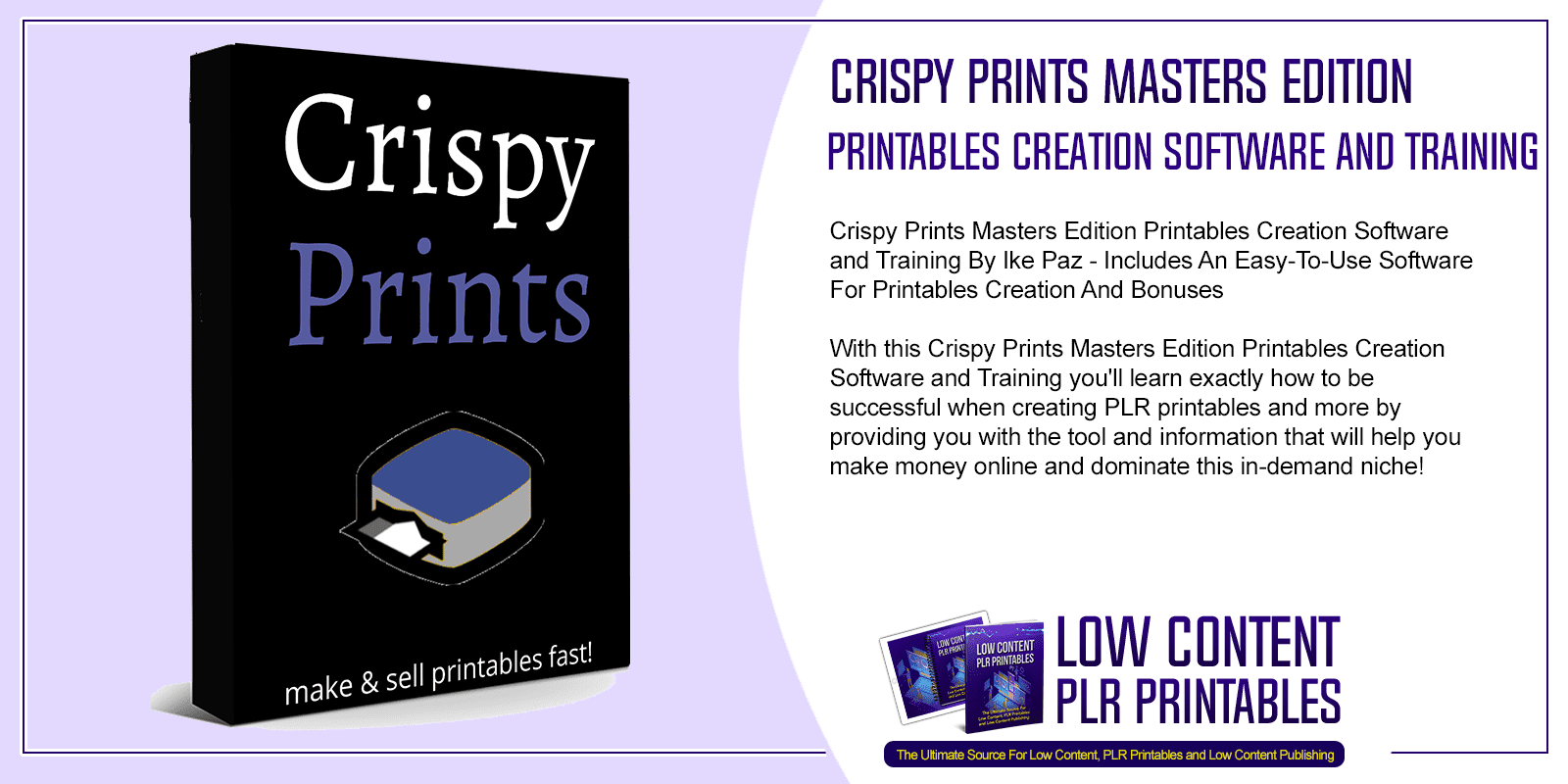 Here's what you'll get with this amazing Crispy Prints Masters Edition Printables Creation Software and Training:
With this software, anyone can generate high quality printables to sell online in a variety of niches without the need for freelancers, tech skills or design skills. All the printable product types within Crispy Prints are based on what currently sells online. Everything is included, there are no upgrades or hidden fees.
What You Get:
Proven Digital Products That Sell!
NO NEED For Tech Or Design Skills
OVER 100 PROVEN Printable Products!
BUILT-IN FREE BUYER TRAFFIC
Software Creates All The Products Quickly!
NO NEED For Email Lists Or Websites
FULL Case Study Plus Video Training
Imagine a piece of software that clears away these obstacles:
NO NEED To Spend Hours On Niche Research
NO NEED To Spend Hours Creating Products
NO NEED For Expensive Freelancers
NO NEED To Use SHOPIFY
NO NEED For Complex Traffic Methods
NO NEED For Costly Tools
NO NEED To Share Profits With Affiliates
NO NEED For Paid Ads
NO NEED For Design, Sales Or Tech Skills
NO NEED For Upgrades, Upsells or One-Time-Offers
NO NEED To Spend Money On Shiny Objects That Don't Work!
See The Crispy Prints Masters Edition Printables Creation Software and Training For Yourself – Click Here
Feature Roll-Call:
Built-In Niche Keyword Tool
Get real time access to the top niches within two of the largest buyer traffic search engines. Quickly find out how much interest there is for any given niche.
Generate Printable Games
There are a multitude of printable games niches and themes to go after. Inside of Crispy Prints, anyone can easily generate printable games to sell online.
Generate Printable Dice
Themed printable dice are great to sell individually or as part of a bundle. With Crispy Prints, anyone can generate these themed products in seconds.
Generate Printable Banners
Themed printable banners are perfect to sell in packs or as part of game bundles. Simply follow the 3 easy steps to generate unique banners fast.
3D Printable Animal Masks
At a snap-of-a-finger, create hot selling 3D printable animal masks. Folks online are paying top-dollar for these type of printable masks.
Essential Printable Pages
Quickly and easily create to-do lists and rule printables as added bonuses to increase printable sales and conversions.
Multiple Printable Niches
Crispy Prints will always get new and up-to-date printable product types. I use this in my printable business so my benefit is your benefit.
Complete Free Traffic Training
Within Crispy Prints, I reveal exactly how I get FREE quality buyer traffic. It DOESN'T require any writing, video creation or off page SEO whatsoever.
Full Video Case Study
Inside, users are greeted by a case study showing one my printable products, and it's daily passive sales. I hold nothing back and everything is revealed.
Step-By-Step Training
Within Crispy Prints, I take users by the hand, revealing every aspect of the printable business.
Auto-Generated Product Pins
Auto-Generate quality pins that are DIRECTLY related to your printable products. These pins are designed to get targeted buyer traffic to your printables.
DFY Theme Template
Easily create themed backgrounds for all your printable games with the Crispy Prints done-for-you template and guide.
The Crispy Prints Masters Edition Printables Creation Software and Training is perfect for those of you who want to generate new streams of income online. When you purchase this software get access to software and ensure your business succeeds in this high-demand market! Click the link below to check out this amazing software so you can start creating amazing printable products today!
See The Crispy Prints Masters Edition Printables Creation Software and Training For Yourself – Click Here
Other Products You Might Like