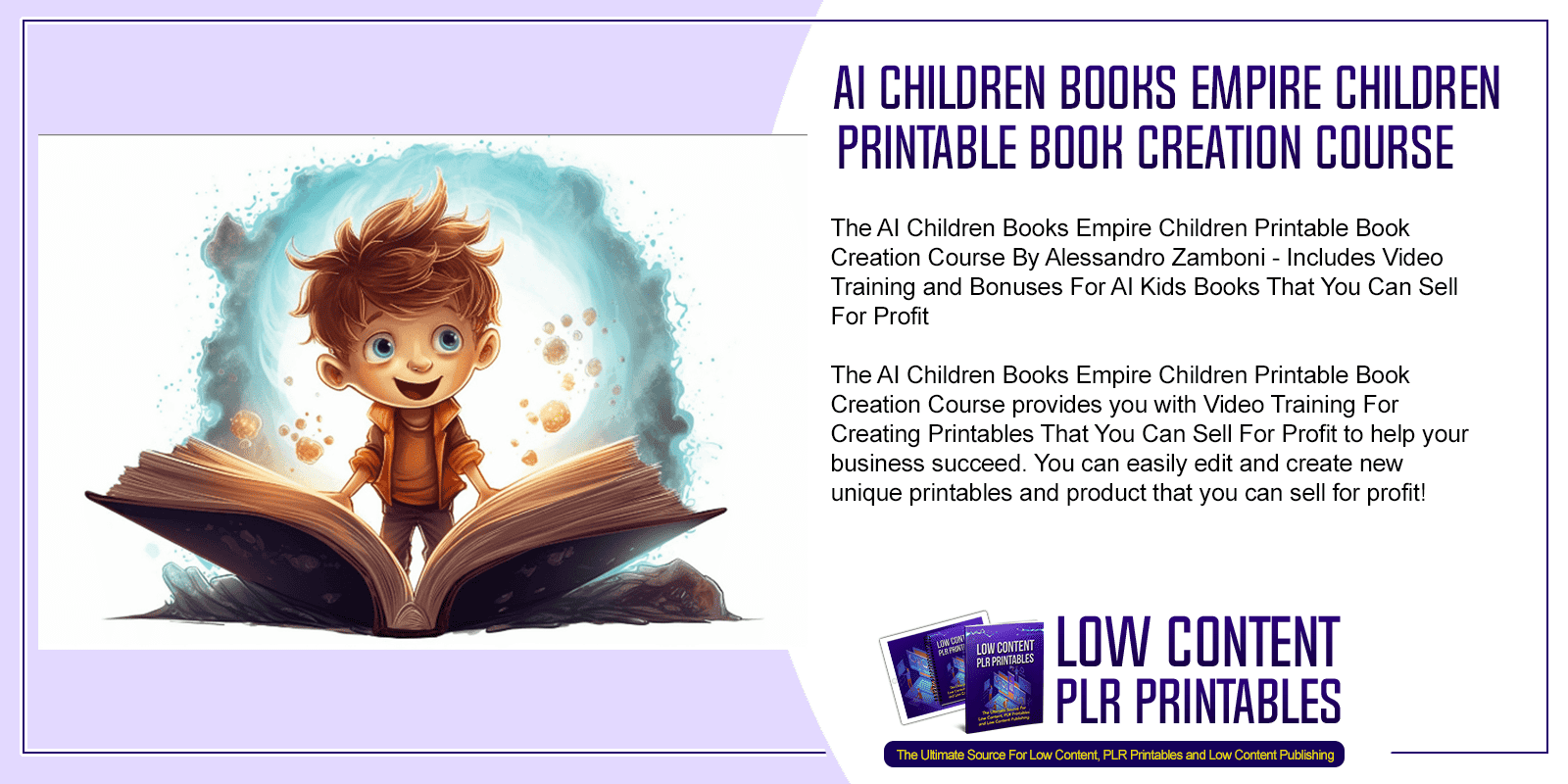 Choose Your Desired Option(s)
#aichildrenbooks #kidsbookempire #childrensprintablebook #bookcreationcourse #chatgpt #chatgptcourse #aibooks #usingai #alessandrozamboni #andreasquintana #bookcreation #printablescreation #plrcourse #bonuses #publishing #videotraining #training #onlinebusiness
The AI Children Books Empire Children Printable Book Creation Course By Alessandro Zamboni – Includes Video Training and Bonuses For AI Kids Books That You Can Sell For Profit
The AI Children Books Empire Children Printable Book Creation Course provides you with Video Training For Creating Printables That You Can Sell For Profit to help your business succeed. You can easily edit and create new unique printables and product that you can sell for profit!
Introducing The…
AI Children Books Empire Children Printable Book Creation Course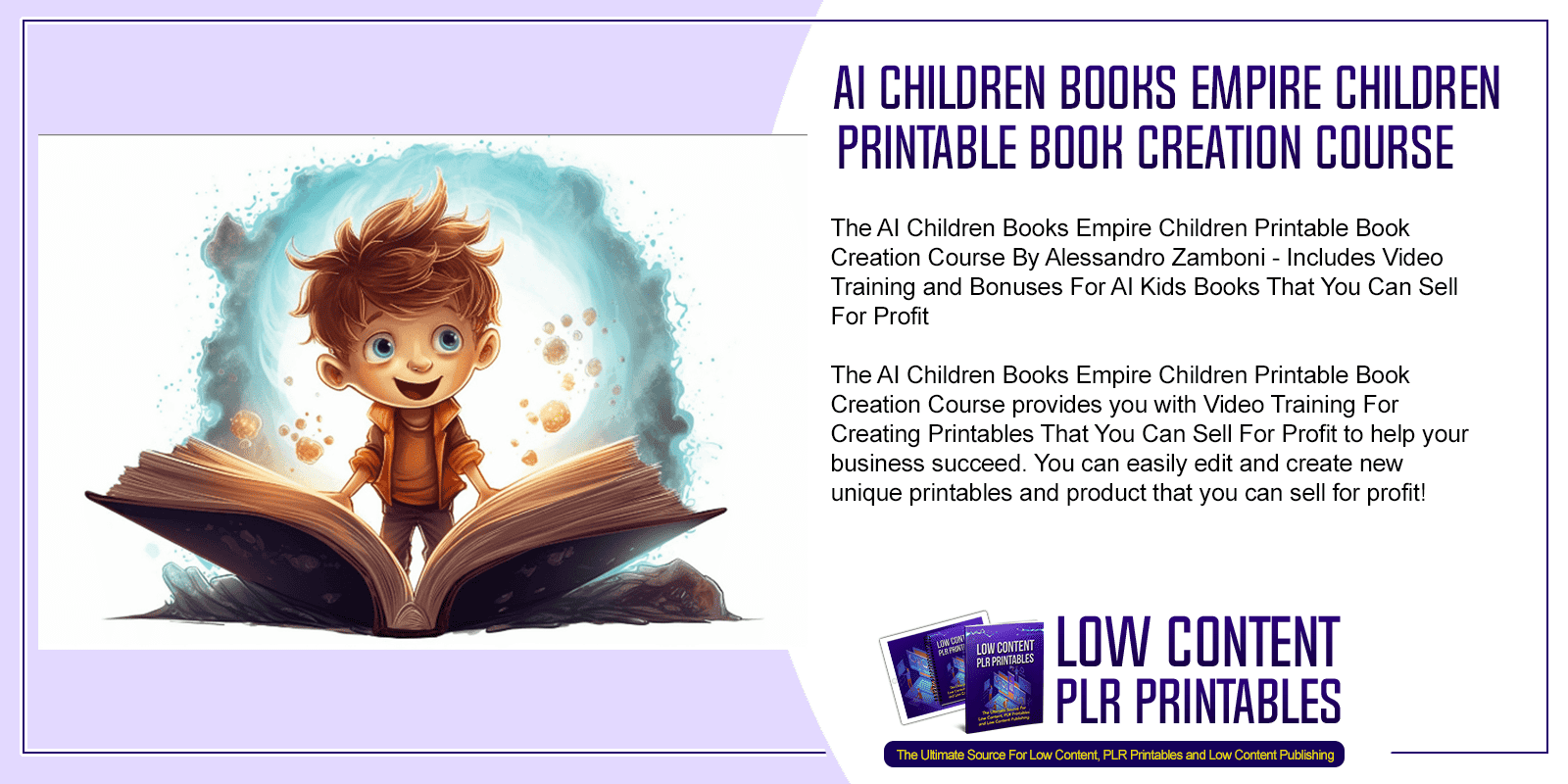 This is exactly what you could be getting in the AI Children Books Empire Children Printable Book Creation Course:
Writing stories for kids is a fun job, but it's not always easy as it seems.
Writers have to think about a lot of things to make sure their books are good for kids to read.
Here are some problems you will face if you try to launch stories for kids on yours own:
Choosing the Right Words: You need to use words that kids understand but also keep the story interesting. If children can't comprehend some of your words, you are fired by their parents.
Knowing The Readers: Kids like different things depending on their age and where they come from. You need to know what kids of a certain age like, that is different from previous generations of readers.
Creating Characters Kids Like: The characters in the story need to feel real and relatable to kids, with their same problems, and looking for the same dreams to achieve.
​Talking About Tough Stuff: Sometimes, stories deal with hard things like bullying or losing a loved one. You need to talk about these in a way that is okay for kids, or you will make a disaster.
​Holding Kids' Attention: Kids can get bored or confused easily. The story needs to be interesting and easy to follow for their age range.
​Working with Pictures: For young kids, pictures in the book are very important. It can be hard for you to make sure the story and pictures go well together.
​Being Sensitive To Everyone: Books for kids should show how different and special all people are. You need to be careful to respect everyone's culture and background.
​​Teaching Lessons: Many kids' books teach important lessons. You need to do this in a way that's fun and not too preachy.
​And much, much more…
Inside these videos you're going to:
​Experience a dynamic learning journey through expertly crafted video lessons.
​Follow along with clear instructions that break down complex concepts into easily digestible chunks.
​Witness practical demonstrations of how to use AI tools effectively, showcasing real-time interactions with ChatGPT and MidJourney.
​ Explore a wide range of storytelling examples across different genres and age groups.
​ Discover winning prompts to engage like a pro with ChatGPT and MidJourney.
​ Discover how to design visually stunning book covers to attract young readers and also their parents.
​ Learn proven strategies and tactics to successfully launch your children's book on the Kindle marketplace.
​ Benefit from expert tips and tricks, suggestions and real case studies.
​ And much, much more!
Amazing Bonuses For You If You Grab This Course Today!
High Priority Email Support
You will get priority access to my email to get extra support and help whenever you need them.
Our Secret List of 30 Lessons Kids Can Learn From Stories
It is a list including the top 30 lessons parents search for in stories for kids, each with a clear explanation.
So you can tell ChatGPT, with our prompts, to create a story with that final lesson infused in the text.
The AI Children Books Empire Children Printable Book Creation Course is perfect for those of you who want to generate new streams of income online and learn how to create your own online business successfully. When you purchase this course get access to amazing training and more to educate yourself and ensure your publishing business succeeds!
See The AI Children Books Empire Children Printable Book Creation Course For Yourself – Click Here
Other Products You Might Like