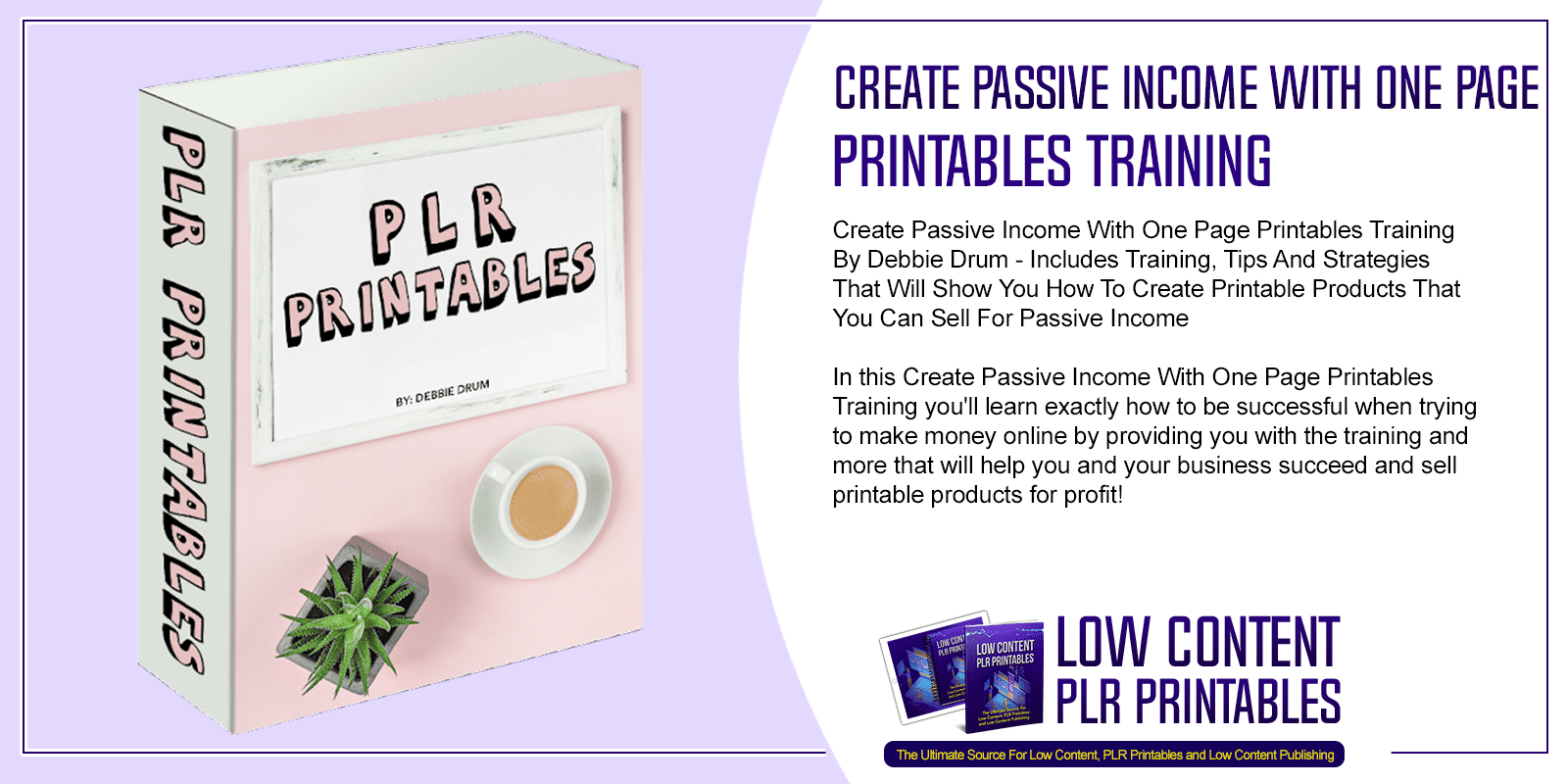 Choose Your Desired Option(s)
#createpassiveincome #onepageprintables #training #passiveincometraining #passiveincome #passiveincomecourse #Passiveincomebusiness #training #course #debbiedrum #printables #printabletraining #plrprintables #publish #selfpublish #printableproducts #printablebusiness #onlinebusiness #onlinecourse #makemoneyonline #publishing
Create Passive Income With One Page Printables Training By Debbie Drum – Includes Training, Tips And Strategies That Will Show You How To Create Printable Products That You Can Sell For Passive Income
In this Create Passive Income With One Page Printables Training you'll learn exactly how to be successful when trying to make money online by providing you with the training and more that will help you and your business succeed and sell printable products for profit!
Introducing The…
Create Passive Income With One Page Printables Training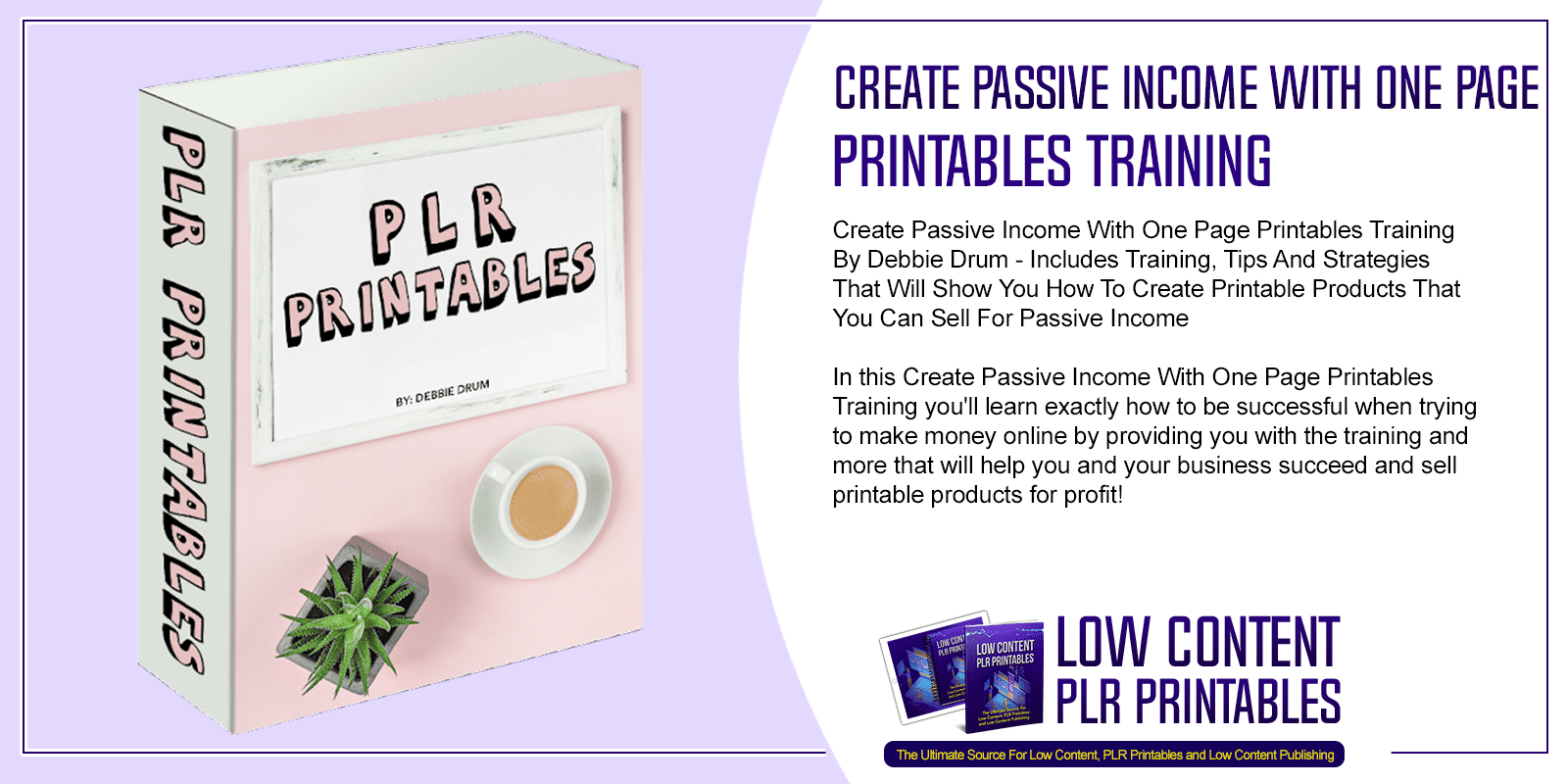 This is exactly what you could be getting in the Create Passive Income With One Page Printables Training:
Get instant access to all of this below:
The PLR Opportunity Allow me to uncover this HUGE OPPORTUNITY to make money with one page content you don't even have to create yourself.
My Income Accelerator Method (that I publicly never revealed before) Because you want to create printables and get straight to earning the maximum you can right?
Passive Income and Sales without any Paid Traffic – The Ultimate Proven Organic Traffic Strategies – No marketing or Facebook ads needed at all. Just do what I tell you and you will get eyeballs all the time!
How To Pick Your Topic (This will clear up any questions you have on what topics to choose for your printables…and other content you want to create)
How To Create Your PLR Printable FAST You have a lot of options and I help you choose the best one for you.
How To Get Organic Visibility (People Find YOU for Passive Online Sales) (There's nothing better than being smart about how you publish where people find YOU without you having to find them)
Ideas For On-going Sales – (It's all about how to make more without doing more work. I'll show you how to do just that).
BONUS 1: 50+ PLR Sites – Endless Printables That You Can Use and Resell – 50+ Fully Vetted PLR Sites (Research that is already done for you will save you a bunch of time and headache!
BONUS 2 – The Most Important Part of Your Printable Revealed (miss this and miss money opportunities) Don't mess this part up because all your work can be for nothing!
The time is now to join in on the passive income with content you can create for your life and your business.
See The Create Passive Income With One Page Printables Training For Yourself – Click Here
Who Is PLR Printables For?
Newbies / Beginners
Coaches
Consultants
Product Creators
Experts
Trainers
Authors
Public Speakers
3 Major Goals For You
Show you an exact step by step process you can implement fast
Help you understand what it takes to make online sales and
passive income with content and PLR specifically
The Create Passive Income With One Page Printables Training is perfect for those of you who want to generate new streams of income online and learn how to edit, and create new printable products you can sell. When you purchase this course get access to amazing training and more to educate yourself and ensure your business succeeds!
See The Create Passive Income With One Page Printables Training For Yourself – Click Here
Other Products You Might Like