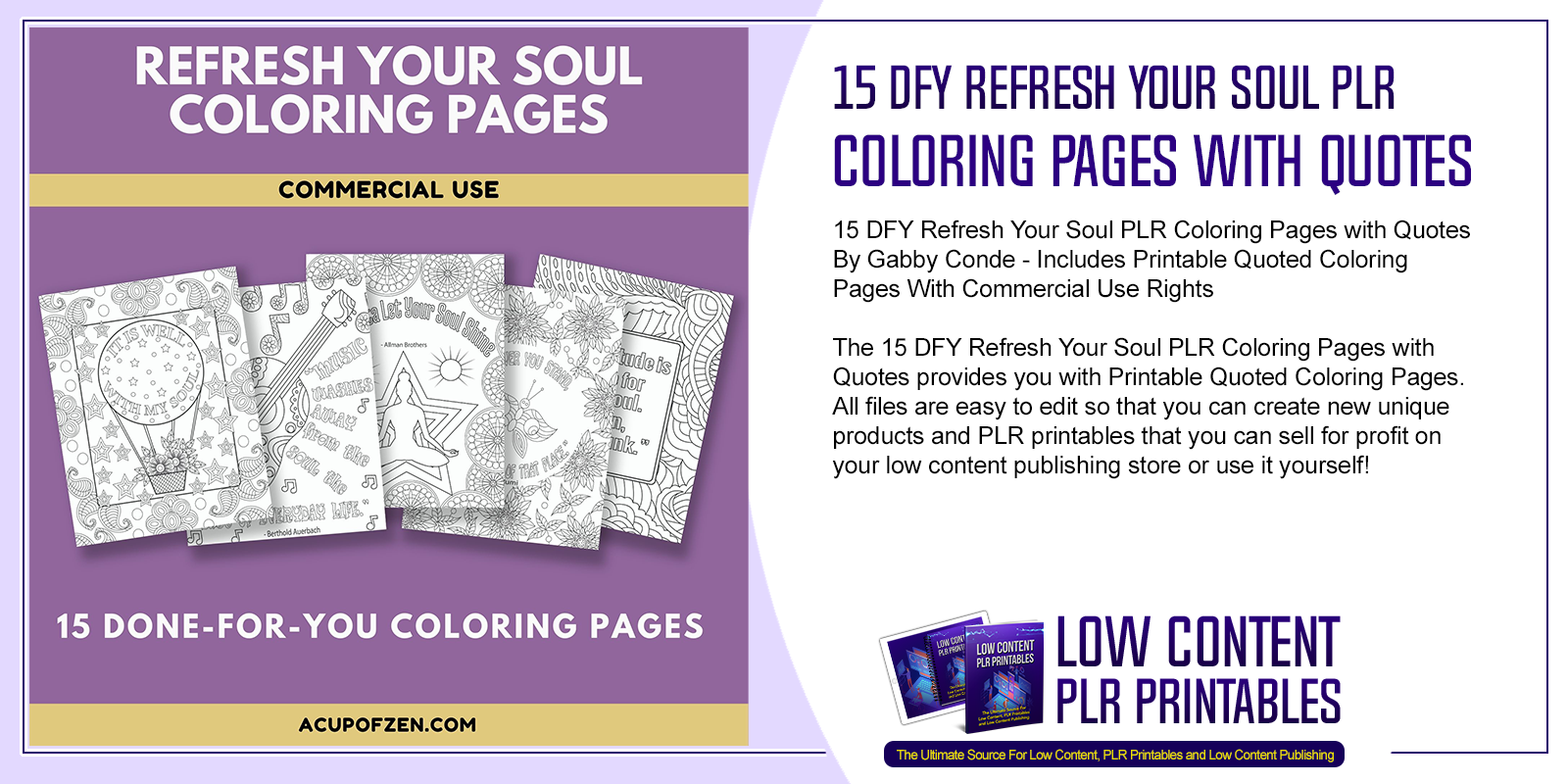 Choose Your Desired Option(s)
#DFY #RefreshYourSoul #PLRColoringPages #Quotes #doneforyou #printondemand #coloringprintables #plrprintables #lowcontentplr #gabbyconde #acupofzen #motivational #inspirationalprintables #coloringdesigns #plrcoloringpages #coloringpages #coloring #quotedprintables #printablquotes #commercialuse #commercialuserights #mandala #mandalaprintables #PoD
15 DFY Refresh Your Soul PLR Coloring Pages with Quotes By Gabby Conde – Includes Printable Quoted Coloring Pages With Commercial Use Rights
The 15 DFY Refresh Your Soul PLR Coloring Pages with Quotes provides you with Printable Quoted Coloring Pages. All files are easy to edit so that you can create new unique products and PLR printables that you can sell for profit on your low content publishing store or use it yourself!
Introducing The…
15 DFY Refresh Your Soul PLR Coloring Pages with Quotes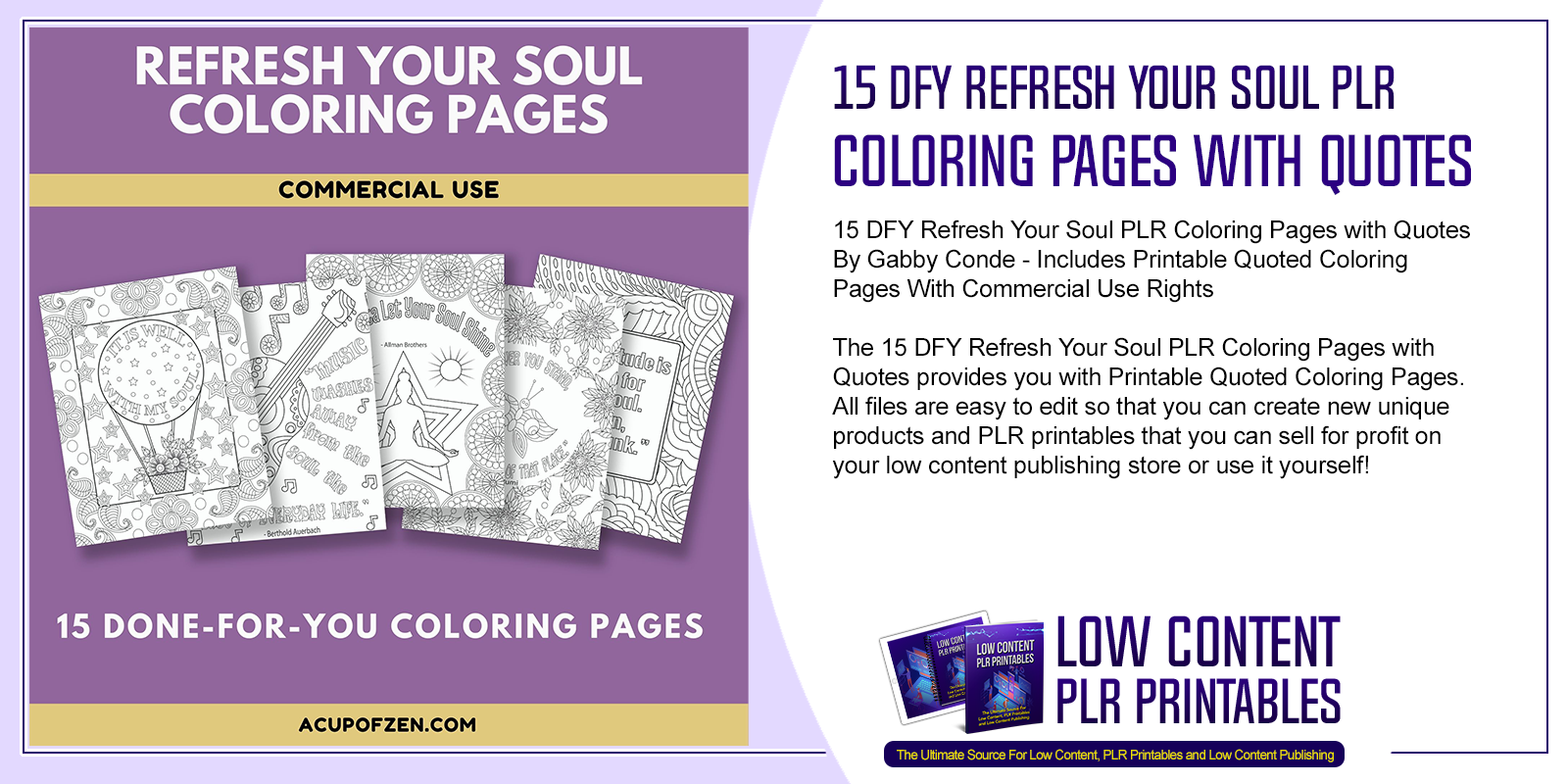 This is exactly what you could be getting in the 15 DFY Refresh Your Soul PLR Coloring Pages with Quotes:
Coloring is a healthy form of relaxation and stress relief. Help your customers get Coloring Pages with Quotes to help them Refresh The Soul and Relieve Stress. Based on wellness & self-care, coloring helps your customers relax and have fun with a mini-break from the stress of the day. Create coloring books or use the pages in your journals and planners to help you get focused on taking a self-care break to refresh their spirit.
This Done-For-You Package Includes:
15 Coloring Pages
JPG & PDF Format, 300 DPI
8.5″ x 11″ size
PLR / Commercial Use Rights
Word Sayings & Quotes Include:
A Sweet Friendship Refreshes The Soul. – Proverbs 27:9
Withdraw to the Untroubled Quietude Deep Within Your Soul, and Refresh Yourself. – Marcus Aurelius
Lose Your Mind. Find Your Soul.
It is Well with My Soul
Wherever You Stand, Be the Soul of That Place. – Rumi
Sell Coloring Pages with Quotes
Let your customers refresh their soul and de-stress by coloring your adult coloring books. Get in the game and create a library of coloring pages with quotes to help your customers focus and meditate on a self-care routine.
Create a starter kit and sell coloring books or sales pages on your own website, Etsy Shop, eBay, etc. Coloring helps your customers de-stress and meditate; help them focus on their self-care routine with 15 coloring pages with refreshing, rejuvenating quotes.
Done-for-You Content & Coloring Pages Can Help You
Get more traffic with opt-ins
Attract your ideal clients looking to fix their mindset
Sell your own products (Coloring Pages, Journal, Planner)
Help clients with this topic in coaching sessions
Give Coloring Pages to Your Clients Who Are Changing Their Mindset
Create your products faster
See The 15 DFY Refresh Your Soul PLR Coloring Pages with Quotes For Yourself – Click Here
Usage Rights
Here's What You Can Do
Can Be Used In Commercial Projects
Sell pages individually, in a coloring book, in a planner, journal, or any other end product you want to list for sale
Here's What You Cannot Do
Cannot Pass On, Sell or Give Away These with PLR Rights, Commercial Use, or Master Resell Rights
The 15 DFY Refresh Your Soul PLR Coloring Pages with Quotes is just for you if you're looking for amazing new PLR printable coloring pack that can be used to create your own unique printables when purchased and rebranded! You can also buy these printable pages to sell on your store or use it for yourself. Perfect for you if you have a publishing business and are looking for new products or printable coloring pages pack. Click the link below to learn more!
Here's a coupon to get 50% off any products from Acupofzen.com
mozie
See The 15 DFY Refresh Your Soul PLR Coloring Pages with Quotes For Yourself – Click Here
Other Products You Might Like