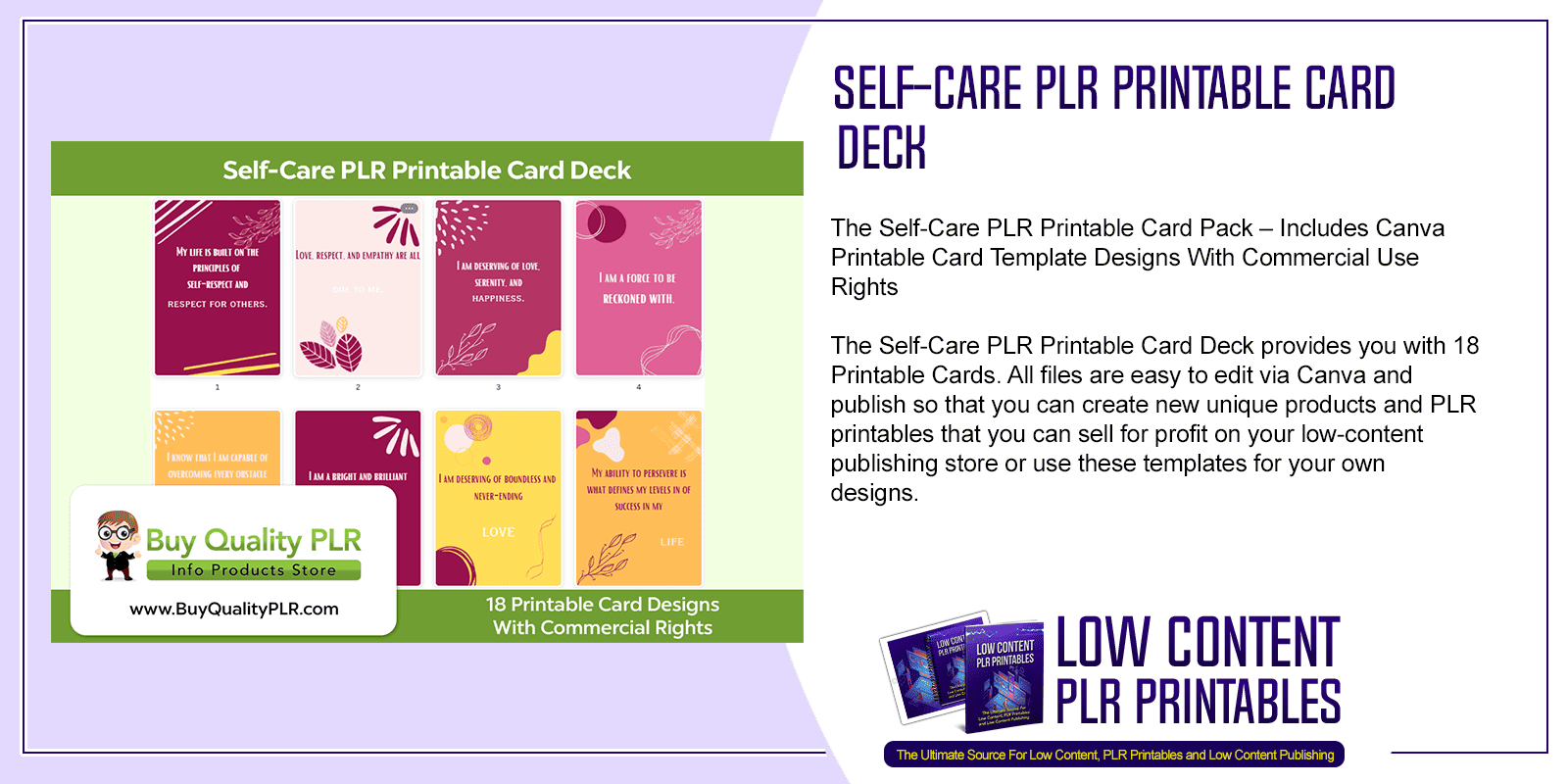 Choose Your Desired Option(s)
#selfcare #plrprintable #carddeck #cards #plrcards #digitalcards #printablecards #canvatemplates #canvacards #buyqualityplr #plrprintables #lowcontentplr #printondemand #doneforyou #cardprintables #cardbundle #selflove #selfcarecards #selfcareprintables #selfcaretemplates #designs #graphics #commercialuse #commericaluserights
The Self-Care PLR Printable Card Pack – Includes Canva Printable Card Template Designs With Commercial Use Rights
The Self-Care PLR Printable Card Deck provides you with 18 Printable Cards. All files are easy to edit via Canva and publish so that you can create new unique products and PLR printables that you can sell for profit on your low-content publishing store or use these templates for your own designs.
Introducing The…
Self-Care PLR Printable Card Deck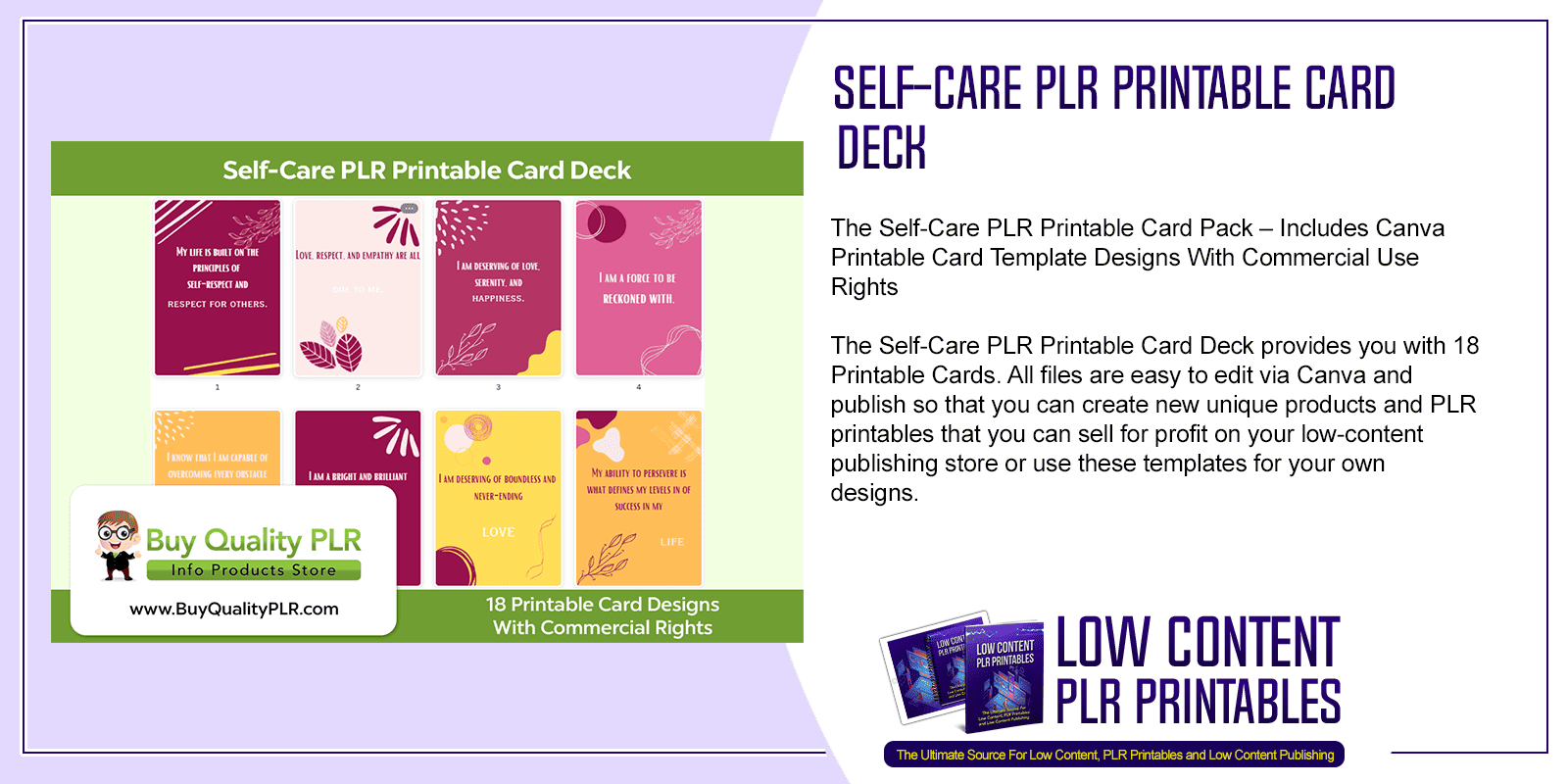 Here's exactly what you're getting in this Self-Care PLR Printable Card Deck Pack:
Are you ready to prioritize your self-care and create a harmonious balance in your life? Look no further!
Our Self-Care PLR Printable Cards are your essential companion for nurturing your well-being and embracing a lifestyle of self-love.
Designed to inspire and guide, this versatile card deck offers a collection of self-care practices, affirmations, and prompts that will empower you to create moments of self-care and cultivate a deep sense of inner peace.
With our Private Label Rights (PLR) license, you have the freedom to customize and brand this card deck to suit your unique style or business.
What makes our Self-Care PLR Printable Card Pack a must-have?
Diverse Self-Care Practices: Each card presents a unique self-care practice, ranging from soothing rituals and relaxation techniques to mindful exercises and personal affirmations. Explore a variety of self-care activities and discover what resonates with your soul.
Inspirational Affirmations: The card deck features uplifting affirmations that foster positive self-talk and encourage self-compassion. Embrace these powerful statements to cultivate a mindset of self-love and inner strength.
Prompts for Reflection: Thought-provoking prompts guide you on a journey of self-reflection and introspection. Engage in self-discovery, set intentions, and gain clarity on your personal needs, desires, and goals.
Customizable and Brandable: With our PLR license, you can customize and brand the card deck to align with your personal style or business. Add your logo, choose your color scheme, and make it a valuable asset for your clients, customers, or followers.
Versatile Usage: Whether you're a coach, therapist, or simply an individual seeking self-care inspiration, this card deck can be used in various ways. Draw a card for daily guidance, incorporate them into meditation or journaling practices, or share them with others to spread the gift of self-care.
Prioritize your well-being and embrace self-care as a non-negotiable part of your life. Don't miss out on this opportunity to enhance your self-care practices and elevate your overall well-being.
You Get:
18 Self-Care Card PLR Printable Designs
Editable Canva Templates Link
Commercial Use License
Here Are All of The Card Graphics You'll Be Getting:
The Self-Care PLR Printable Card Deck is just for you if you're looking for printable card graphics that can be used to create your own unique printables and profit! Perfect for you if you have a publishing business and are looking for new products or printables.
Click the button below to purchase this product!
Your Package Details:
18 Individual Printable Card Graphics In Canva, PNG, PDF, And PowerPoint Format
Total File Download Size – 6.3 MB
Here are the Licence Terms:
What You Can Do:
You can sell this product in a non-editable format like PDF to sell to your customer for personal use.
You can sell this product as a physical product.
You can use this product to build an email list.
You can edit the product and brand it with your name and company branding.
You can resell the product as your own.
You can include the product in a bundle or package.
What You Cannot Do:
You cannot sell this product with PLR or resell rights. This license is for you only.
You cannot sell this product with its editable source files.
Please set a fair price when you sell and do not give the product away for free unless you're using it to build an email list
Get up to 30% off from our trusted partner BuyQualityPLR with this coupon code:
LCPP
See The Self-Care PLR Printable Card Deck For Yourself – Click Here
Other Products You Might Like