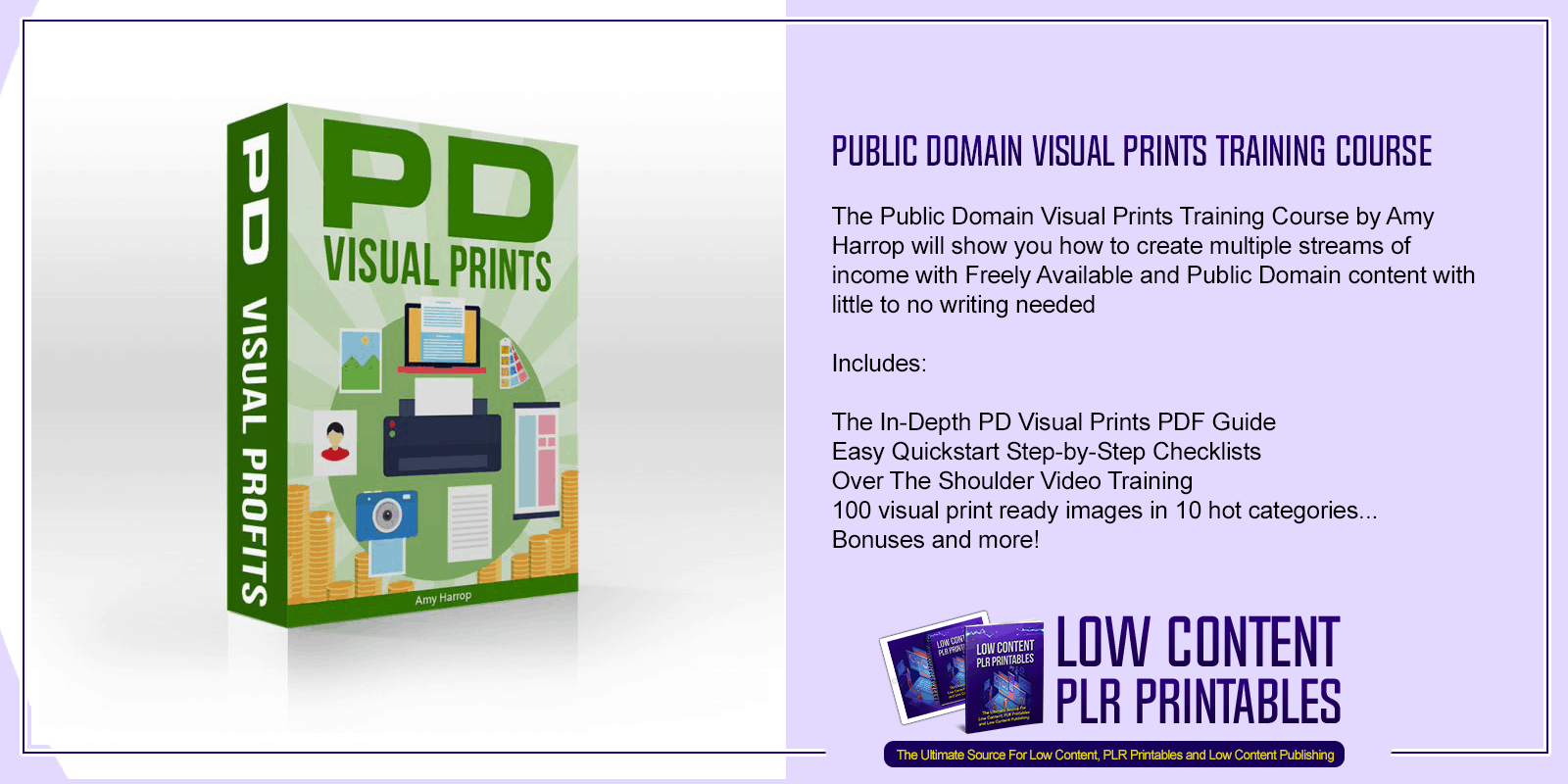 Choose Your Desired Option(s)
#publicdomainvisualprintstrainingcourse #amyharrop #publicdomain #visualprints #training #course #publicdomainvisualprintstraining #publicdomainvisualprintscourse #publicdomainguide #printables #publishing #lowcontent #passiveincome #checklists #videotraining #doneforyou #printreadyvisuals #publicdomaincontent #freepublicdomaincontent #printableniches #profitableniches #freeprintreadycontent #printreadycontent
The Public Domain Visual Prints Training Course by Amy Harrop will show you how to create multiple streams of income with Freely Available and Public Domain content with little to no writing needed
The amazing part of the Public Domain Visual Prints Training Course is that you don't need special skills and it doesn't have a huge learning curve. You will receive everything you need to publish and profit very quickly. This couse is perfect for those who have publishing businesses or want to create new passive income streams.
Introducing The…
Public Domain Visual Prints Training Course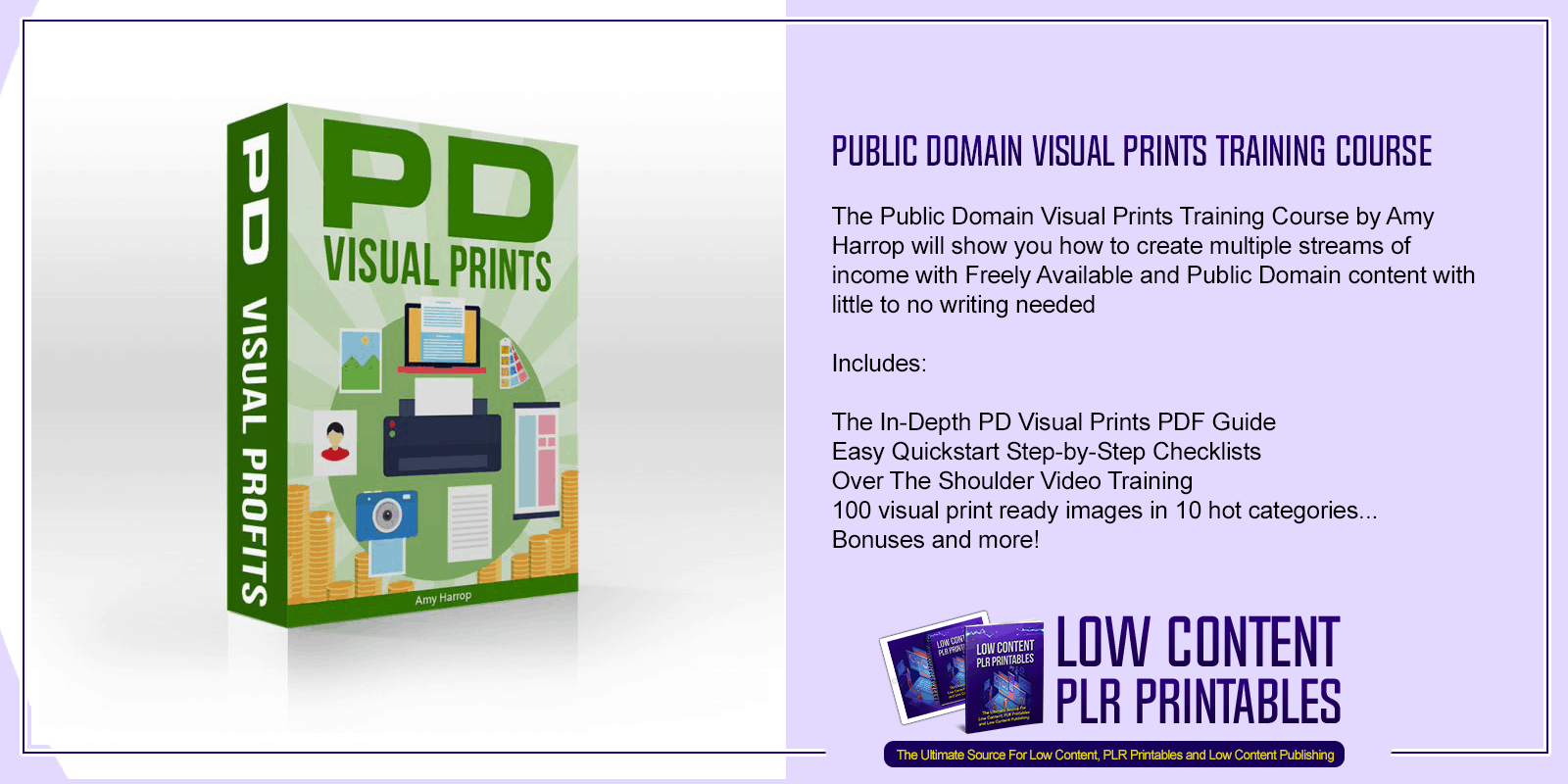 Here's what you'll learn with this amazing Public Domain Visual Prints Training Course:
The In-Depth PD Visual Prints PDF Guide
You'll discover:
How to identify profitable free content goldmines and understand what consumers want.
Where and how to find free and public domain content to use in your prints and products.
How to take create completely new in-demand products with just a few mouse clicks.
How to make sure you are print-ready with easy sizing.
How to easily fulfill your printable products, no shipping needed!
How to sell in-demand products on Etsy, including driving traffic and more.
How to scale up your business to earn more profits.
The Easy Quick-Start, Step-by-Step Checklists
3 Separate checklists that lay out all the steps you need to take to get up and running quickly.
Just pop open these checklists, follow the steps and you'll be good to go. Perfect for removing any guesswork.
Over-The-Shoulder Video Training
A set of easy to follow videos that shows on screen the exact steps you need to take. Because some people are visual learners, This video training will cover all the bases and give you every advantage for getting off to a great start right out the gate!
100 Done For You Print Ready Visuals to help you profit
100 Print ready image assets that you can use to take advantage of these highly in-demand topics quickly. With these assets you can make the quantum leap and have your very own products up and running and ready for sale within the same day.
There's no special editing skills necessary. You can click a few buttons to make yours's unique, and you're good to go.
Learn how to quickly customize these and make them unique. All the tools you need to create high quality and in-demand content-based products for sale is included. It's a true done for you setup!
See The Public Domain Visual Prints Training Course For Yourself – Click Here
A Quick 'Peek' Inside The Guide:
What type of free content is hugely popular and will never go out of style (p. 11-12)
How to easily avoid these keyword mistakes and get tons of organic traffic! (p. 16-17)
Popular stores making tons of sales with Public Domain content revealed (p. 28-30)
The best places to find free print ready content fast (p. 40)
How to quickly make your free content unique and in-demand. These changes are fast, and simply by clicking a few buttons you have added value and sellable content (p. 81)
Quickly decide what sells easily as a digital download. (p. 70)
Make your products stand out with these easy listing options These two options will grab you more sales without producing more content. (p. 90)
Tagging hacks – do this the right way and grab massive traffic fast. (p. 97)
Public Domain Visual Prints Training Course Bonus Offer:
Etsy Quick Start Guide
An exclusive and brand-new Quick Start Guide To Etsy to make setting up and managing your shop on this massive marketplace easy and stress-free.
Bonus Canva Training
Make your designs unique fast with this in-depth video training, full transcripts to every video, and even audio-only downloads for listening on the go.
Canva has some of the amazing tools that can help you achieve amazing graphical results in a few clicks. You would be amazed to discover what you have been missing all along.
With the Public Domain Visual Prints Training Course you will learn about 10 overlooked, yet highly profitable niches that you can easily mine for tons of free content. When you combine this information with all the templates, checklists, and printable assets included there's no reason why you can't succeed today. Go through all the materials, checklists, videos, and bonuses provided and see for yourself how simple it is to create high quality items with free content in 10 incredibly popular niches. Start your own self publishing business and use this course to learn how you can create passive income profits very quickly.
See The Public Domain Visual Prints Training Course For Yourself – Click Here
Other Products You Might Like