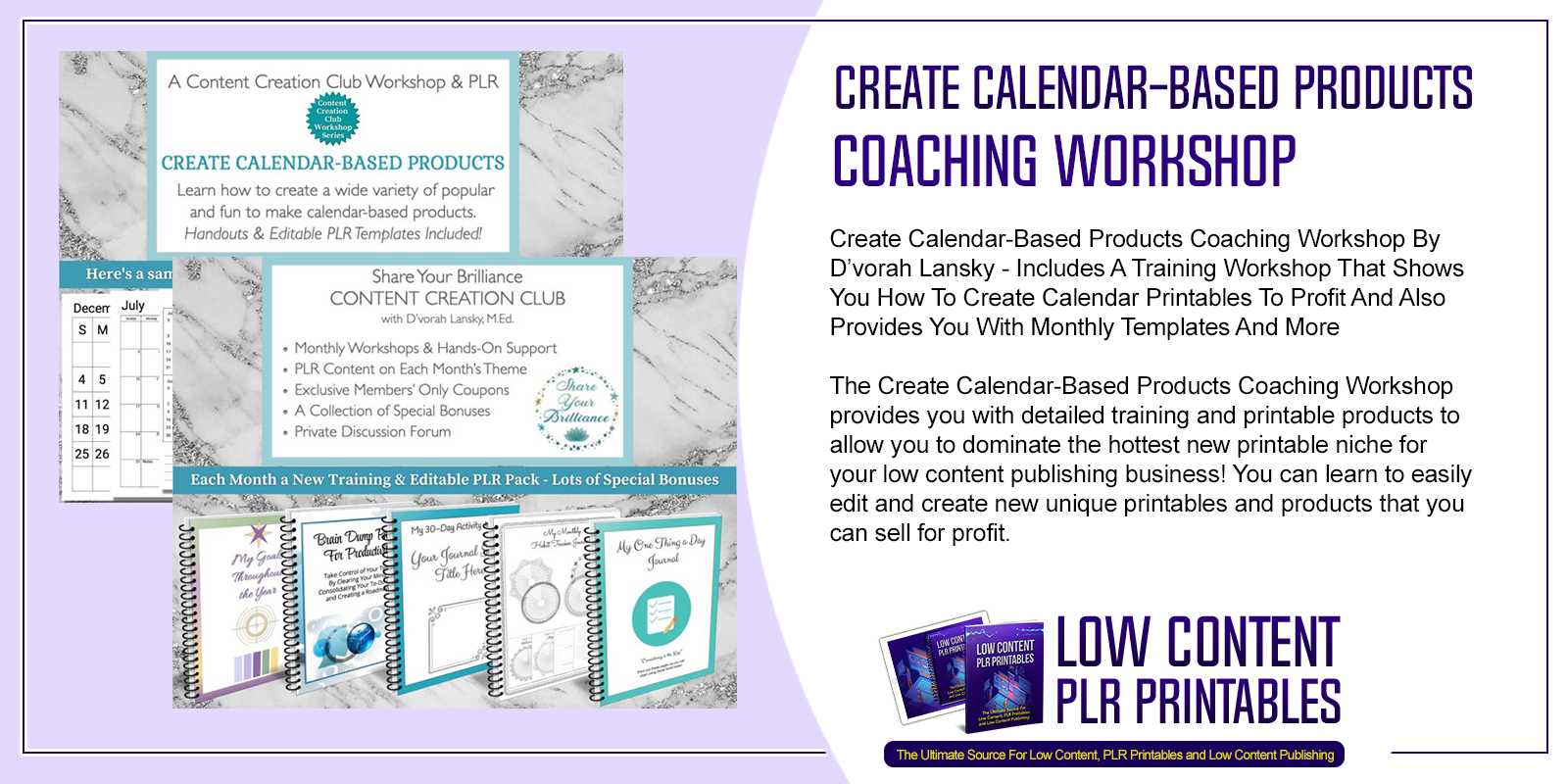 Choose Your Desired Option(s)
#CreateCalendarBasedProducts #CoachingWorkshop #createcalendarbasedprintables #calendarprintables #calendarcreation #printableworkshop #printablemembership #membershipprogram #membershipworkshop #dvorahlansky #shareyourbrilliance #createcalendarprintables #bonuses #templates #monthlyprintables #training #course #workshop #publish #publishing
Create Calendar-Based Products Coaching Workshop By D'vorah Lansky – Includes A Training Workshop That Shows You How To Create Calendar Printables To Profit And Also Provides You With Monthly Templates And More
The Create Calendar-Based Products Coaching Workshop provides you with detailed training and printable products to allow you to dominate the hottest new printable niche for your low content publishing business! You can learn to easily edit and create new unique printables and products that you can sell for profit.
Introducing The…
Create Calendar-Based Products Coaching Workshop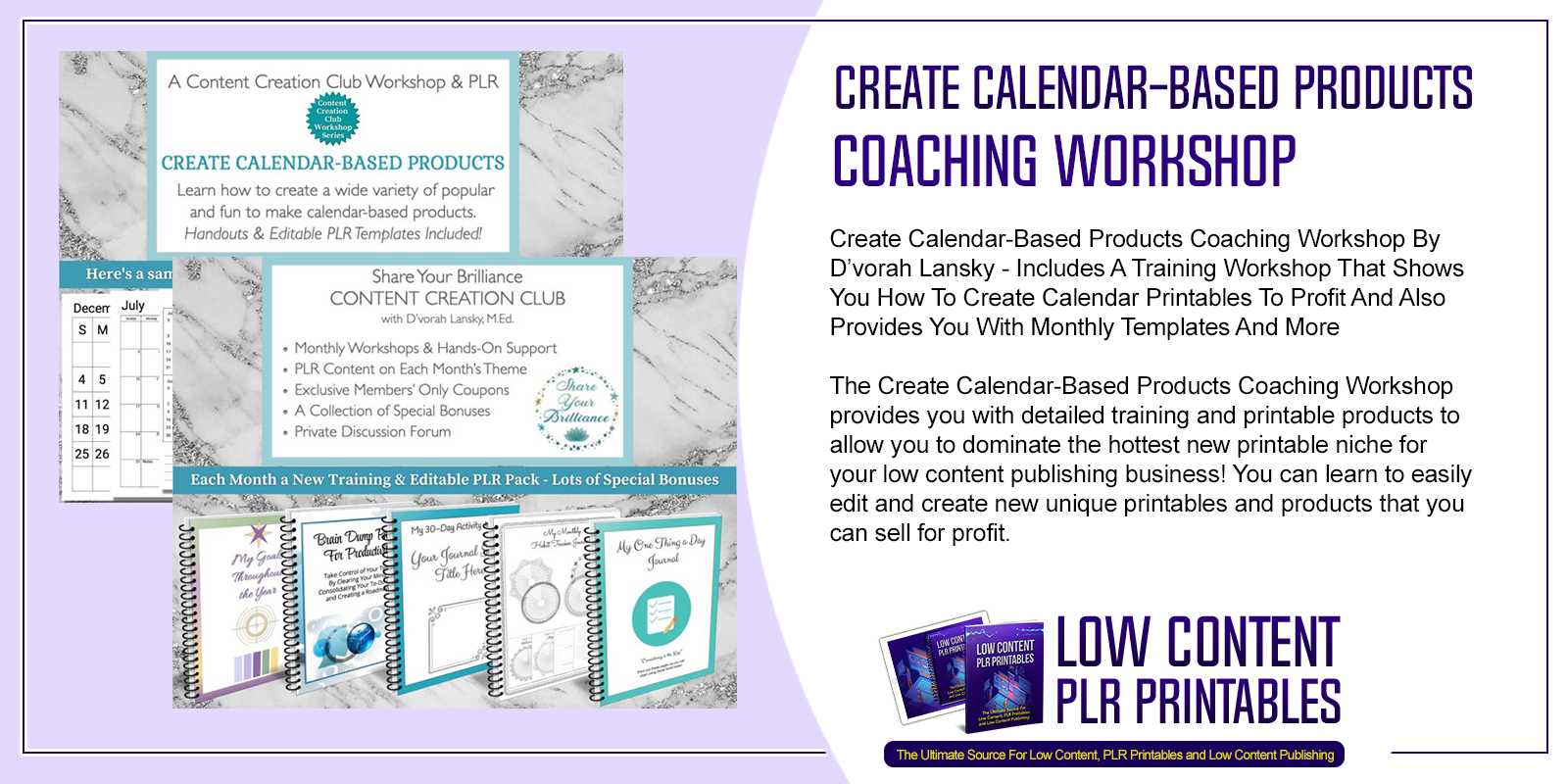 This is exactly what you could be getting in the The Create Calendar-Based Products Coaching Workshop:
This Month's Featured Workshop: Create Calendar-Based Products. In this workshop, they'll explore a variety of fun to make calendar-based products that you can add to your product line. Calendar-based products are in high demand and people always need them. They are also perfect products for repeat purchases. Handouts and editable calendar-based PLR templates are included.
Option 1: Get this month's featured
Workshop & Templates A La Carte.
Register for This Month's Workshop and Template Pack. The collection of templates are related to the workshop topic and include Commercial Use Rights!
Save $10 with Code: SAVE10
Option 2: Become a Club Member and get this month's workshop Plus a Collection of Bonuses
Become a Content Creation Club Member and Get this Month's Workshop and Template Pack PLUS a Wonderful Collection of Special Bonuses.
You Get Instant Access to the Club content and this month's featured workshop!
As a member, you get access to their Monthly Training calls. During their calls, you'll learn more ways to create, produce and/or publish, a variety of products. You'll also have the opportunity to get personalized feedback on your projects and product ideas. These monthly webinars are of course recorded to meet the varying schedules and time zones of their members. You get access to the live sessions as well as the replays.
Each month you'll also receive a new, editable planner or workbook, with commercial use rights. These are designed to make it easy for you to create products that you can use and sell.
Club Members also receive special discounts on all of our products, plus an exclusive "super coupon" on featured products or programs.
This monthly membership program is flexible, easy and fun. In addition to your content, you'll have access to their supportive and interactive discussion forum and monthly workshops.
Club Members Enjoy This Collection of Special Bonuses
Bonus Collection of Personal Use Planners
Enjoy this collection of worksheets, planners and checklists. Get lots of ideas for types of products you can create.
Bonus Collection of Commercial Use Products
This collection of commercial use products and planners can be added to your content creation library. Have fun creating!
Bonus Series of Training Workshops
Enjoy this series of bonus workshops on a variety of productivity and content creation strategies.
What you CAN do with ShareYourBrilliance.com Private Label Commercial Rights content:
Your commercial use rights allow you to edit and brand this product as your own and resell or give away the completed versions in PDF format only.
What you CANNOT do with ShareYourBrilliance.com Private Label Commercial Rights content:
You may NOT share the source PowerPoint files or pass the commercial use license on to your customers.
The Create Calendar-Based Products Coaching Workshop is just for you if you're looking for a printable workshop that can be used to learn and create your own unique printables when purchased! Perfect for you if you have a publishing business and are looking for new product ideas. Click the link below to learn more!
Get a special discount if you purchase products on the Share Your Brilliance PLR Planners and Journals Store, use the coupon code below to save 20% off ANY products at ShareYourBrilliance.com.
MOZIE20
See The Share Your Brilliance PLR Planners and Journals Store For Yourself – Click Here
Other Products You Might Like