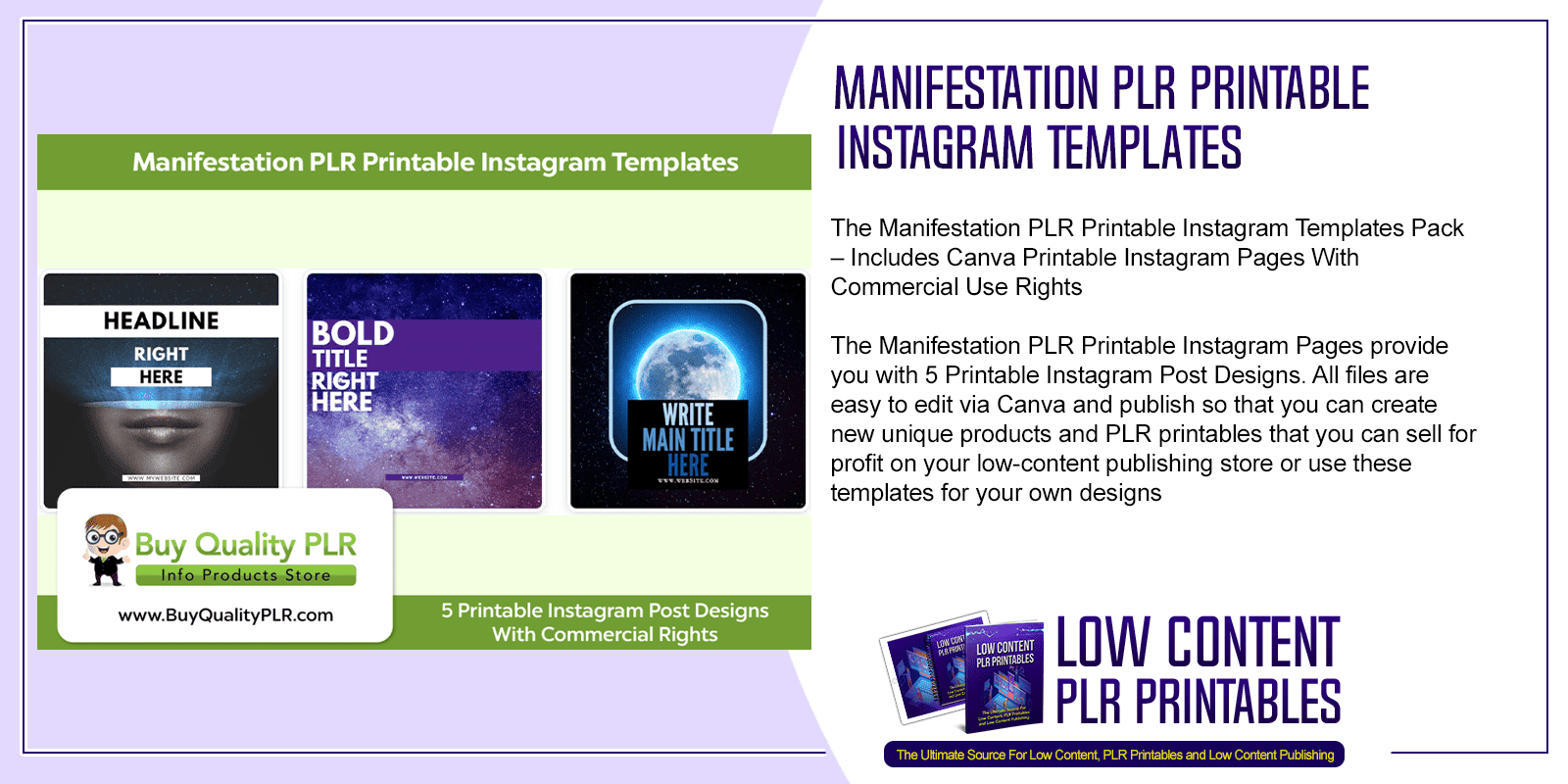 Choose Your Desired Option(s)
#ManifestationPLRPrintable #InstagramTemplates #manifestationprintables #manifestationtemplates #canvaprintables #canvagraphics #canvatemplates #instagram #instagramtemplates #commercialuserights #commercialuse #templates #designs #publishing #buyqualityplr #instagramposts #instagramdesigns #instagrampack #graphics #plrgraphics #printondemand #doneforyou
The Manifestation PLR Printable Instagram Templates Pack – Includes Canva Printable Instagram Pages With Commercial Use Rights
The Manifestation PLR Printable Instagram Pages provide you with 5 Printable Instagram Post Designs. All files are easy to edit via Canva and publish so that you can create new unique products and PLR printables that you can sell for profit on your low-content publishing store or use these templates for your own designs.
Introducing The…
Manifestation PLR Printable Instagram Templates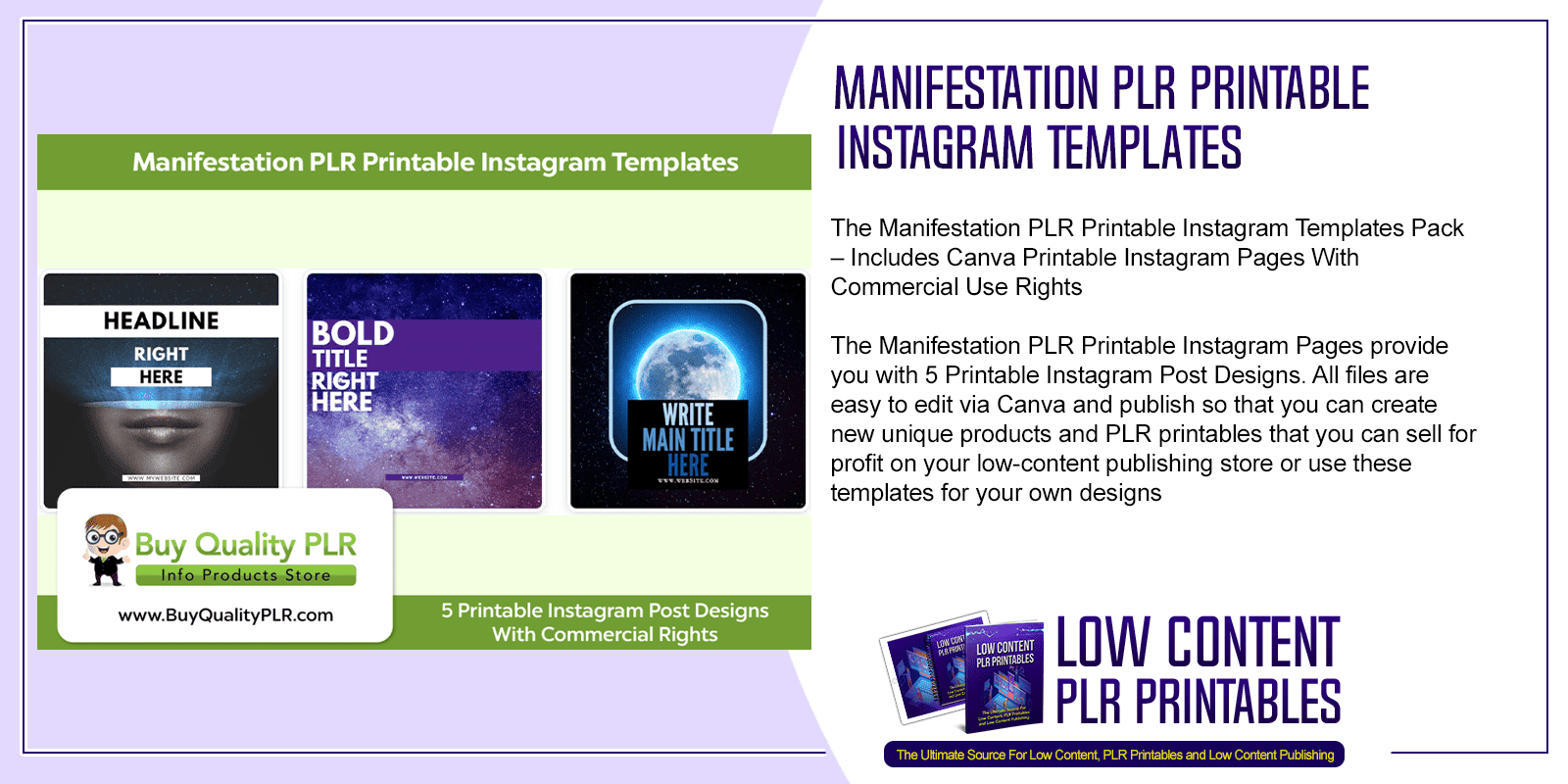 Here's exactly what you're getting in this Editable Manifestation PLR Printable Instagram Designs:
Are you looking to create engaging and eye-catching Instagram posts to promote your manifestation products, personal development content, or spiritual teachings? Look no further than Manifestation PLR Printable Instagram Templates. This comprehensive package offers a collection of professionally designed templates that are ready to use and fully customizable. With its high-quality graphics and easy-to-edit format, you can create stunning Instagram posts that resonate with your audience and boost your online presence.
Here are the key features and benefits of Manifestation PLR Printable Instagram Templates:
Beautifully Designed Templates:
The package includes a wide range of visually appealing templates that are specifically designed for Instagram. These templates feature captivating layouts, inspiring imagery, and attention-grabbing typography, all focused on manifestation and personal development themes. Each template is thoughtfully crafted to help you convey your message effectively and connect with your Instagram followers.
Customizable and Editable:
With Manifestation PLR Printable Instagram Templates, you have full control over the design elements. The templates are easily customizable using editing software like Canva or Adobe Photoshop. You can add your own text, change the colors, adjust the layout, and insert your branding elements to create a cohesive and personalized look for your Instagram posts.
Time-Saving Solution:
Creating visually appealing Instagram posts from scratch can be time-consuming. With Manifestation PLR Printable Instagram Templates, you can save valuable time and effort. The templates are pre-designed and ready to use, allowing you to quickly create professional-looking posts without starting from a blank canvas. This is especially beneficial for busy entrepreneurs, coaches, and content creators who want to maintain a consistent Instagram presence.
Engage Your Audience:
The templates in this package are specifically designed to capture attention and engage your Instagram audience. They incorporate motivational quotes, uplifting messages, and imagery that align with the manifestation and personal development niche. By using these templates, you can inspire and motivate your followers, spark conversations, and encourage them to take action towards their goals.
Versatile Usage:
Manifestation PLR Printable Instagram Templates are not only ideal for personal use but also suitable for entrepreneurs, coaches, influencers, and digital marketers in the manifestation and personal development space. Whether you're promoting an e-book, an online course, or simply sharing inspirational content, these templates provide a versatile solution to enhance your Instagram marketing efforts.
Commercial Use Rights:
One of the advantages of this PLR (Private Label Rights) product is that it comes with commercial use rights. This means that you can use the templates to create Instagram posts for your own business or offer social media design services to clients. You have the flexibility to customize, brand, and monetize the templates to suit your specific needs and goals. Don't miss out on the opportunity to enhance your Instagram presence with Manifestation PLR Printable Instagram Templates. Unlock the power of visually stunning and engaging posts that align with your manifestation and personal development brand. Whether you're a solopreneur, coach, or digital marketer, these templates provide a convenient and effective solution for captivating your Instagram audience and promoting your offerings. Get your hands on this package today and elevate your Instagram marketing game.
You Get:
5 Instagram Post PLR Printable Designs
Editable Canva Templates Link
Commercial Use License
Here Are All of The Instagram Graphics You'll Be Getting:
The Editable Manifestation PLR Printable Instagram Graphics is just for you if you're looking for printable Instagram graphics that can be used to create your own unique printables and profit! Perfect for you if you have a publishing business and are looking for new products or printables.
Click the button below to purchase this product!
See The Manifestation PLR Printable Instagram Template For Yourself – Click Here
Your Package Details:
5 Individual Printable Instagram Graphics In Canva, PNG, PDF, And PowerPoint Format
Total File Download Size – 45.6 MB
Here are the Licence Terms:
What You Can Do:
You can sell this product in a non-editable format like PDF to sell to your customer for personal use.
You can sell this product as a physical product.
You can use this product to build an email list.
You can edit the product and brand it with your name and company branding.
You can resell the product as your own.
You can include the product in a bundle or package.
What You Cannot Do:
You cannot sell this product with PLR or resell rights. This license is for you only.
You cannot sell this product with its editable source files.
Set a fair price when you sell and do not give the product away for free unless you're using it to build an email list
Get up to 30% off from our trusted partner BuyQualityPLR with this coupon code:
LCPP
See The Manifestation PLR Printable Instagram Template For Yourself – Click Here
Other Products You Might Like