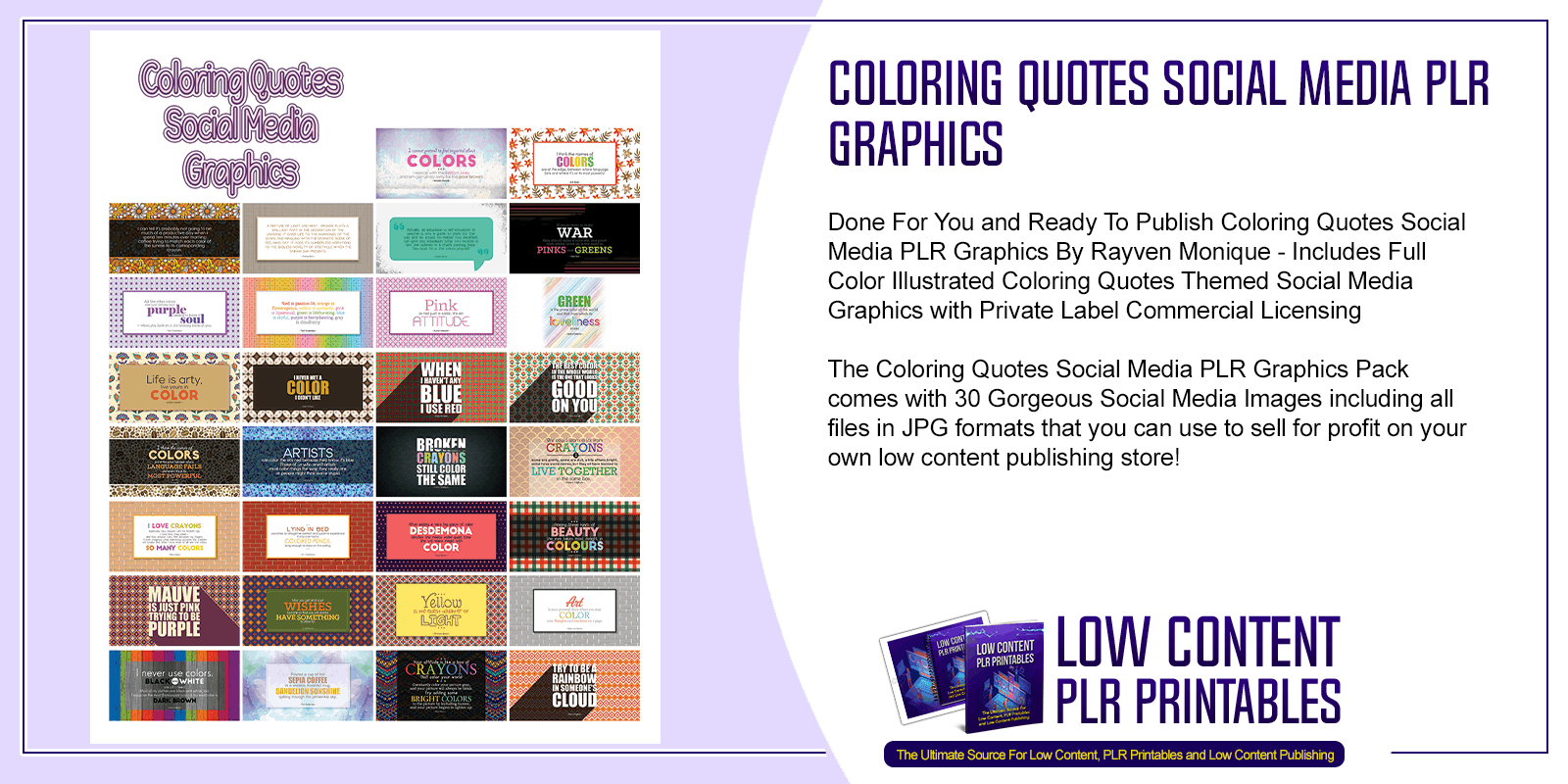 Choose Your Desired Option(s)
#coloringquotes #socialmediaplr #graphics #plrgraphics #quotescoloringpages #coloringpages #Plrcoloringpages #coloringpagesplr #doneforyou #readytopublish #publishing #kidscoloringpages #adultcoloringpages #printables #plrprintables #socialmediagraphics #socialmediaimages #rayvenmonique #illustratedcoloringquotes #themedgraphics #lowcontent #lowcontentpublishing
Done For You and Ready To Publish Coloring Quotes Social Media PLR Graphics By Rayven Monique – Includes Full Color Illustrated Coloring Quotes Themed Social Media Graphics with Private Label Commercial Licensing
The Coloring Quotes Social Media PLR Graphics Pack comes with 30 Gorgeous Social Media Images including all files in JPG formats that you can use to sell for profit on your own low content publishing store!
Introducing The…
Coloring Quotes Social Media PLR Graphics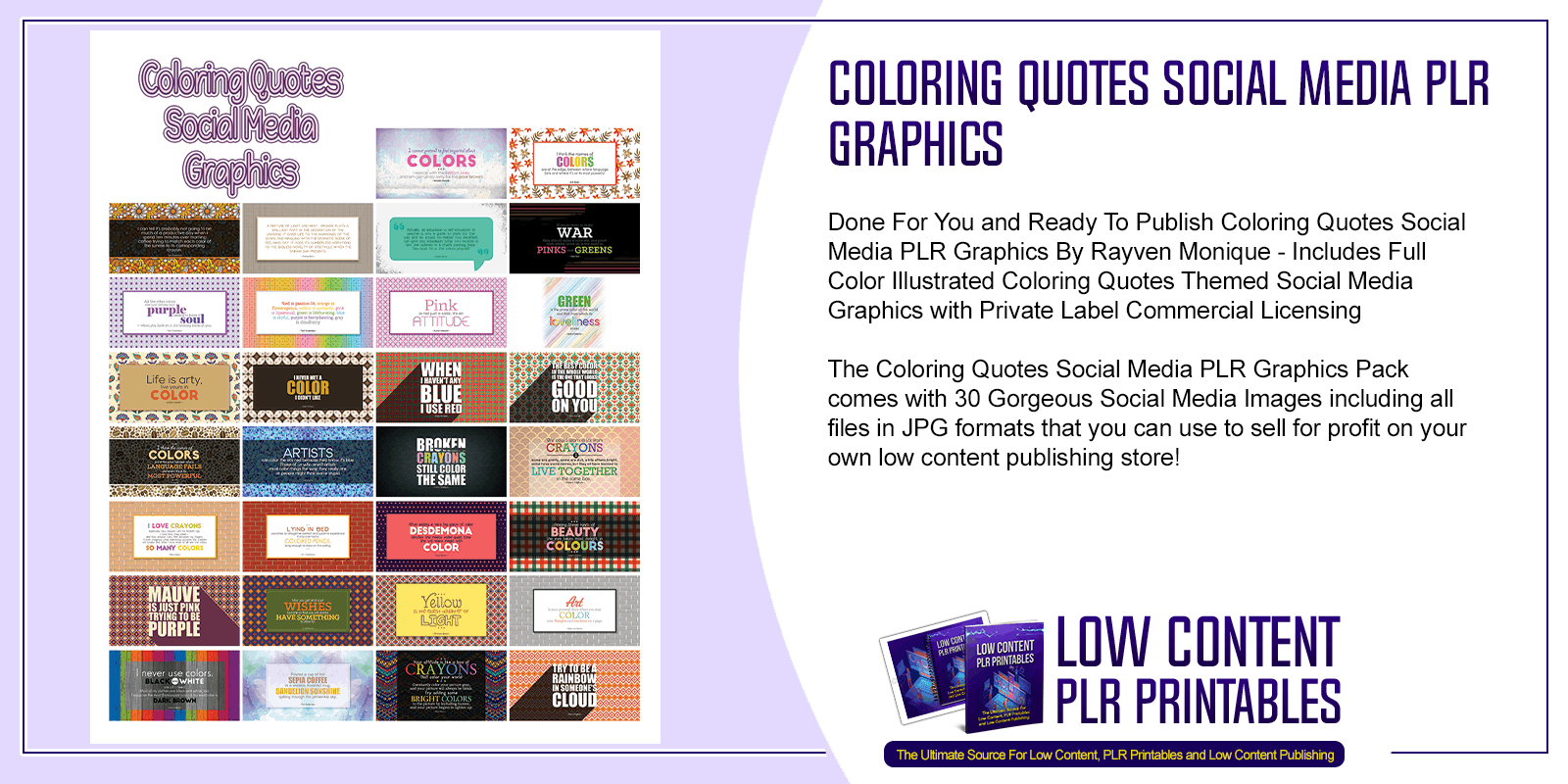 This is exactly what you will be getting in this Coloring Quotes Social Media PLR Graphics Pack:
This Bundle Includes The Following Full Color Illustrated Coloring Quotes-Themed Social Media Graphics:
I can tell it's probably not going to be much of a productive day when I spend ten minutes over morning coffee trying to match each color of the sunrise to its corresponding crayon. ~Terri Guillemets
A mixture of light and heat… orange plays a brilliant part in the decoration of the universe. It gives life to the harmonies of the dawn, and mingling with the dramatic scene of declining day, it adds its numberless vibrations to the endless novelty of spectacle which the sinking sun presents. ~Charles Blanc
Actually, all education is self-education. A teacher is only a guide, to point out the way, and no school, no matter how excellent, can give you education. What you receive is like the outlines in a child's coloring book. You must fill in the colors yourself. ~Louis L'Amour
If people want to make war they should make a color war, and paint each others' cities up in the night in pinks and greens. ~Yoko Ono
I think the names of colors are at the edge, between where language fails and where it's at its most powerful. ~A.S. Byatt
I cannot pretend to feel impartial about colors. I rejoice with the brilliant ones and am genuinely sorry for the poor browns. ~Winston Churchill
Green is the prime color of the world, and that from which its loveliness arises. ~Pedro Calderón de la Barca
Pink is not just a color, it's an attitude. ~Author Unknown
Red is passion-lit, orange is flowerageous, yellow is suntastic, pink is lipsensual, green is lifebursting, blue is skyful, purple is berrydancing, gray is cloudrainy. ~Terri Guillemets
All the other colors are just colors, but purple seems to have a soul — when you look at it, it's looking back at you. ~Terri Guillemets
Life is arty, live yours in color. -Author Unknown
I never met a color I didn't like. -Dale Chihuly
When I haven't any blue I use red. -Pablo Picasso
The best color in the whole world is the one that looks good on you. -Coco Chanel
Try to be a rainbow in someone's cloud. -Maya Angelou
Your attitude is like a box of crayons that color your world. Constantly color your picture gray, and your picture will always be bleak. Try adding some bright colors to the picture by including humor, and your picture begins to lighten up. ~Allen Klein
We could learn a lot from crayons; some are sharp, some are pretty, some are dull, while others bright, some have weird names, but they all have learned to live together in the same box. -Robert Fulghum
Broken crayons still color the same -Trent Shelton
Artists can color the sky red because they know it's blue. Those of us who aren't artists must color things the way they really are or people might think we're stupid. ~Jules Feiffer
I think the names of colors are at the edge, between where language fails and where it's at its most powerful. ~A.S. Byatt
I love crayons—especially new crayons with no broken tips. I love how they smell—and how smooth they feel between my fingers. I love imagining what marvelous pictures the crayons will create. But what I love most of all are the colors—so many colors. ~Mary Wince
Lying in bed would be an altogether perfect and supreme experience if only one had a colored pencil long enough to draw on the ceiling. ~G.K. Chesterton
After eating a very big piece of cake, Desdemona decides she needs some quiet time. She will make magic with color. ~Patty Gannon
Among these kinds of beauty the eye takes most delight in colours. ~Joseph Addison
Poured a cup of hot sepia coffee in a wisteria flowered mug, dandelion sunshine spilling through the periwinkle sky. ~Terri Guillemets
I never use colors. Black and white are all I need. Most of my clothes are black and white, too. I suppose the most flamboyant color in my wardrobe is dark brown. ~Leonard Baskin
Art is your personal diary where you may color your thoughts and emotions on a page. ~Sara, Los Cerros
Yellow is the eldest daughter of light… ~Charles Blanc
May you get all of your wishes but one so that you will always have something to strive for. -An Irish Blessing
Mauve is just pink trying to be purple. ~James Abbott McNeill Whistler
All files in JPG.
Private Label Rights!
Get The Coloring Quotes Social Media PLR Graphics For Yourself – Click Here
The Coloring Quotes Social Media PLR Graphics Licensing Terms:
All images are in JPG and PDF format to make it easy for you to either edit, or use as-is. Because of the unique form of PLR as coloring pages, it's super important you read this licensing agreement completely.
Purchasers have full permission to:
Alter/rebrand the pages/elements of the pages in any way
Create merchandise with the pages/elements of the pages
Create a membership site selling coloring pages
Sell the coloring pages as a package, or element of a larger package/product
Offer pages as a bonus for a paid product or membership
Offer pages as a resource within a paid membership
Offer the pages as a bonus for paying clients
Print the pages and give them away to customers or members in person
Print the pages and sell them to customers or members in person
Offer the pages as an optin resource
You may NOT use Color Monthly's name (or Rayven's, for that matter).
You may NOT publish the content for free on the web. (this protects everyone's investment)
You may NOT resell the PLR rights to any images in any package.  
The Coloring Quotes Social Media PLR Graphics is just for you if you're looking for amazing social media coloring pages or books in the theme of full color social media images! You can buy them for your own use or simply sell it for profit. Perfect if you have your own publishing business and are looking for new products or coloring books to add to your store. If you want new social media graphics this package is for you too. Click the link below to learn more!
Get The Coloring Quotes Social Media PLR Graphics For Yourself – Click Here
Other Products You Might Like