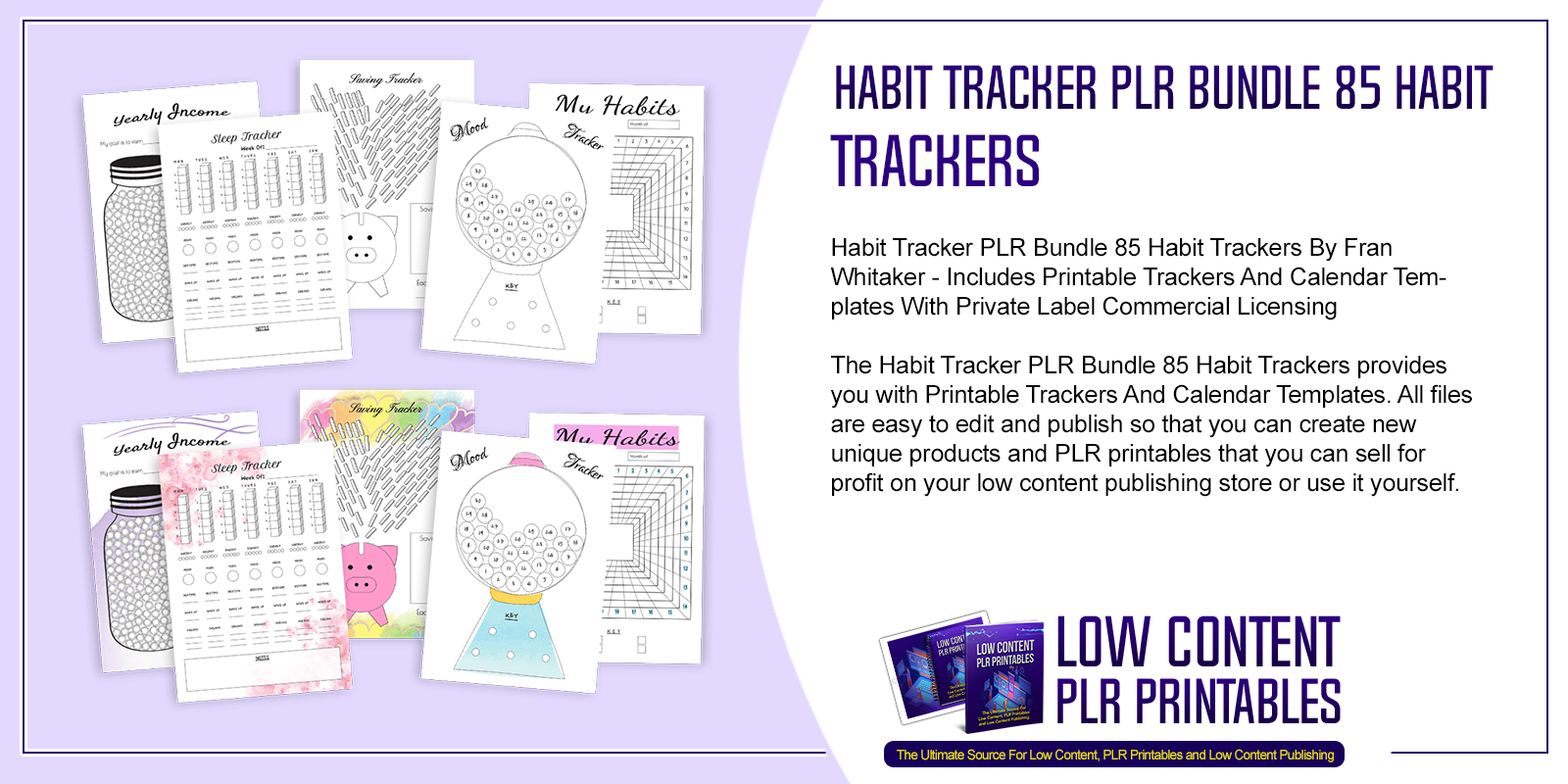 Choose Your Desired Option(s)
#HabitTrackerPLRBundle #85HabitTrackers #habittracker #habittrackers #printabletracker #habittrackerbundle #franwhitaker #thehappyjournalsclub #thehappyjournals #printabletrackers #trackertemplates #trackerprintables #calendar #calendartemplates #habits #trackyourhabits #printondemandplr #doneforyouplr #commercialuserights #publishing #publish #selfpublish
Habit Tracker PLR Bundle 85 Habit Trackers By Fran Whitaker – Includes Printable Trackers And Calendar Templates With Private Label Commercial Licensing
The Habit Tracker PLR Bundle 85 Habit Trackers provides you with Printable Trackers And Calendar Templates. All files are easy to edit and publish so that you can create new unique products and PLR printables that you can sell for profit on your low content publishing store or use it yourself.
Introducing The…
Habit Tracker PLR Bundle 85 Habit Trackers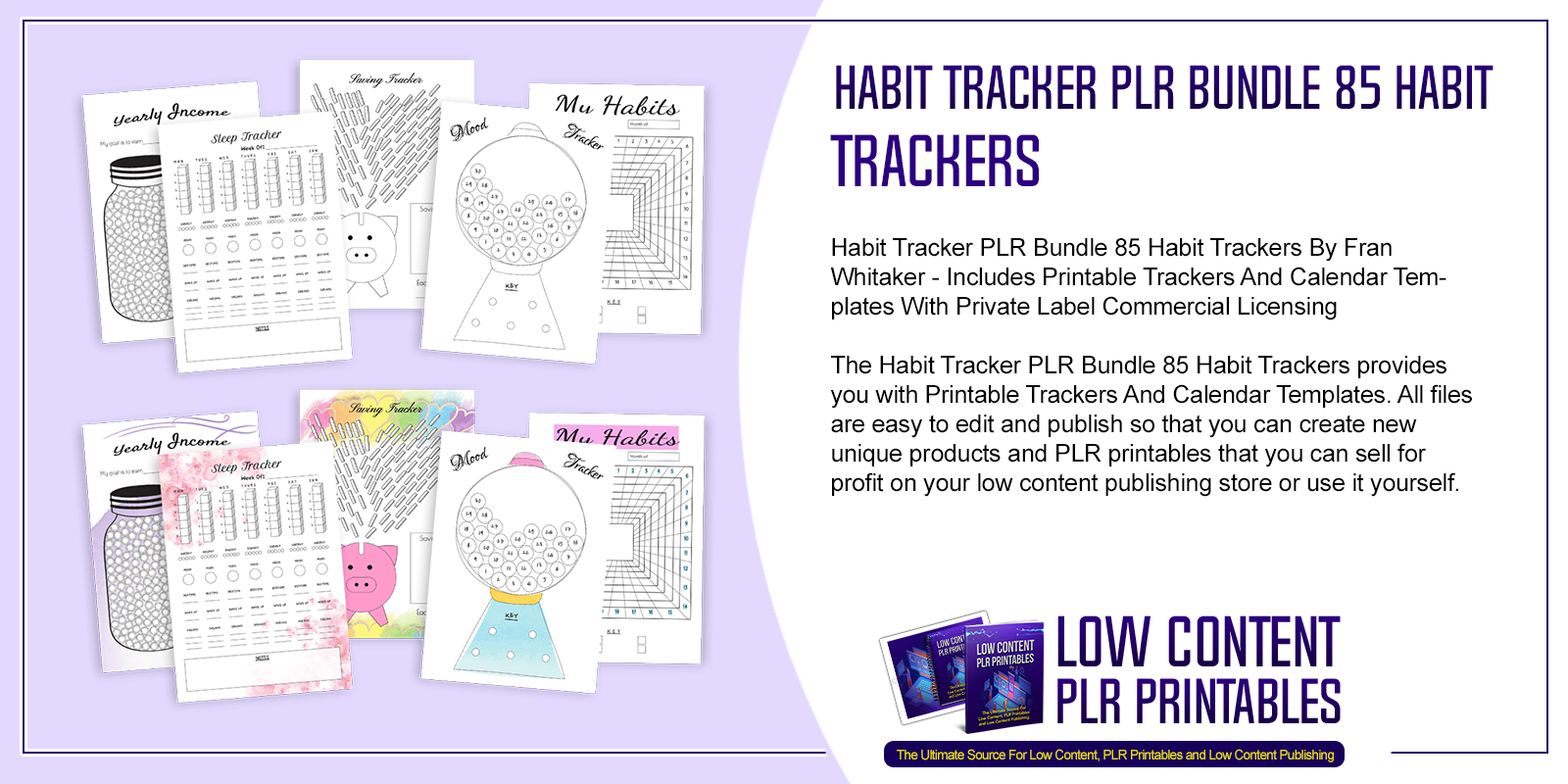 This is exactly what you could be getting in the The Habit Tracker PLR Bundle 85 Habit Trackers:
Teach your customers how to track their new habits with the PLR Habit Tracker Bundle
Check out all the incredible content you'll have for effortlessly creating products your loyal customers will adore
16 Yearly Trackers and Challenge Trackers
19 Weekly and Monthly Trackers
20 Self-Care Trackers and Sleep Trackers
10 Finance Trackers
10 Career and Business Trackers
10 Mood Trackers
3 Years of Drop-in Mini Calendars, Drop-in Progress Bars & all Fonts Used
To top this all off, you'll also get 72 mini calendars and progress bars that you can drag & drop into anything you wish. These come in PNG format, with both white-fill and no fill. Plus, you'll get all the fonts used in the templates so you don't have to worry about hunting them down.
This PLR Habit Tracker Bundle you'll be able to help your customers with all these benefits:
PLR Habit Tracker Bundle, habit tracker bundle 2021, printable habit tracker templates, habit tracker templates,habit tracker bullet journal ideas
Habit tracking often has a positive knock on effect to other areas of our lives
Habit trackers provides us with proof of progress & success that we can actually see
Habit trackers helps us to build us momentum with our goals
Habit trackers help to hold us accountable to our goals
Tracking habits helps to identify and break bad habits
Tracking habits help us to keep moving towards our goals at all times
All sets of trackers come in two versions: without decoration (simple black and white) and with decoration. Both versions offer super flexibility and are easy to edit.
TWO 6×9″ Sets of Tracker templates.
TWO 8.5×11″ Sets of Tracker templates.
Plus TWO A4 Sets of Tracker templates
Editable PowerPoint files templates – super flexible.
Plus Ready to go PDF files
PLUS all font files included
Make The PLR Habit Tracker Bundle your own!
Numerous Templates To Maximise Sales
With very little effort, the PLR Habit Tracker Bundle gives you the power and flexibility to create hundreds of journals, worksheets, and printables.
You can either give these away as lead magnets and bonuses or sell them for profit to help your business' bottom line.
Full Private Label Rights
You can create unlimited journals and tools for personal & commercial use.
You can give your finalised journals and tools away (as gifts, as lead magnets, etc.)
Sell on Etsy, Amazon or your own website for profit.
You can use your own or company name as author of all journals, tools, & written materials
Ready To Go AND Fully Editable Versions
All templates come ready to use as PDF files and fully editable in Powerpoint.
In Powerpoint it is super easy to edit pages, move them around, delete and duplicate them. You can make multiple, high quality journals in minutes! Trust me, your productivity will sky rocket!
See The Habit Tracker PLR Bundle 85 Habit Trackers For Yourself – Click Here
What does your PLR license allow/not allow?
The Happy Journals PLR Club's licence is extremely flexible. The only limitations on there are to do with Amazon's KDP publishing services. These limitations have more to do with Amazon's rules rather than our own. Amazon requires you to make changes to your private label rights templates before you upload them to KDP – if you do not you may find they will not publish your books.
Pinterest Pin Templates are for you to promote your business. They cannot be sold.
If you are asking if you can re-sell private label rights templates as PLR so your customers can edit it and use it as their own, the answer is no.
If you're just looking to sell the product to your commercial customers and they cannot edit/re-sell your product, then yes. That is the point 🙂
The Habit Tracker PLR Bundle 85 Habit Trackers is just for you if you're looking for a printable trackers bundle that can be used to create your own unique printables and profit! Perfect for you if you have a publishing business and are looking for new products or printables. Click the link below to learn more!
Here's a coupon to get 25% off any products from Thehappyjournals.club
IMMOZIE25
See The Habit Tracker PLR Bundle 85 Habit Trackers For Yourself – Click Here
Other Products You Might Like