Choose Your Desired Option(s)
#EtsyShopBrandingKit #branding #plrprintables #carmenchan #simplyconturedesigns #publish #publishing #selfpublish #branding #graphics #brandinggraphics #printablebranding #brandingprintables #floralgraphics #abstractgraphics #commercialuse #commercialuse #graphicskit #printablegraphics #editableggraphics #printondemand #doneforyou #designs #editablegraphics
Etsy Shop Branding Kit By Carmen Chan – Includes Printable Branding Graphics Kit In Floral And Abstract Designs That Are Fully Editable In Canva With Commercial Use Rights
The Etsy Shop Branding Kit provides you with Printable Branding Graphics Kit In Floral And Abstract Designs That Are Fully Editable In Canva. All files are easy to edit so that you can create new unique products and PLR printables that you can sell for profit on your low content publishing store or use it yourself!
Introducing The…
Etsy Shop Branding Kit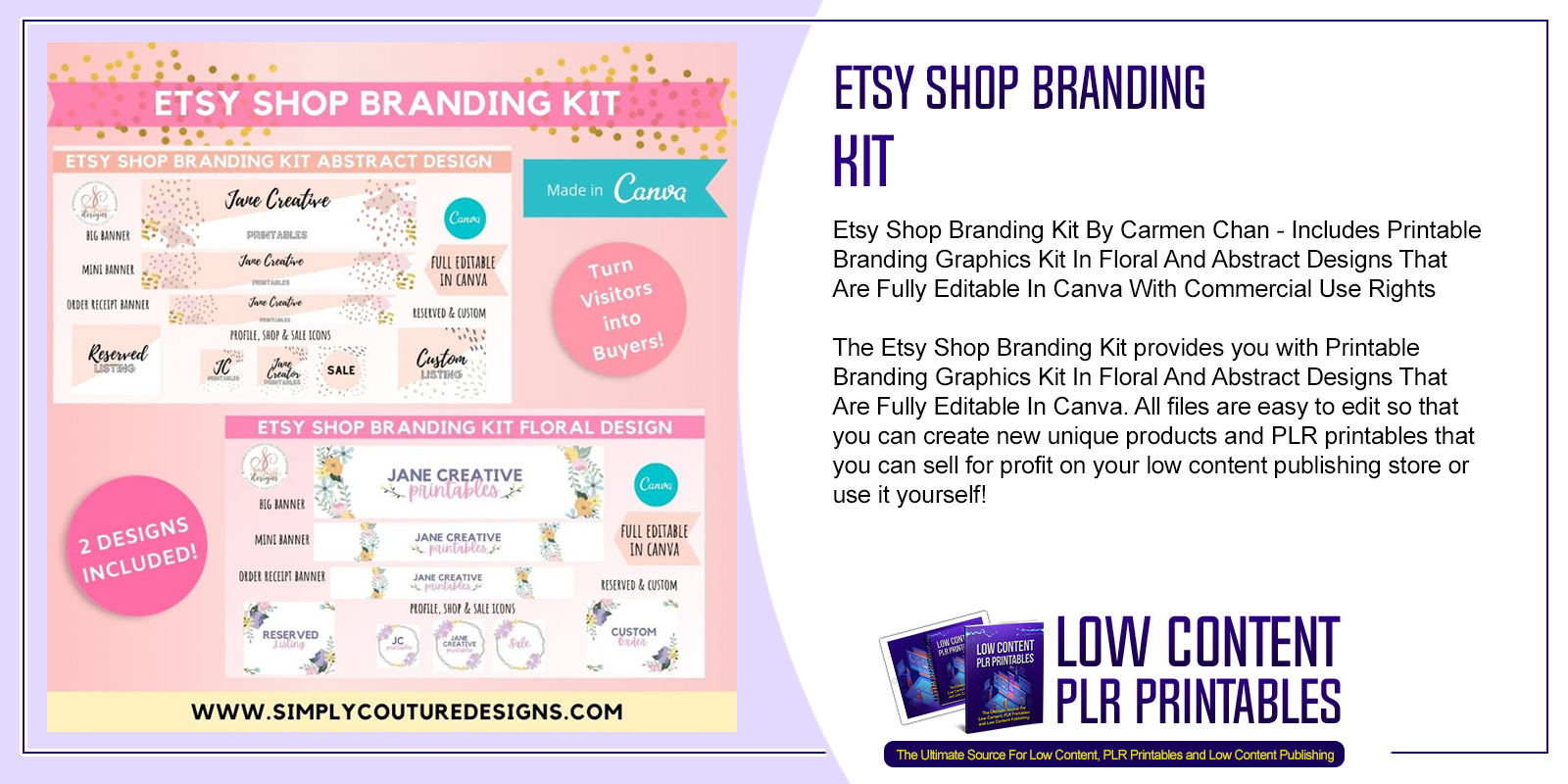 This is exactly what you could be getting in the Etsy Shop Branding Kit:
Etsy Shop Branding Kit
Include Two beautiful designs
Floral design with lovely flower and foliage elements
Abstract design with modern graphic elements
Fully editable in Canva. You can change colors, fonts, design elements easily.
Each design includes 8 different Etsy shop images:
Big banner
Mini banner
Order receipt banner
Reserved and Custom listings
Sales and Shop icons
Shop profile
Personal and Small Business Use for your own Etsy shop
See The Etsy Shop Branding Kit For Yourself – Click Here
License
All PLR and Commercial products from Simply Couture Designs PLR include Commercial License rights.
This means that you can customize the planner template source file and re-brand it to sell the finished flattened planner PDF as your own product.
The only thing is that you cannot sell the template source file itself and you cannot sell the finished planner with re-sell right.
For detail of the license, please refer to the License File that comes with each PLR and Commercial product download.
The Etsy Shop Branding Kit is just for you if you're looking for amazing new PLR printable branding pack that can be used to create your own unique printables when purchased and rebranded! You can also buy these printable graphics to sell on your store or use it for yourself. Perfect for you if you have a publishing business and are looking for new products or printable branding bundle. Click the link below to learn more!
See The Etsy Shop Branding Kit For Yourself – Click Here
Other Products You Might Like