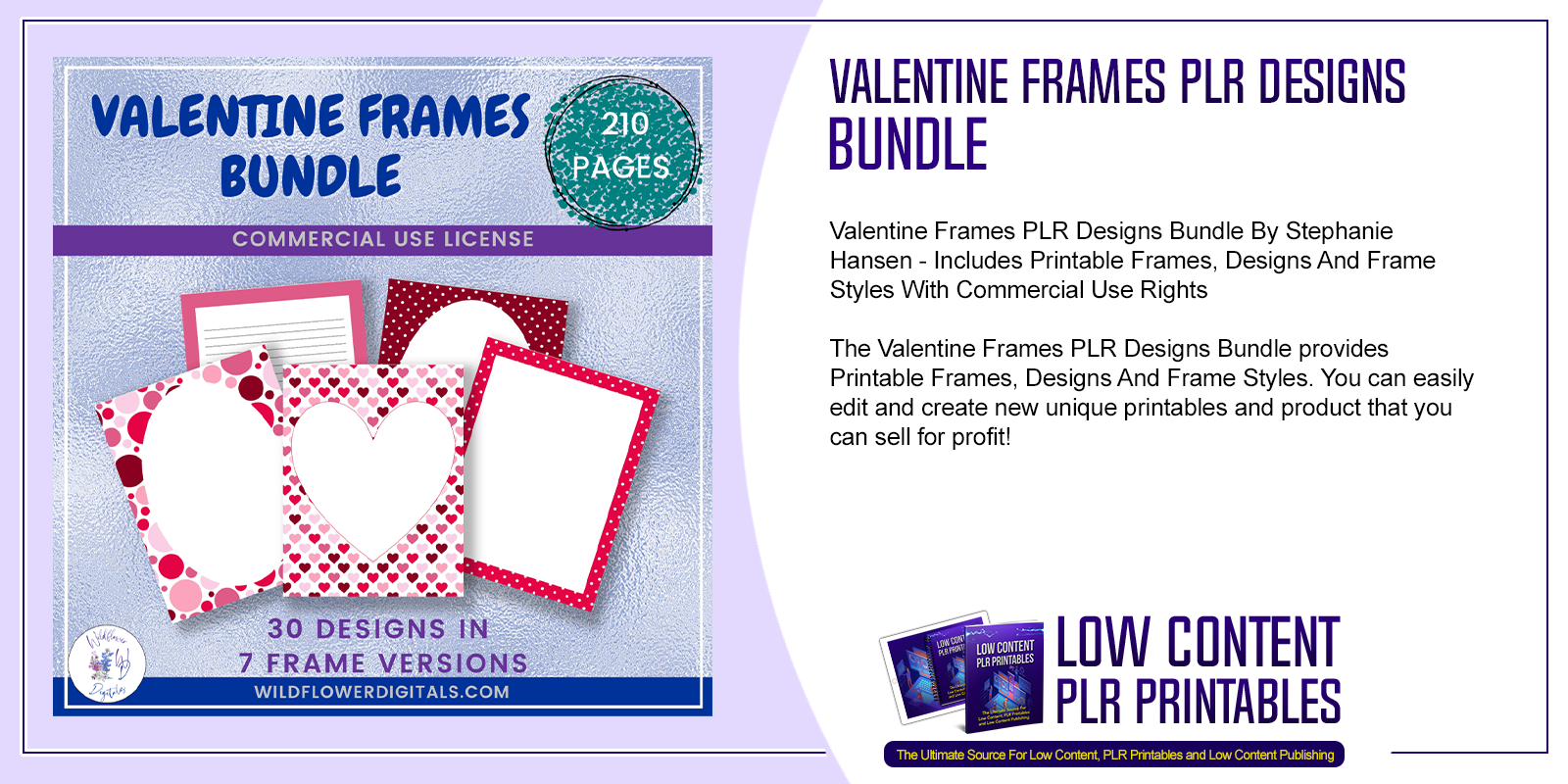 Choose Your Desired Option(s)
#ValentineFrames #PLRDesignsBundle #stephaniehansen #wildflowerdigitals #plrprintables #printables #frames #printableframes #designs #framestyles #commercialuserights #commercialuse #publish #selfpublish #selfpublish #printondemandplr #privatelabelrights #printabledesigns #printablegraphics #graphics
Valentine Frames PLR Designs Bundle By Stephanie Hansen – Includes Printable Frames, Designs And Frame Styles With Commercial Use Rights
The Valentine Frames PLR Designs Bundle provides Printable Frames, Designs And Frame Styles. You can easily edit and create new unique printables and product that you can sell for profit!
Introducing The…
Valentine Frames PLR Designs Bundle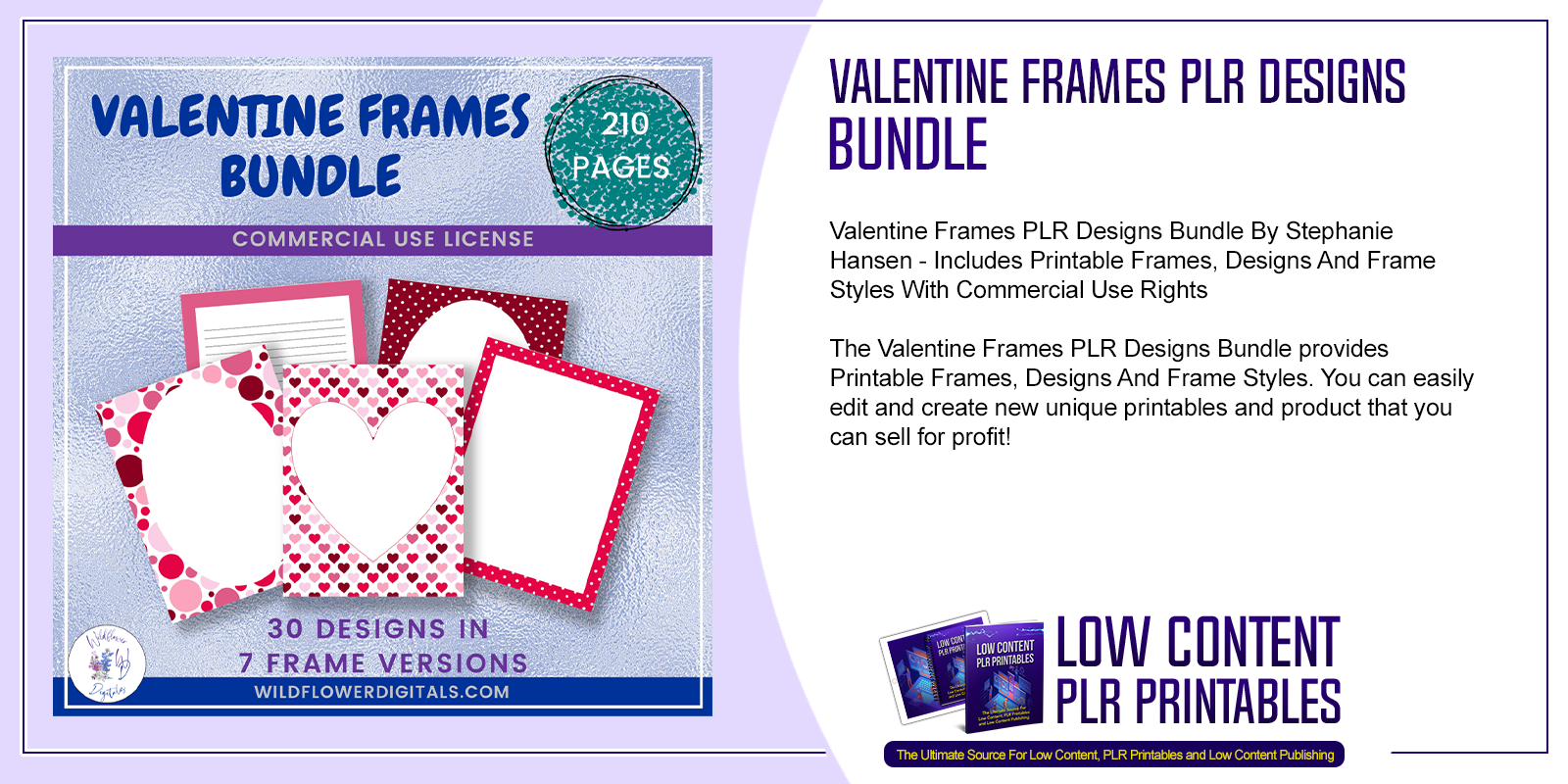 This is exactly what you could be getting in the Valentine Frames PLR Designs Bundle:
This Valentine Frames Bundle is a beautiful package of red- and pink-shaded designs that comes with 210 total frames — 30 designs, 7 frame styles — complete with commercial use rights so you can use them with:
– journals
– planners
– puzzles
– calendars
– and other projects
Mix and match for endless design ideas! These frames will enhance any of your creations simply and easily and make them stand out from the crowd, giving you multiple opportunities to benefit.
The frames come in 8.5″ x 11″ size and 300dpi JPG or PNG format, suitable for both digital and print designs.
Here's just some of the things you can do with these frames:
Use as journal pages
Add blocks or design elements for planners
Put puzzles on the pages
Turn into calendar pages
Include inspirational or motivational quotes
Change the colors in design software for completely new options
Bundle comes with a commercial use rights license so you can make and sell unlimited products.
210 designs total
7 frame versions, 30 designs each
Commercial use rights
8.5″ x 11″ pages
300 dpi designs
JPG or PNG (for transparent background designs) format in ZIP files
See The Wildflower Digitals PLR Printables and Digital Products For Yourself – Click Here
Commercial Use Rights
You may:
modify and use in an unlimited number of your own commercial or personal projects.
use for journals, planners, calendars, puzzle books, coloring books, card decks, notecards, etc.
use to create modified designs to sell to clients and others.
use as an opt-in gift.
You may not:
offer Private Label Rights, Resell Rights, or Master Resell Rights to the designs as-is.
share the source files (editable Powerpoint, Photoshop, or similar that may be included) with others.
sell as-is on auction sites, Etsy, Creative Fabrica, Creative Market, or similar ecommerce stores.
pass on any rights other than personal use rights to your customers.
use my name, brand(s), or website(s) in connection with your products.
The Valentine Frames PLR Designs Bundle is just for you if you're looking for printable designs pack and more that can be used to create your own unique products and profit! Perfect for you if you have a publishing business and are looking for new products or printables. Click the link below to learn more!
See The Wildflower Digitals PLR Printables and Digital Products For Yourself – Click Here
Other Products You Might Like