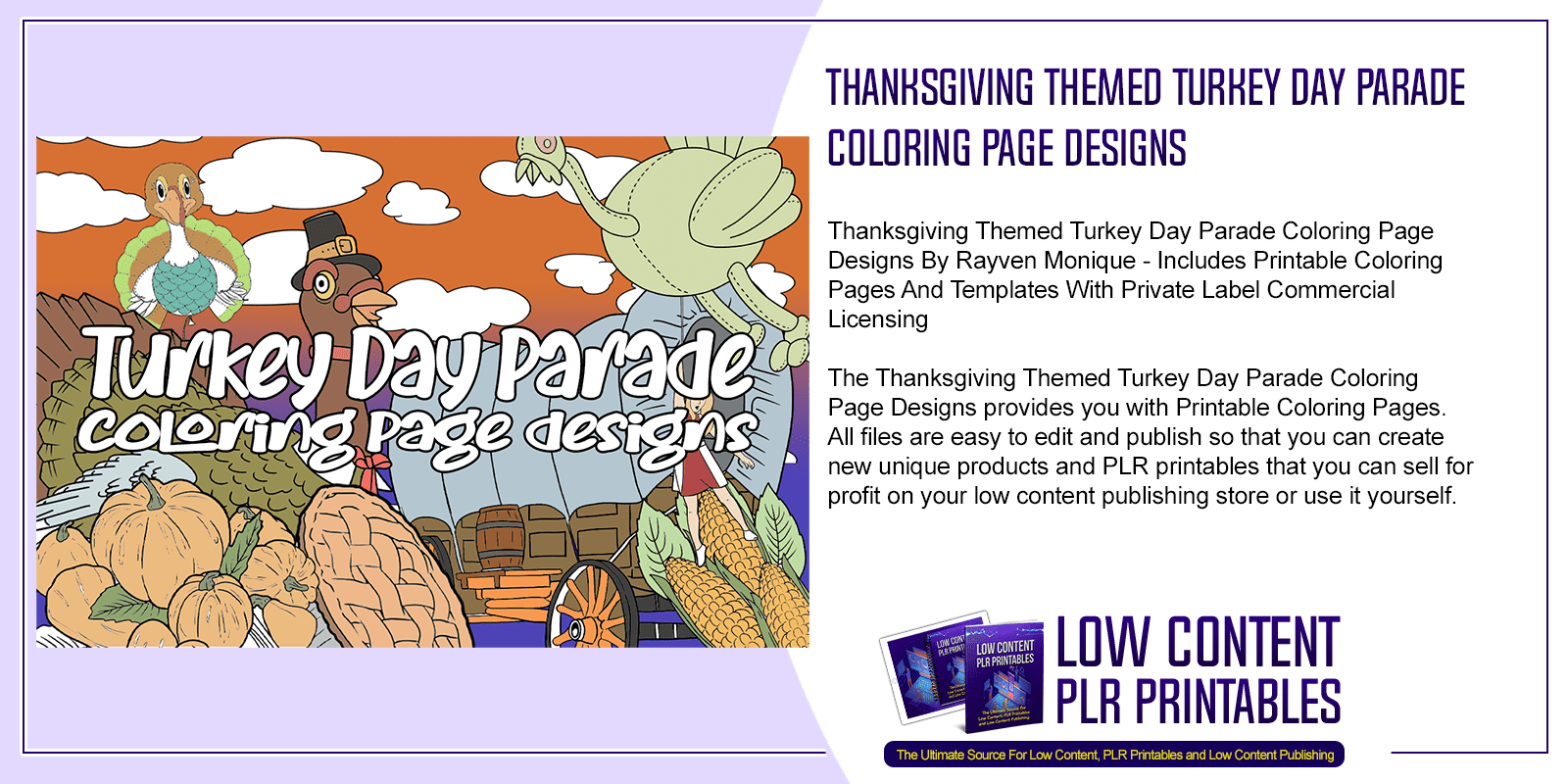 Choose Your Desired Option(s)
#ThanksgivingThemed #TurkeyDayParade #ColoringPageDesigns #thanksgiving #turkey #turkeyday #coloringpages #plrcoloringpages #plrprintables #lowcontentplr #rayvenmonique #templates #plrcoloringtemplates #printables #printable #publish #selfpublish #publishing #commercialuse #privatelabelrights #commercialuserights
Thanksgiving Themed Turkey Day Parade Coloring Page Designs By Rayven Monique – Includes Printable Coloring Pages And Templates With Private Label Commercial Licensing
The Thanksgiving Themed Turkey Day Parade Coloring Page Designs provides you with Printable Coloring Pages. All files are easy to edit and publish so that you can create new unique products and PLR printables that you can sell for profit on your low content publishing store or use it yourself.
Introducing The…
Thanksgiving Themed Turkey Day Parade Coloring Page Designs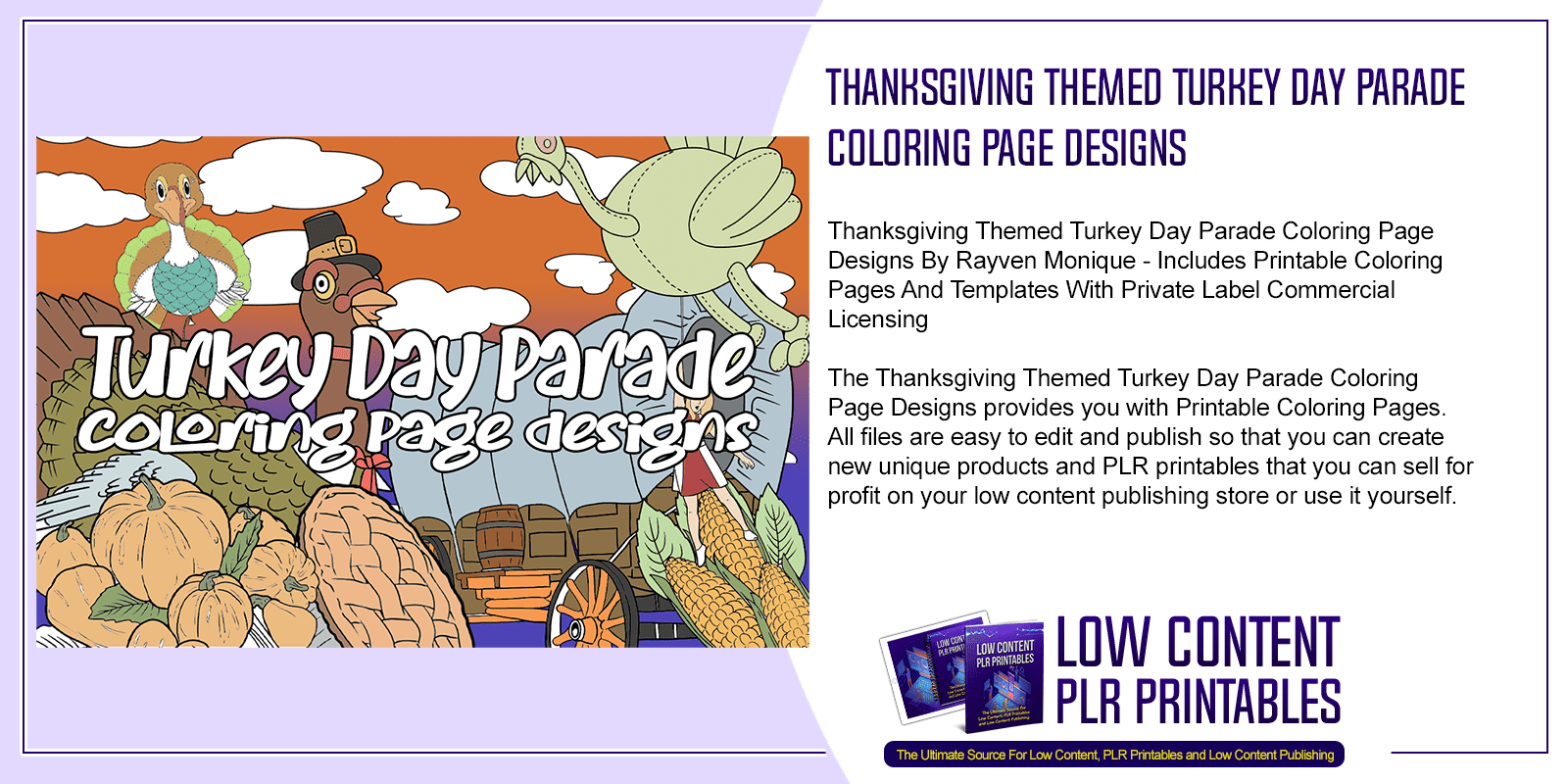 This is exactly what you could be getting in the Thanksgiving Themed Turkey Day Parade Coloring Page Designs:
This Bundle Includes The Following Beautifully Illustrated Thanksgiving Themed Coloring Pages:
"No duty is more urgent than that of returning thanks."- James Allen
"Be present in all things and thankful for all things." – Maya Angelou
"A thankful heart is not only the greatest virtue, but the parent of all other virtues." -Marcus Tullius Cicero
"The turkey. The sweet potatoes. The stuffing. The pumpkin pie. Is there anything else we all can agree so vehemently about? I don't think so." -Nora Ephron
"Thanksgiving is the meal we aspire for other meals to resemble." – Jonathan Safran Foer
"Gratitude is a divine emotion: It fills the heart, but not to bursting; it warms it, but not to fever." -Charlotte Brontë
Happy Thanksgiving Turkey Float
Turkeys on Cars
Turkey Balloons in Clouds
"When I started counting my blessings, my whole life turned around." – Willie Nelson
"Be thankful for what you have. You'll end up having more." – Oprah Winfrey
Happy Thanksgiving At Dinner Table
Turkey In Truck With Children Holding Pie
Dancers Leading Turkey Float
Happy Thanksgiving Large Mother Float
"Forever on Thanksgiving Day, the heart will find the pathway home." – Wilbur D. Nesbit
Thanksgiving Dinner in a Box Float
Children Leading Turkeys in Parade
Band Marching In Front of Turkey Float
Woman Getting Carried to Clouds By Turkey Balloon
All files in PDF, JPG and Private Label Rights!
See The Thanksgiving Themed Turkey Day Parade Coloring Page Designs For Yourself – Click Here
What you can't do with ColorMonthly.com PLR Content:
You may NOT use Color Monthly's name (or Rayven's, for that matter).
You may NOT publish the content for free on the web. (this protects everyone's investment)
You may NOT resell the PLR rights to any images in any package.
Why Choose The Color Monthly PLR Coloring Page Designs Shop?
Has an all access membership pass that rewards you with content and depending on which option you choose you could also get a 1 on 1 coaching session with Rayven.
Has a free printable product available that requires you to sign up.
By joining their membership you will be able to network with other low content producers.
The Thanksgiving Themed Turkey Day Parade Coloring Page Designs is just for you if you're looking for amazing new PLR printable bundle that can be used to create your own unique printables when purchased and rebranded! You can also buy these printable coloring pages to resell on your store or use it for yourself. Perfect for you if you have a publishing business and are looking for new products or printable templates and more. Click the link below to learn more!
See The Thanksgiving Themed Turkey Day Parade Coloring Page Designs For Yourself – Click Here
Other Products You Might Like