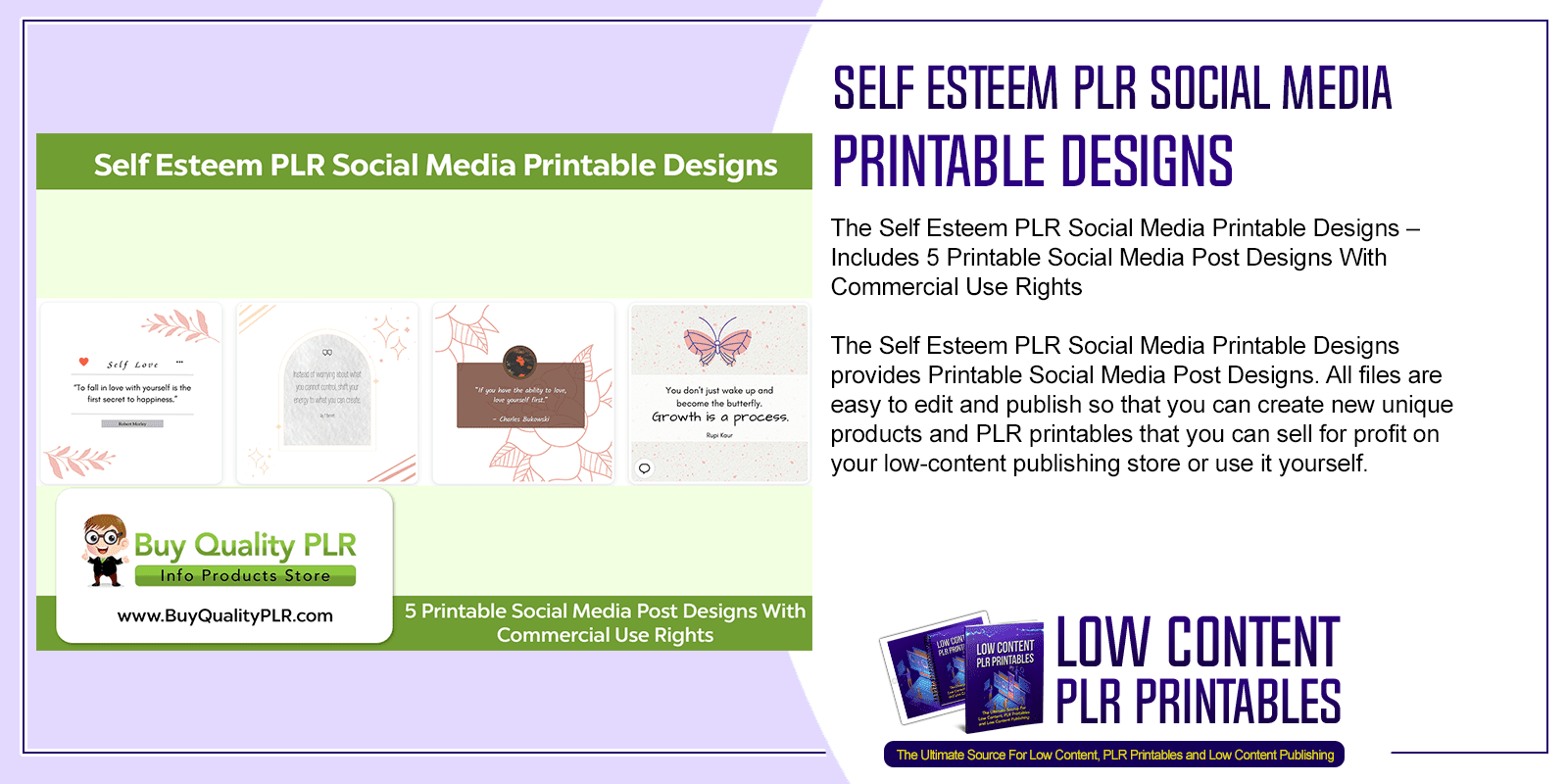 Choose Your Desired Option(s)
#SelfEsteemPLRSocialMedia #PrintableDesigns #graphics #posters #socialmedia #socialmediaprintables #socialmediaposts #socialmediamarketing #plrprintables #lowconentplr #printondemand #doneforyou #designs #printablepages #printabledesigns #socialmediagraphics #selfesteem #selflove #selfesteemprintables #selfloveprintables #buyqualityplr #commercialuserights #commercialuse
The Self Esteem PLR Social Media Printable Designs – Includes 5 Printable Social Media Post Designs With Commercial Use Rights
The Self Esteem PLR Social Media Printable Designs provides Printable Social Media Post Designs. All files are easy to edit and publish so that you can create new unique products and PLR printables that you can sell for profit on your low-content publishing store or use it yourself.
Introducing The…
Self Esteem PLR Social Media Printable Designs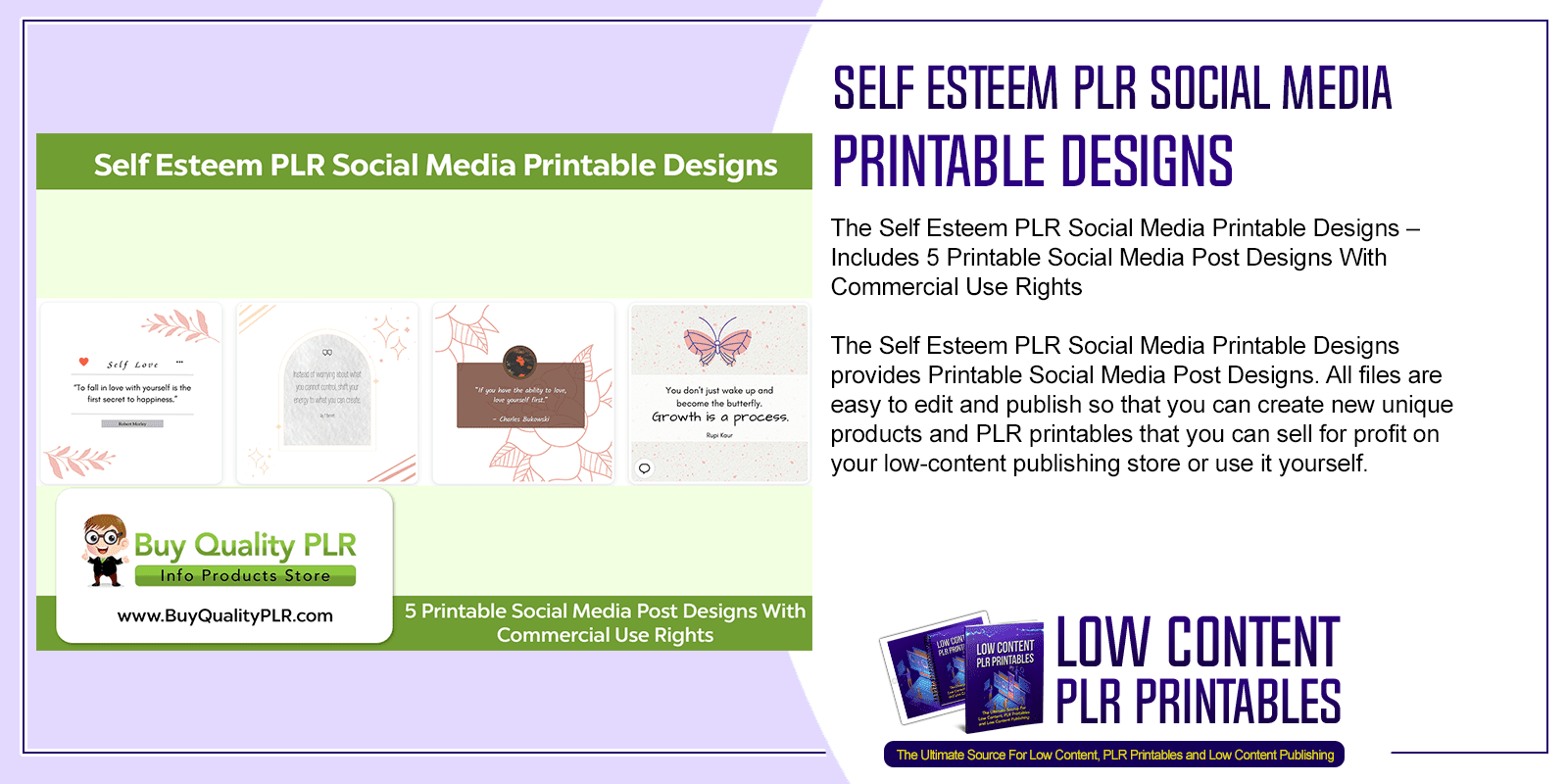 Here's exactly what you're getting in the Self-Esteem PLR Printable Designs Pack:
Are you looking for high-quality PLR content on the topic of self-esteem? Look no further than BuyQualityPLR.com! Our Self-Esteem PLR package includes a range of materials that will help you create engaging content for your audience, including social media posts and printable designs. Our package also includes ready-to-use social media posts, so you can quickly and easily engage with your followers on Facebook, Twitter, and other social platforms. With eye-catching graphics and attention-grabbing text, these posts are perfect for building your online presence and driving traffic to your website.
At BuyQualityPLR.com, we pride ourselves on providing high-quality content that our customers can trust. All of our PLR materials are written by experienced professionals and thoroughly vetted for accuracy and quality. So if you're ready to take your content marketing strategy to the next level, invest in our Self-Esteem PLR package today! With our expertly crafted content and ready-to-use social media posts and printable designs, you'll be well on your way to building a loyal and engaged audience.
You Get:
5 Printable Social Media Page Graphics
Commercial Use License
Including These Self-Esteem PLR Designs, You Can Use For Your Social Media Below:
Self Love – To Fall Inlove With Yourself Is The First Secret To Happiness – Robert Morley
Instead Of Worrying ABout What You Cannot Control Shift Your Energy To What You Can Create – Ray T. Bennett
If You Have The Ability To Love, Love Yourself First – Charles Bukowski
You Don't Just Wake Up And Become The Butterfly. Growth Is A Process – Rup Kaur
You Are The Artist Of Your Own Life. Don't Hand The Paintbrush To Anyone Else
View The Self-Esteem Social Media PLR Printables Below:
The Self-Esteem PLR Printable Graphics are just for you if you're looking for printable social media graphics that can be used to create your own unique printables and profit! Perfect for you if you have a publishing business and are looking for new products or printables. Click the button below to purchase this product!
Click the button below to purchase this product!
See The Self Esteem PLR Social Media Printable Designs For Yourself – Click Here
Your Package Details:
5 Individual Social Media Posters In Canva, PNG, PDF, And PowerPoint Format
Total File Download Size – 12.7 MB
Here are the Licence Terms:
What You Can Do:
You can sell this product in a non-editable format like PDF to sell to your customer
for personal use.
You can sell this product as a physical product.
You can use this product to build an email list.
You can edit the product and brand it with your name and company branding.
You can resell the product as your own.
You can include the product in a bundle or package.
What You Cannot Do:
You cannot sell this product with PLR or resell rights. This license is for you only.
You cannot sell this product with its editable source files.
Please set a fair price when you sell and do not give the product away for free unless you're using it to build an email list
Get up to 30% off from our trusted partner BuyQualityPLR with this coupon code:
LCPP
See The Self Esteem PLR Social Media Printable Designs For Yourself – Click Here
Other Products You Might Like