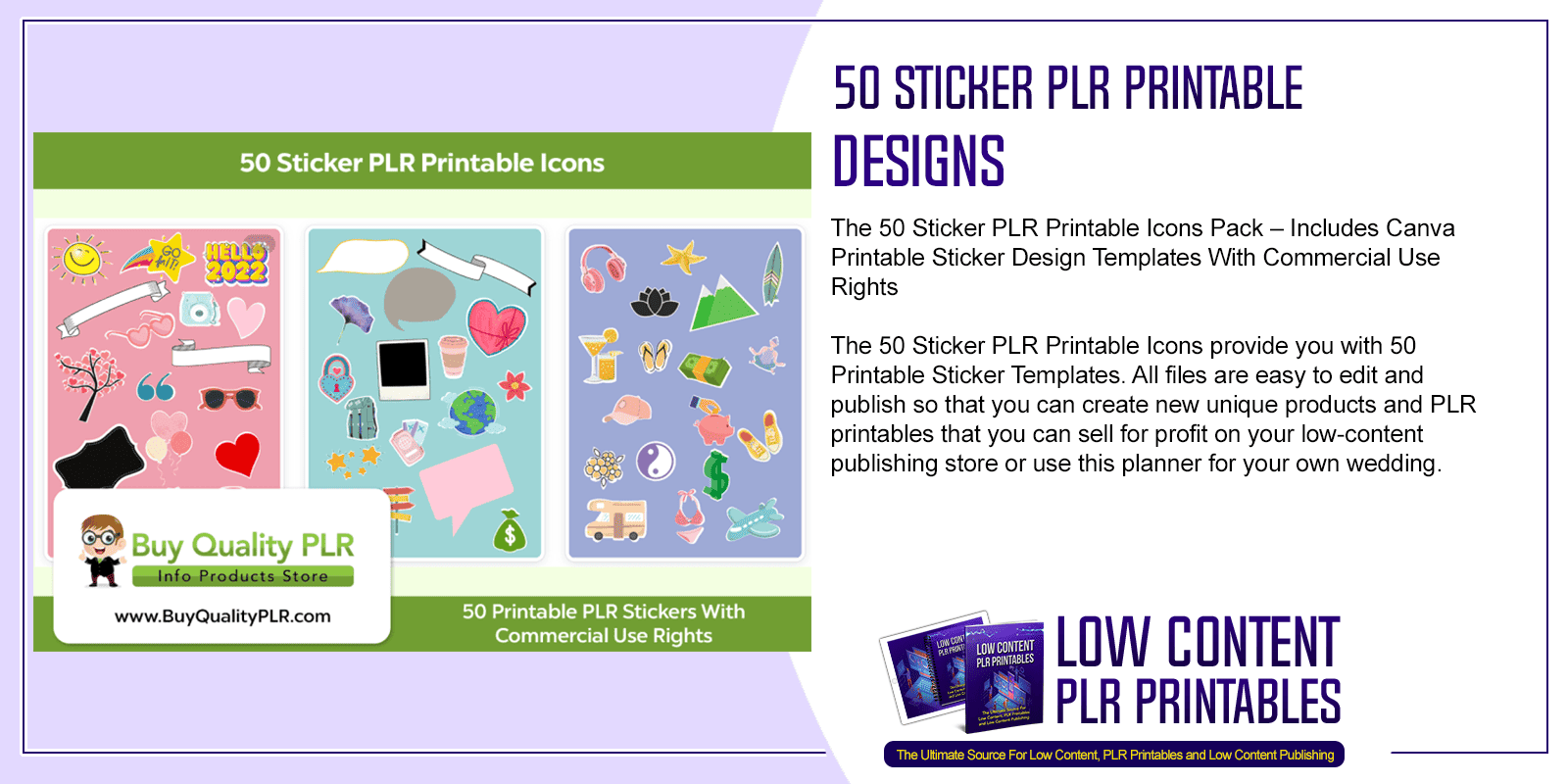 Choose Your Desired Option(s)
#50StickerPLRPrintableIcons #StickerPLRPrintableIcons #StickerPLR #PrintableIcons #printablestickers #plrstickers #stickers #plrstickers #graphics #sticker #icons #graphics #plrgraphics #canvaprintables #editable #buyqualityplr #commercialuse #commercialuserights #publishing #stickertemplates #designs #graphic #buyqualityplr
The 50 Sticker PLR Printable Icons Pack – Includes Canva Printable Sticker Design Templates With Commercial Use Rights
The 50 Sticker PLR Printable Icons provide you with 50 Printable Sticker Templates. All files are easy to edit and publish so that you can create new unique products and PLR printables that you can sell for profit on your low-content publishing store or use this planner for your own wedding.
Introducing The…
50 Sticker PLR Printable Designs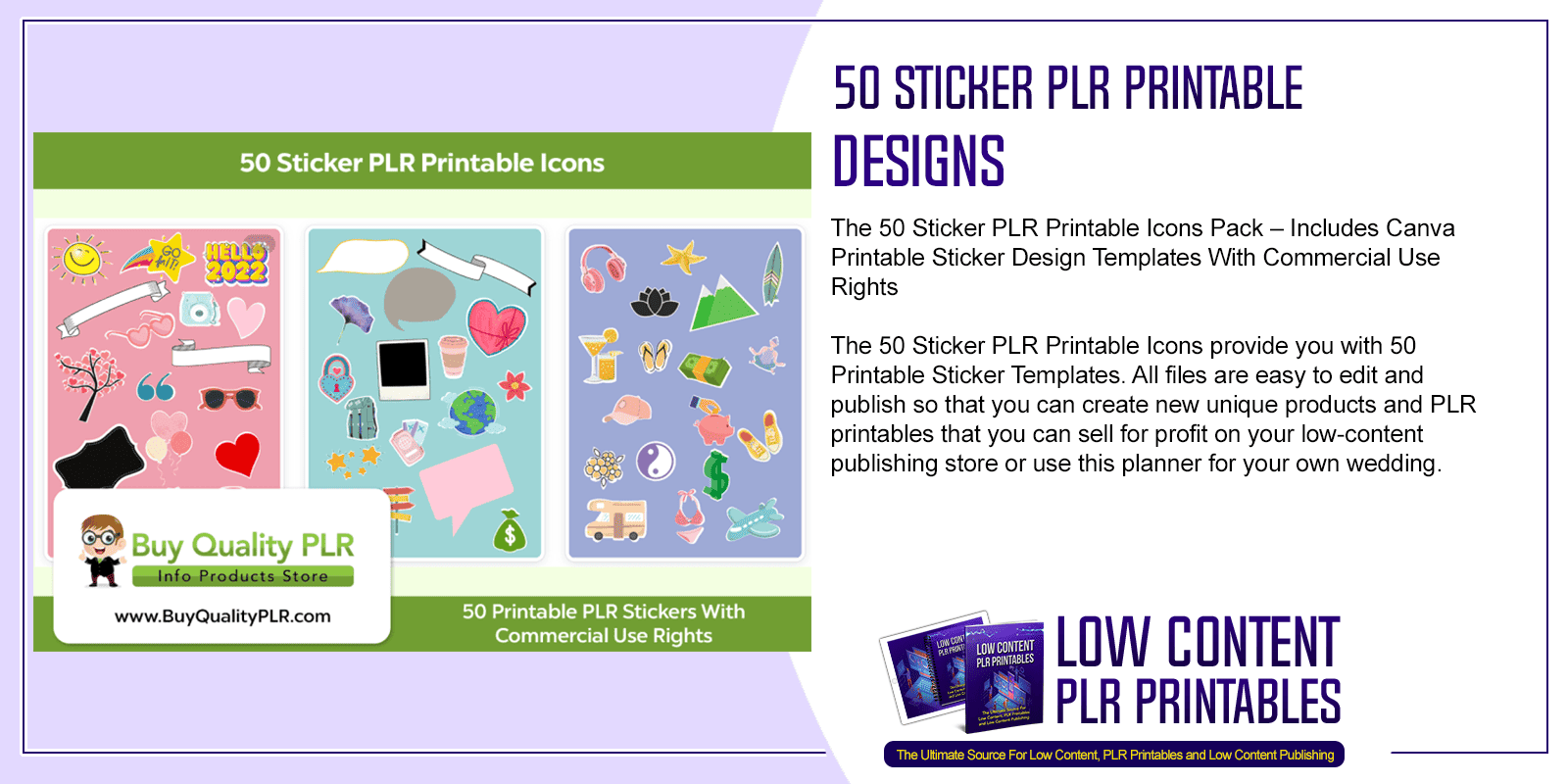 Here's exactly what you're getting in this 50 Sticker PLR Printable Designs:
Get sticker printable pages in this awesome pack! Are you looking for a fun and creative way to add some personality to your brand? Look no further than Buy Quality PLR's 50 Sticker PLR Printable Icons pack! With 50 unique designs to choose from, you can easily add some pizzazz to your social media posts, marketing materials, and more. These sticker icons are incredibly versatile and can be used in a variety of ways. They're perfect for adding a pop of color and visual interest to your blog posts, email newsletters, or even your website. You can also use them as design elements on your product packaging, business cards, and other promotional materials. One of the great things about these sticker icons is that they come with private label rights, which means you can edit them however you like and use them as many times as you want. This makes them a fantastic investment for small business owners, bloggers, and anyone else looking to create a cohesive visual brand. With so many different designs to choose from, you're sure to find something that fits your brand's aesthetic perfectly. From cute and whimsical designs to bold and modern options, there's something for everyone in this pack. So why wait? Purchase the 50 Sticker PLR Printable Icons pack from Buy Quality PLR today and start adding some fun and flair to your brand!
You Get:
50 Vision Board PLR Printable Sticker Designs
Sticker Icons
Editable Canva Templates Link
Commercial Use License
Here Are All of The PLR Sticker Templates You'll Be Getting:
The 50 Sticker PLR Printable Icons are just for you if you're looking for printable sticker pages that can be used to create your own unique printables and profit! Perfect for you if you have a publishing business and are looking for new products or printables.
Click the button below to purchase this product!
See The 50 Sticker PLR Printable Designs For Yourself – Click Here
Your Package Details:
50 Individual Sticker Icons In Canva, PNG, PDF, And PowerPoint Format
Total File Download Size – 18.8 MB
Here are the Licence Terms:
What You Can Do:
You can sell this product in a non-editable format like PDF to sell to your customer for personal use.
You can sell this product as a physical product.
You can use this product to build an email list.
You can edit the product and brand it with your name and company branding.
You can resell the product as your own.
You can include the product in a bundle or package.
What You Cannot Do:
You cannot sell this product with PLR or resell rights. This license is for you only.
You cannot sell this product with its editable source files.
Please set a fair price when you sell and do not give the product away for free unless you're using it to build an email list
Get up to 30% off from our trusted partner BuyQualityPLR with this coupon code:
LCPP
See The 50 Sticker PLR Printable Designs For Yourself – Click Here
Other Products You Might Like