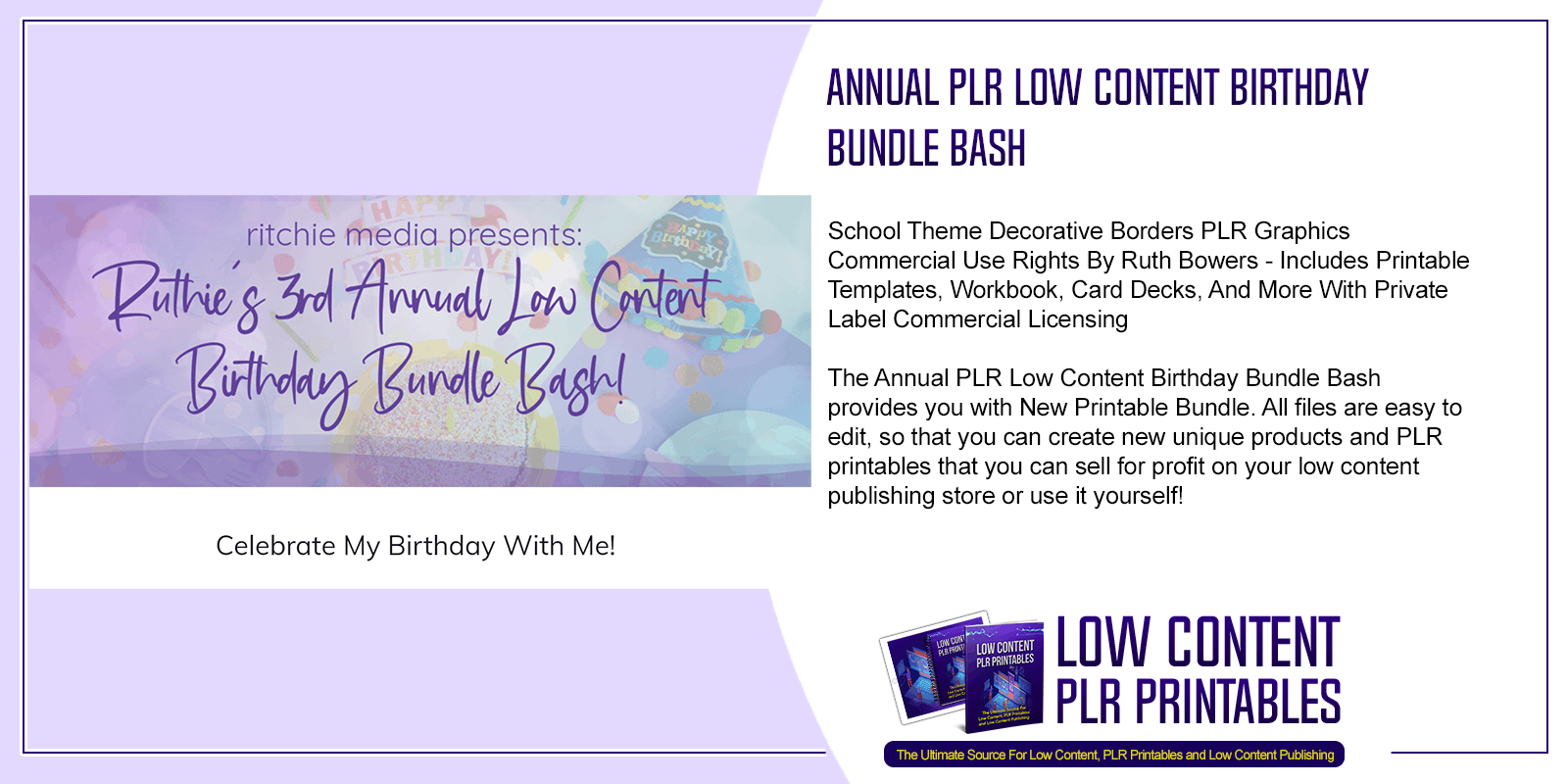 Choose Your Desired Option(s)
#AnnualPLR #LowContent #BirthdayBundleBash #annual #plr #lowcontentplr #ruthbowers #ritchiemedia #lowcontentbundlesale #lowcontentbundle #workbook #templates #cards #carddecks #journals #planners #printables #plrprintables #printable #lowcontentprintables #printablebundle #printablepack #printableplr #commercialuse #privatelabelrights #commercialuserights
School Theme Decorative Borders PLR Graphics Commercial Use Rights By Ruth Bowers – Includes Printable Templates, Workbook, Card Decks, And More With Private Label Commercial Licensing
The Annual PLR Low Content Birthday Bundle Bash provides you with New Printable Bundle. All files are easy to edit, so that you can create new unique products and PLR printables that you can sell for profit on your low content publishing store or use it yourself!
Introducing The…
Annual PLR Low Content Birthday Bundle Bash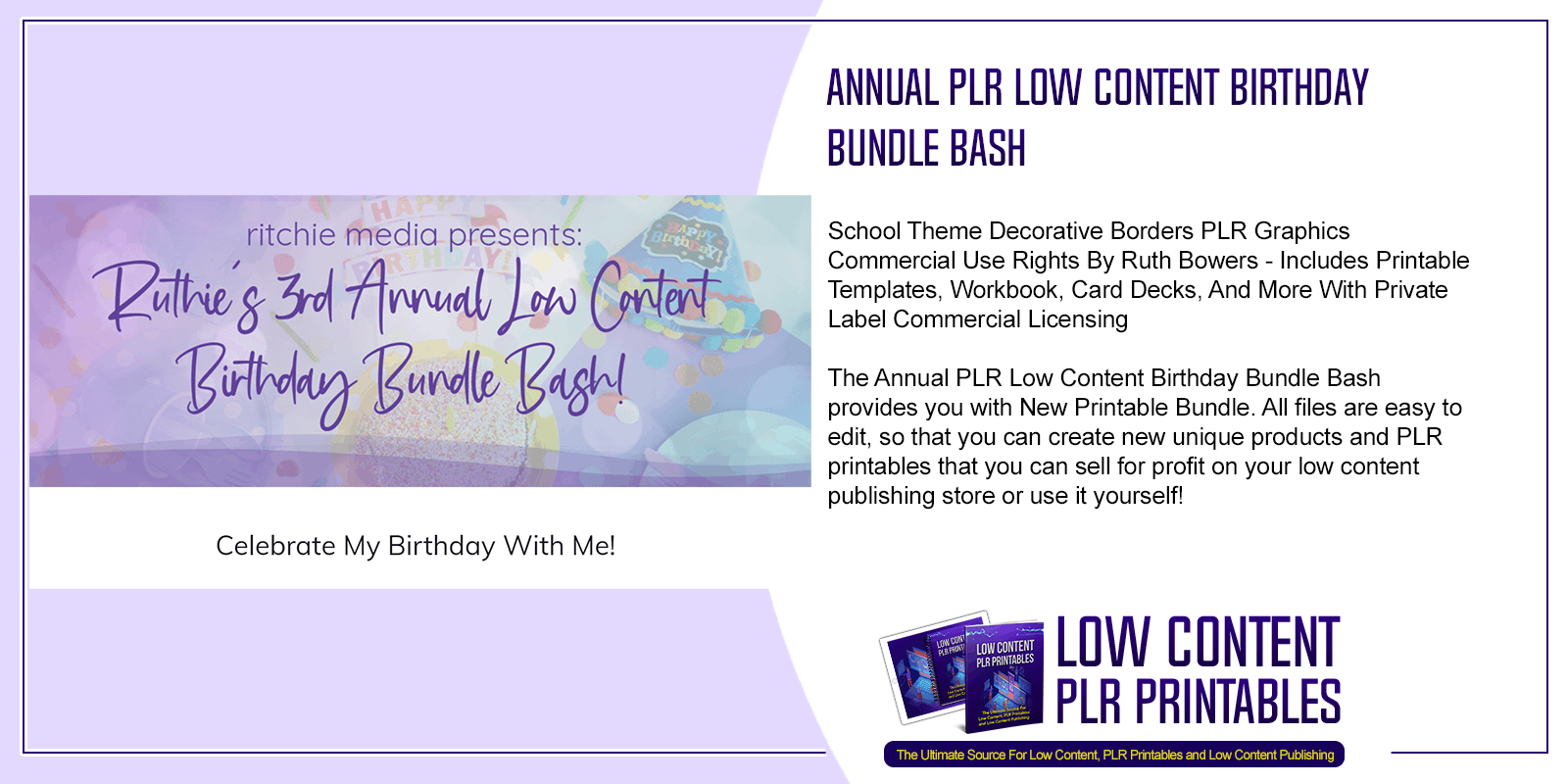 This is exactly what you will be getting in the Annual PLR Low Content Birthday Bundle Bash:
Scrap Book Templates 2 
Pack of 10 Scrapbook Style Templates created in easy to edit PowerPoint. Layouts come in both 8.5 x 11 inches and 12 x 12 inches. These templates have more of a modern feel, just add your own touches to them as you like. Perfect for selling as Printables on Etsy, Shopify or from your own website.
My Digital Social Media Workbook
This Done For You Digital Social Media Workbook Open Book Style has 12 subjects clickable tabs on the right side, 5 subjects clickable tabs on top. This is a Ready For Sale Digital Workbook with Commercial License.
Inspirational Success Quotes Card Deck 
This Inspirational Success Quotes Card Deck is a beautiful package of 90 motivational quotes from some top thought leaders. Pick a card every day for inspiration on a variety of success topics.
Alice Bullet Journal 
Alice Bullet Journal is inspired by the book and many movies of Alice in wonderland. Add a little magic to your day with this Journal. You it yourself and sell it in your shop, it will be a great seller.
12 Week Beauty Planner 
This beautiful, easy to edit (powerpoint/google slide) planner in shades of peach and copper can be made into printables for Etsy, or add your branding and upload to Amazon's KDP.
35 Inspirational Quotes & Messages 
Original Social Media Inspirational Quotes and Message to inspire your community and lift their spirits. Great for Instagram and Facebook. Can be used Individually or use as Carousels to grab more attention.
Full PLR license is included.
20 Seasons Of The Year Video Pin Templates (CANVA) 
With these Seasons Of The Year Video Pin Templates, you will never run out of ideas on how to create new pin designs that cater to the different seasons throughout the year!
Simply drag and drop images, change the colors and fonts to suit your brand, and you can create new pins within minutes, stress-free!
License: Personal Use
The "End Strong..Start Stronger" Money Activities Planner Bundle 
This unique bundle includes two fully dated 15-month planners – in both Digital and Printable versions – PLUS a color coordinated 'mini-planner' Lead Magnet to build your list! Digital Planner is FULLY HYPERLINKED with almost 14,000 links! Full commercial use rights – edit, rebrand, sell as your own product at any price or give away to build your list!
Game Stock Photos 
88 Game Stock Photos including white background photos of cards, chess pieces, photos with cats playing Monopoly, dogs playing cards and more.
License: PLR
30 Day Scripture Writing Journal
The 30 Day Scripture Writing Challenge Journal is perfect for people of faith in any season of life. This printable pack set comes with commercial use license with editable source file included. Ready for you to rebrand and sell the finished product.
License: Commercial Use
2021-2022 Floral Calendar Canva template 
Get this 2021-2022 Wall Calendar Template that is DATED and EDITABLE, with beautiful floral design and ready to print!
Easy to edit and customize in Canva where you can change the colors, fonts, or clipart. Use it to create monthly planners and calendar printables to sell! Size 8.5 x 11 in landscape format.
License: Commercial Use
Boho Clip Art, Digital Paper and Digital Washi Bundle
You will get a bundle of Boho style clip art, digital papers and digital washi tape to use in your planners, journals, on POD, on printables including wall art and stickers. This is an assorted collection of rainbows, coffee mugs, flowers and more.
License: Commerial Use
Fall One Word Journal Duo 
This travel journal is 6″x9″, with sections, prompts, and beautiful Summer Watercolors. It's the perfect companion for kids to describe their adventures, keep selfies, photos, tickets, memories, as well as plans for future trips.
License: PLR Commercial License
Deluxe Lemony Weekly Planner
This zesty lemony weekly planner helps your customers plan their dreams. There is even a habit tracker and journal page too. Your customers will LOVE using this refreshing planner all year long and can print it out and use it year after year. This will save them TIME and MONEY!
License: PLR
Wild Orange Essential Oil Coloring Page Designs 
36 Wild Orange Essential Oil Coloring & Educational Pages. All the pages are offered in two forms, both with sayings, recipes, uses and lore written directly on the coloring pages (in both JPG and PDF version) and complete images without any words at all (in JPG, PDF and PSD version) allowing you the freedom to alter them as desired, or to use them as an educational package.
License: PLR
The World Awaits: A Kid's Travel Journal (value $29)
This travel journal is 6″x9″, with sections, prompts, and beautiful Summer Watercolors. It's the perfect companion for kids to describe their adventures, keep selfies, photos, tickets, memories, as well as plans for future trips.
License: PLR/Commercial Use
Affirmations Journal Bundle (value $27)
Sadie's Affirmation Journal Bundle includes everything you need to make the sale: a blog post, freebie, paid product, and email templates.
The journal has 5 cover options so you won't have to worry about your journal looking like everyone else's, and it's a Canva template so you can easily swap out one image for another and make a completely unique journal cover for your audience. Easy peasy!
License: Commercial License
Herbal Tea Guide and Weekly Planner (value $27)
Learn how to use tea to enjoy your quality of life with less anxiety, improved digestion, better sleep and other benefits all from drinking herbal and fruit teas.
The planner itself has 2 styles of planner pages and informal styles of planner pages – Weekly page choice and daily appointment template – additionally 2 types of journal pages for journaling your health journey with tea.
License: PLR
Back To School Planner Template (value $37)
Help busy teachers, students and parents get ready for the new school year. No need to stress what the homework is every night, and no worry about keeping track of schedules, lesson plans, assignments and school supplies.
Not only will it keep you on top of everything, but it will also help you save money. Print as many copies as you desire.
License: Commercial Use
Moroccan Dreams Digital Paper & Digital Stickers (value $35)
Be transported to the land of mystery, intrigue, and magic with the Moroccan Dreams Digital Papers & Digital Stickers Pack. Inspired by the colors and patterns of Morocco, this combination of papers and stickers will help you add a touch of exotic flair to your projects.
This Digital Pack includes:
•7 Unique and Colorful Digital Paper Packs each with 12 Color Coordinating Pages
•The Digital Paper is 12 x 12 inches (3600 x 3600px), 300 DPI, PNG files
•20 Unique Digital Stickers made with the Digital Papers
•Stickers are pre-cropped and come in individual PNG files
License: Commercial License
See The Ritchie Media PLR Coloring Kits and Templates Shop For Yourself – Click Here
Pink Floral Journal & Calendar PLR Template Pack (value $37)
This is a brand new printable Pink Floral 48-page Journal covering 1 month/5 weeks. You also get a Pink Floral Calendar.
These come with Canva Templates, PDF files and PLR rights. You can use them in your printables business, sell them online, use them as a lead magnet, edit them, add your brand, amend them.
License: PLR
Kids Journal and Creative Writing Prompt Bundle (value $37)
Quickly create low-content journals and printables for children with this done-for-you bundle. The 120 journal prompts will save you time and have you quickly creating new journals. It also includes 10 Canva templates for journal pages to help you create your activity books in two popular sizes (8.5 x 11 and 6 x 9), making them easy to customize.
In addition, there are 5 Canva pin templates to take you from creation to promotion. An all-in-one bundle you can use to get started creating and publishing journals in the popular children's activity niche today.
License: PLR/Commercial Use
Easy Learning Quickstart (value $27)
These easily customizable templates make creating printables you can sell on sites like Etsy, Amazon, and other popular marketplaces fast! Included with the templates are step-by-step videos to walk you through the simple process of customization AND free fonts that you can use in any of your products!
All the templates are in incredibly popular niches that teachers and parents love
License: Templates are Commercial Use. Training and Bonuses are Personal Use Only
The Ultimate Opt-In Template Bundle (value $29)
The Ultimate Opt-In Template Bundle contains 20 gorgeous spreads that can be completely customized to create your next opt-in, freebie, or even a paid product.
In this bundle, you'll find a mix of planner spreads, trackers, calendar pages, and checklists. Simply change the colors and fonts, add your own branding, and you'll have a variety of beautifully branded opt-ins or products in a snap. Stop staring at a blank screen and create your next opt-in or paid product with ease using this template bundle!
License: PLR
Rainy Days and Sun Days Mini-Journal (value $27)
Keep track of how your days are going with this adorable Rainy Days and Sun Days Daily Check In Mini-Journal!
This mini-journal is customizable to suit your mood! If you prefer rain to sunshine, you can mark your best days with raindrops. If you prefer stormy weather to clear skies, you can use the lightning bolt icon to symbolize your wonderful day!
Make this journal yours and don't lose sight of how wonderful rainy days–and sun days–can be!
License: PLR
Versa Templates (V1) (value $27)
18 Versa Templates is a unique line of creative done-for-you templates designed to add a fresh and artistic vibe to your coloring quotes, journal pages, dividers, book covers, posters, cards, and more.
License: PLR/Commercial Use
Three Instagram Puzzle Templates (value $27)
If you'd like to give your Instagram page an instant face lift, grab these Instagram puzzle templates and use them as they are. Or have fun in Canva changing text, fonts, colors, and images to create your own puzzles matching your brand. Full instructions are included for editing the elements and for uploading the images to Instagram in the right order to make the puzzle work.
The PLR terms mean you can even sell puzzle image sets made from these templates to others too. Puzzles like this are very popular sellers on Etsy and Creative Market.
License: PLR/Commercial Use
Morning Journal for Busy Entrepreneurs (value $27)
Do you know journaling is the most popular niche among the planner community? There are very few journals for mornings in the market. The ones that are available are not as beautiful.
Add your creativity to these pages without starting from scratch, and create as many journals as you want from mix and match pages. Help your customers get more creative and productive with this beautifully designed 34-page Morning Pages Journal!
License: PLR/Commercial Use
Digital Planner Cover Kit (value $37)
Cover Design Kit for Digital Planners & Journals includes: beautiful yet simple cover kit design with easy to customize interior layout – tabbed pages link to four sections – this version features undated weekly planner pages, to-do list tracker pages, lined journal pages, and coloring image pages. Each section can be re-purposed to your preference, with hyperlinked tabs relabeled, and layouts can be replaced with your own template layout designs. You will receive PowerPoint source files to customize the interior layout.
License: PLR/Commercial Use
Self Care Puzzles (value $27)
Self care is an important part of living a healthy and balanced lifestyle but it can be hard to find the time and energy for it which can lead to burn out and poor health. We need self care more than ever in our fast paced world.
Puzzles are perfect when you want to unwind but don't have a lot of time on your hands. Enjoy these easy relaxing Self Care puzzles.
License: PLR
Paper and Pencil Games (Affinity) (value $27)
Grab this set of 20+ paper & pencil game boards (JPG, PNG, SVG) and DFY printables (PDF) with source files (.afdesign for game boards; .afpub for printables). Includes a 2800 word listicle blog post to help you promote your products. Alter the printables to suit your design style, or use the game boards to make KDP books. Paper games are great boredom busters for kids and adults, are popular on Pinterest, yet still have low competition keywords available on Google.
License: PLR
Interior Room Coloring Pages & Patterns (value $37)
Create your own coloring book! This set contains 12 interior room coloring pages that can colored as is or add the included patterns to create a unique design. Great for home decorating or just creating a personalized room coloring page. These pages are have all been created in Power Point for easy editing and will include full instructions on how to add patterns to the designs.
License: PLR
PLR Vacation Planner (value $27)
A 10-page PDF Vacation Planner in 2 different color choices. Perfect for printable freebies or to sell in a printables shop.
It includes: Pre-Vacation To Do List, Activities Planner, Menu Plan, Packing List, Budget and Expense Tracker, Memory Keeper, Location Pros and Cons List for planning.
License: PLR
Adulting is Overrated Journal, Planner, Digital Paper and Stickers Bundle (value $34)
Adulting is Overrated; TAP INTO YOUR INNER CHILD FOR SOME FUN SELF-CARE, includes a simple planner, journal, matching digital papers, stationery and stickers.
Self-care does not have to be expensive or complicated. It is so important for mental, emotional and physical wellbeing. Creativity is a lifeline to uncomplicated self-care.
License: PLR
Confidence PLR Booster Pack (value $27)
Done-For-You Content To Help You Boost & Promote Your Products. Including printables, checklists, ebook templates, and more. You can even use the expertly designed Pinterest Pin Templates to promote your brand new products!
You'll have everything you need to boost & promote your confidence related products in this pack. You can do it all on your own, but it is much harder when you don't have a starting point. This Booster PLR Pack has everything you need to get started, such as writing prompts and a pre-written guide. Plus a bonus 25 Confidence Content Ideas (Your Confidence Content Creation Roadmap).
License: PLR
RawrSome Dino Bday Kit Templates (value $27)
Inspire your customers to let their imaginations rawrrr into the lost world of dinosaurs.
Have fun customizing any or all of these 18 festive templates to create the perfect Dino theme party and put your customers into a fun prehistoric mood. From invitation to thank you cards, you are covered for stomping far and wide!
License: PLR
Where's My Towel Travel Planner (value $37)
This fun elegant travel planner is ready to go when you are! It includes a cover and 20 beautifully elegant pages with a towel on each page – some are harder to find than others – hence the "Where's my Towel" title. Add some maps and kid activities to finish it off or just use it as is with PLR rights.
License: PLR
Cactus Planner and Monthly Dividers (value $27)
A beautiful rustic and watercolor Cactus themed planner, complete with 12 monthly dividers with commercial license included!
License: Commercial Use
Planner and Journal Kit #3 – Green Bamboo – Variety Pack (value $27)
This is a Done For You Sample Kit of Journals and Planners. It was designed for ease of use for non creative people. It helps to save time because it is ready to use out of the box. Just mix and match the combination of pages that you want and in the order that you want and you have a brand new unique product that to sell, giveadway, use as a lead magnet, and so much more. The pages can be printed out at home, printed out a print shop, and it was designed to be easily inserted into a digital planner too.
License: Commercial Use
Anti-Aging Superfoods (value $27)
Grab your Anti-aging superfoods journal and checklist. Personalize it. Sprinkle in all or bits of the 6 articles. Publish the whole report. Use the opt-in page. No matter how you tweak it, this anti-aging content is in demand. (We all want to be younger looking and feeling, right?)
License: PLR
Whimsical Desktop Organizers (value $37)
2022 Whimsical aesthetic computer desktop wallpaper with organizing components. Features a 2022 calendar from January – December. Customers can change out their wallpaper each month for the correct calendar!
A collection of 13 unique and whimsical desktop wallpaper calendar organizers to help your audience stay organized throughout the year.
License: PLR
Double Bundle of Fill In Crossword Style & Animal Line Art Coloring Designs (value $64)
Grab a double bundle! Get 20 Fill in puzzles – Crossword Style! (Docx, PDF, and JPG formats) and 30 Animal (and dino's) Line Art coloring designs (PDF, JPG and PPTX formats) to build puzzles and coloring assets for either printable or POD markets.
License: PLR
The Annual PLR Low Content Birthday Bundle Bash is just for you if you're looking for amazing new PLR printable bundle that can be used to create your own unique printables when purchased and rebranded! You can also buy this printable bundle to sell on your store or use it for yourself. Perfect for you if you have a publishing business and are looking for new products or printables pack. Click the link below to learn more!
See The Ritchie Media PLR Coloring Kits and Templates Shop For Yourself – Click Here
Other Products You Might Like