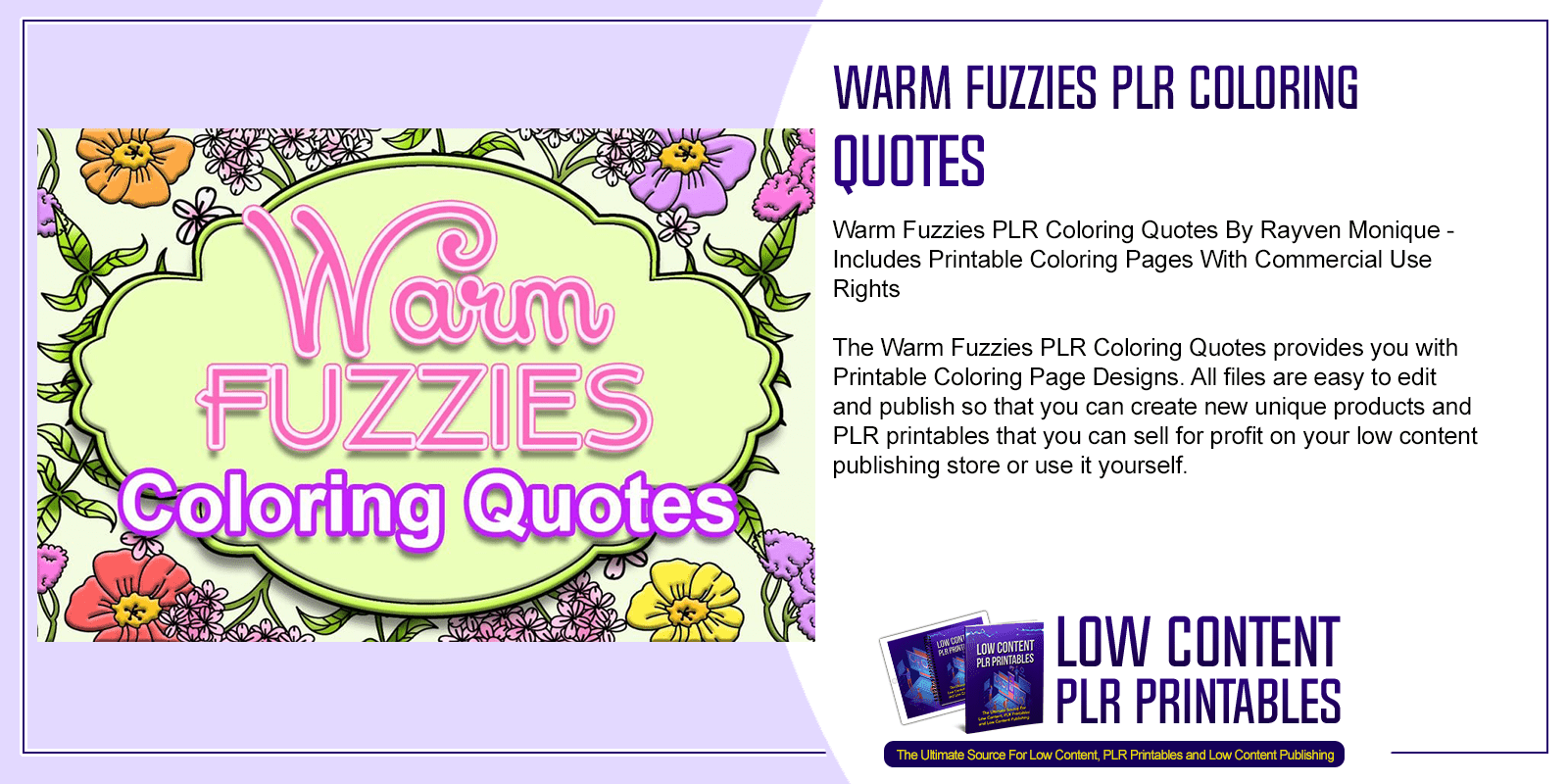 Warm Fuzzies PLR Coloring Quotes
in
Free PLR Coloring Pages , Free PLR Graphics , Free PLR Printables , Free PLR Templates , Free Print On Demand PLR , Mandala PLR Coloring Pages , PLR Activity Books , PLR Adult Coloring Books , PLR Coloring Pages , PLR Digital Pages , PLR Graphics and Clipart , PLR Product Templates , Print On Demand PLR
Choose Your Desired Option(s)
#WarmFuzzies #PLRColoringQuotes #coloringpages #plrcoloringprintables #coloringprintables #rayvenmonique #printablepages #coloringdesigns #coloringprintable #coloring #plrprintables #printablepages #freeprintables #freecoloringprintables #commercialuse #commercialuserights #printondemand #doneforyou #printabledesigns #lowcontentplr #publishing #publish #free
Warm Fuzzies PLR Coloring Quotes By Rayven Monique – Includes Printable Coloring Pages With Commercial Use Rights
The Warm Fuzzies PLR Coloring Quotes provides you with Printable Coloring Page Designs. All files are easy to edit and publish so that you can create new unique products and PLR printables that you can sell for profit on your low content publishing store or use it yourself.
Introducing The…
Warm Fuzzies PLR Coloring Quotes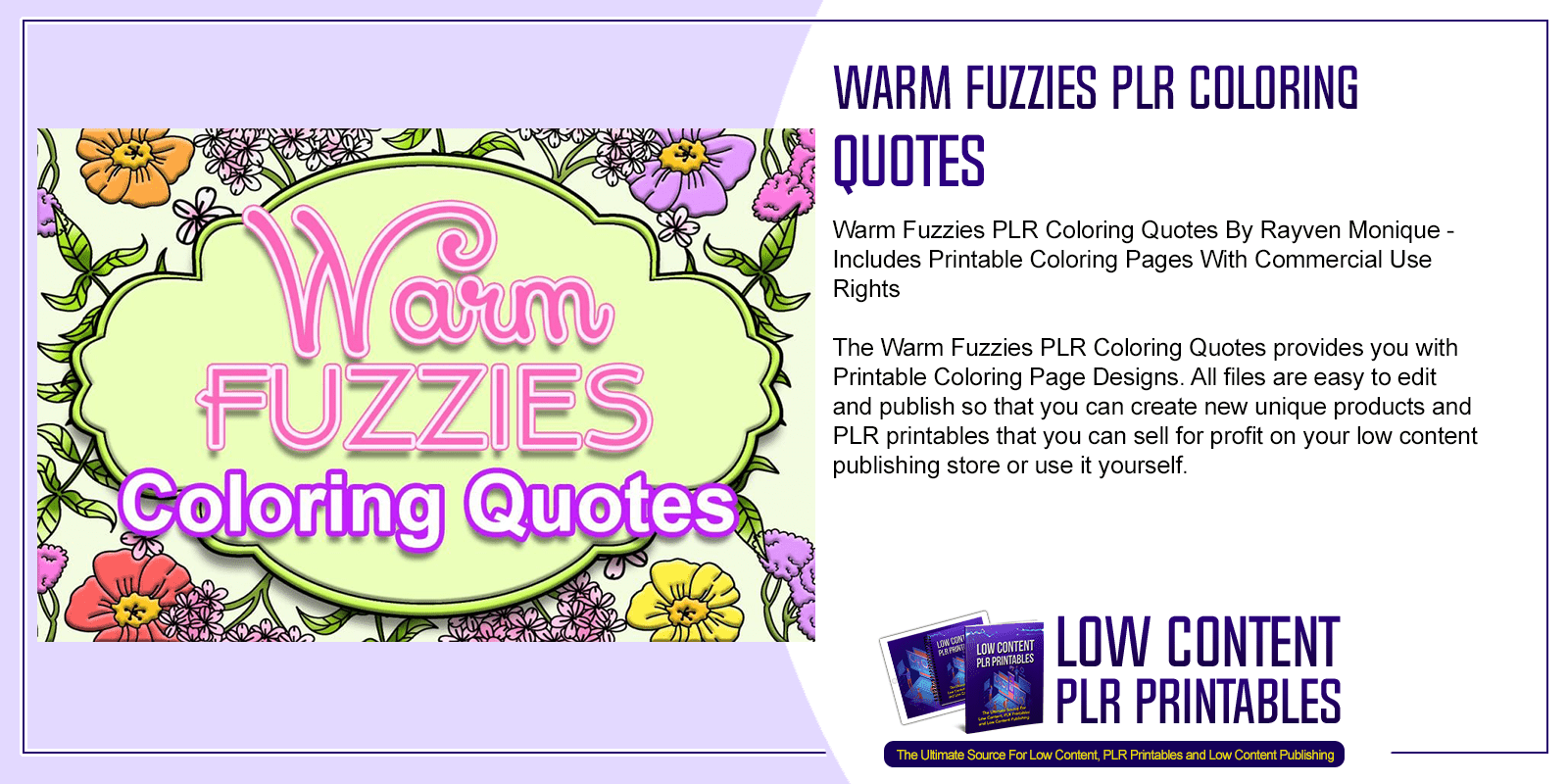 Here's what you'll learn with this Warm Fuzzies PLR Coloring Quotes:
This Package Includes The Following Coloring Pages:
Yoga allows you to find an inner peace that is not ruffled & riled by the endless stresses & struggles of life. – BKS lyengar
Creative freedom is a huge carrot. – Adam McKay
As the sun shines both on the cedar tree and the smallest flower, so the Divine sun illumines each soul. – Therese of Lisieux
A shoe that is too large is apt to trip one, and when too small, to pinch the feet. So it is with those whose fortune does not suit them. – Horace
Sleep is the best meditation. – Dalai Lama
The best bridge between despair and hope is a good night's sleep. – E. Joseph Cossman
Adopt the pace of nature: her secret is patience. – Ralph Waldo Emerson
When the flower blooms, the bees come uninvited. -Ramakrishna
Happiness radiates like the fragrance from a flower and draws all good things towards you. – Maharishi Mahesh Yogi
1Life is like a cup of tea. It's all in how you make it.
See The Warm Fuzzies PLR Coloring Quotes For Yourself – Click Here
Private Label Rights License
You have full permission to resell this content to a retail end-user as you see fit. Your PLR license will allow you to keep 100% of the profits! Your license covers everything EXCEPT: you may not use our name on your product, and you may not sell the resell rights to someone else.
The Amazing Affirmations Success 20 PLR Coloring Pages is just for you if you're looking for PLR printable coloring pages that can be used to create your own unique printables when purchased! Perfect for you if you have a publishing business and are looking for new products or printables. Click the link below to learn more!
Other Products You Might Like