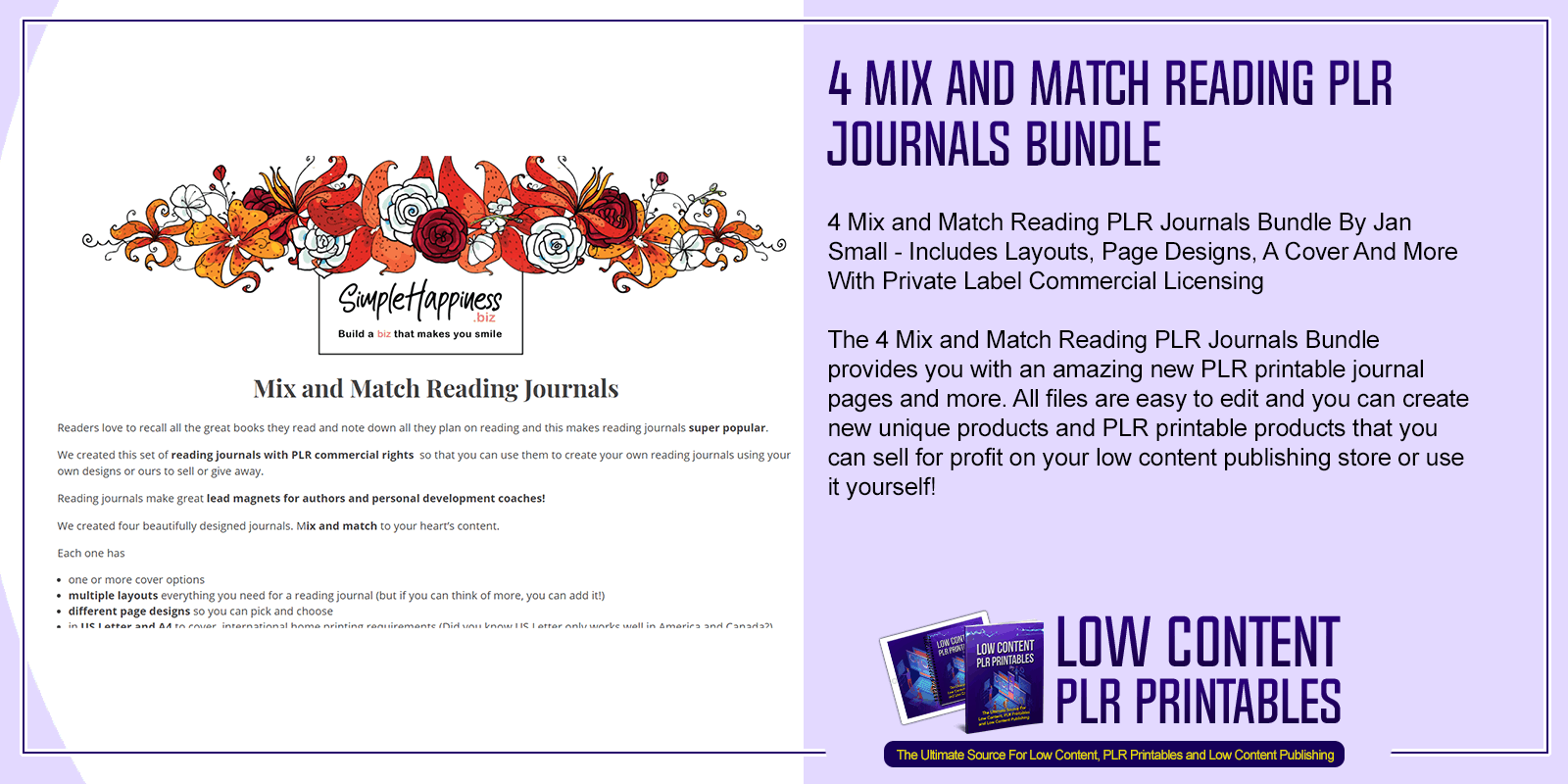 Choose Your Desired Option(s)
#4 #Mix and #Match #Reading #PLR #Journals #Bundle #mixandmatch #read #journal #journaling #plrbundle #pack #plrjournal #journalbundle #plrprintables #Lowcontent #Lowcontentplr #printable #printables #publishing #selfpublishing #lowcontentpublishing #business #makemoneyonline #commercialuse #commerciallicense
4 Mix and Match Reading PLR Journals Bundle By Jan Small – Includes Layouts, Page Designs, A Cover And More With Private Label Commercial Licensing
The 4 Mix and Match Reading PLR Journals Bundle provides you with an amazing new PLR printable journal pages and more. All files are easy to edit and you can create new unique products and PLR printable products that you can sell for profit on your low content publishing store or use it yourself!
Introducing The…
4 Mix and Match Reading PLR Journals Bundle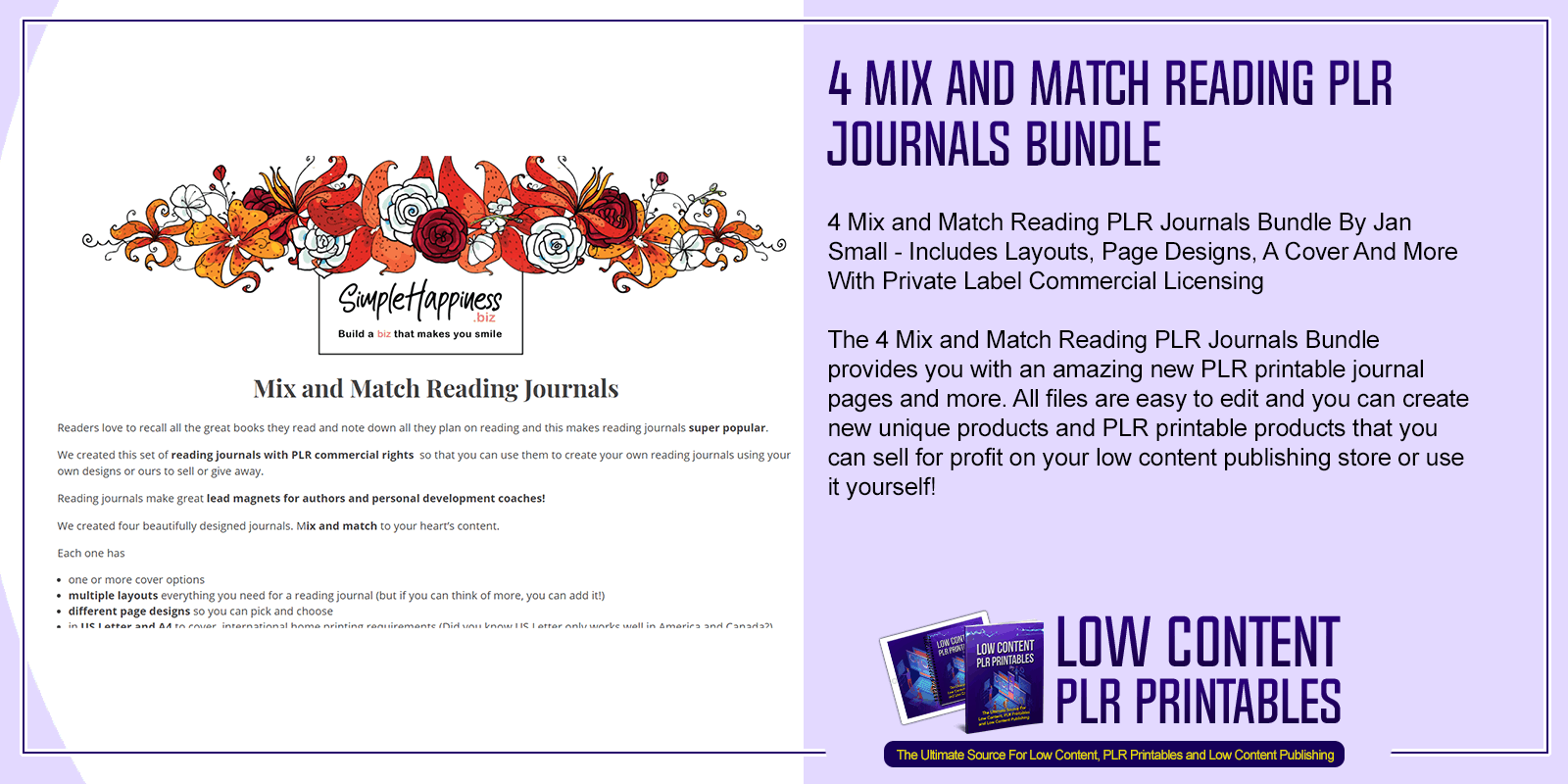 Here's what you'll learn with this amazing 4 Mix and Match Reading PLR Journals Bundle:
A set of reading journals with PLR commercial rights so that you can use them to create your own reading journals using your own designs or ours to sell or give away. Reading journals make great lead magnets for authors and personal development coaches! Four beautifully designed journals. Mix and match tthem!
Each one has:
One or more cover options
Multiple layouts everything you need for a reading journal (but if you can think of more, you can add it!)
Different page designs so you can pick and choose
In US Letter and A4 to cover international home printing requirements (Did you know US Letter only works well in America and Canada?)
Powerpoint (.pptx) source files provided so you can create something unique without starting from a blank page. (Those blank pages can be so intimidating!)
Select one great value design or buy the bundle for mega savings
Mimosa Reading Journal
This beautiful yellow and blue watercolor design is decorated with books and mimosa.
Coloring Reading Journal
The coloring version of our reading journal comes with a frame of tiny books to color on every page.
Dandelion Reading Journal
Subtle shades of peach and brown give this version a soft dreamy look.
Pretty Pink Reading Journal
The pretty pink version of our reading journal comes with three cover options.
All versions of the journal come with a set of plain, black and white (non-decorated) layouts (see below) so they are easy to customize with your own backgrounds. You can change any or all of the pages. It's entirely up to you! Let your inner artist go wild, or mix and match your designs with theirs.
What you will receive with each design
A PDF ready to use decorated reading journal
The Powerpoint (.pptx) source files for that journal plus extra pages, covers & backgrounds where included in the description of the product
A set of plain black and white Powerpoint (.pptx) layouts
Everything in US Letter and A4 sizes for worldwide home printing
Commercial PLR license to sell your finished product (see PLR TERMS below)
Each reading journal is available separately for $27
See The 4 Mix and Match Reading PLR Journals Bundle For Yourself – Click Here
Your 4 Mix and Match Reading PLR Journals Bundle Licensing Terms:
YES Completed product can be sold or given away in PDF format
YES Text and images can be edited/deleted
YES Can be branded as your own
YES Completed product can be added to paid or free membership sites
YES Can be bundled with other products in PDF form
NO Cannot be copyrighted
NO Cannot share the download page with others
NO Cannot pass on the PLR rights to others whether for sale, for free or in membership site. You must sell or give away a completed product only. The PPTX or PNG/JPG image files may not be passed on.
NO Graphics cannot be deconstructed or extracted to use in other projects
NO Cannot use SimpleHappiness.biz or Jan Small name on the finished product
Note: You will receive instant access to the product in your Simple Happiness account once you complete the shopping cart process. As this is an instantly downloadable digital product, sales are final and no refunds are offered.
The 4 Mix and Match Reading PLR Journals Bundle is perfect for those of you who want to generate new streams of income online and on your website by selling printables. When you purchase this product you will get access to amazing printable checklists and more to ensure your business succeeds in this high-demand market! Click the link below to check out this amazing training.
See The 4 Mix and Match Reading PLR Journals Bundle For Yourself – Click Here
Other Products You Might Like